Tech-Enabled Services: How Much Do Tech-Enabled Services Cost?
Tech-enabled services are like rocket fuel. They can take your business to new heights by helping you make smarter decisions faster, like when it comes to your digital marketing strategy, lead management tactics, and more. But, how much do tech-enabled services cost?
How much do technology-enabled services cost?
Technology-enabled services for digital marketing, cost $2500 to $12,000 per month. This price range refers to solutions for small-to-midsized businesses versus solutions for enterprise-level organizations, which generally require custom pricing.
What determines tech-enabled service pricing?
A few factors influence how much tech-enabled services cost, including:
Solution
One of the most influential pricing factors for tech-enabled services is the solution.
What is your business using tech-enabled services to solve, for example? Are you looking to streamline and align your marketing and sales efforts, for instance? Or, are you searching for a solution to resolve supply chain issues?
Depending on the solution, your company may see higher or lower rates.
Competition
Competition between tech-enabled service providers is another pricing factor.
If your business is searching for a tech-enabled solution and only one provider exists, then they have command over the market. While this pricing factor is rarely a long-term issue, it's one worth considering when researching solutions.
Software
Another big tech-enabled service pricing factor is the software itself.
The software is the solution your business pays to access and use.
It's often how tech-enabled service providers separate themselves from one another. For example, MarketingCloudFX is a tech-enabled solution, and one of the ways it separates itself is through using IBM Watson, which is one of the most advanced artificial intelligence systems in existence.
Generally, more advanced tech-enabled solutions will come at a higher price. If the software was created and developed in-house, versus sourced from a third-party, this factor could also lead to a price increase.
Overall, this price difference could range from a few dollars to hundreds of dollars.
Services
The more tech-enabled services you use, the more you'll pay — in most cases.
For example, if you're looking at tech-enabled marketing, you may invest in a few different services, like search engine optimization (SEO), which costs $1500 to $5000 per month, and content marketing, which costs $2000 to $10,000 per month.
Investing in both, versus one, leads to higher tech-enabled services pricing.
That doesn't mean your business should limit the number of services it uses, as many will coordinate with one another. Content, for example, is a critical part of a successful SEO strategy because optimized SEO content is what gets your business in search results and in front of potential clients.
Team
The team at an agency offering tech-enabled services will also influence how much tech-enabled services cost. If you're choosing a provider with an experienced team, that can translate to slightly higher rates.
This pricing model, however, makes sense.
You're getting to work with and access technology from a top-rated team. Their experience can also help your business get the most value from the service and the software, which can result in higher returns from your investment.
Contract
Depending on the service and software, your business may enter a contract that requires a time commitment. For example, you may agree to work with that provider for at least one year or six months — if you decide to end the contract early, you will not receive a refund.
This pricing factor can influence how much you pay for tech-enabled services.
For example, say your business partners with an agency that offers low-cost tech-enabled SEO services. When you sign, you agree to use that agency for at least six months and pay the upfront cost of that six-month agreement.
Soon, though, you realize that agency isn't an ideal partner for your company. They don't work well with your team, they miss deadlines, and they fail to communicate. In response, you conclude the partnership, but you lose that initial six-month investment.
In this instance, you have that initial six-month cost, plus the next price of hiring another agency. This scenario can result in higher tech-enabled service pricing because you've had to work with two different agencies.
This example demonstrates why it's critical to research tech-enabled agencies before hiring them. Conducting in-depth research, like by reviewing case studies, checking reviews, and asking to speak with past clients, can help you partner with the best agency for your business.
Plan
Almost all tech-enabled services operate on a subscription plan.
You'll generally pay a monthly subscription fee (or, in some cases, an upfront annual fee) to access the software and service. Most tech-enabled agencies will offer a few different plans that your business can use to meet its needs.
MarketingCloudFX, for example, features three plans.
Depending on your business, you may receive a custom plan.
Many enterprise organizations, for instance, require a custom plan to match their size and needs. If that's the case for your company, you'll want to contact the tech-enabled service provider and ask about custom pricing.
Add-ons
Tech-enabled service providers will generally offer add-on services.
For example, our tech-enabled SEO services include call tracking for up to 100 phone calls per month. If clients want, though, they can choose to track more than 100 calls per month, which is an excellent option for businesses that often receive leads via phone.
When comparing tech-enabled service pricing, you'll want to consider the cost of add-ons too.
In some instances, for example, providers will charge ultra-low rates for their services but offer a slew of expensive add-ons. These add-ons may even seem mandatory, based on what you want from the software and service.
When it comes to these agencies, consider looking at alternative options with more ethical pricing.
Ready to Grow? Get your FREE Quote Today!
"We measure our success by how much we WOW our clients."

Bill Craig
WebFX President
Is it more cost-effective to use tech-enabled services or an in-house solution?
Many companies wonder whether it's smarter (in the long-term) to develop an in-house solution or use tech-enabled services. It's a fantastic question. Answering it, however, requires considering several factors unique to your business.
A few questions to ask, for example, include:
How much is our company willing to invest, upfront, to develop this solution?
What is our company's preferred timeline for launching this product?
How long will it take our company to generate a return from this solution?
Who will oversee and manage this development project, as well as maintain the live product?
Will our company use a third-party solution until our in-house one is live?
How will your internal product meet your needs better than a third-party one?
All these questions can help you hone in on whether an internal tech-enabled product is the best option for your company. If your business doesn't have the resources to complete development by the designated date, for instance, you may want to put the idea on pause.
Generally, enterprise-level organizations have the capabilities to develop in-house tech-enabled solutions. Most small-to-midsized companies find it's a more valuable use of their time, money, and resources to invest in tech-enabled services versus an in-house solution.
Meet MarketingCloudFX:
One platform tracking countless metrics and driving stellar results.
Learn More About Our Proprietary Software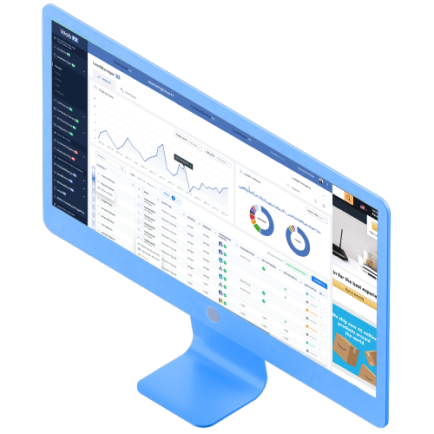 FAQs about tech-enabled services
Do you have additional questions about tech-enabled services? Browse our FAQ:
What are tech-enabled services?
Tech-enabled services are hardware or software solutions that clients can use to streamline, improve, and complete processes. Almost all tech-enabled services operate on a subscription model and offer 24/7 access to clients.
Why use tech-enabled services?
Tech-enabled services offer a few benefits, including:
Provide a cost-effective solution to in-house alternatives: Establishing a comparable solution to a tech-enabled service requires a significant investment of money, time, and resources. With tech-enabled services, you don't have to worry about this cost.
Allow immediate adoption and access: Tech-enabled services offer your business instant access to their features and capabilities. You don't have to wait for an internal team. Many service providers will also ensure a fast set up so you can start using their program as soon as possible.
Offer fast integration and advanced customization: Since businesses across industries use tech-enabled services, service providers need to offer an easy-to-use solution that companies can adopt and customize to their needs.
Maintain 24/7 accessibility: With tech-enabled services (and a trusted tech-enabled agency), you can count on reliable access and uptime to your solution. That means you can access your data any day of the week and any hour of the day.
While some businesses may decide to build a tech-enabled solution internally, it's usually more effective from a cost, time, and resources perspective for small-to-midsized companies to invest in technology-enabled services.
What should tech-enabled services include?
Every tech-enabled service is different, but most should include:
A dedicated account manager or point of contact
A secure, login-protected platform
An uptime guarantee
A customizable platform
Depending on the tech-enabled service, you may want to look for other features.
For example, if you're searching for tech-enabled marketing services, you should look for providers that offer an all-in-one dashboard for viewing your marketing data, plus have the means to sync with other platforms your business uses, like Salesforce.
Get custom tech-enabled service pricing with a free quote
Prices for tech-enabled services depend on a variety of factors. For the most accurate answer to, "How much do tech-enabled services cost?" contact tech-enabled service providers and ask for a custom quote.
If you'd like to get your first quote, contact WebFX.
Contact us online or call us at 888-601-5359 to speak with a strategist and receive your custom quote!