The B2B Martech Agency That Drives Revenue
When it comes to advertising your business online, martech is one of the greatest tools in your arsenal. That's why it's beneficial to partner with a B2B martech agency so you can enhance your campaigns. Learn more below!
The B2B martech company for your business
If you were tasked with fixing a car, what's the one thing you'd want to have with you? A toolbox. Trying to fix a car without any tools at all would be a difficult, if not impossible, feat.
The same is true for marketing. Trying to figure out how to reoptimize all your business-to-business (B2B) campaigns with nothing but your bare hands probably isn't the best idea. That's why you should use marketing technology, or martech, in your marketing efforts.
In fact, if you really want to drive the best results, you can partner with a B2B marketing technology agency like WebFX. On top of offering our in-house martech platform, we offer professional services to help you drive the best results.
Keep reading to learn more about our company and services. Then call us at 888-601-5359 or contact us online to get started with our martech services today!
Meet MarketingCloudFX:
One platform tracking countless metrics and driving stellar results.
Learn More About Our Proprietary Software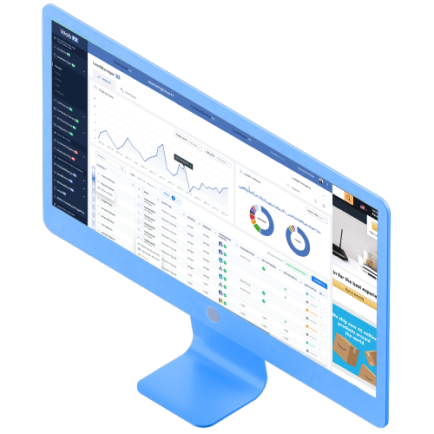 Why partner with a B2B marketing technology agency?
You may be uncertain why you should partner with a B2B marketing technology company. But the fact is, doing so comes with multiple benefits.
Here are three of the biggest reasons to hire a B2B martech agency:
1. A B2B martech company has more expertise
One of the first reasons to partner with an agency is that agencies have years of experience in the marketing field. And with years of experience comes a deep level of marketing expertise.
On top of having years of experience, marketing agencies specialize in marketing — it's all they do, so they know it like the back of their hands.
When you find a great B2B marketing agency and partner with them, you gain access to that level of expertise and apply it to your marketing efforts.
2. A B2B martech company has more time
Another area where an agency can benefit you is time management. Going back to the previous point, marketing is all that those agencies do. They don't need to worry about other aspects of your business, so they can pour all their time and energy into your marketing.
The benefits of that are twofold. On the one hand, it's better for your marketing — with more time dedicated to your campaigns, you'll see better results.
Additionally, since you no longer have to spend time on your marketing, you have more time to manage all the other aspects of your company. That means those aspects deliver higher-quality results as well.
3. A B2B martech company has better resources
Finally, B2B martech agencies come with better resources. Martech agencies often offer you marketing tools that you won't find elsewhere.
But it goes beyond just having the resources. If it were that simple, you could go buy your own tools without needing an agency.
With martech agencies, they help you use those tools. They're proficient with those resources from years of using them, so they can help you drive better results with them.
"The WebFX Team builds and supports your companies web site professionally and does a great job. They also suggest new and great ideas to make your web site the best."
Cloud Solutions Provider
"WebFX has assisted us in ensuring our website works harder and smarter for us in driving industry leads and demonstrating our place as an industry leader within our niche capabilities. The team has taken the time to research and understand our capabilities and has educated us on the process of building a more dynamic site. WebFX has provided a very personable, proactive and responsive team of expertise to execute this project."
Computer Security Agency
"WebFX has been a constant resource at my company for over a year now. They have helped our digital experience dramatically on the SEO side especially given that we don't have that talent in-house within our IT department. The insights from the web analytics and MarketingCloudFX help me as a brand marketer."
Food Provider
Why choose WebFX as your B2B martech agency?
Now that we've clarified why you need a B2B martech company on your side, you might be wonder which company is best for you. If so, look no further than WebFX.
There are several major benefits to partnering with us, and here are three of the biggest ones:
1. WebFX is a "do-it-for-me" agency
The first reason to partner with WebFX is that we're a "do-it-for-me" agency. What does that mean? Well, it means what it sounds like — we'll handle all your marketing efforts for you without you needing to do any work.
That doesn't mean you don't get a say in your marketing, though. On the contrary, everything we do for your campaigns will be dictated by what you want for your marketing. You tell us what you want us to do, and then we'll get to work carrying that out for you and driving high-quality results.
2. WebFX has years of experience
We've already talked about the benefits of partnering with an experienced agency. And if experienced is what you're looking for, you'd be hard-pressed to find a better option than WebFX.
WebFX has been driving marketing results for our clients since 1996. That means we have over 25 years of experience in marketing, giving us all the expertise we need to boost your B2B company's revenue.
3. WebFX has a reputation for driving results
WebFX is well-known for the results we drive. We've generated over 7.8 million and $3 billion in revenue for our clients over the past five years alone.
With those kinds of results, it's no surprise that we leave those clients happy with our services. That's why we've earned over 1020 glowing testimonials over the years that speak to the service quality you'll receive when you partner with us.
WebFX is a partner businesses trust.
Hear from HydroWorx, who saw a 236% increase in organic sessions with WebFX services.
Watch the Video Testimonial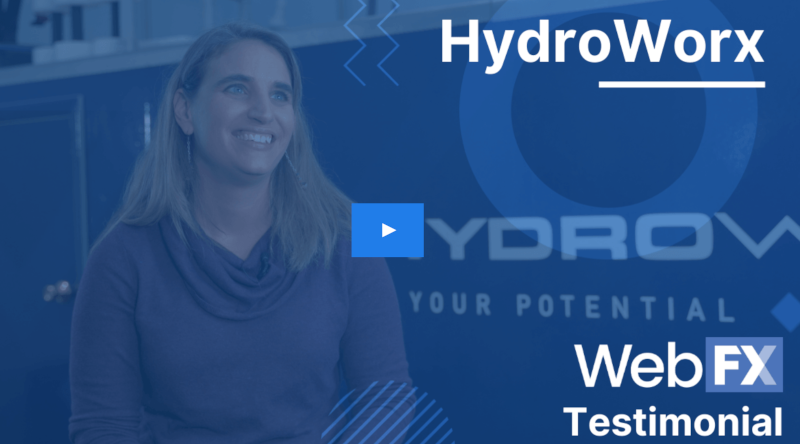 MarketingCloudFX: B2B martech services from WebFX
At WebFX, we have our own proprietary marketing software, MarketingCloudFX (MCFX). MCFX features an array of different tools, and we can help you use each of them to improve and track your marketing efforts.
Here's a brief rundown of the main tools available in MCFX:
1. LeadManagerFX
LeadManagerFX is a tool in MCFX that focuses on helping you keep up with all potential and existing leads in your marketing campaigns. You can use LeadManagerFX to see which campaigns generate the most leads, how many leads you generated, and so on.
You can then use the data you collect about your leads to put together customized reports, analyze trends, and create new campaigns designed to generate more leads.
2. CallTrackerFX
CallTrackerFX is a tool built specifically to help you track your phone calls from potential clients. If someone calls you to inquire about your products or services, you can keep a record of that call in CallTrackerFX.
You can view which channel each call comes from, as well as maintain transcriptions of all your calls, so you can review what was said on those calls. This feature will help with your campaign analysis and conversion efforts.
3. EmailMarketingFX
EmailMarketingFX, as the name suggests, helps you manage your email marketing campaigns. You can use this tool to perform numerous email management tasks, including:
Ultimately, this tool will help you drive more leads and conversions through your email campaigns.
4. AnalyticsFX
AnalyticsFX exists to help you track and manage your position in search result rankings. You can see which keywords your website ranks for in Google, as well as how high it's ranking for each one.
On top of tracking and analyzing your search data, AnalyticsFX will provide you with a variety of AI-generated recommendations for improving your spot in rankings. By applying those recommendations, you significantly boost your search revenue.
5. LeadNurtureFX
LeadNurtureFX is our tool designed to take existing leads and push them toward conversion. It takes the leads you gather data on in LeadManagerFX and helps you target those leads with campaigns aimed at turning them into customers.
Of course, as with all the different parts of MCFX, you won't have to do any of that yourself if you don't want to — our team will handle it all for you!
6. ReviewAccelerationFX
ReviewAccelerationFX helps you monitor and manage online reviews for your business. Those reviews might be on Google, Facebook, or elsewhere. But wherever they are, ReviewAccelerationFX will help you keep up with what they're saying.
This tool will also help you encourage your existing customers to leave reviews or testimonials for your business. Ultimately, all these efforts will help you convince leads to convert!
Ready to Grow? Get your FREE Quote Today!
"We measure our success by how much we WOW our clients."

Bill Craig
WebFX President
WebFX is the B2B marketing technology company for you
Looking for a B2B marketing technology agency to help your business drive more revenue? WebFX is the agency for you! Our team of over 500 marketing experts can't wait to get started with you.
With our martech services, you'll get the killer combo of our MarketingCloudFX software and our professional marketing team. Together, those two marketing powerhouses will help you drive leads and conversions through the roof.
To get started with us, call 888-601-5359 or contact us online today!
Learn More About Martech Pricing, Services & Industry Tips!
Martech Software from WebFX