You need good tools to help you get the most from your digital marketing efforts, and one of those tools is a customer relationship management (CRM) platform. There are a handful of different options out there, but two of the best ones are Salesforce and Hubspot.
Both platforms are well-known and liked by the online marketing community, but who wins in Salesforce vs. Hubspot debate?
In this post, we'll compare the two platforms to help you figure out which one is the best fit for your business. Just keep reading for our full Salesforce vs. Hubspot breakdown. Then subscribe to Revenue Weekly, our email newsletter, for more digital marketing tips!
Salesforce vs. Hubspot: Which is better?
Hubspot and Salesforce are both excellent platforms, but which one is the best fit for your company and offers more benefits?
To answer that question, we'll walk through several aspects of each platform and compare the two options. Then we'll return to the original question at the end. Keep reading to learn more!
Ease of setup and use
One of the first criteria to evaluate is ease of use. You don't want a platform that's difficult to set up or navigate. The ideal option would have an intuitive layout and easy-to-understand functionality. Let's see how Hubspot and Salesforce compare in this aspect.
Salesforce
Salesforce offers a straightforward onboarding process. You can use the pop-up it provides to walk through the setup process and familiarize yourself with the layout of the platform. However, since Salesforce is divided into multiple tools, it can be hard to find everything unless you manually search for it.
Hubspot
Hubspot makes a point of walking you through everything you need to know from the moment you begin the setup process. It gives you a list of tasks to finish right from the get-go, keeping things as easy as possible. This setup gives it an edge over Salesforce.
Winner: Hubspot
Marketing and automation features
If you're asking yourself, "do I need Salesforce or HubSpot," you'll need to evaluate their marketing features.
One of the most important components to consider when looking at Hubspot vs. Salesforce is their marketing capabilities. The point of both tools is to aid you in your digital marketing efforts, so this is an important aspect to consider.
Salesforce
Salesforce offers an extensive array of marketing features. Among its most notable capabilities are:
The downside of using Salesforce is that it forces you to purchase each tool individually, limiting the number of tools you can access.
Hubspot
Hubspot provides many of the same tools as Salesforce, including the ability to create paid ads right in the CRM. Unlike Salesforce, however, it lets you buy these tools in bundles so you can save money if you're looking to get several tools at once. For that reason, it comes out on top in this category.
Winner: Hubspot
Reporting and forecasting
No matter what platform you choose, it's important to track your results. You need to track your marketing efforts in both Salesforce and Hubspot to ensure they're driving the results you want. That's why reporting features are a vital part of any CRM.
Salesforce
Reporting and forecasting are two of Salesforce's biggest strengths. It goes out of its way to ensure you have a huge array of data to work with, even offering potential revenue estimates based on existing data.
On top of viewing the exact number of sales in your pipeline, you can get predictions on what to expect down the road, helping you make informed decisions.
Hubspot
Hubspot offers many analytics reporting features as well. Unfortunately, these features are locked behind an upgraded subscription. If you do pay to access them, there are some useful data points there, but not nearly as many as in Salesforce.
Winner: Salesforce
Customer support
If you're wondering, "do I need HubSpot or Salesforce," you'll also want to compare their customer support. Customer support is a massive part of any platform. You'll inevitably run into issues at times, and you want to know that there's a team ready to help you out.
Salesforce
Salesforce makes customer service a priority. To start with, it provides a massive array of tutorial videos to help you if you're unsure how to do something. Moreover, though, it offers 24/7 live support on its more expensive plans, allowing you to chat with a member of their team at any time.
Hubspot
Like Salesforce, Hubspot offers some excellent customer service capabilities. It offers a lot of help when it comes to starting with the platform, as we mentioned under "Ease of Use." Unfortunately, it doesn't offer 24/7 live support like Salesforce, so it loses this round.
Winner: Salesforce
Pricing
Finally, it's worth taking a brief look at the different pricing options for Hubspot and Salesforce.
Salesforce
Salesforce pricing is extremely complex, depending on what kind of plan you want. For that reason, we can't get into the details here. That said, the cheapest plans come out to a mere $25 per month, while the most expensive plan is a whopping $15,000 per month.
Needless to say, the more expensive plans hold far more value, as they provide you with more extensive features.
Hubspot
Like Salesforce, Hubspot has a wide range of pricing. In fact, the cheapest Hubspot plan is free. However, the free plan lacks many of the best tools that come with paid plans. On the other side of the spectrum, the most expensive Hubspot plan is $3200 per month.
While Hubspot is overall cheaper, the more expensive plans offer fewer features than the Salesforce plans at the same rate. For that reason, there's no clear winner between the two — it depends on your priorities.
Winner: Tie
Hubspot vs. Salesforce: Which one wins?
Now that we've compared Salesforce and Hubspot in each of the above categories, which one comes out on top overall?
Unfortunately, there's no simple answer to that question. If you took the winner from each of the above categories and used the results to tally an overall victor, they'd tie. But more than that, the best CRM for your business depends on your unique needs.
If your priority is ease of use and many marketing features, Hubspot is the way to go. But if you're more focused on reporting and customer support, you might opt for Salesforce instead.
Likewise, if you want the cheapest option, Hubspot's free option is the best choice. But if you're willing to spend more to get a higher-value product, Salesforce could be better.
It all depends on your priorities. So, to make your decision, take some time to figure out what those priorities are.
WebFX is a partner businesses trust.
Hear from HydroWorx, who saw a 236% increase in organic sessions with WebFX services.
Watch the Video Testimonial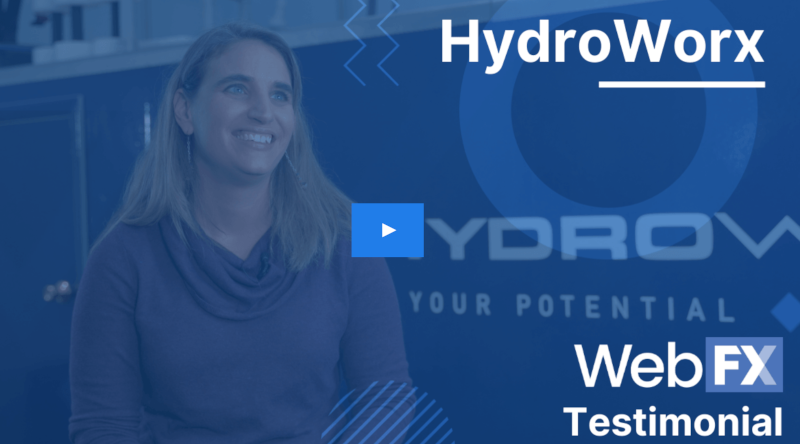 WebFX can help you get the best results from Salesforce and Hubspot
Hubspot and Salesforce are both useful platforms, but still require marketing expertise to leverage them and drive the best results. And the best place to find that expertise is with a digital marketing agency like WebFX.
When you partner with us, you'll get help tracking leads, predicting revenue, and more in Hubspot or Salesforce. You'll even receive a dedicated account manager who will keep you up to date on everything we do for you.
Plus, we offer one of the best Salesforce and HubSpot alternatives with our end-to-end revenue acceleration technology duo, MarketingCloudFX and Nutshell. With our technology, you'll have everything you need to learn more about your audience and launch data-driven strategies that earn a higher return on investment (ROI).
To get started with us, just call 888-601-5359 or contact us online today!
How is your website's SEO?
Use our free tool to get your score calculated in under 60 seconds.
Get posts by email
Join 200,000 marketing managers and subscribe to Revenue Weekly!
"*" indicates required fields
WebFX Careers
Join our mission to provide industry-leading digital marketing services to businesses around the globe - all while building your personal knowledge and growing as an individual.