Martech for Enterprises: An Introduction
Google updates, ranking fluctuations, new data regulations, and changing internal deadlines: Marketing is a chaotic field that requires constant attention to an impossible amount of things. Yet somehow, your competitors are making it look easy with higher rankings and traffic.
If the above description sounds familiar, you're not alone. The fact is, it's not that your competitors are better than you — odds are, they just have better martech.
Martech has increasingly become a key influence in the success of marketing departments across the globe for its ability to automate repetitive tasks, derive key points of data, and make project workflows more efficient. With marketing growing so rapidly, more and more businesses are entering the space, making any advantage highly valuable.
This is especially true if you work on an in-house team that requires each member to take on multiple marketing roles at once. Don't let yourself fall behind — use our guide to understand what martech means for enterprises. Then subscribe to Revenue Weekly for more digital marketing tips from the agency with over 25 years of experience!
What is martech for enterprises?
Martech is any software you use to enhance your marketing efforts. The word "martech" itself is short for "marketing technology." Enterprise marketing technology can be used in a wide variety of your marketing campaigns to improve their efficiency and effectiveness.
Some common areas where martech is used include:
Meet MarketingCloudFX:
One platform tracking countless metrics and driving stellar results.
Learn More About Our Proprietary Software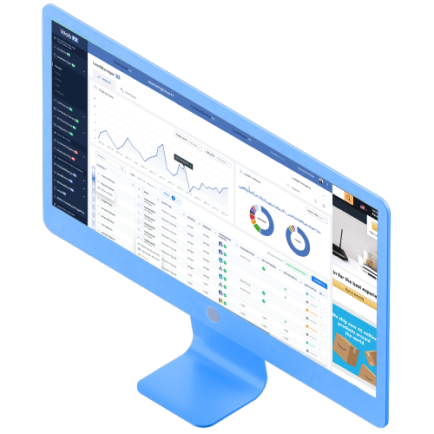 How to create an enterprise martech stack
Another reason why martech platforms are so useful is their ability to seamlessly integrate with other martech. Marketers can set up several martech tools to cover a diverse range of needs without sacrificing efficiency. The action of setting up a network of martech tools for an organization is referred to as creating a martech stack or a marketing tech stack.
While it would be awesome to sign up for every enterprise martech software we see so all of our needs are met, it's not realistic. Setting up martech takes time, effort, and capital. Even then, not all martech drives the same impact or even works.
In order to determine an optimum enterprise martech stack for your organization, we recommend the following process:
Outline your organizational goals, your marketing goals, and your current strategies.
Check with your team to determine what challenges they face and the most repetitive parts of their routines.
Write down a list of needs the new martech must fulfill.
Based on the needs outlined, determine a potential budget for your new martech stack.
Search around and compile a list of martech that matches your needs and budget.
Make sure each tool on the list performs a unique function. If multiple tools perform the same function, then further research is needed to determine the optimum tool to use.
Launch the new martech and transfer any relevant data — certain martech tools will be worthless without data.
Have each team member research and test out a specific tool in the new martech stack. This will ensure that each tool has been explored and none have been neglected.
Measure the impact of the new martech stack compared to the old. Did some new tools improve workflow and leads? Can you identify old tools that worked better? Were any tools derivative in the new stack? Are you certain the new tools were used correctly?
7 enterprise marketing technologies to use
With all this talk about martech, you may be wondering which specific platforms you should use. If so, don't worry!
Here's a list of martech platforms for your enterprise to try:
Google Drive
The Google suite is the most direct competitor to the Microsoft suite. What makes Google Drive such a better alternative is its real-time collaboration features and cloud storage capabilities. You never have to worry about saving documents because it's all on the cloud, and you can finally stop emailing a slide deck back and forth for edits.
Slack
Efficient, informative, and functional — Slack has transformed enterprise communication across the world through its various group and direct message channels. It also provides integrations with other popular martech, including Google Drive and GitHub.
Hootsuite
Social media has transformed the way brands communicate with customers for the better, but many brands have problems keeping up with it. To get yourself on a better footing when managing your social channels, use Hootsuite to analyze your social media environment and schedule posts to be uploaded ahead of time.
Google Ads
Google Ads is often considered to be the definitive platform for PPC. It facilitates all ads on Google and its display network to drive conversions for your business.
While it would be considered a dominating force due to the size of Google's digital reach alone, it also provides a wealth of analytics and campaign options to meet the needs of every type of marketer. You can have complete control over your campaigns or let Google's automation services take over — your pick.
MarketingCloudFX
Did you know that your email marketing, CRM, SEO, content marketing, PPC, and project management data could be consolidated into a single cloud-based platform? What's more, that same platform possesses proprietary tools that allow you to more effectively spy on competitor campaigns and determine the true ROI of your own campaigns.
The platform in question is our own MarketingCloudFX. MarketingCloudFX offers all the above features and more while remaining completely open to integration with your current marketing workflows.
Mailchimp
For many fresh email marketers, Mailchimp was their first platform. This email marketing software is scalable and intuitive to use, which means that marketers of any experience level for any sized company can jump right in. You can draft and customize emails with specific templates and then measure their success after launch.
Optimizely
Every digital marketer should be testing their landing pages to see if they can drive a higher conversion rate. Tools like Optimizely help you accomplish this by setting up experiments for when you adjust your CTAs and page layouts. The platform lets you conduct tests that are more accurate and far more complex than your standard A/B testing.
Time to Level Up Your Sales
Our long list of services helps you grow every aspect of your business with marketing strategies that are proven to increase bottom-line metrics like revenue and conversions.
In the past 5 years, we've managed more than 12.9 MILLION transactions across our client base.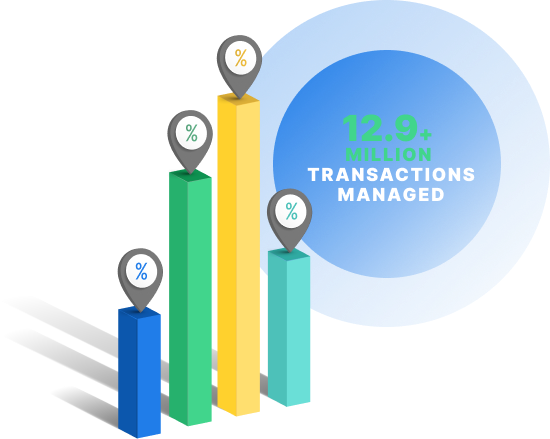 Upgrade your martech stack with MarketingCloudFX
There are a tremendous amount of martech tools available, but not all of them can measure how your marketing channels impact your leads and your ROI. Our enterprise martech agency provides the software you need to do it all.
MarketingCloudFX does both of these things while also consolidating the data and features for many of your marketing tools.
MarketingCloudFX also automates tasks you didn't even know could be automated, and provides proprietary features that you can't find anywhere else. If you're thinking about upgrading your current martech stack, take a look at our platform and get a free quote today!