Online PPC Pricing: How Much Does PPC Cost?
Wondering about the current PPC and PPC Management price ranges and how much to budget for your marketing efforts? You have come to the right page. This page will explain everything there is to know about PPC — including PPC prices — and what you can expect from the PPC price you have to pay.
What is PPC anyway? PPC stands for pay per click advertising. A PPC price is simply the fee you pay to benefit from pay per click advertising from a web marketing company. Pay per click pricing can vary from agency to agency, so it's important to compare your options thoroughly.
So what does "pay per click" mean then? PPC advertising is a method of advertising where advertisers only pay the ad host when someone clicks on an ad. That means if someone triggers your ad, but they click somewhere else, you don't pay a cent!
Questioning the quality of your SMB's PPC performance?
Get your FREE PPC audit from WebFX today!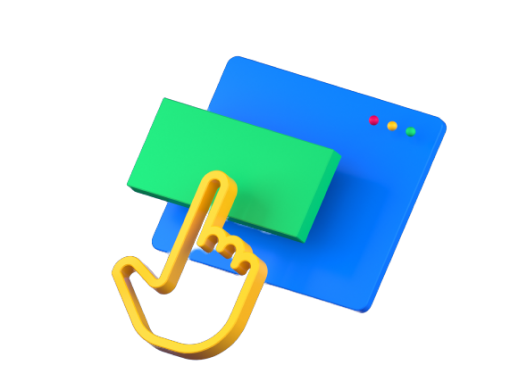 What is PPC?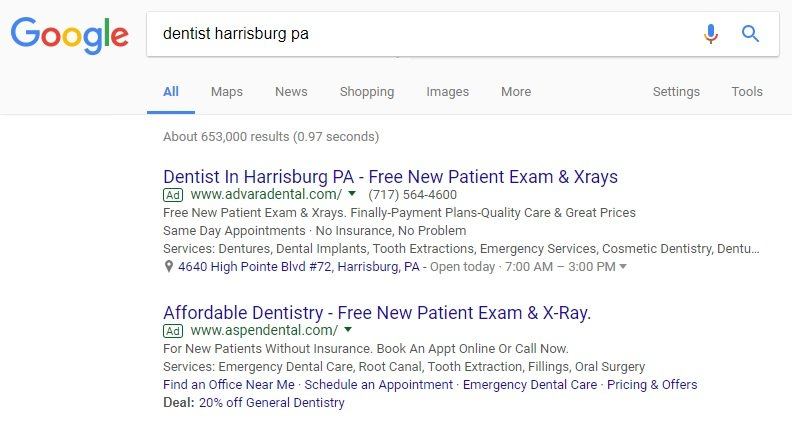 PPC is closely linked with search engines, which is why so many agencies show potential customers Google pay per click pricing. Unlike banners which don't always produce positive results, PPC search engine listings are very effective.
How does this work? Generally, advertisers create an ad that is tied to a certain search term that is relevant to your business. Once an online user types in the targeted keywords in the search engine, your ad will display in the resulting page in the ads area.
For example, if your business is related to toddler beds, you would choose "toddler beds" as your keyphrase so that you will show up in user searches for "toddler beds." Then, if a user clicks on your link, you pay the search engine a small fee and the user goes to your website.
These ads are most effective when they target keywords that reflect an intent to buy, bringing new customers to your site. This is exactly the service that you should expect to have set up for you from an agency that offers PPC pricing and management, particularly any that offer a Google pay per click advertising cost.
Today, PPC is regarded as one of the most effective online marketing strategies. It has been proven through web research that the PPC price you invest is worth every dime.
PPC can effectively attract new types of customers that are interested in your products or services for little investment, compared to traditional ad methods. To determine how PPC can benefit you, lets look into the various elements of a PPC ad and PPC costs.
93% of WebFX customers are extremely satisfied with their digital marketing results.
"Working with WebFX, everything is very organized and strategic. We're only a year into our partnership, and our expectations have definitely been met."
View More Client Testimonials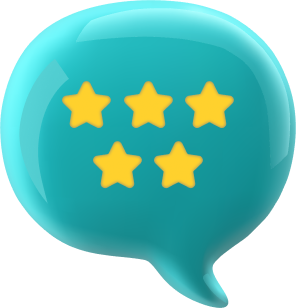 Parts of a PPC ad
A PPC ad allows your product or services to be showcased to potential customers all over the Internet. Generally, it includes a headline, a brief description of your product, and, of course, a link to your site.
Your PPC ad must accurately create a picture of your business while looking attractive enough to encourage customers to click it.
A great PPC ad can bring wonderful results to your marketing campaign, so it's important that you entrust the entire project into an individual or a company who can effectively give you a good PPC campaign. Paying a certain PPC price in exchange for these services in the right hand will surely be worth every penny.
PPC is not simply about coming up with a marketing project — it also tracks the success of your PPC ad so you can constantly refine it over time. With the PPC price you pay, you should also expect the web marketing company to come up with the most effective ad that yields the best results.
Also, PPC campaigns can involve multiple ads for different product or service categories. If geographic location matters in your niche, it can also be a good idea to specify your business location in order to improve the chances of attracting your target customers.
Depending on your needs, you can come up with a good PPC marketing plan with the help of a good web marketing company.
How keywords impact PPC costs

People are always asking, "how much does pay per click cost?" There's not one standard answer, and the specifics vary depending on your business, product, and more. In addition, Google pay per click prices won't be the same as those in a Yahoo! pay per click program. As a result, pay per click prices for ads can be just about anything.
PPC advertising systems work like auctions. You place a bid on the search terms that you want to trigger your ad. Because each keyword is different, your PPC keyword cost can change throughout the day, which is why all ad services allow you to set a cap on your maximum bid, ensuring you won't overspend your budget just because someone else is ramping up theirs.
If you outbid at least some of your competition, your ad will display in the sponsored results in a search engine's results page. The higher you bid compared to your competition, the better chance you have to show up above the other ads.
In terms of search results, if your bid happens to be the highest of them all, you will get listed in the top position. If your bid is the third highest, you will be in the third position, and so on.
Essentially, the cost of pay per click advertising — and a keyword's individual pay per click price — is entirely depedent on the competition for that term.
Some programs, such as in Google Ads, consider more than just your bid. It also considers the amount of clicks generated by your advertisement (and the total in associate revenue), called your click through rate (CTR).
If your ads generally attract lots of clicks, search engines see that as an indicator of quality and usefulness, which they incorporate into your PPC rates.
The more helpful you can prove yourself to be to search engine users, the more likely search engines will show your ad at the top of their sponsored listings.
In some cases, like with pay per click at Google, you may even get a discount every time someone clicks on your ad, meaning a Google pay per click price can change depending on your reputation. So good PPC includes more than what you pay — it's also about how you treat your customer.
PPC outlet options
Because of the effectiveness of PPC search engine advertising, the costs of some keywords have risen significantly and continue to rise each year.
The most common keywords and keyphrases are expected to be more expensive since they're more general, so they can apply to more businesses. So, the best option for businesses just getting into PPC is to find keywords that are less expensive, but reflect the intent of a search engine user. For example, "buy toddler beds" would be a great ad for our fictional business from earlier.
Today, there are a variety of PPC advertising programs at your disposal. The most popular of these programs is Google Ads, though you can also use Bing Ads, Yahoo! Gemini, Facebook Go, and more.
Google Ads displays ads on major search engines such as Google and AOL, along with other engines and a huge network of affiliated websites.
With such a broad reach, Google pay per click cost is almost always worth the ROI. Its popularity may make Google PPC cost more expensive than some alternatives, but your potential audience is enormous.
In major search engines like Google and Bing, you can expect pay per click costs to start low — as little as pennies for every click — and others as high as $50 or more.
Generally speaking, the bigger budget you have to cover pay per click costs, the better you'll probably do. A big budget also means you can adapt to changing PPC rates and stay on top of your competition.
How to use PPC
To maximize your ROI, you not only need to join a reliable PPC program, but you also have to make sure the terms that trigger your ads will get customers to buy. Otherwise, you won't make much back from the cost of PPC, and you can lose valuable business from customers on top of a hurt budget.
While dozens of factors play into a successful PPC campaign, there are some elements that carry more weight than others.
First, local searches can work wonders for small businesses. For example, if you run a local salon or a restaurant, your ad will surely be more successful if you target searches within your city.
That way, you can make sure your PPC ads only show up for searchers who are near your storefront, as opposed to halfway around the world.
On the other hand, if your products and services are available worldwide, you can expand your reach to the appropriate limits to get the most possible business. Naturally, a wider scope will need a bigger budget to cover the more expensive PPC price.
But if your business wants to target a whole country — or the whole world — then hopefully you already have the budget to make it work.
Along the same lines, it's equally important that you settle on a reasonable price per click for each keyword to create a successful campaign. If the PPC price for a keyword gets to be too high, consider dropping it for the moment.
In a few days, check back on the price to if the keyword has become more affordable. If it hasn't, just wait for your budget to grow to the point where you can compete with those higher pay per click advertising rates.
Time to Level Up Your Sales
Our long list of services helps you grow every aspect of your business with marketing strategies that are proven to increase bottom-line metrics like revenue and conversions.
In the past 5 years, we've managed more than 12.9 MILLION transactions across our client base.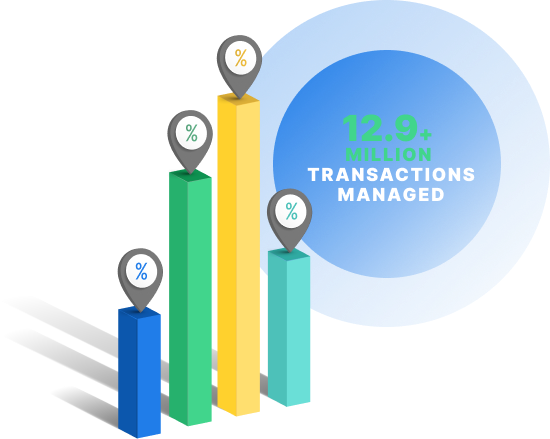 WebFX is your PPC partner
It can be difficult to start a PPC campaign when you want to compare it to ROI right away. Depending on your goals and budget, you'll need to set appropriate bid limits, along with time restrictions, geographic targets, and more. Determining all of this information, including the cost you pay per click, can take up a lot of time.
If you're too busy to work out an appropriate pay per click cost, consider partnering with a firm that specializes in pay per click rates, campaigns, and results.
Partnering with an Internet marketing company to run your PPC campaign is always a good idea if you don't have time to deal with Google pay per click rates, Yahoo! pay per click help, or Bing keyword costs.
This way, your money is in the hands of experienced professionals.
WebFX, a leading name in online pay per click campaigns, provides reliable and PPC management packages to hundreds of clients. Our seasoned team of PPC specialists knows how to get the most out of every budget — even the smallest budgets from local businesses.
They've managed countless campaigns for online pay per click advertising at a PPC price that won't break your bank.
Contact us to start your PPC campaign today. We can't wait to hear from you!