How to Check Backlinks: 7 Tremendous Backlink Checker Tools
If you're investing in search engine optimization (SEO) to grow your business online, you must understand the factors that influence your site's ranking in the search results — and backlinks are one of them.
If you want to learn how to check backlinks and the best tools to check your backlinks, you've come to the right place.
On this page, we'll cover what backlinks are, why they're important, and seven tools to help you check them. If you want to learn more about backlinks, call us today at 888-601-5359 to speak with a strategist about how we can help you improve your site's ranking.
What are backlinks?
Backlinks form when one website mentions another website on their site and links to it. It's the process of making connections through external websites. These connections help drive traffic to your site and improve your site's authority.
For example, let's say Company A writes a blog post about how to build credit. Company B, a notable credit card company, links to that article on their website. For Company A, this link is a backlink.
A backlink links back to your website from another site. These links are also known as inbound or incoming links.
However, if you want a backlink to add value to your site, it needs to be a natural link. There are opportunities that allow you to pay for links to your website, but if you do so, you risk diminishing your ranking or getting banned by Google. Stick to earning natural backlinks that will help improve your site's ranking and boost your domain authority.
It's also best to have a few high-quality links over many, low-quality links. High-quality backlinks will drive better results for your business and help you rank in the search results.

Free PDF Download
SEO Pricing: How Much Does SEO Cost in 2023?
Discover how much SEO costs, and why, in this free guide written by our expert team.
Download PDF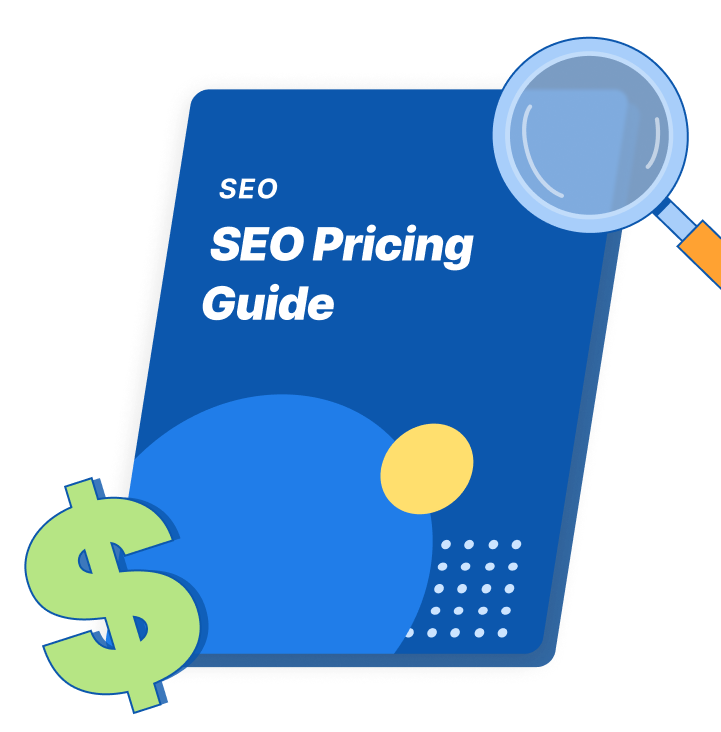 Why do backlinks matter?
Backlinks are essential to your business because they determine your page's authority. You want to have a high-authority domain because it helps you appear in more relevant search results.
When you gain backlinks, it serves as a symbol that other websites endorse your content. If Google sees that several high-authority sites link back to your pages, it will assume that you have relevant content that's worth linking to for other websites. If it's worth linking to, Google determines that it's worth ranking higher in the search results so more people can find it.
Backlinks determine the relevancy of your page, too. If you're covering a particular subject and authority sites link out to your page in their content (on the same subject), it tells Google that your page is relevant to the subject. This process helps you rank better for that topic.
Backlinks are like endorsements for your website. It's an authority site's way of validating your information and helping Google see it's relevant. A high-quality website linking to your site is a high-valued endorsement.
Aside from technical aspects, backlinks offer numerous other benefits:
Build relationships: When you reach out to authority blogs and websites, you create the opportunity to build a relationship with these sites. A long-term relationship with key people in your industry is a great way to grow your business's trust.
Get referral traffic: When these authority sites link to your page, it drives relevant traffic to your page. You'll increase traffic on your website and potentially increase sales on your page.
Build your brand: Earning backlinks helps you establish your authority in your industry. You'll earn more backlinks, which will help more people find your brand. It's a great way to build yourself as an authority on a subject and get more people to recognize your brand.
How do I earn backlinks to my site?
Are you wondering if authority sites have linked to your website? If so, you can check your backlinks by using a backlink checker tool. A backlink checker tool will help you see who's linking to your site pages. They'll also provide you with a backlinks report so you can analyze your backlink profile.
On most tools, you'll input the URL of choice into the website's search bar, which will provide you with data about that page. Backlink checker tools will help you see links that point to that page, in addition to the page's authority and other valuable information.
Keep reading to learn more about our top seven backlink checker tools!
We foster and form long-term partnerships so that your business has long-term results.
Over 90% of WebFX clients continue partnering with us into year 2 of their campaign.
Hear from Our Happy Customers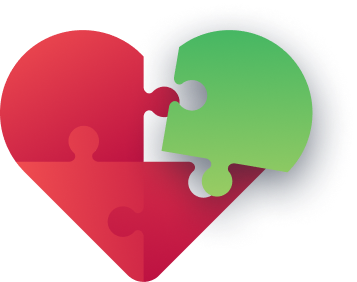 7 awesome backlink checker tools
Backlink checker tools help you see who's linking to your site, so you can capitalize on those links and build relationships with sites that link to your page. Let's take a look at seven backlink checker tools that will help you see relevant data about websites linking to your website.
1. Ahrefs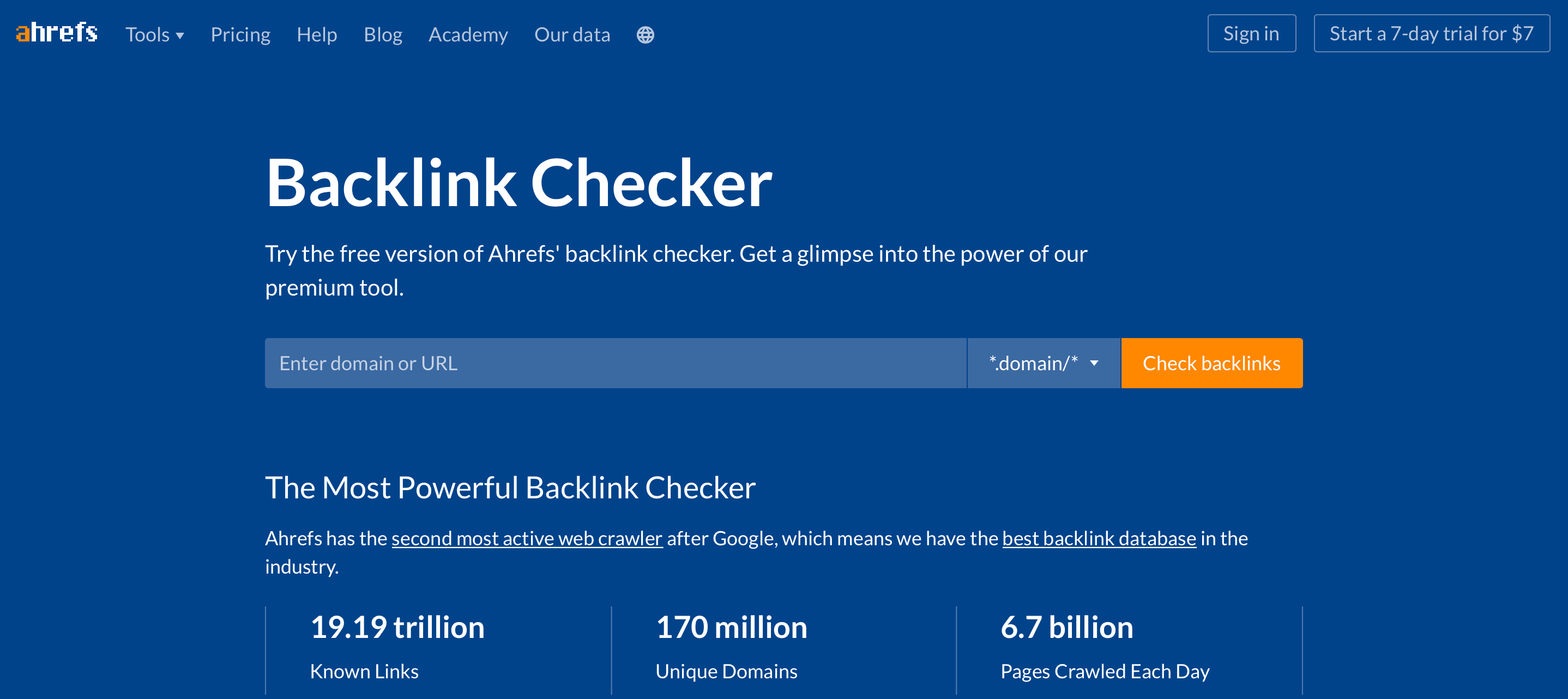 Cost: Seven-day trial for $7, plans go from $99-$999 per month
Ahrefs is one of the best backlink checkers your company can use. This tool is popular among companies that are looking for a high-quality backlink checker tool. Ahrefs provides an abundance of data that can help you manage and acquire backlinks.
When you visit their backlink checker tool, you can enter a website URL to receive information about companies that link to that page. You can enter a URL from your site or a competitor's site.
Once you enter the URL, you'll see all the links that point to that specific webpage. This backlink checker tool also provides additional information, such as the domain rating and the number of times that domain linked to your site.
Ahrefs allows you to see new, broken, and lost links to a site as well. With new links, you can start generating a repertoire with those sites to earn more links in the future. With broken and lost links, you can work on contacting the websites that initially linked to you and get those links back.
This backlinks finder also enables you to monitor backlink profiles. You'll see the growth and decline of your backlinks, as well as the organic traffic that visits each page. Ahrefs also helps you see which pages drive the most success with their most linked-to pages feature.
Overall, Ahrefs provides quality data on backlinks. Whether you want to look at your backlinks or the competition's, you'll get an abundance of useful information that helps you revamp your strategy for obtaining backlinks.
2. Moz Link Explorer

Cost: Free options, more advanced backlink data options from $99-$599 per month
Moz Link Explorer provides you with valuable data that helps you build better backlinks for your business. You can check website links and get results in seconds. It's a great backlink checker tool that enables you to gain more insightful data to build more efficient link building research.
With Moz Link Explorer, you'll enter a website in the search bar and generate information about the links to that URL. You will see information about inbound links, anchor text used, the linking page's authority, and spam score.
Moz Link Explorer offers opportunities for you to do what you like with links. You can:
Work on link prospecting
Fix broken links to your site
Discover new or lost links
Research competitor links
Discover link building opportunities
Analyze anchor text used in backlinks
Use link data to create better content
The opportunities are endless with this backlink lookup tool. It's a valuable data source that will help you manage every aspect of your backlinks so you can get the most out of them.
3. SEMrush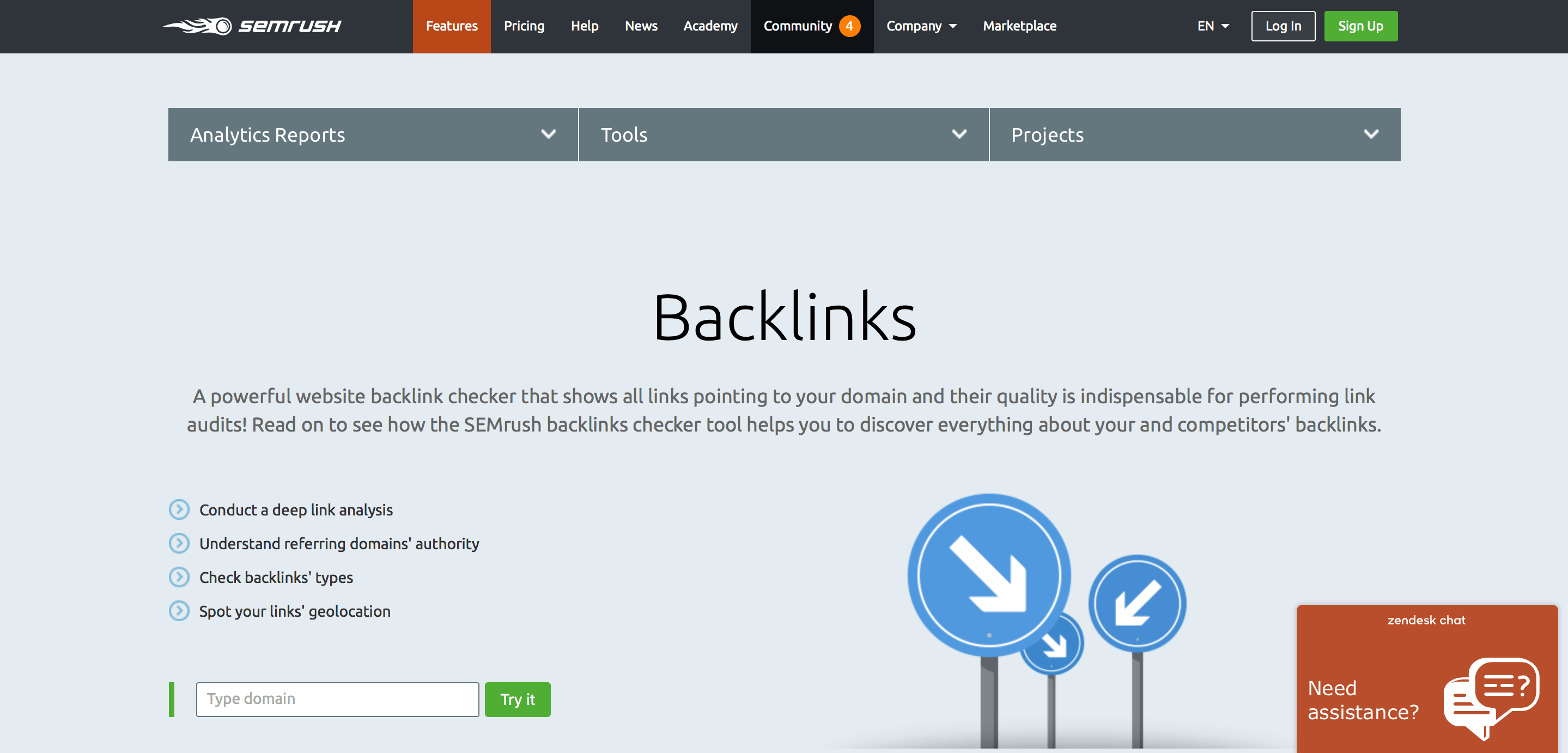 Cost: Free trials available, cost ranges from $99-$399+ per month
SEMrush is a great tool to check website backlinks. This tool has a massive database of information that's updated daily. This constant update enables you to check your business's backlink information accurately.
With its backlink reports, you can find a way to beat your competition in the search results. You can track multiple competitor websites at once and learn about who's linking to them.
SEMrush enables you to see links that point to your domain and the quality of those links. You can conduct an in-depth link analysis, which allows you to:
Check incoming links
Review the domain authority of links
See anchor text used
View URLs and titles of linking pages
Know where links come from (geographically)
This backlink checker tool helps you understand who's linking to your site and their website's authority. You can check your backlinks to see if these links provide any link juice to your website.
Link juice is the value passed from one site to another. So, you can see if high-value sites are linking to your page and providing you with more link juice.
SEMrush is a great tool if you're looking to understand your backlinks better and capitalize on the information you obtain about them.
4. Buzzsumo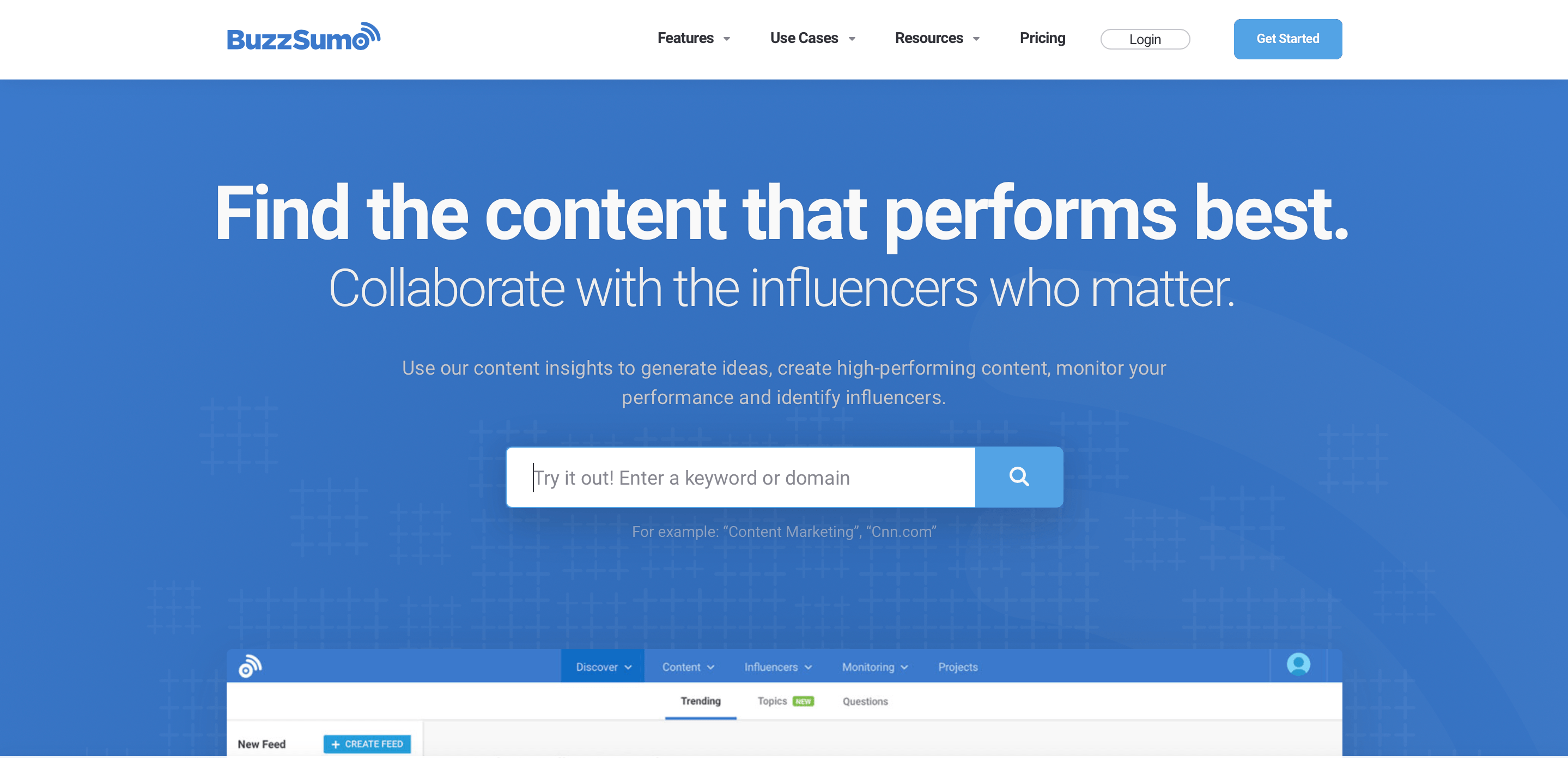 Cost: Free trial available, $99-$499+ per month
Buzzsumo is one of the best backlink checkers for analyzing your backlinks as well as your competition's.
This tool allows you to check both keywords and domain names. If you opt to search with keywords, you can see the highest-ranking pages for specific keywords and look at the links that point to that page. This resource is great if you're looking to rank higher for a particular keyword.
Buzzsumo also allows you to search for different domains and see who's linking to those sites. This tool's dashboard is very user-friendly, so you can effortlessly search for different domains and obtain valuable information you need.
When you use this backlink counter tool, you'll get notifications about new links, too. It allows you to keep track of who is linking to your business and build relationships with those websites. Buzzsumo is great for organic growth with backlinks.
It also helps you see which pages get backlinks. This insight makes it easy for you to optimize your strategy to earn more backlinks for pages that may not perform as well. Overall, Buzzsumo is a simple and effective tool for helping you review backlinks and obtain new ones.
5. Google Search Console

Google Search Console is a free backlink checker tool you can use to improve your site's ranking in the search results. This tool enables you to monitor and maintain your site's presence in the search results.
When you use Google Search Console, you'll see if Google can crawl your site. Crawling is important because it helps Google understand the context of your website and use that information to rank your page in the search results.
Google Search Console helps you fix indexing problems, which may have prevented sites from finding your page and linking to it.
Google Search Console also enables you to view search traffic data on your site and see how often you appear in Google search results. You'll also see which queries generate your website in the search results.
All this information helps you understand how other websites find your content and link to it. You can see which sites link to your website and how your search result position affects your links. It can help you understand how your ranking influences the number of backlinks you receive for a website.
6. Majestic

Cost: $49-$399 per month
Majestic is one of the oldest backlink checker tools on the web. This tool has a lot to offer to your business. If you want to monitor your backlink portfolio, Majestic provides an abundance of great information to help you learn about your backlinks.
When you're on Majestic, you plug your domain into the search box and go from there. This tool and its mass backlinks database offers an abundance of information, including information on:
External backlinks
Referring IPs
Referring subnets
Backlink history
This information provides you with insight on who's linking to your page and how you can earn more backlinks for your business. You'll understand which pages perform better and which ones need more work to garner links.
7. Ubersuggest

Cost: Free
Ubersuggest is a free backlink checker tool created by Neil Patel. The marketing guru created this tool to help companies figure out who's linking to them and who's linking to competitors. It's an excellent tool for your business if you're looking for an efficient tool that doesn't break the bank.
This tool enables you to see an abundance of insightful information, including:
Domain score
Page score
Total number of backlinks to a page
Total number of Nofollow links
Referring domains
Anchor text
Link type
Ubersuggest also allows you to do a competitive analysis. This competitive analysis helps you find new link building opportunities and see who links to competitors, but not you. It creates an excellent opportunity to boost your site's ranking in the search results and obtain more backlinks.
This backlinks finder also helps you identify the best linking opportunities. With advanced link filtering, you can filter links by:
Region
Text
Domain score
And more
These filters will help you see where you have opportunities to earn backlinks for your page.
You can get all this, and much more, by using Ubersuggest as your backlink checker tool. It's a great resource to help you learn more about who's linking to your business and how you can earn more link opportunities.
Partner with a team of ecommerce masters!
WebFX campaigns have delivered more than 12,936,451 ecommerce transactions in the last 5 years
Read the Case Studies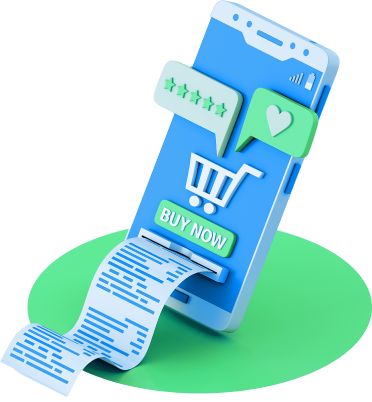 Start earning more backlinks for your business today
When you know how to check backlinks for your business, you can start earning more backlinks for your business. The best backlink checker will provide you with valuable data you can use to receive more links on your pages.
It takes time and effort to monitor your backlinks and create a strategy to build more links. If you need help creating a backlink strategy that works for your company, WebFX can help. With over a decade of experience, you can count on our team of 500+ experts to help you manage and obtain backlinks.
To learn more about how WebFX can help you with your backlink strategy, contact us online or call us today at 888-601-5359 to speak with a strategist.
How Is Your Website's SEO?
Use our free tool to get your score calculated in under 60 seconds.