Backlinks create connections between two businesses. They let you establish authority in your industry and drive more traffic to your website. It might not seem easy for smaller companies to build backlinks, but the good news is that there are numerous simple but effective ways to gain backlinks.
Keep reading to discover seven ways to earn more backlinks for your business!
P.S. Staying in the marketing know-how doesn't have to be a challenge. Subscribe to Revenue Weekly to get the latest marketing tips and tricks delivered straight to your inbox for free!
What are backlinks?
Backlinks — often referred to as inbound links — occur when one website links to another. For example, if you rent landscaping equipment and an authoritative site about landscaping links to your article on landscaping equipment, that's a backlink. These often appear in the text of a page, though you can also find them on images or buttons.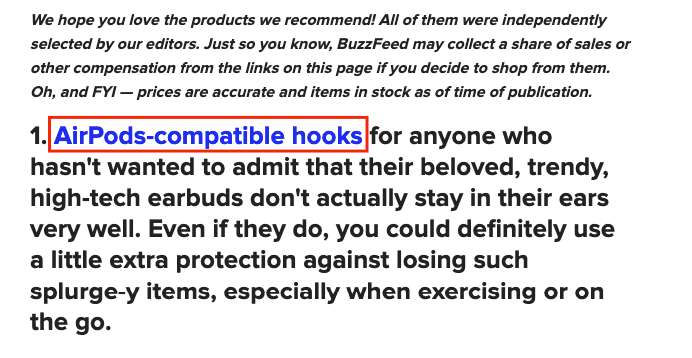 As long as one website links to another, it's considered a backlink. Links are beneficial for search engine optimization (SEO) purposes. A high-quality backlink to your company shows search engines like Google that you provide helpful information and are a trusted source.
Backlinks also offer several benefits for consumers. When users can see how companies relate to one another, it establishes more trust in your brand.
How to get backlinks: 7 easy ways to get a backlink
You need to follow white hat SEO and backlink practices to gain new backlinks. Following these tactics helps to ensure your backlinks will be high-quality and reputable.
1. Get links from existing partners
If you want to know how to get backlinks, start with your existing partnerships.
As someone running a successful business, you likely have existing partnerships with other companies. Whether you have stockists or you sell products from a different company, these other businesses present an opportunity to create backlinks. You could also try linking to other affiliates of your company, such as financial advisors and website designers.
2. Convert mentions into backlinks
You may have noticed how a blogger or article writer mentions your brand in a post but doesn't link to you. If you haven't seen that before, you can try this Google search operator:
intext:[your company name] -yourdomain.com -twitter.com -facebook.com, etc.
You can add as many of those other website names —- such as other social media sites — as you'd like.
The search results will show all the pages that mention your website. You can scroll through the links to find which ones are mentions and which ones are backlinks.
If someone is already writing positively about your business, it's an excellent opportunity to earn a backlink.
Reach out to these businesses and politely ask if they can turn a mention into a clickable link. If they are a fan of you, they will most likely say yes and now you've earned a new backlink.
3. Look at your competitor's backlinks
Use backlink tools to look at your competitor's backlinks. Examples of competitor backlink spy tools include the following:
Once you've used one of these tools to find backlinks your competitors have that you don't, you can start reaching out. You can send an email about how they could link to your website. Aside from reaching out to who links to your competitors, it also helps to watch what your competitors do.
What are their link-earning techniques? For example, if they write guest blog posts, you could try doing the same thing. Use your competitors as inspiration on what to do with your strategy.
4. Write and develop "linkable" content
People will want to link to your company if you write good content. You will need to write posts, articles, and other copy relevant to your industry that benefits your readers. The better content you write, the more likely you'll be seen as an industry expert.
One of the best things about content creation is that you are likely already doing it if you have a marketing or SEO strategy. Using top-notch techniques for writing and formatting your content draws attention to your work and can help you rank better and earn more qualified backlinks.

5. Participate in forums, interviews, and blogs
Responding on forums, being in interviews, and writing guest blogs are great for building backlinks. If you're on forums or websites like Quora, you can give accurate, well-written comments and feedback to posts and provide a link to your website when relevant.
You should always write valuable content and refrain from spamming forums or Q&A websites with comments like these. You want to do only white hat SEO practices to ensure you help your company.
For guest blogs or interviews, you do the same thing, only applied to a whole post instead of a comment.
6. Look for broken links
If you want to know how to create a backlink, try looking for broken links on people's websites. Having broken links on a website impacts a company's SEO performance, but many don't know they have broken links. It is an excellent opportunity for you to fix their issue and earn a backlink.
You'll want to look on websites that post content relevant to your industry and find broken links. Contact the company and point out the broken link when you find one. You can then offer a similar page from your website as a replacement link to fix it.
7. Create an infographic or other visual media
Visual media is one of the most appealing content forms. Visuals can make complex topics easier to understand and present data in a new, more approachable way. If your infographic is high-quality, other people or businesses can incorporate them into their blog posts with a backlink to you.
Build better links with WebFX today
If you want help writing content and analyzing your competitor's growth, SEO services from WebFX can help you achieve your goals. Our strategists can optimize your pages and keywords, write compelling copy, help with internal and external linking, and more.
Contact our team online or call 888-601-5359 to start building links today!
WebFX Careers
Join our mission to provide industry-leading digital marketing services to businesses around the globe - all while building your personal knowledge and growing as an individual.