A huge part of search engine optimization (SEO) is getting other people to link to your site. Referring domains and backlinks affect link quality and your bottom line.
Many marketers aren't sure about the difference between these two terms. Referring domains are websites that link back to your site, while backlinks are the hyperlinks from other sites to yours.
So, referring domains vs. backlinks — which matters more?
In this post, we will break down referring domains and backlinks and how to improve both aspects. Keep reading to learn more, and then call [stat-phone] to speak with a specialist about how we can help you earn quality backlinks and referring domains!
Don't miss our Marketing Manager Insider emails!
Join 200,000 smart marketers and get the month's hottest marketing news and insights delivered straight to your inbox!
Enter your email below:
Inline Subscription Form – CTA 72
"*" indicates required fields
(Don't worry, we'll never share your information!)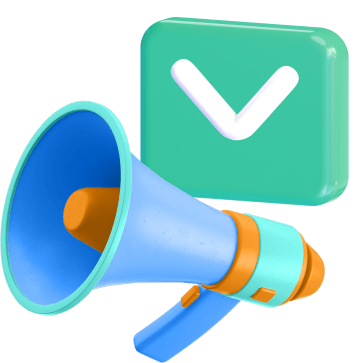 Referring domains vs. backlinks 101
Though referring domains and backlinks are closely related, there is a difference between the two. Understanding each one will help you better target your SEO approaches.
Let's cover the basics of referring domains and backlinks.
What is a referring domain?
A referring domain is a site that links back to your page or website. A domain is a website name — the term referring describes the relationship between two websites.
Say Target.com links to your website three times. Target.com then becomes a referring domain for your website.
Domain authority is another important aspect for determining quality referring domains. This number is a score out of 100 that refers to the domain's credibility. Google determines domain authority through the following criteria:
SEO performance
The number of backlinks and their quality
Content quality
Social signals and traffic
Having a high number of referring domains from sites with a high domain authority can help with SEO because other websites and Google will see your site as valuable and trustworthy. If you get a backlink from a website with high domain authority, Google will see that reputable sites trust you, which boosts SEO even more!
What is a backlink?
A backlink is a link from another site to yours. The other site (the referring domain) can include links to your services, blog posts, social posts, and more. Writers embed backlinks in the text with a hyperlink, but they can also be in images, videos, buttons, and more.
A backlink is helpful if it:
Comes from an authoritative source
Leads people to your website
Points to a crucial service or page
The difference between referring domains and backlinks
Backlinks only represent the link, while referring domains explain the site linking to yours.
You can have as many backlinks as possible, and you can have multiple backlinks from the same referring domain. If another website links to yours five times, you have five backlinks and one referring domain.
You can also link to other pages on your site, but those are known as internal links instead of backlinks.
Why does this distinction matter?
Understanding backlinks and referring domains can help you target your SEO practices and ensure that you're looking at the right metrics. Increasing your backlinks isn't enough — having multiple backlinks from various referring domains is best.
With authoritative referring domains and numerous backlinks, you can enjoy the following SEO improvements:
Increased traffic: People can find your site in more locations than search results. Backlinks allow other audiences to discover your website, increasing your traffic and possible conversions.
Improved credibility: When multiple authoritative sites link to your pages, users (and Google) will notice that your site is a source of information. Google will likely point to your site when pulling search query answers.
Higher rankings: Above all, backlinks from quality domains can help your site rank higher in search engine results pages (SERPs). As Google notices your connections with other sites, it will rank you above sites with fewer or low-quality backlinks.
How to check referring domains
Online tools make it easy to check your referring domains. Ahrefs is a leading referring domain checker. You can get a $7 week-long trial and then pick your plan.
Navigate to the Ahrefs Site Explorer and paste in any URL, click enter, then navigate to the "Referring domains" report: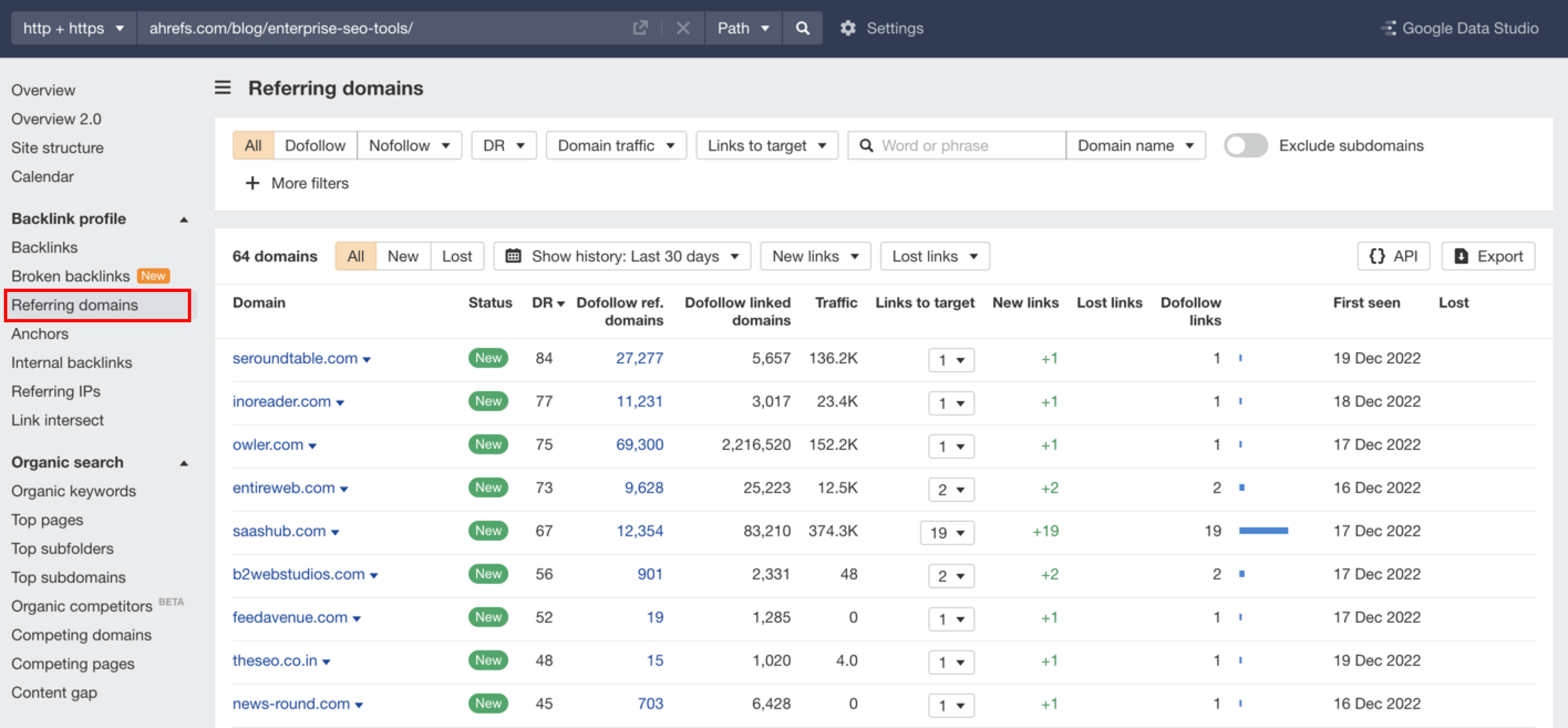 This report shows the complete list of referring domains that link to your site or page. Ahrefs breaks them down by domain rating, traffic, and the number of links they include to your page.
Use the toolbar to filter your settings and hover over any term for a simple definition:
How to check backlinks
To check your backlinks, you can use the following tools:
Ahrefs: Instead of clicking on the "Referring domains" tab, choose the "Backlinks" report to see the backlinks to your page. You can still see the domain and URL ratings.
Moz Link Explorer: This tool lets you discover link-building opportunities and correct any broken links to your site. You can access free tools or pay a monthly subscription fee for more features.
SEMRush Backlink Analytics: SEMRush offers a free tool to help you check backlinks and analyze competitor data. You can break down single URLs or entire pages and determine each link's quality and type.
If you see backlinks you don't want, use Google's Disavow Tool to get them off if you think they can hurt your SEO. This tool is helpful if you have a lot of links from spammy websites that could affect your rankings.
3 ways to earn more backlinks for your site
While backlinks aren't the only SEO factor to look for, they are a proven way to boost your site's credibility. You want your site to impress other businesses and encourage them to link to it naturally. Avoid buying backlinks from numerous sites — this will hurt your SEO in the long run.
Here are three ways to earn backlinks to your site and improve your SEO ranking:
Create informational content: Users can't link to your site if there is nothing to see! Create a company blog and post regularly to establish yourself as an industry authority.
Link to other sites: If you find a reputable site, link to them first in your own work. You can begin a relationship with them, and hopefully they'll return the favor later.
Design infographics: Infographics are highly sharable content that anyone can use. Create infographics on industry topics that other people can use, and they will link you as the source.
FAQs
Let's review what we've covered with a few commonly asked questions.
Are referring domains and backlinks the same?
No. Referring domains are websites that link to your site, while backlinks are hyperlinks on other websites that link to your page.
What does referring domain mean in SEO?
A referring domain is a website that links to your site. Getting referrals from a quality website will show Google that your website is trustworthy and boost your SEO.
Why are referring domains important?
Getting links from quality referring domains can boost SEO and show users and other sites that your website is credible.
What is the difference between referring domains and inbound links?
Referring domains are websites, while inbound links — links that lead to your page — are hyperlinks on a page.
Meet WebFX:
Your world-class, tech-enabled marketing agency with over 1.6 million hours of combined expertise.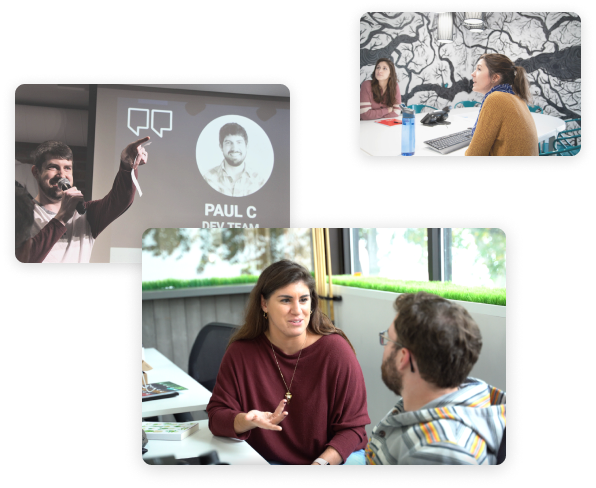 Get even more guidance on referring domains and backlinks
Building your online presence is simpler with a partner. WebFX can help you create content and boost your SEO with data-backed results.
Over the last five years, we have generated $3 billion in revenue for our clients. Our team of 500 marketing experts can answer all your questions and provide digital marketing services that help your business grow.
Check out our case studies to see the proof, and contact us online with any questions!
How is your website's SEO?
Use our free tool to get your score calculated in under 60 seconds.
WebFX Careers
Join our mission to provide industry-leading digital marketing services to businesses around the globe - all while building your personal knowledge and growing as an individual.