Find the Best Influencer Marketing Agency
The rapid rise of social media (and social media marketing and advertising campaigns) is turning influencer marketing into a go-to strategy for companies of all sizes, from big brands to midsized businesses. Should you hire an influencer marketing agency, though, to help with your campaigns? Find out in this social media influencer marketing agency guide!
Is hiring an influencer marketing agency necessary?
First, is it worth hiring an influencer marketing agency? Or, should your business continue managing your social media and influencer efforts in-house? If you're running your own business, it can definitely be beneficial to outsource your influencer marketing.
It takes a lot of time and effort to ensure that your influencer marketing campaign is up to snuff — let alone able to drive results for your business. If you have the time to build a large, in-house team of influencer marketers, the resources to build an influencer catalog, and the time to keep up with your campaign, it is possible to implement an influencer marketing campaign in-house.
However, the money you'll pay to hire a team of influencer marketing specialists, along with the platforms you'll need to build your collection of influencers, is far better spent on hiring a professional influencer marketing agency.
When you hire an agency to take care of your campaign, you can think of it as paying for convenience, quality work, metrics, and ongoing campaign support. That sounds worth it to us!
3 benefits of hiring a social media influencer marketing agency
We're willing to say that it's probably best to hire an influencer marketing agency or outsource your influencer marketing. Not only can it save you time, but it can save you money in the long run and ensure results.
If you're still on the fence about outsourcing your influencer marketing, check out these 3 benefits.
1. An influencer marketing agency will save you tons of time
We already mentioned earlier on how hiring an influencer marketing agency can help save you time, but let's really break down the time you'll be saving when you hire one.
First and foremost, if you opt to do influencer marketing yourself, you'll first have to research influencers that would be a good fit for your brand. You'll undoubtedly have some influencers come to mind off the top of your head, but the ones you think of first aren't always attainable for your brand.
For example, if you're a startup women's boutique and you want Sandra Bullock to sponsor your brand, it's probably not going to happen. That said, you'll have to take the time to research sponsors and influencers that are within your reach.
This kind of research can take up a lot of time — you'll have to keep record of contact information, who you've contacted, who you've heard back from, along with a host of other information.
Not only that, but once you've vetted your influencers, you'll also have to manage them. That means you'll have to take time to explain what you're looking for out of the relationship, read over their content, and manage your relationship — which is an ongoing job in itself.
Hiring an influencer marketing company can help you save all the time associated with finding, vetting, and managing your influencers.
Not to mention, they're professionals, so they have strategies in place that are much more effective at doing all of the above. Did you know that WebFX has an established network of industry influencers and bloggers across a number of niches?
2. An influencer marketing agency will build strong, ongoing relationships with influencers
If you hire an agency, you can rest assured that you're working with professionals (if you choose the right agency, which we'll talk about later).
When you work with professionals, you don't have to worry about the fine details. The fine details in the case of influencer marketing are things like relationships with influencers and curation of content. An agency will handle both pieces, and more.
When you work with a top influencer marketing agency, you're essentially hiring someone that is an extension of your brand. You trust them to handle your campaign, and you trust them to present your business in a way that makes influencers excited to work with you.
That being said, influencer marketing agencies are known for (surprise!) influencer marketing. That means they already have a relationship with tons of influencers and have the ability to appeal to them because of their "agency" title.
If an agency reaches out to an influencer, the influencer might be more prone to work with them rather than a small business looking for a sponsor.
After working with many influencers, there is a level of trust that comes with being an agency. When there is trust, there is reliability, and reliability spurs a fantastic end result. When you trust the right agency with your influencer marketing, they'll have a level of trust built with influencers, which creates a better end result for you, the client.
3. An influencer marketing agency knows what works
If the agency you choose is well known, has a lot of testimonials, or has been around for a long time, they know the tools of the trade. There's a reason for all of those attributes, and you can probably figure out that it's because of their quality work.
One of the reasons top influencer marketing agencies are so successful is because they get to see firsthand how campaigns work with tons of other clients.
If you work with an agency that specializes in helping clients in a variety of industries, you can bet that they know exactly how to attract the right influencers for the job.
They get to try tons of different influencer marketing tactics on tons of different industries and businesses, and over time, you can guarantee they'll know what strategies work best.
If you were to take on your influencer marketing campaign in-house, you could of course read up on tactics, but you'll never have the full-stack knowledge that an agency attains by working with tons of clients.
Time to Level Up Your Sales
Our long list of services helps you grow every aspect of your business with marketing strategies that are proven to increase bottom-line metrics like revenue and conversions.
In the past 5 years, we've managed more than 12.9 MILLION transactions across our client base.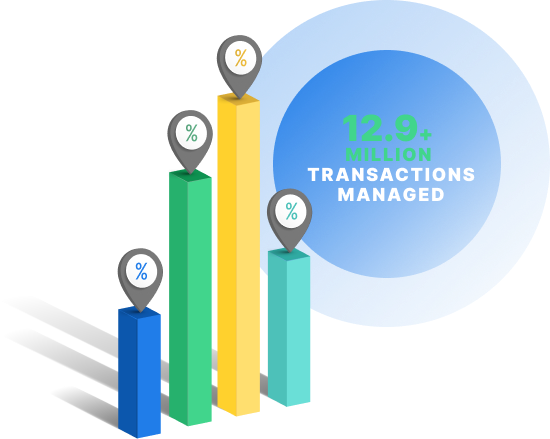 How to choose a top influencer marketing agency
With so many influencer marketing agencies out there, how do you know which one will work to help your business reach your goals?
Here are a few things to look for and consider when hiring an influencer marketing agency:
1. Top influencer marketing agencies are transparent about pricing
One of the first characteristics of a great influencer marketing agency is that they are transparent about their pricing.
When an agency shares their pricing with potential clients, it means they have nothing to hide, and they're willing to help potential clients decide up front if they can afford their services. This cuts down on wasted communication for the agency and saves your time as a client too, since you'll know up front whether or not to call for a quote.
2. Top influencer marketing agencies have done influencer marketing for your industry in the past
This isn't a nail in the coffin, but if an agency hasn't worked with influencers in your industry before, you may want to keep looking.
Influencer marketing is such a niche area of marketing, that it's crucial that your agency has contacts with the right people, and has experience working in your niche.
For example, if you're a motorcycle salesman that wants to hire a micro-influencer marketing agency that has only worked with beauty care lines, it might be a bit of a mismatch. Instead, look for an agency that has worked with a variety of industries, and more specifically, yours.
3. Top influencer marketing agencies have tons of testimonials
Just like an influencer can help to sell your products and services, testimonials can help sell an agency.
When a company has tons of testimonials, it shows that previous clients have been happy with the work and results they've received — and the more the better.
You don't want to select the first agency that you find in search results, you want to really dig into client satisfaction and the work they've done to ensure that they're a great partner for you.
Using these tips, you can get started on finding the best social media influencer marketing agency for your business.
5 things your influencer marketing agency will do for you
If this is your first time hearing about an influencer marketing agency, you might be curious about the services they provide. You're not alone.
Though the strategy isn't as popular as search engine optimization (SEO) or pay-per-click (PPC) advertising (yet), the influencer marketing industry is set to hit $10 billion by the year 2020. Talk about impressive!
For that reason, influencer marketing agencies are on the rise, and they're here to help you increase website traffic, sales, and revenue.
So what does an influencer marketing agency do?
We foster and form long-term partnerships so that your business has long-term results.
Over 90% of WebFX clients continue partnering with us into year 2 of their campaign.
Hear from Our Happy Customers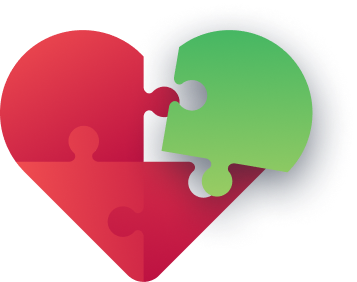 Here are a few general services they typically provide:
Connect you to famous, well-known influencers in your industry
Manage and post influencer endorsements of your products to your website and social channels
Monitor the results of your influencer marketing campaigns
In short, influencer marketing agencies work to increase your brand awareness online by finding and vetting influencers in your industry who are willing to sponsor your brand. But there's a lot more to it!
Read on to learn more about the specific initiatives influencer marketing agencies can help you implement.
1. Industry research
Before an influencer marketing company can connect you with your dream sponsor, they'll have to get to know your industry, and more specifically, your unique business.
This is extremely important since influencers like to work with brands that they believe in and trust — which has everything to do with your products and story. When you can connect with an influencer on an emotional level, that's when you'll win them over as a sponsor.
For that reason, your influencer marketing manager will want to know the fine details to make the best presentation of your company to an industry figurehead.
Your influencer marketing manager will dive into your company head first to learn everything they can about your one-of-a-kind business. They'll get to know your story, how you got started, why you create the products you do, and how you create them.
They'll want to learn about your target audience demographic, who currently purchases your products, and your goals for boosting brand awareness and growth with influencer marketing.
All of this information works together to help your influencer marketing manager create the perfect pitch to win over your dream influencer endorsement.
2. Connecting you to industry figureheads
It's no surprise that when influencers endorse a brand, buyers become more excited, and even more likely to purchase that product. After all, who doesn't want to own the same perfume as a YouTube star that everyone knows and loves?
It's easy to understand why it's so important to connect your brand with influencers in your industry — and while you might not have the means to do so on your own, influencer marketing companies do.
Connecting you with these individuals is essentially priceless since a staggering 74 percent of people trust social networks when it comes to making purchasing decisions. This creates a huge area of opportunity for businesses to not only advertise on social media platforms like Instagram and Facebook, but also to adopt an influencer marketing campaign to increase engagement and sales exponentially.
3. Hiring, contracting, and communicating with influencers
Not only do influencer marketing agencies have out-of-this-world connections, they'll also take care of the hiring, contracting, and communications with said connections.
This means that as a business, you have virtually no worries when it comes to making yourself look good for endorsements — your influencer marketing agency will take care of everything for you.
They'll be sure that the influencer fits your brand and message before hiring, and they'll always be sure you're okay with the match.
Your influencer will take the time to communicate with influencers to find the best ones for your brand, and when all is said and done, they'll keep up communication to ensure that your brand is represented well — and for a long time.
You can breathe a sigh of relief since your agency will also take care of all the written documents and contracting that comes with singing on an influencer. You won't have to worry about a thing.
4. Manage and post endorsements
You might be wondering what happens after your agency has found and hired the perfect influencer for your brand. Another plus to hiring an agency is that you won't have to worry about posting or managing any content — your agency will have it under control.
Your influencer marketing agency will forge a relationship with the influencer of choice and begin to talk about what they need from them. This could be photos of them with your product, a video of them using your product, or simply a written testimonial. Whatever it is, the agency will ensure that they receive all the required materials.
After they've received everything necessary to create and share compelling content, they'll take care of distributing it on your selected social media platforms. Influencers can also share your branded content on their social channels which is great for your business, since it gives you exposure to all of the influencer's followers.
5. Monitor results of your influenced campaigns
After posting your content to specified social media platforms, it's time to wait for the action. Since shoppers react positively to influencer endorsements, it's likely that over time, your brand will increase social engagement, website traffic, and conversions.
But how do you track those metrics? No need to worry — your influencer marketing company will take care of all tracking and analytics for your influenced posts.
Without analytics, your strategies are useless. When your influencer marketing manager tracks the engagements and goal completions through Google Analytics, they can see exactly what's working about a specific post, and what needs some work.
This ends up saving you money in the long run because you can determine what influencer content your specific audience reacts positively to — and request more of that content. On the other hand, if you find that your audience doesn't react like you had hoped to a specific kind of sponsored post, you can switch it out for a different kind of content.
Your influencer marketing manager will be able to help you with these decisions, so you'll never have to worry about making an important campaign choice alone.
With the analytics they collect, not only will they be able to tell you what content is working and not working, but they can suggest a course of action to improve that content so that you get the most of your influencer marketing budget.
Ready to Grow? Get your FREE Quote Today!
"We measure our success by how much we WOW our clients."

Bill Craig
WebFX President
Partner with a top influencer marketing agency
If you want to give your brand a boost with influencer marketing, WebFX can help.
We're a full-service digital marketing agency located in Harrisburg, PA. We have a team of over 500+ marketing specialists that will work with your company to create a custom web marketing plan that suits your needs and goals.
Our influencer marketing campaigns will help connect you with some of the best influencers in your industry and help you reach your marketing goals.
Though we have a variety of packages to choose from, every one includes target audience research to ensure that we match you with the best influencer possible. We also provide demographic and interest research and influencer strategy development with every campaign as well. Not to mention, we'll take care of vetting, hiring and contracting your influencers so you don't have to.
WebFX has driven over $3 billion in client revenue in the last five years alone — and we can't wait to help you earn more money online.
If you're interested in learning more about how WebFX can help your business with influencer marketing, feel free to contact us online, or give us a call at 888-601-5359!
We can't wait to hear from you!