Agency

Instagram Marketing Agency
Grow Your Business With a Top Instagram Marketing Agency
You know Instagram as a photo-sharing platform where you can post pictures of your pet and purchase your favorite celebrity's skincare line — all within a few minutes. But did you know that celebrities aren't the only ones who can market on Instagram?
Choose a trusted Instagram marketing agency
Any business, big or small, can find marketing opportunities on Instagram — and an Instagram marketing agency can help you succeed.
On this page, we'll talk about what an Instagram marketing company can do for your business, how you can find the best Instagram marketing agency for you, and why you should hire one.
At WebFX, we've helped clients in a wide range of industries get results on Instagram, and we can do the same for your business. We have a team of more than 500+ digital marketing experts who can create and implement a custom campaign that helps you reach your goals.
What kinds of results can we drive for your business? Over the last five years, we've generated more than $3 billion in sales for our clients.
If you'd like to talk to an Instagram marketing specialist about your goals and how WebFX can help you reach them, request a free quote or give us a call at 888-601-5359.
Our Instagram marketing agency services
Our Instagram marketing services include everything you need to succeed on IG.
When you work with us, we'll talk with you about your goals, conduct our own research, and create a custom strategy for your Instagram marketing. We'll also proactively manage your account, test different tactics, and refine our approach to get you optimal results.
With our Instagram marketing company services, you'll get:
An in-depth audit of your Instagram presence
A dedicated social media specialist who will be with you throughout your campaigns
Compelling, professionally crafted posts
Custom-designed images
An Instagram advertising strategy and ad campaign implementation
Daily monitoring of your account to increase engagement
Monthly reports and consultations to keep you informed
And more
What does an Instagram marketing agency do?
You already know how to take a photo and post it to Instagram, so where does an Instagram marketing agency come in and help? There is a lot more to the platform than meets the eye, and an Instagram marketing company can help you make the most of your marketing opportunities.
Keep reading to learn what the best Instagram marketing agencies can do for you and your business.
1. They can create a strategy with your end goal in mind
One of the biggest perks of working with a marketing agency for Instagram is that they can help you create a strategy with your end goal in mind.
As a business owner, you're likely more focused on your business than your Instagram account — as you should be! However, this focus on your business also means that you're probably not paying attention to every detail of every Instagram post.
Small details can help you achieve your Instagram marketing goals, and an Instagram marketing agency will know how to integrate those details.
They'll start by asking you about your goals for the campaign. Here are a few examples of goals that you might want to achieve:
Increased followers
Increased brand awareness
Increased website traffic
Increased sales
When you give your Instagram marketing agency insight into your goals upfront, they'll be better equipped to create a strategy that helps you achieve them. The goals you're looking to achieve will greatly affect the strategies that your agency implements.
For example, if you're only looking to increase followers, your Instagram marketing agency might suggest giveaways for your account.
If you're looking for more sales, your Instagram marketing agency will likely suggest Instagram ads.
No matter what your goal, the best Instagram marketing agency will help you achieve it.
2. They can make image suggestions
Instagram is an image-heavy social media site. It revolves around high-quality images of subject matter that is interesting and engaging to followers, and you can find much more success with Instagram when you get them right.
What do we mean by "get them right"? How do you "get images right"?
Here are a few image best practices that your Instagram marketing company will likely suggest:
Use only high-quality images: You will appear more professional and clean-cut when you only use high-quality images for your posts. It shows followers and potential followers alike that you value quality.
Edit all images with the same filter: Since Instagram revolves around images, you must create an aesthetic for your brand. It should speak to your unique style and you should strive to stay consistent with every post.
Use interesting subject matter: It's hard to find subject matter that your competition didn't already cover, but when you do find it, it's exactly what you want to post. You should strive to find and create interesting subject matter that provides followers with something new that they've never seen before.
Only post images that speak to your brand: Sure, you may have just taken an amazing sunset picture on your beach vacation last week, but does that have anything to do with your brand? If not, save it for your personal Instagram.
When you work with an Instagram marketing firm, they'll be able to help you create high-quality, aesthetically pleasing images that speak to your brand and encourage a loyal audience.
3. They can help craft the right captions
Captions mean a lot, and they can help you reach your Instagram marketing goals. But they can oftentimes prove difficult to craft.
When you work with an Instagram marketing company, they can help you come up with captions that fit your brand and speak to followers in a way that helps you reach your goals.
For example, if your goal is to sell more products, your Instagram marketing company can help you craft captions that entice them to purchase your featured product. On the other hand, if you want to get more website traffic from Instagram, they can help you create captions that direct them right to your URL.
Keep in mind that you won't be able to add a link directly to your caption, but you can feature your website's URL in your Instagram bio, which you can direct users to click!
Hashtags are also a huge part of your caption, and they can help users find your account, no matter where they're located or who they follow.
Hashtags focus on things, ideas, and keywords that your target audience seeks based on their interests. For example, if you post a picture of cupcakes, you might choose to use hashtags like:
#baker
#cupcakes
#wintercupcakes
#chocolatecupcakes
#chocolatecupcakesvanillaicing
These are just a few hashtag ideas that can help interested users find you. There are two ways that Instagram users can find you, via the hashtag:
They can click on a hashtag featured in the caption of a post created by someone they already follow. When they click, Instagram will show them other posts that use that hashtag.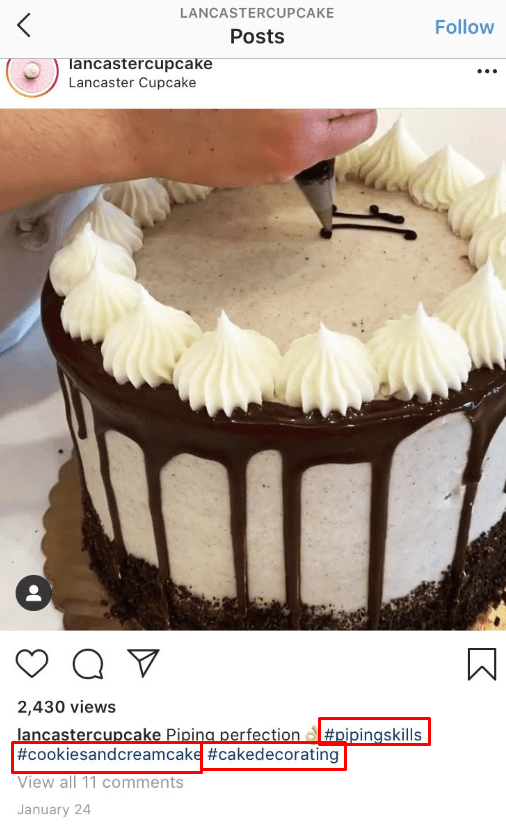 They can use the hashtag search function. You can find Instagram content based on hashtags by simply searching a term and then selecting the "tag" tab.
Regardless of how users find you, using hashtags can help broaden your audience and increase follower count. Your Instagram marketing firm can help you decide on hashtags that will bear the most fruit based on popularity, competition, and other metrics.
4. They can help improve follower interactions
Do you feel like you post often but nobody interacts with your content? The best Instagram marketing agencies can improve follower interaction to enhance your Instagram presence.
Your Instagram advertising company will help you create captions using the perfect verbiage to encourage follower interaction.
For example, they might incorporate the following:
Including a question in your caption
Posting a noteworthy photo that sparks conversation
Using "like this post if" statements in your caption
Encouraging users to tag their friends
These are just a few strategies that Instagram marketing agencies will use to help boost follower interaction. However, the most important element of user interaction is first forming a relationship with your followers.
5. They can help you form a relationship with your followers
Forging a strong relationship with your followers is one of the most time-consuming, but most important parts of your Instagram strategy. Your digital marketing agency for Instagram can help you form a bond with your followers in several ways, including:
Chatting with them in the comments
Using conversational captions
Responding to every private message
Responding positively to negative reviews or comments
Creating this strong relationship with your followers is key to selling more products and boosting brand awareness, among many other things.
6. They can help sell more products
If one of your goals is to sell more products with Instagram, your Instagram marketing company can help.
You may not have considered Instagram ads before, but when you work with an agency, it will likely be one of the first things they suggest. Instagram ads are an extremely cost-effective way to sell more products, and there is a wide variety of Instagram ad formats to choose from for your business.
Your digital marketing agency for Instagram will help you decide on the kind of ad that's right for you and help you pull together effective imagery, enticing calls-to-action, and an ad budget that's right for your business.
7. They can analyze your success
Analyzing your Instagram account is crucial to its success, and chances are you don't have time for Instagram analysis when you're running your own business.
Marketing agencies for Instagram understand! That's why they'll analyze your success month-over-month to help determine what you could do better, what you're doing right, and what needs to change.
Your Instagram marketing company will analyze your profile by looking at:
New followers
Likes
Comments
Mentions
Clicks to website
Clicks to landing pages (for ads)
After discovering inconsistencies, your digital marketing agency for Instagram will make suggestions for potential next steps, improvements, and budget changes.
WebFX is a partner businesses trust.
Hear from HydroWorx, who saw a 236% increase in organic sessions with WebFX services.
Watch the Video Testimonial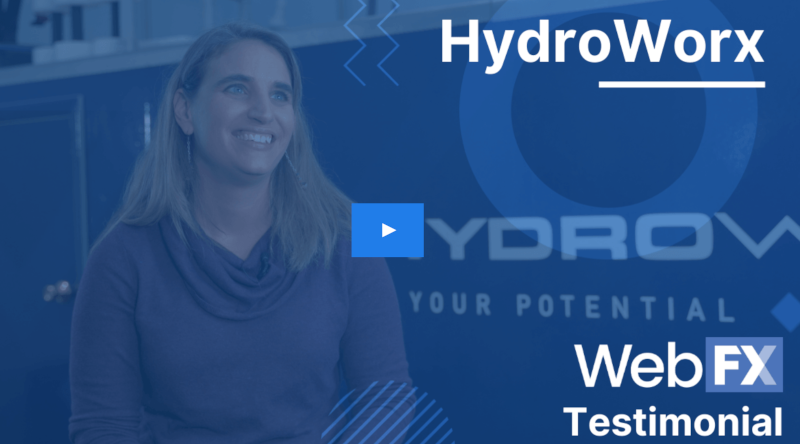 Ready to Grow? Get your FREE Quote Today!
"We measure our success by how much we WOW our clients."

Bill Craig
WebFX President
How to find the right Instagram marketing agency for you
With so many Instagram marketing companies out there, how do you know which one is right for you?
We have five tips to help you find the best Instagram marketing agency that checks all your boxes.
1. Determine if you need other marketing services
Before you start your search for an Instagram marketing firm, determine if there are other marketing services you need.
For example, have you been wanting to explore the world of pay-per-click advertising (PPC), or boost your website traffic with search engine optimization (SEO)?
Your search for the best Instagram marketing company is the perfect time to find an agency that does it all, so if you're looking to integrate other marketing strategies, keep that in mind during your search.
You should aim to find an agency that provides a wide variety of marketing services. Here's why:
A full-service digital marketing agency can run your Instagram campaign while keeping your other marketing campaigns in mind
You'll be more successful at cross-channel marketing
All your marketing campaigns are run by people under the same roof, making cross-channel communication a breeze
You could potentially receive package deals if you opt for more than one marketing service
You get a single marketing invoice per month, rather than one from each marketing agency
You'll likely have a single point of contact
If you're considering marketing strategies in addition to Instagram marketing, be sure to find an agency that offers everything you're looking for and more!
2. Do your research
To know exactly what you need out of an Instagram marketing agency, you must do your research before your search for the right company.
What kind of research is necessary? Here are a few things you should know:
Baseline costs for Instagram marketing: When you know the baseline cost for Instagram marketing, you'll be better able to come up with a reasonable budget for your own campaign.
Instagram marketing strategies and which you need: When you know what Instagram marketing strategies are offered, you'll be able to better determine exactly what you need and find an agency that offers those services.
Reasonable results: You should understand that you won't get 10,000 followers overnight. Make sure you have a grasp on reasonable Instagram marketing results so that you're not disappointed in your agency. If you find an agency that promises these kinds of followers, you should keep looking!
Doing your research is a great precursor to choosing an agency because it ensures that you're well-informed.
3. Determine how long they've been in business
Did you find a marketing agency for Instagram that has a fantastic website? Do they have a great Instagram aesthetic themselves?
Although these are all qualities you should look for in a successful Instagram advertising agency, you must determine how long they've been in business.
This information may seem like a trivial fact, but it can tell you whether an agency is equipped to handle your campaign.
An Instagram marketing company that's only been in business for two years likely doesn't have enough experience to know exactly how to drive real results. On the other hand, an agency that's been in business for 10+ years likely has the following experience:
How to make Instagram work with other marketing campaigns
How to analyze Instagram accounts properly
How to make suggestions based on previous campaigns
How to work with a wider variety of industries
If that's not enough, an experienced Instagram agency has stood the test of time and stayed in business through all circumstances.
At the end of the day, you should keep your eyes on Instagram marketing agencies that have been in business for a decade or more.
At WebFX, we got our start in 1996 — you do the math!
4. Speak with them and get direct answers
When it comes to selecting the best Instagram advertising firm, try to speak with them directly and receive transparent answers.
First, what do we mean by "speak with them"? There are more methods of communication today than ever before, and if you want to find the best Instagram marketing company, it's ideal that you talk to them over the phone or in person.
An in-person meeting is preferred since you can pick up on personality more than you could over the phone.
When you speak with them, you should take notes on things like:
Their overall tone: Are they happy to hear from you? Are they happy to answer questions? Do they sound miserable?
Their enthusiasm for your business: The right Instagram marketing agency will be excited to talk to you about your business goals.
Their clarity: If an agency beats around the bush with every question, you should keep looking. Every agency should be clear and upfront and speak with clear communication.
Their transparency: An agency should be completely transparent with you no matter what the question. For example, if you ask how much their services cost, they should be able to tell you upfront instead of requesting additional communications.
When everything is said and done, if you didn't get direct answers to each of your questions, the agency might be trying to hide something.
It's best to go with an Instagram agency that is up-front and transparent about everything.
5. Read their testimonials and reviews
One step you can't leave out is reading an agency's reviews and testimonials. Reviews and testimonials differ just slightly:
Reviews can be positive or negative. They can be from any customer and provide insight into a good or bad experience that they had with an agency.

Testimonials are always positive. Companies collect them from satisfied customers that want to share why they love an agency so much and what an agency did for them.

If an agency has 300 reviews, and 10 of them are bad, you should be sure not to let those few reviews spoil an agency for you. Everyone has a different experience, and if most reviews are positive, you can expect that that's how you would rate an agency as well.
The best Instagram marketing agencies will have at least 100 reviews and at least 100 testimonials.
At WebFX, our clients love us so much that we have over 1020 client testimonials!
Instagram marketing agency FAQs
What is an Instagram marketing agency?
An Instagram marketing agency is a digital marketing agency that promotes businesses, products, or services using Instagram. These agencies may develop Instagram marketing strategies, create and publish posts, set up advertising campaigns, improve audience engagement, and more.
How much do Instagram marketing agencies charge?
Businesses typically spend $1000 to $3000 each month on Instagram marketing. Costs vary from business to business depending on factors such as the services you use, the size of your campaigns, and the agencies you work with.
Social media marketing agencies often manage multiple social media platforms for each client. Overall, businesses typically spend $4000 to $7000 per month on professional social media management.
Why is Instagram marketing important?
Instagram has more than one billion active users per month. A professional Instagram marketing agency can help you stand out on this popular platform.
Instagram marketing professionals can help you use Instagram to build brand awareness, increase traffic to your website, drive purchases, and ultimately reach your business goals.
Trust WebFX with your Instagram marketing strategy
If all this talk about Instagram marketing agencies has you ready to find one that fits your business, look no further. WebFX is a full-service digital marketing agency, so we offer a full suite of digital marketing services to pair with Instagram marketing.
Our social media marketing specialists are second to none and can help you create a wonderfully successful Instagram marketing campaign.
If you're ready to get started, contact WebFX online for a free quote, or give us a call at 888-601-5359 to learn more about what we can do for you!
Learn more about marketing on Instagram and other social media sites!
Social Media Marketing Services
Social Media Advertising Services
Learn More About Instagram Marketing