5 Benefits of Instagram for Business
As social media usage continues to increase across all demographics, social media marketing has become a valuable strategy for businesses. But as consumer preferences change, it can be difficult to keep up with the best platforms for your industry—and even more difficult to manage different strategies for each.
This means that if you're like many marketers, you're unsure of whether you should use Instagram. But since it has more than 800 million users, and 47 million shoppers in the U.S. are expected to use Instagram to make purchases by 2025, Instagram could certainly be worth your time.
If you're on the fence about investing time and energy into the platform, you certainly aren't alone.
Call 888-601-5359 to speak with a strategist about social media marketing services from WebFX, or keep reading to learn more about how you can benefit from using Instagram as part of your marketing strategy.
Don't forget, WebFX provides our social media strategies to DC businesses, social media for Tampa, and everywhere in between. No matter where you're located, WebFX can help you create a successful social media campaign for your business.
1. It's visual
As a photo sharing platform, it may sound like we're stating the obvious here. But unlike most other social media platforms, which focus on text and links, Instagram is exclusively used for photo and video posts.
Considering that visual content is more engaging than text, this is a huge social media advantage (and opportunity) for marketers. Instead of trying to send followers to your site to make a purchase or explain the benefits of working with you, you can use photos to create a more compelling message.
Photos give your business a chance to highlight products, and videos are a great way to show your services in action. And beyond that, you can also use the platform to show company culture and other behind-the-scenes aspects of your business.
2. It has high engagement rates
Instagram users in 2016 liked over 4.2 billion posts per day. Posts with at least one hashtag average 12.6% more engagement than posts without any hashtags. This alone is reason enough for many marketers to use the platform.

With organic reach on Facebook dropping as low as 2-3%, it's no surprise that marketers are disappointed by their engagement rates. But when you post something on Instagram, more of your followers are likely to see it. This is a huge advantage, especially when you consider that many marketers now use paid advertising features on Facebook simply to get their posts in front of their own followers.
3. Your business may already be there
Whether you're on Instagram or not, some of your customers probably are. This means that someone may have already posted about your business.
This is especially true if your business has a physical location that customers visit, like a retail store or restaurant. Users can add location tags to each of their posts, so if anyone has ever posted a photo while at your business, it probably has a tag on Instagram.
Customers may also post photos of your products and tag them with your brand name. This is especially true for retailers who sell clothing, housewares, and other consumer-based products.
Even if you aren't considering using Instagram for your business, we recommend that you at least create a personal account to monitor posts that use your location tag or brand as a hashtag. This is a great way to stay in the loop about what customers are sharing about your business.
And if you do decide to create a branded account for marketing, you can use it to encourage this behavior. When customers interact with your business on the platform, their followers will see it as an endorsement—it's essentially the modern-day version of word-of-mouth advertising.
4. It's great for building your brand
Unlike most social platforms, you can't expect to send traffic to your site with every post you make on Instagram. In fact, you can't include any links in your posts—the only one you can have is one in your bio.
This may seem like a disadvantage, and if you were hoping to drive revenue directly from Instagram, it is.
However, it also means that users are more likely to follow and interact with your company because they know you aren't trying to directly sell them anything. Instead, you can use the platform to build your brand.
Share user-generated content, highlight company culture, and upload photos that reflect your values and mission. By humanizing your brand and showing your authenticity, this type of content can build the kind of trust that leads to long-term customer relationships.

5. It has targeted advertising options
Much like other popular social media platforms, Instagram offers paid advertising options for businesses. And although you can run a successful account without spending a dime, these advertising features can be an effective way to grow your account.
WebFX is a partner businesses trust.
Hear from HydroWorx, who saw a 236% increase in organic sessions with WebFX services.
Watch the Video Testimonial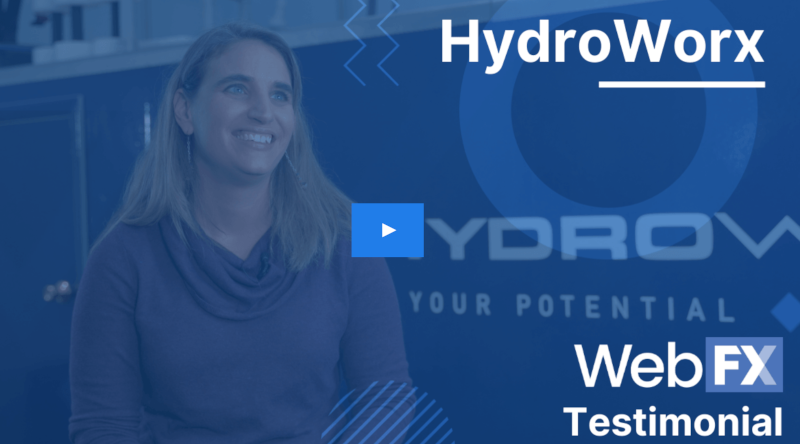 Want to start using Instagram for your business?
As one of the fastest-growing social media platforms in the world, Instagram could be a great way for your business to reach new customers. If you're considering adding it to your marketing strategy, WebFX can help.
Our social media management team has years of experience creating and managing successful strategies across a variety of platforms, including Instagram. Contact us today to speak with a strategist about how Instagram fits into your company's marketing.