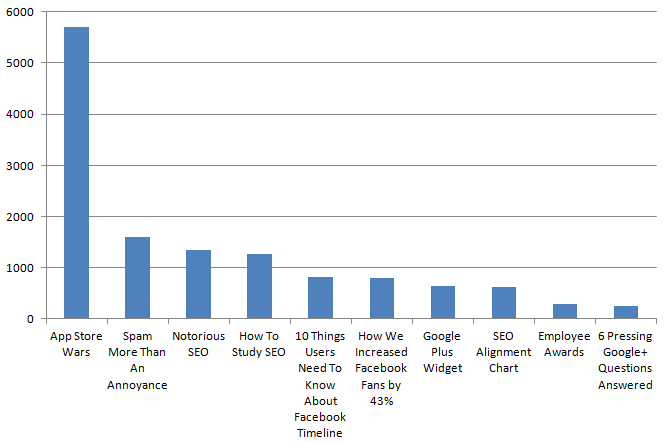 2011 was an awesome year for WebFX! We added new talent, were named one of the 50 Fastest Growing Companies in PA, received an Entrepreneur of the Year Award and were named the #1 SEO Agency! It was also an exciting year on our blog.
2011 brought more visitors than any other year to WebFX Weekly and our posts were featured on PC Mag, Search Engine Land, Sphinn and Web Pro News. The above graph shows total visitors for our 10 most popular posts published in 2011. More info on each (including a link) is below. If you are in need of some good reading over the holiday, look no further than our top 10 blog post 0f 2011:
In my opinion, to ensure Google+ doesn't become defunct, 750 million people need to jump on the bandwagon. That means 750 million people need to abandon their comfortable Facebook personas and habits and learn an entirely new interface, albeit very similar to Facebook.
They need to download a new app, add all of their friends and start +1-ing all the content they previously "liked". These are some major hurdles to ask of people before they know whether or not it's here to stay.
What does a team of award-winning web designers, brilliant (and I do mean brilliant) web developers, Google Certified PPC managers, seasoned SEO analysts, social media gurus and link building geniuses do when they're not busy enhancing and optimizing websites, increasing web traffic and search engine rankings or making websites look absolutely stellar? Reward ourselves for all of our hard work of course … with awards to frame and hang up in our cubicles.
I have been obsessed with alignment for the past few months.
I never played Dungeons & Dragons growing up (in fact the first time I saw it played was in this season's awesome Community episode), but the concept of alignment has fascinated me since I learned about it. Which characters personify each alignment? Where do I fall?
Where do my friends fit in? I have a long commute so I have a ton of time to think . So in the spirit of obsession, here is my stab at an alignment chart for the SEO community.
Notes, embed code, a detailed explanation of alignment, and references follow below.
Today, we released version 1.0 of our Google Plus Widget for WordPress! This plugin allows you to add a Google+ profile badge to your WordPress blog or website. Once installed, users can add you to their Google Plus network and you, in turn, can show off the number of followers in your circle.
Hands down, the most common question we get is "How do we increase our Facebook fans?" There are a million and a half ways to do this, but we've come up with a few specific methods that generate lots of quality fans without breaking the bank.
Below are a few specific examples from one of the Facebook pages that we manage.
Timeline marks the biggest update to Facebook's design ever and considering the backlash the Facebook team receives for even the smallest of changes, I won't be surprised if the reaction to Timeline reaches never-before-seen levels of vitriol. Already, their blog post announcing Timeline has been trolled to oblivion and the introduction video already has over 2,000 dislikes on YouTube.
There is no such thing as an SEO degree. You can Google it and see some mostly shady results, but — as far as I know — nobody is walking around with a B.A.
in SEO. That doesn't mean that you can't go to college and study SEO, though. You just have to get a little creative.
My degree reads "B.A. Communication Arts with a focus in journalism," but I studied and learned Internet marketing during my 4 years in school. How did I do it?
I hustled. I was curious. I tried a bunch of different things and usually failed spectacularly.
But I learned a ton.
One of The Notorious B.I.G.'s greatest hits was "Ten Crack Commandments," released in 1997. As the title suggests, Biggie rapped through his 10 commandments for selling crack in the 90s. I have no clue how 'effective' his tips were for his chosen trade, but it turns out they work pretty well when applied to link building.
We discovered that a certain amount of Spam emails is actually the equivalent to the level of Green House Gas (GHG) emissions released from driving 3 feet. Discover how far the number of 2010 spam emails can take you across the world! You'll be shocked! We also highlight the nations most responsible for the furthered adverse impact of Spam's GHG emissions on our environment. Our hope is that awareness may create change. And a great start to doing your part is by personally installing a spam filter on you're own email account, forwarding spam emails to [email protected], as well as informing others!
We compared the Apple App Store, Android Market, Blackberry App World, and the Nokia, Palm and Windows Phone 7 application directories.
Statistics include OS distribution, percentage of paid vs. free apps in each directory, average apps downloaded by device, average app cost, and total 2010 revenue from all apps sold.
https://www.webfx.com/blog/general/how-we-increased-facebook-fans-by-43-percent-in-23-days/
How is your website's SEO?
Use our free tool to get your score calculated in under 60 seconds.
Get posts by email
Join 200,000 marketing managers and subscribe to Revenue Weekly!
"*" indicates required fields
WebFX Careers
Join our mission to provide industry-leading digital marketing services to businesses around the globe - all while building your personal knowledge and growing as an individual.