Email marketing allows you to connect directly with potential customers — which is extremely important to your business, no matter your industry. This strategy is one of the best in terms of ROI, too, since you can earn $44 for every $1 you spend.
The more email subscribers you have, the more revenue you will earn, right? Technically, yes.
But when it comes to email subscribers, the quality of your email lists is just as important as the number of subscribers.
So how do you grow your email list with quality subscribers?
In this post, we'll look at six email opt-in strategies for helping you grow a list of engaged subscribers.
Let's get started!

How to determine subscriber quality
First, we need to understand what we mean by quality subscribers.
If your email list is full of spam traps, unknown users, and unengaged subscribers (which can happen when you buy email lists, which you shouldn't do), it's time to do some spring cleaning.
Spam trap email addresses look like real email addresses, but they don't belong to real people. They can fall into several categories:
Pure spam traps
Email addresses that fall into this category have never been used by anyone. Pure spam traps are designed to lure in spammers.
For example, they are often placed on the Internet for robots that harvest email addresses to find.
The only way this type of spam trap could hit your email list is if you obtained them without permission.
Recycled email addresses
Recycled email addresses are old email addresses that are no longer used by the original owner. Though they are technically not spam emails, you may look like a spammer if you send to them.
If your list is full of recycled email addresses, it's time for some list maintenance.
Invalid email addresses
When people opt-in to receive your emails, they will sometimes enter typos or fake email addresses.
For example, people may intentionally enter faulty email addresses to gain access to gated content on your site, or they may accidentally enter a typo like "gmal" instead of "gmail."

Either way, invalid emails will hurt your deliverability rates, and you want to remove them from your email list.
So how can you maintain a list of quality, engaged subscribers?
Tools like NeverBounce, BriteVerify, and Kickbox allow you to upload your email list and eliminate spam trap subscribers, so you can avoid wasting money and damaging your sender reputation. Cleaning your lists will ensure that you only send your emails to real people — people who are interested in your products and services and want to receive your emails.
To keep your list squeaky clean, we recommend running it through a verification tool once a quarter or every three months.
Top 6 email opt-in strategies to attract quality subscribers
Now that you understand why quality subscribers are so important.
Let's look at six opt-in strategies you can use to boost the quality of your email list.
1. Use exit-intent popups
Exit-intent popups track a user's behavior on your website and trigger the popups to appear when they're about to leave your site.
Using exit-intent popups is a great way to earn more quality email subscribers. For example, you might add an exit-intent popup to your site that encourages visitors to enter their email addresses to receive a special offer or exclusive resource.
Unlike immediate popups, exit-intent popups won't disrupt visitors as they browse your site, and they can help you capture more email addresses from visitors.
2. Improve your opt-in forms
You can also optimize your opt-in forms to boost the quality of your email subscribers.
Sometimes, your opt-in forms just need a few tweaks in terms of wording and the offer you present to users. If you want to increase the number of business subscribers, you might consider adding the "work" or "company" email in your sign-up forms to encourage people to enter their work emails instead of a more generic email address.
You can also add social proof to your opt-in forms with phrases like "Join 62,179 subscribers, generating more web revenue."
The information you gather in your email sign-up forms can help you learn more about cold leads and determine if they are qualified. Be sure to clearly state the value your emails provide to subscribers right in the opt-in form.
The way you present the value in your opt-in forms can help you attract your target audience.
3. Implement real-time email verification
You can also use real-time API verification to sort, keep spammy emails from ever hitting your email lists.
For example, Kickbox offers a real-time API to verify emails when people enter them in your subscribe forms. If they enter a fake email, it won't show up on your list.
Real-time verification is simple to use, and it can help prevent high bounce rates and ensure your emails are delivered to people who want to hear from your business.
4. Test confirmed opt-in lists
You may also test out confirmed opt-in lists to attract more quality subscribers.
With confirmed opt-in lists, people receive confirmation emails to verify their email addresses after subscribing to an email list. This differs from single opt-in lists, which automatically add email addresses to your list after people sign up via a subscribed form.
While confirmed opt-ins may reduce the number of sign-ups that make it to your email list, it's a good way to ensure that the email addresses added to your list are real and high-quality.
Email marketing platforms like EmailMarketingFX make it easy for you to monitor unconfirmed subscribers, and if they subscribe to your list in the future, they will receive another verification email.
5. Add postscripts to your email newsletters
You can also add postscripts to the bottom of your email newsletters to encourage recipients to subscribe to your other newsletters or forward your emails to other people who might be interested in your products or services.
This is a great way to capitalize on your existing subscribers and encourage them to opt-in to receive more material from your company. If they are engaged with your brand, they will want to hear more from you. And this is a good sign that they are a qualified lead.
MyEmailFX makes it easy for you to incorporate postscripts into your email design to get even more from your email newsletters.

6. Create custom landing pages
In addition, you can create custom landing pages to encourage visitors to sign up for your email addresses.
You will want to use the landing page to convey exactly what people should expect from your emails, how frequently you will send them, and the value they will gain from subscribing.
You can direct people to this landing page when they complete certain actions on your site to ensure that the most qualified leads sign up for your emails.
For example, Growth Hackers created a custom landing page to sign up for their email newsletters. The landing page clearly describes what people should expect (growth hacking content) and how frequently (once a week).
The landing page also includes a preview of the Growth Hackers newsletter, so people will know exactly what they will receive when they subscribe to the email newsletters.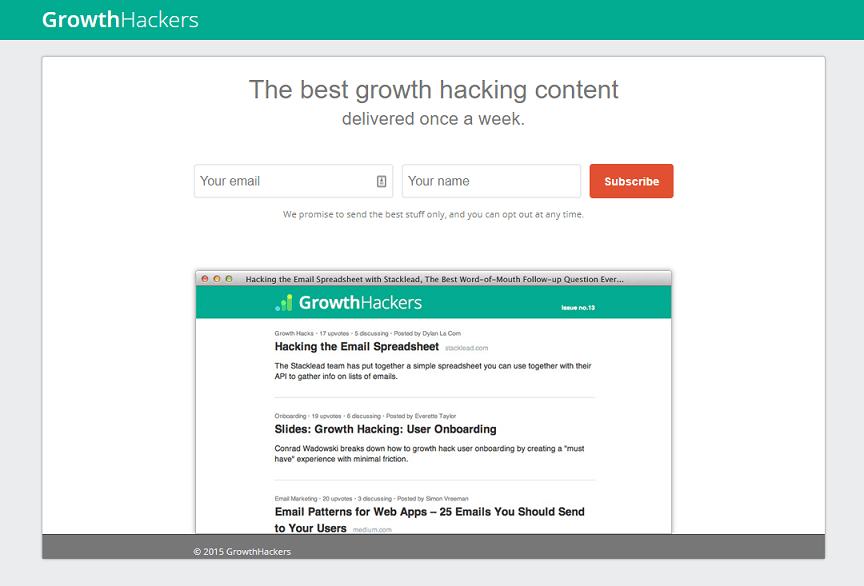 What's next for email marketing?
Want to stay in the know about the future of email marketing?
Subscribe to our Revenue Weekly newsletter for the latest tips. Or contact WebFX to speak directly with an email expert!
WebFX Careers
Join our mission to provide industry-leading digital marketing services to businesses around the globe - all while building your personal knowledge and growing as an individual.