Did you know that 79% of marketing strategists list generating quality leads as their top goal? The value of prospects comes from the possibility of finalizing more sales. By nurturing a lead through the sales process, businesses can increase their company revenue.
Improving your website and search engine optimization (SEO) helps attract visitors to your site. Getting a consumer to travel through the funnel to become a customer involves several strategies. With some focused approaches, any marketing qualified lead (MQL) could make their way through the customer journey to finalizing a purchase.
Keep reading to learn how to get more marketing qualified leads for your business, and then subscribe to Revenue Weekly to get the latest marketing strategies and tips!
What is a marketing qualified lead?
Marketing strategists use data analytics and lead intelligence to rank a prospect with a lead scoring or lead tracking system based on the customer's perceived interest. Businesses create their qualifications for determining what category applies to a site visitor.
MQLs describe clients in the sales funnel stage who would be the most willing to accept sales messages or prospects likely to convert into customers soon. Data analytics offers insight into actions a site visitor performs to identify the level of interest from a buyer.
Some examples of actions taken by an MQL include:
Clicking

calls-to-action (CTAs)

Filling out online forms

Saving items to a wishlist

Engaging with software demos

Downloading trial software

Adding items to a shopping cart

Repeatedly visiting a website

Signing up for a mailing list or newsletter

Interacting with social media posts
What is the journey from traffic to sales?
Businesses identify how marketing should work in the customer journey with emails, texts, or calls. The communication for a first-time site visitor who wants to learn about the brand should look different than interacting with a prospect who visited the site multiple times.
The stages from being a site visitor to becoming a customer offer more insight into the role of MQLs in the sales process:
Traffic:

The number of visitors to your website within a given timeframe.

Lead:

A website visitor interested in engaging with your content or something you offer.

MQL:

The transition of someone interested in a product or service you offer who now demonstrates a buyer's criteria. This qualification is based on a specific action they performed or a demographic they fit into, such as your target audience's business industry or income range.

Sales qualified lead (SQL):

A sales qualified lead (SQL) refers to a prospect who expresses they're willing and ready to take the next step in the buying process of communicating with a sales team.

Customer:

The exchange of money for your product or service converts a lead into an official buyer.
How to get more MQLs in 5 easy steps
When you want to grow your business, aim to focus on the quality of leads rather than the quantity. Creating a lead nurturing process allows you to set standards for your sales representatives to follow, ensuring your customers receive the same level of service at each stage of communication with your brand.
Follow these tips for getting more MQLs.
1. Include lead magnets in paid advertising
In marketing content or site construction, a lead magnet encourages visitors to provide their contact information willingly to access your offerings. If you plan to use paid advertising services, include a persuasive CTA. Getting leads to download your material or sign up for your newsletter paves the foundation for the customer journey.
2. Align your content with customer retention
When you know what grabs your customer's attention, you'll cater to their wants and needs. Data analysis allows you to gauge customer retention for your site to see how long a prospect stays on a page and other links they click on from your site. Aim to include valuable information with your keywords, so your lead doesn't leave to get answers from a competitor.
3. Attend or host networking events
By hosting a webinar or other event, your brand interacts with MQLs and provides the information they need to close a sale. Providing helpful information and answering questions establishes yourself as a leader in your industry. Aim to have representation of your company at local, statewide, or national conferences in your field amongst competition to learn from their strategies and continue to optimize your own.
4. Attract users through social media
To attract more MQLs, aim to use your company's social media marketing for an enhanced digital presence.
Keeping an eye on the interests of your target audience and staying informed about the latest trends allows you to meet your customers' needs better. Posting regularly and interacting with your followers and subscribers enable you to increase your brand loyalty as consumers learn more about your company's history, mission, products, and services over time.
5. Incentivize prospects at the top of the funnel
If you'd like MQLs to leap to finalizing a sale, you should use incentives to pique their interest. Strategies with lead nurture email marketing stay in touch with your potential customer to keep them engaged with your brand. Emailing about loyalty programs, free downloads, and discounts offers an enticing way to have a consumer click on a link to your site.
WebFX is a partner businesses trust.
Hear from HydroWorx, who saw a 236% increase in organic sessions with WebFX services.
Watch the Video Testimonial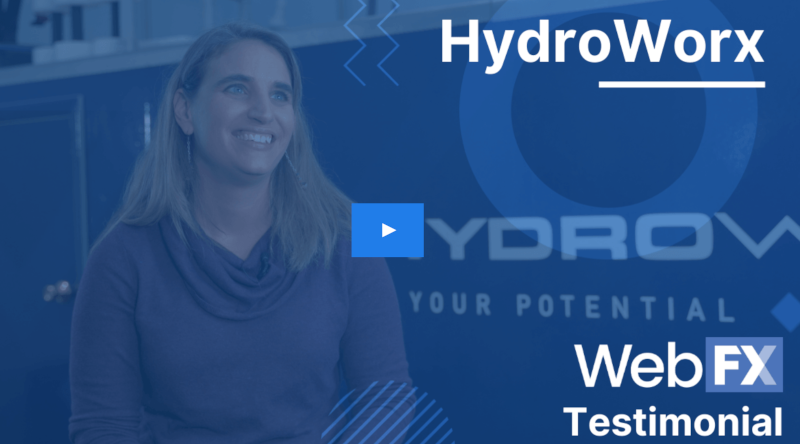 Want help generating more MQLs?
If you'd like to increase your brand awareness and generate more sales, let WebFX help with your digital strategy. Our team of experts specializes in helping small to large companies in any industry improve their social media and website marketing. We've driven over 7.8 million leads for our clients, and the number keeps growing.
Studying your site visitors' journey and seeing what drives results allows you to provide the best recommendations for your approaches with site optimization and lead nurturing. We use a technologically advanced platform to take your business to the next level with over $3 billion generated in revenue for our clients for far.
To get started, request a free estimate today!
WebFX Careers
Join our mission to provide industry-leading digital marketing services to businesses around the globe - all while building your personal knowledge and growing as an individual.