It's the age-old battle between audio and video. YouTube vs. podcast. Which content format will work best for you? If you aren't familiar with either of these content marketing staples, here's a quick overview.
What is YouTube?
YouTube is a video-sharing social media platform that also serves as a video search engine. People spend over a billion hours each day watching videos on the platform, and it offers plenty of growth opportunities for businesses that create content.
What is a podcast?
A podcast is an audio-focused show that usually takes place as a series of connected episodes centered around a certain topic. Podcasts can appear on a variety of audio streaming platforms, including Apple Podcasts, Spotify, and Stitcher. When considering whether a podcast or YouTube is right for your business, you first need to evaluate your capabilities and needs.
YouTube vs. podcasts: Which is better?
In the YouTube vs. podcast debate, the question of which one is better depends on your business, goals, and capabilities. Both require time and money, though YouTube offers a broader reach due to its user base and accessibility.
What to consider before creating a podcast or video series
Before you invest time in a content series — or spend time making your own pros and cons list — ask yourself two important questions.
1. Are you comfortable on camera?
If you aren't going to be on camera, do you have people at your company who are comfortable speaking in front of a lens? YouTube is a video-driven platform. While you can make a video that consists of a static image or animations with audio attached, that's not always going to generate a lot of interest. If you don't have someone in your organization who wants to be on camera, a podcast's audio-only format may work best for you.
2. What is the purpose of your content series?
What you want to accomplish with your content may make the YouTube vs. podcast decision for you. If your goal is to show off a product or service, video will be the best option since you can give people visuals.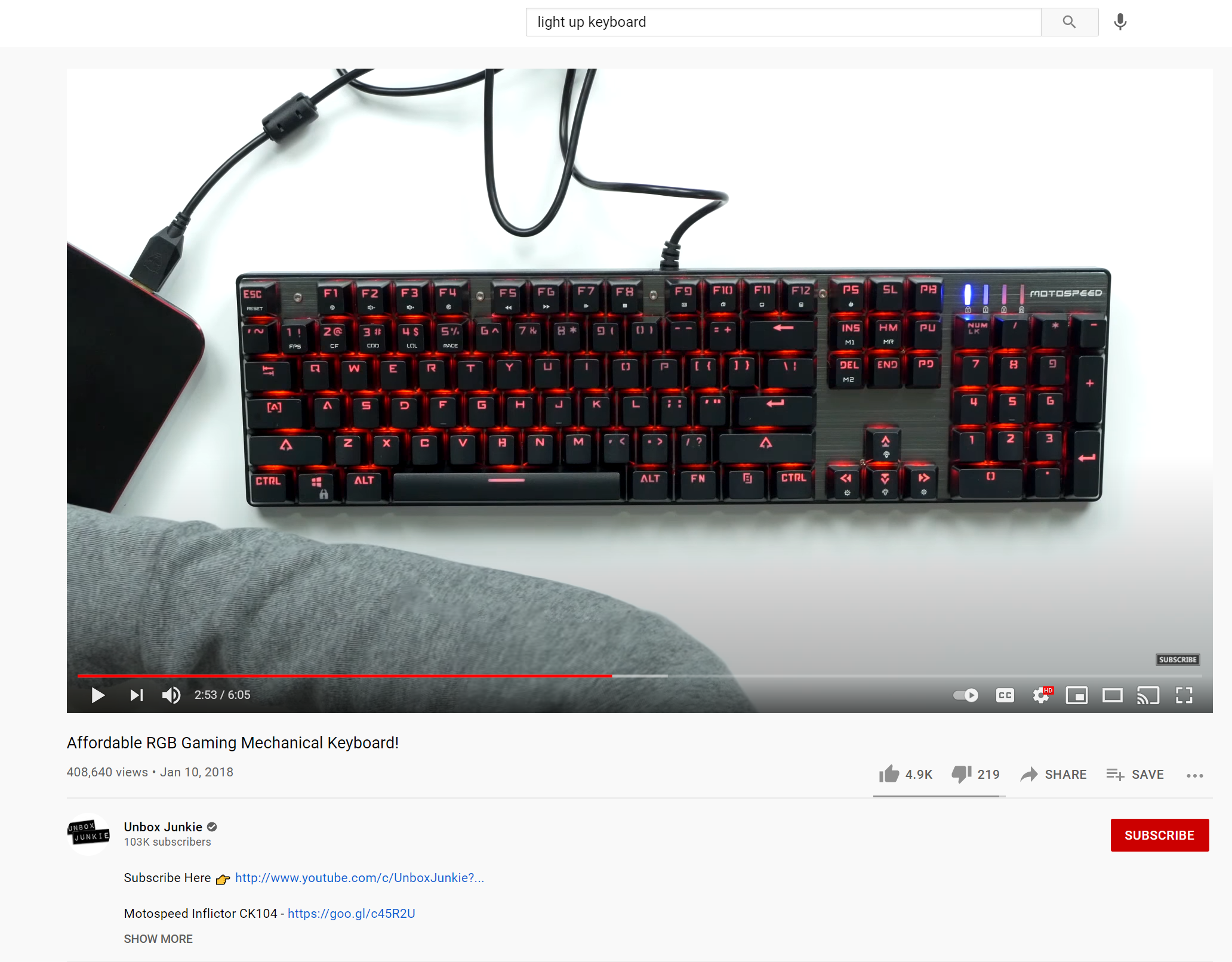 Would you rather hear about new features or see them in action? If you want to tell a long-form story that doesn't necessarily lend itself to visuals, a podcast may work best for you. Before you make a final decision on your content format, spend time outlining your goals so your content is designed to hit them. Are you still asking yourself, "Should I start a podcast or YouTube channel?" No worries. We have some YouTube vs. podcast pros and cons coming up next.
YouTube pros and cons
YouTube pros
1. YouTube offers super search engine optimization (SEO) potential As mentioned earlier, YouTube is both a social media platform and a search engine. If your videos are properly optimized, meaning you use keywords in your video metadata and meet the search intent of your chosen video topics, people searching for an answer to their questions may find and watch your video. With YouTube SEO, taking the time to optimize your videos can result in consistent views from new fans — and an ever-growing base of subscribers.
2. YouTube plays a large role in the buyer decision-making process Over half of all consumers use video to help them make shopping decisions. More specifically, nearly 70% of YouTube users watch videos on YouTube when they need help making purchase decisions. If the goal of your marketing efforts is to increase leads and sales, then making YouTube videos is an excellent way to achieve that.
3. YouTube offers the chance to visually show people your business On YouTube, you have the ability to promote your business and communicate with your audience using both video and audio. With business videos, you can show off different product features, capture your team in action, share behind-the-scenes footage, express your enthusiasm for knowledge, and so much more. In fact, including people in your video can help build more trust with your audience. Trust is key to creating loyal followers and turning viewers into customers, leading to more revenue for your business.
YouTube cons
1. YouTube has a lot of competition While you do have the potential to reach thousands — and even millions — of people with your YouTube videos, you're not the only business trying to do this. Buffer reports that over 60% of businesses use YouTube for video content. In just one example, a search for "tips for lawn care" on YouTube results in several established videos with view counts ranging from 90,000 to over four million.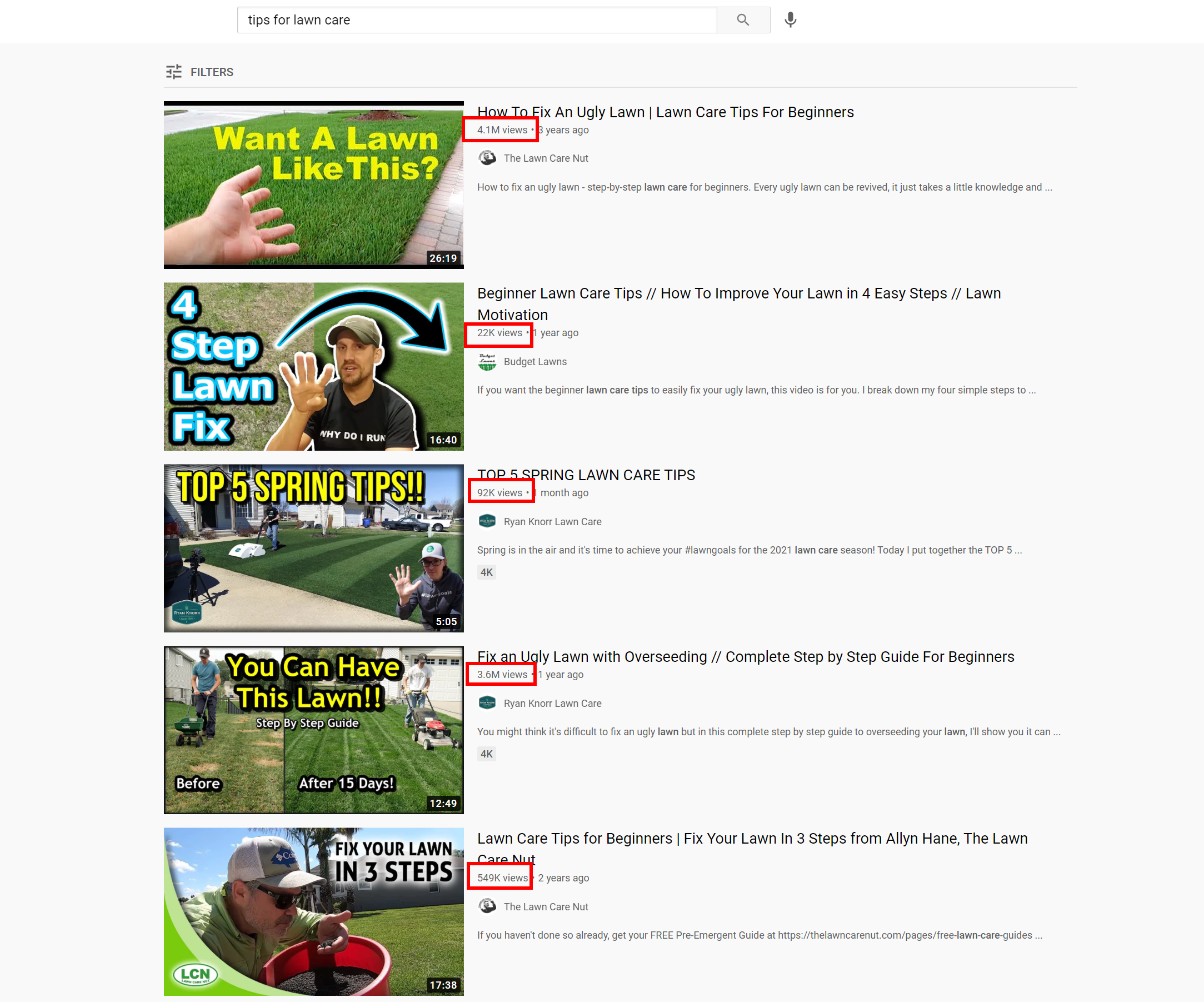 While not impossible, it can be very difficult to break into the top YouTube results when so many popular videos already take up space.
2. Videos take time to create Video production isn't easy. You have to research your topic, write a script or outline, coordinate the video shoot, edit your videos, and optimize them for YouTube SEO before they go live on the platform. If you already have a lot of responsibilities, video production can add a lot to your plate. Outsourcing your videos may be an option, but it does require an additional investment.
3. Equipment can be expensive You can, without a doubt, make a video on a budget. Set up a phone on a tripod, shoot, and edit using one of the many free video editing tools out there. However, if you plan on making video a regular part of your content marketing plan, you might want to consider investing in some professional video equipment. The video basics include a video-capable camera, a microphone, and a lighting kit. Cameras and their accessories may range anywhere from $500 to upwards of $10,000 depending on what you need. Some cameras may cost as much as a new car.

If you want to create a custom set, you have to factor in the cost of a backdrop, furniture, and decor. You don't have to spend an arm and a leg on your equipment, but diving into professional video can get expensive over time.
Podcast pros and cons
Pros
1. Podcasting has less competition than YouTube While it may seem like everybody who is anybody has a podcast, the number of podcasts currently in existence pales in comparison to the volume of videos on YouTube. Statistics show that in 2021, there are more than 2,000,000 podcasts in existence. Breaking it down, more than 48 million podcast episodes have been produced. In comparison, there are over 37 million YouTube channels that produce over 500 hours of content each minute. That's 720,000 hours of content in a day and over 260 million hours of content in a year. The 48 million podcast episode number might seem like a lot, but it leaves plenty of room for growth when compared to YouTube's numbers.
2. Podcasting equipment is affordable and minimal Many videos use both visual and audio elements to get their messages across. You eliminate the visual element with podcasts, and with that, the need for video equipment. For podcasting, you really just need a good microphone, a computer for audio editing, and software to edit with. You also have plenty of options when it comes to hosting your podcast. Assuming you already have a computer, your microphone will probably be your largest investment.
You can expect to pay anywhere from $50 to $200 for a microphone, but you have many models to choose from.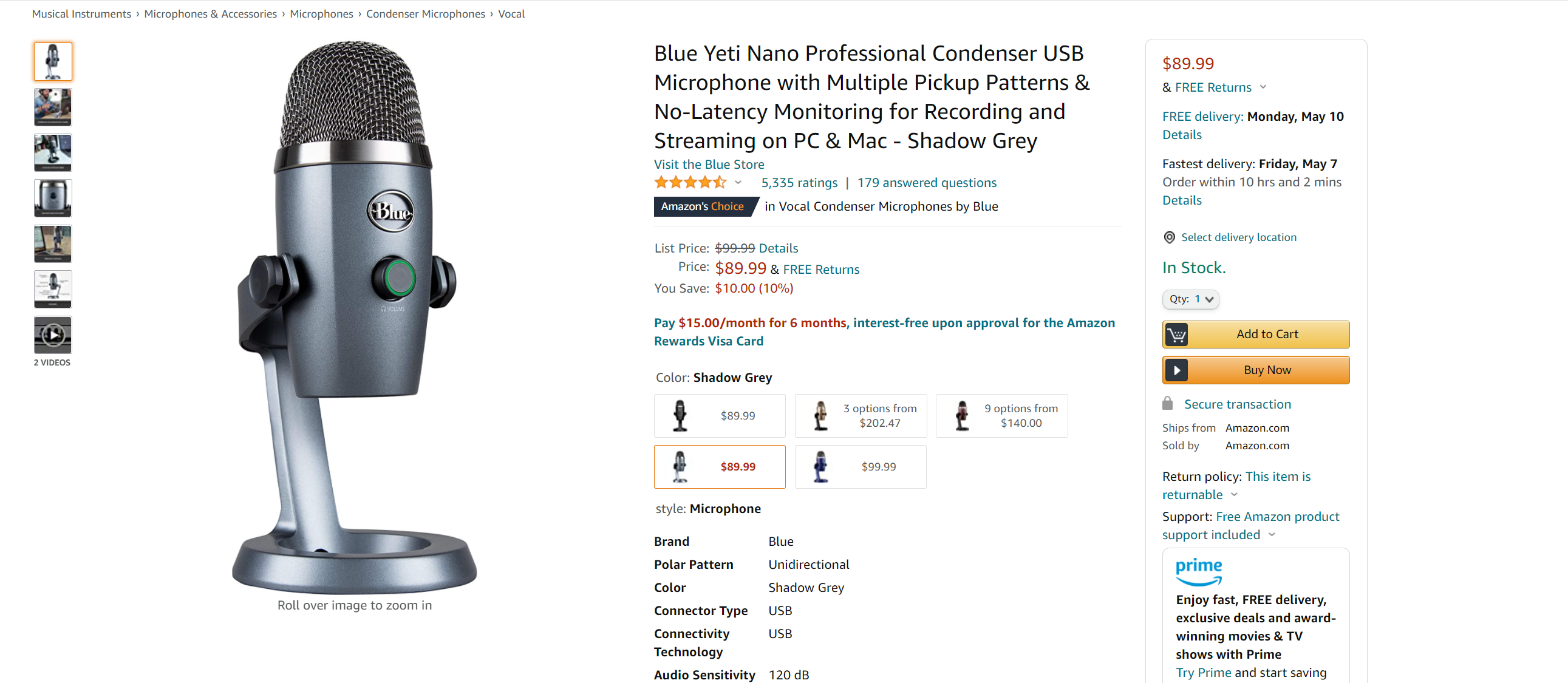 3. You have access to many different streaming platforms YouTube itself is a video hosting platform, but with podcasts, you have the option to distribute your content on several different streaming apps. Just a few of the popular podcast platforms are Apple Podcasts, Spotify, Google Podcasts, TuneIn, and Stitcher. By distributing your podcast across all (or most) of these podcast directories, you make sure to get your business in front of as many people as possible, wherever they listen to podcasts.
Cons
1. Podcast listeners might not actively listen to your content The audio-only format of podcasts allows people to listen from nearly anywhere. In fact, 25% of podcast listeners play podcasts while driving almost every day. But, this type of listening—known as passive listening—can lead to listeners missing out on parts of your message. With YouTube, more of a viewer's attention is focused on the content of the video because it's not as easily understood if it's playing in the background.
2. Not all podcast hosting platforms are free Some podcast hosting platforms come with a fee, and others have a limit to what you can do on a free plan. While a platform like Anchor boasts its commitment to being free forever, other hosting sites like Buzzsprout, Captivate, and Libsyn have (for the most part) paid options. Your podcast hosting platform is certainly important, but you may have to invest a bit more than expected to meet your needs as you grow.
3. Podcasts may not reach as large of an audience as YouTube videos If you aim to get as many people as possible familiar with your business, you might not hit that goal with a podcast. YouTube SEO gives you so much opportunity to reach new people. With a properly optimized YouTube video, you can potentially see hundreds of views in your video's first week, maybe even more if your video goes viral. According to The Podcast Host, getting over 26 downloads in your episode's first week puts you in the top 50% of podcasts. Looking at the bright side, if just 10 people tune in to your hour-long podcast, those are 10 interested followers who you can turn into customers through content marketing. Ten loyal customers bring more value to your business than 1000 half-interested viewers.
Should you upload your podcast to YouTube?
The argument doesn't have to be YouTube vs. podcast. If you're torn between creating videos and podcasts, why not do both?
You can film yourself and your guests while recording your podcast and either upload the full-length video to YouTube or share clips to drive people to the audio podcast. You can also turn the audio from a video into a podcast. Just keep in mind that visual references won't make sense to an audio-only listener. No matter what format you use, you can promote it on your website, in your emails, and on social media. Take advantage of all the channels you use to promote your valuable content.
Our team of digital advertising experts will work hard so you see a positive return on your ad spend. Plus, with our tech-enabled services, you'll know exactly what we're doing to drive results. Contact us online or give us a call at 888-601-5359 to start driving revenue for your business.
How is your website's SEO?
Use our free tool to get your score calculated in under 60 seconds.
Get posts by email
Join 200,000 marketing managers and subscribe to Revenue Weekly!
"*" indicates required fields
WebFX Careers
Join our mission to provide industry-leading digital marketing services to businesses around the globe - all while building your personal knowledge and growing as an individual.