When you were a child, you probably played the game "she loves me/she loves me not," by plucking the petals from a daisy in your back yard. That might have been your biggest question as a pre-teen, but your biggest question as an SEO might sound something like "to disavow or to not disavow."
But what is disavowing anyway and why do SEOs everywhere have such a hard time determining whether or not they should?
On this page, we'll talk about the definition of disavow, how to know when you should disavow links pointing to your site, and how disavowing links relates to SEO.
If you'd like to speak with a marketing specialist about the quality of links pointing to your site, feel free to give us a ring at 888-601-5359!
The meaning of disavowing
Whether you're concerned about links pointing to your own site or are just curious from a marketing perspective, let's talk about the meaning of the term "disavow."
First, we'll start with some link basics for background.
There are all kinds of links on the Internet.
Internal links: Links that you use on your own site that link to other pages on your site.
External links: Links that you use on your website that point to another website.
Backlinks: Links that other websites use that point to your website.
All of these links are important in their own way:
Importance of internal links: Without internal links, Google won't be able to find all of the pages on your website. For example, if you post a new page to your site, but don't link to it from any other site pages (create internal links), Google will have a hard time finding and indexing that page. A strong internal linking structure allows Google to find and index your site pages quickly.
Importance of external links: When you reference a high-authority website with an external link, you show Google that you are also a high-authority website with great information. Not only that, but high-quality external links can help give Google context as to what your content is about.
Importance of backlinks: Backlinks are extremely important for a few reasons. First and foremost, they help to boost your domain authority if the links are coming from high-authority sites. They also help to bring more users to your website, show Google that you're an authority in your industry, and help Google to find and index your pages. However, just because there are upsides to backlinks, doesn't mean there aren't also downsides. We'll talk more about that later!
Now that you understand the importance of the different kinds of links, you can better understand what disavow means and how you can use disavows correctly on your site.
When we mentioned backlinks, we mentioned how they were important to boosting your domain authority, helping Google and other users find your website, etc. But what are the downsides? Just how it's beneficial and important to have high-quality backlinks, it's equally negative and hurtful to your website to have low-quality backlinks.
This is where the potential for disavowing those links comes into play.
The dictionary definition of disavow is to "deny any responsibility or support for," and in the online world, that can be translated to telling Google that you'd like to discount the value of an inbound link for any number of reasons. The link might be spammy, or you might have obtained it through black-hat tactics.
When it comes to what disavow is, Google says it best: "If you have a manual action against your site for unnatural links to your site, or if you think you're about to get such a manual action (because of paid links or other link schemes that violate our quality guidelines), you should try to remove those links from the other site. If you can't get these links removed, then you should disavow those links to your website."
In short, if you're under the impression that you're about to face a Google penalty because of spammy links, disavowing those links is a good option.
However, disavow isn't always the answer.
Determining if you should disavow a URL
Determining whether or not you should disavow a URL is pretty simple.

The first thing to keep in mind is that in most cases, Google knows exactly what backlinks are spammy and which ones aren't. That being said, disavow should be thought of as a sort of "last resort."
Here's what Google recommends as far as determining whether or not you should disavow backlinks to your site:
You're fairly certain that you have a lot of artificial, spammy, or low-quality links that are pointing to your site
The links will likely cause a Google penalty or already have caused a Google penalty on your site
If you've decided that it's time to disavow some links pointing to your site, keep reading.
How to use Google's disavow tool to disavow a URL
Follow our step-by-step process for disavowing links with Google's tool.
1. Open a text file
You'll submit this text file to Google's disavow links tool, so in order to create an organized request, you'll want to keep track of your disavow links in a text file.
2. Start listing the URLs you want to disavow
In order to list the URLs that you want to disavow successfully, keep in mind that you can only have one URL per line.
In addition, remember that you can't disavow an entire sub-path on your website. You'll have to list each specific URL separately and on its own line.

Before listing the URL, you'll want to place "disavow:" before it.
One more thing, the file must be a text file that is encoded in UTF-8 or 7-bit ASCII, and the file name that you save it as must end in ".txt," or be a text file in order to have the ability to submit it to Google.
That means that if you type your disavow list in a Word document, Google won't accept it.
As you're listing your disavows, you can add comments, much like you can in HTML code. In order to create a comment that only you will see, preface your text with a "#".

3. Upload your list to Google's disavow tool
Keep in mind before taking this step, if you've submitted a disavow list in the past, the one you upload will replace all previous disavow lists.
If you're sure you're ready to submit your list, visit Google's disavow link tool and select your website from the dropdown menu and click "disavow links".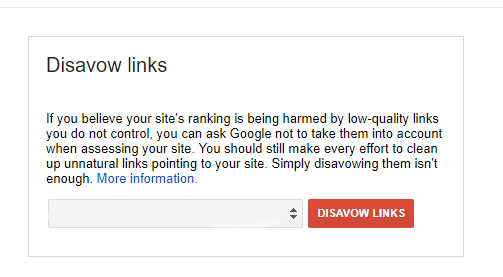 From there, you'll want to choose the text file that you've created that lists out your disavowed links and upload it to the tool.
Keep in mind that your disavowed links don't become disavowed overnight. It can take Google a few weeks to process your links, so don't worry if you don't see an effect right away.
During this time, your disavowed links will still appear in your links report as well.
How disavowing your links can help with SEO
Plain and simple — low-quality, spammy links to your site can hurt you from an SEO standpoint. Here's why:
Low-quality links can keep your site from seeing an increase in domain authority
Spammy links can make your site look spammy too
Spammy links can lead Google to believe that you're paying for links (a black-hat SEO tactic), which can be penalized
If your site does experience a Google penalty, you can see a huge drop in rankings — therefore, a huge drop in site traffic, and therefore, a huge drop in conversions and revenue
However, before disavowing links, you should be absolutely sure that they are spammy or low-quality.
Disavowing the wrong links can actually hurt your ranking too.
Need help disavowing links?
If you're still on the fence about whether or not you should disavow links that are pointing to your website, WebFX can help.
We're a full-service digital marketing agency that uses tons of marketing strategies like SEO, pay-per-click advertising (PPC), website design, and so much more, to ensure that your site ranks highly in search engines.
We can help you disavow links that you think are impacting your site negatively, and we can even help you if you've been hit with a Google penalty already.
To learn more about our services, feel free to contact us online, or give us a call at 888-601-5359!
Get posts by email
Be the first to know when we publish a new blog post!