Google offers us a lot of data to use with our website in one of the most important tools out there: Google Analytics. However, there is almost too much data available. Thankfully there are free Google Analytics reporting tools that give you a glance at important KPIs to keep you in the loop.
Chances are, you've wasted a lot of time wandering around your Analytics account just looking at numbers. It's too easy to get lost in all the different data points that are just a few clicks away from each other. Rather than wasting my time every day or every month, I sought out a solution.
As it turns out, there are a few handy tools out there that save you valuable time to make important decisions rather than kill time by floating around your Google Analytics account. Let's take a look! P.S. Looking to see more search traffic in your GA dashboards?
Enter your URL here to learn what you can do to improve your site's SEO and increase your search traffic!
Google Analytics Dashboards
In Google Analytics, you can create a custom digital marketing dashboard based on your own queries. It's easy to set up on your own if you find yourself looking at the same screen over and over again. All you need to do is click the "Add to Dashboard" button at the top left of the view you're currently on.
Alternatively, Google offers an entire gallery of pre-made dashboards and segments in the Google Analytics Solutions Gallery. There are several different dashboards, custom reports, and segments that you can easily import into your own profile with just a few clicks. Many of these are made by other Google Analytics users who use these on a daily basis and have decided to share them with the world!
Here are a few that I recommend:
Give them a look and let me know what you think! Graeme Benge from Koozai presents 13 more in-depth dashboards to use that you can try as well.
Google Analytics Add-on for Google Spreadsheets
If you are more into custom capabilities, you can't beat a good old fashioned spreadsheet. Thankfully, Google also provides us with a way to do this natively in their Google Docs Spreadsheets!
You'll want to get the new Google Drive if you don't already have it. That way you will have access to those oh-so-helpful add-ons Google provides. Go ahead and click on the Add-ons menu, then "Get add-ons…" Do a quick search and you will quickly find the Google Analytics extension for your spreadsheet.
Once that is installed, you can use the same menu and create a new Google Analytics report. (Add-ons -> Google Analytics -> Create a New Report) There are many different ways to create helpful Google Analytics reports with this tool. With the use of some spreadsheet magic, you'll find yourself creating all kinds of resourceful reporting dashboards.
Here is a tutorial on how to measure the performance of your blog posts with the Google Analytics reporting add-on. One of the best parts of this free reporting tool is that you can easily share it with people in your company or via email!
Google Analytics Add-Ons for Excel
If Google Docs isn't your flavor, there are plenty of other tools to integrate Google Analytics with the power of Excel. Outfox provides basic functionality for this in their tool, Excellent Analytics.
Or if you'd like to go the paid tool route, Supermetrics has a cheap alternative!
---
Okay, so far we just have some basic products for free Google Analytics reporting. These tend to require a bit of customization and elbow grease to get up and running. Fortunately, I found a few more tools for you to take all of this to the next level of easy Google Analytics reporting!
Visual.ly Weekly Insights Infographic Analytics Reports
The leader in sharing infographics, Visual.ly, created a super simple way to graphically depict the past week's analytics.
By hooking up your Google account and your Visual.ly account, you can tell it to create a visually appealing Google Analytics report that lets you know how things went week. No design experience is required – they automatically do the whole thing for you!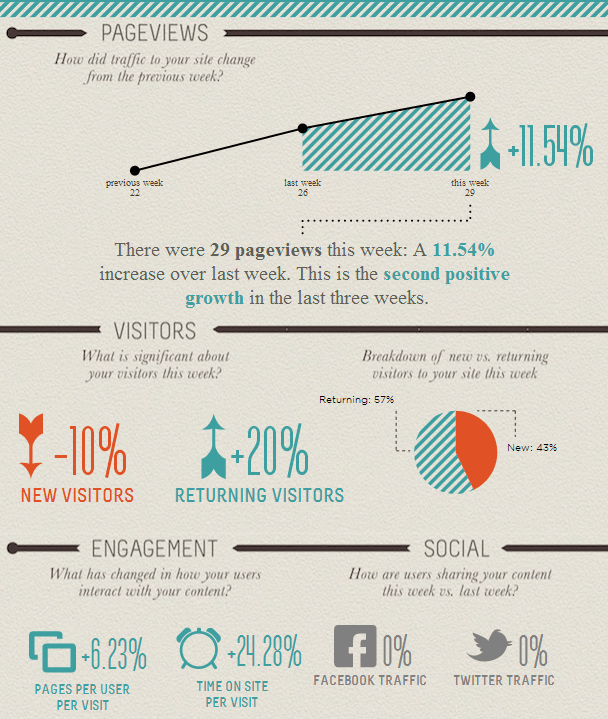 There's no way to customize the report, but it does give some helpful insights for visitors, organic search traffic, bounce rates, and even social metrics.
A very helpful part of this free reporting tool is that you can tell it to send you this report on a weekly basis via email. Getting a weekly glance can certainly save you a lot of time!
SumAll – Combining Multiple Apps in One Report
This tool might blow you away, depending on what kinds of things you do. SumAll is basically a catchall for several different data reporting apps that have anything to do with your website.
You can connect your Google Analytics account to this in addition to 40 other platforms you may use as well.
For example, you can measure the influence of your Twitter or Facebook account on the amount of traffic coming to your website. You can examine the impact that external links have on your organic search traffic.
You can even measure the effectiveness of your YouTube channel in terms of revenue. Now this does all depend on what services you use, but the app offers several options in doing so. SumAll will remove the hard work in calculating the relationships and trends between different datasets and conveniently display that data in a way that is easy to digest.
What's more is you can also set it to send daily and weekly email updates to you and other collaborators you give permission to.
Handsome Stats All in One Analytics Reporting
Alright alright, I know I said these were free. But this one is so cheap and cool that I might as well throw it in there – just so you know about it! For $7 per month after a 45 day free trial, Handsome Stats gives you an extremely concise and easily viewed report of the most important factors in your Google Analytics.
You can see how things went the past month, or you view things compared month over month. Here's a screenshot of how it works, or you can check out the demo they have going on their site by clicking the link above.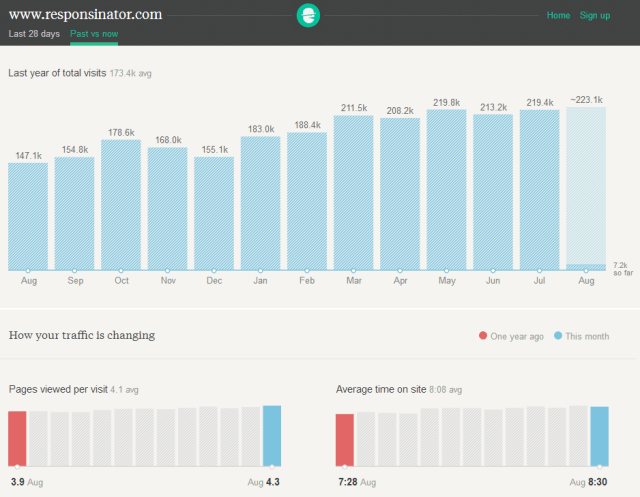 This tool also gives you the option to send you monthly reports via email.
In addition to that, you have a unique URL for your own dashboard that you can share with others, only if you want to. There's a password option to keep things locked down.

---
I hope these tools give you some options when it comes to creating your own custom Google Analytics reporting tools.
Being free is always nice, but if you want to shell out a few dollars a month, you can really enhance the way the data is presented, saving you time that you would normally spend pouring over your data. Want more Internet marketing tips? Check out our free resources, or use our SEO Checker tool to get a free report on your website's SEO!
Looking for an all-in-one SEO audit tool? You've found it.
SEO Checker provides data on key metrics to give you:
Complete SEO score

Content Grade

Site Speed Analysis

and more.
WebFX is a full-service marketing agency with 1000+ client reviews and a 4.9-star rating on Clutch! Find out how our expert team and revenue-accelerating tech can drive results for you! Learn more
Try our free SEO Checker
Boost your site's search performance with our free SEO Checker. Analyze your website for optimization tips on titles, headers, content, speed, and more. Get a free report now to enhance rankings on Google, Bing, Yahoo, and beyond!
How Is Your Website's SEO?
Use our free tool to get your score calculated in under 60 seconds.
Try our free SEO Checker
Boost your site's search performance with our free SEO Checker. Analyze your website for optimization tips on titles, headers, content, speed, and more. Get a free report now to enhance rankings on Google, Bing, Yahoo, and beyond!