Social Media

How To Go Live On TikTok in 5 Quick Steps + 8 Tips
How To Go Live On TikTok in 5 Quick Steps + 8 Tips
April 20, 2022
6 minute read
Emily is WebFX's Content Delivery Lead. She holds an M.S. in digital marketing and leads the FX content team, along with strategy, implementation, and evaluation for WebFX's key revenue channels. Her work has been featured by Social Media Today, Campaign Monitor, Reader's Digest, Yahoo, and more. In her free time, she enjoys hiking, road trips, and exploring new cities. Follow her on Twitter @emcarter16 or connect on LinkedIn. @emcarter16
With nearly 80 million U.S. users, TikTok is one of the fastest-growing social media apps. And it's not just for Gen Z! Businesses, just like yours, can use TikTok to reach and engage your audience not only with videos but also with livestreams.
How do you go live on TikTok?
In this post, we'll break down:
Before we get started, do you want more tips for marketing your company on TikTok? Check out our TikTok marketing guide!
View the TikTok marketing guide
Now, let's dive into everything you need to know about TikTok Lives. Grab your phone, and let's go!
What is TikTok Live?
TikTok Live allows you to broadcast live videos and connect with followers in real time. In addition to uploading pre-recorded videos, TikTok Live is a great way to diversify your social media, connect, and expand your reach online.
How to go live on TikTok
Open the TikTok app and make sure you're logged in to your account
Click the + sign (bottom center of screen)
Tap the Live button (next to record)
Enter the title of your livestream
Click "Go Live"
Don't see the option to go live from your recording screen? Your account may not meet requirements to livestream on TikTok.
How do you meet requirements to go live on TikTok, you ask?
Who can go live on TikTok — how many followers do you need?
Wondering why you can't go live on TikTok? TikTok Live isn't for everyone.
To go live on TikTok, you must be at least 16 years old and have 1000 or more followers.
If you just turned 16 or earned 1000 followers and don't immediately see the option to go live, don't panic. You may need to wait a few days for TikTok to update its records before you're able to livestream on the platform.
If you still can't go live on TikTok, you may have recently violated TikTok's policies, leaving your account up for review or suspension.
TikTok creators over the age of 18 can receive virtual gifts when going live on the platform. Soliciting gifts violates TikTok's community guidelines, though, so you'll want to avoid asking for gifts or offering incentives to receive gifts while live on TikTok.
How to go live with someone on TikTok
If solo broadcasting seems daunting, don't worry!
TikTok lets you invite up to 20 moderators to co-host your TikTok Live event.
To go live with someone else on TikTok:
Follow the steps above to start your live TikTok
You'll see a list of suggested hosts — people who have requested to join or are watching your live video.
Then, you can select your co-hosts by clicking "Invite."
Users can request to join your live broadcast by clicking the two-smiley icon (near the comment box). If approved, they can connect with you, the host, on your livestream.
Going live with other TikTok users is a great way to tap into new audiences and expand your reach on the platform.
8 hot tips for going live on TikTok
Here are eight quick tips to set you up for success before tapping "Go Live" on TikTok.
Test your audio quality: Reduce background noise if possible, and film a test video to check sound quality.
Set the scene with an aesthetic backdrop: Test your lighting and remove unwanted clutter from the background of your video.
Plan your timing: To maximize audience engagement, plan to go live when followers are most likely to be active on the platform.
Check Wi-Fi connection: Make sure you have a solid Internet connection to avoid downtime.
Use moderators: Moderators can help block trolls from your live TikTok videos, so you can ensure everything runs smoothly while you're live on the app. You can choose your moderators before starting your broadcast.
Prep video length: You'll want to keep your TikTok live videos ~30 minutes (60 minutes max), so plan ahead to make sure you can fit everything into the allotted time period.
Interact with your audience: While live on TikTok, try to respond to comments to keep your audience engaged with your content.
Promote TikTok Live on other social channels: Let followers know when you'll be live on TikTok by sharing updates on other social platforms. You can also create a TikTok post to announce your TikTok Live event ahead of time.
What to share on TikTok Live
Now that you know how to go live on TikTok, you might wonder what your business should share when you go live.
Here are three TikTok for business ideas to keep your audience engaged with your livestreams on TikTok.
1. Host a live Q&A
Going live on TikTok lets you ask and answer audience questions in real time. Gain insights into customer pain points, common questions about your products and services, and more.
You can give on-the-spot answers to questions that may move followers one step closer to buying.
With TikTok's Q&A feature, users can submit questions during live broadcasts.
2. Show viewers behind the scenes
You can also use TikTok live to give your followers a behind-the-scenes glimpse of your business — your office space, product features, employee features — the options are limitless.
3. Share exclusive tips or offers
With TikTok Live, you can also share VIP offers or exclusive insights they'll have to tune in to find out about. This is a great way to engage followers and keep them coming back to your page for the latest scoop.
These are just a few quick ideas for what your business can share on TikTok Live! We'd love to help you brainstorm more ideas and bring them to life.
74% of people use social media when making a purchasing decision.
Make their decision easy with a stellar social media presence. See how your brand can level up by requesting a no-obligation proposal today.
One of our experts will be in touch within 24 hours!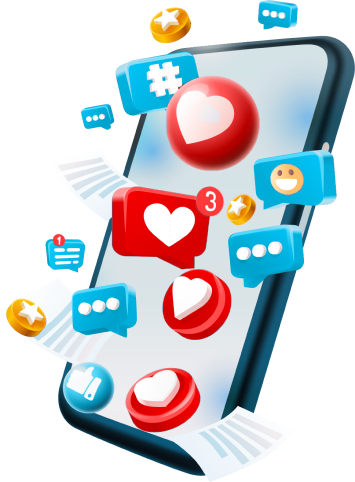 Spice up your TikTok content with social media plans from WebFX
Now that you know how to go live on TikTok — it's time to step up your TikTok game to reach and engage a wider audience online.
WebFX can help! Learn more about our TikTok advertising services and get in touch online (or via our TikTok).
We'd love to hear from you!
Emily is WebFX's

Content Delivery Lead

. She holds an M.S. in digital marketing and leads the FX content team, along with strategy, implementation, and evaluation for WebFX's key revenue channels. Her work has been featured by Social Media Today, Campaign Monitor, Reader's Digest, Yahoo, and more. In her free time, she enjoys hiking, road trips, and exploring new cities. Follow her on Twitter

@emcarter16

or

connect on LinkedIn

.

@emcarter16

WebFX is a full-service marketing agency with 1000+ client reviews and a 4.9-star rating on Clutch! Find out how our expert team and revenue-accelerating tech can drive results for you! Learn more
Twitter and Facebook Status Generator
Finding engaging social media content for your business can be difficult. Use our tool to quickly find ideas and post directly to your page.
Give Me an Idea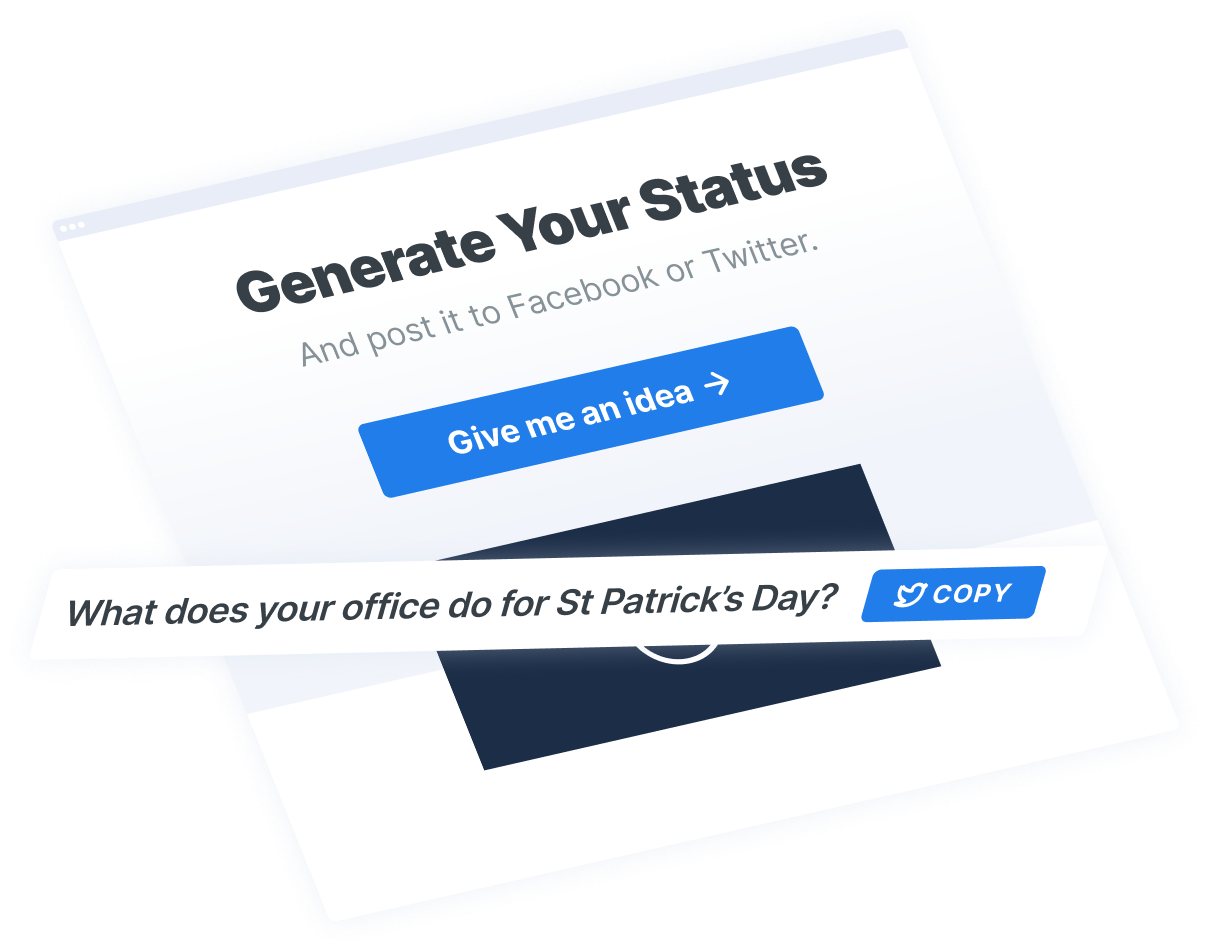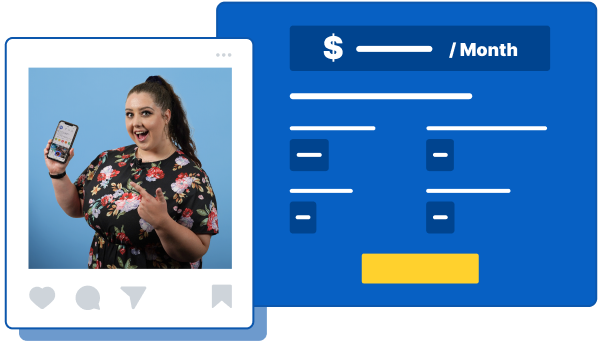 Twitter and Facebook Status Generator
Finding engaging social media content for your business can be difficult. Use our tool to quickly find ideas and post directly to your page.
Give Me an Idea