How much of an impact can your business make in 280 characters? With Twitter, quite a bit!
The microblogging platform holds enormous potential for marketers. From branding and advertising to promoting new products and improving customer service, Twitter allows you to take control of your social media presence and drive results.
But you might be wondering if Twitter is still relevant today? The answer: Yes! Learn how big of a wave Twitter is still making with these 39 exciting Twitter statistics, or jump right to the stats that most interest you:
And while you're here — do you like staying at the front of the pack with the latest digital marketing news? Sign up for Marketing Manager Insider emails to receive the newest updates in your inbox!
Don't miss our Marketing Manager Insider emails!
Join 175,000 smart marketers and get the month's hottest marketing news and insights delivered straight to your inbox!
Enter your email below:
(Don't worry, we'll never share your information!)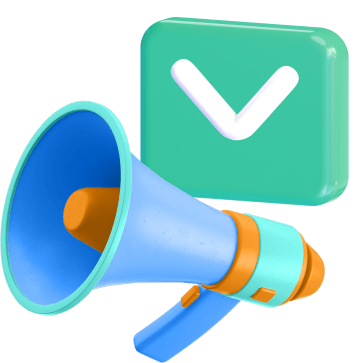 Twitter usage statistics
To kick off our rundown of the most eye-opening Twitter statistics, let's look at Twitter usage statistics. How many people use Twitter? And how do they use the platform?
What do these numbers mean for your digital marketing strategy? With traffic so substantial, think of the reach your brand can achieve. Plus, the more users, the better your ability to target subsets of that crowd to align with your business goals.
Your business's reach on Twitter goes beyond the 336 million people with active accounts. Your potential reach more than doubles if you consider the unregistered users who visit Twitter monthly.
So you saw the tremendous usage numbers, but you might have wondered how often those people check their accounts.
With nearly half of these users stopping by the platform every day, rest assured that people are actively scrolling through their feeds.
If you've ever scrolled on Twitter, you know it's one of the most consistently updated social media feeds.
The rapid pace means you have many opportunities to push new content to your followers — and witness what your customers are saying.
But prepare yourself to tweet regularly. If you need inspiration, check out our Twitter campaign ideas!
While Twitter maintains a rapid pace, most tweets come from a small subset of highly active users. Understanding this dichotomy will help you set realistic expectations for your Twitter marketing strategy.
If you want to market on any social platform, you need to know why people use it. The insight enables you to give your followers what they want.
Publish entertaining content that provides value and drives positive experiences with your audience.
7. 66% of U.S. businesses with more than 100 employees have Twitter profiles.
When you add Twitter to your marketing strategy, you join a host of other small-to-midsized businesses (SMBs). But if you opt out of Twitter marketing, your competitors could be snatching your potential leads!
When you join Twitter, make sure you're ready to push out content more than once a day. As we mentioned earlier, you'll need to tweet consistently to keep up with the platform's rapid pace.
Twitter user statistics
Now that we've answered how many people use Twitter and how they use it, you might want more information on who those users are. Check out the following Twitter user statistics:
9. Twitter users account for 42% of U.S. adults under 30 and 27% of U.S. adults between 30 and 49.
When choosing any social platform to market on, you always want to align your strategy with your target audience. If you're targeting Millennials or older Generation Z consumers, Twitter could prove lucrative for you.
Likewise, consider the platform's gender demographics. If your target audience is predominantly male, Twitter might align with your social strategy.
11. Over 25% of Twitter users make $75,000 a year.
You want to reach potential customers with enough disposable income to buy your products. A substantial portion of Twitter's audience earns enough to fit in that bracket.
A more significant percentage of Twitter users have a college degree than the general population. If your target audience includes college-educated adults in the U.S., Twitter could prove lucrative for your business.
13. With 76.9 million users, the U.S. has more Twitter users than any other country.
Are you marketing domestically? The U.S. leads the way for Twitter users!
14. Japan has the second most Twitter users globally, with 58.95 million users.
If you're hoping to expand your social media advertising strategy abroad, consider tapping into Japan's nearly 59 million Twitter users!
India is another global market that could prove lucrative for your Twitter strategy, with over 23 million users!
Twitter marketing statistics
All these Twitter statistics sound great, but how do they correlate to real-world results? In short, social media helps businesses grow.
Impressive, right? And Twitter is no exception.
Want proof of why you should include Twitter in your business growth strategy? You're going to love these Twitter marketing statistics:
The first step to generating results from your organic tweets is to gain followers. Fortunately, this statistic shows that many users are willing to engage with companies on Twitter.
17. 72% of Twitter users who follow a brand see themselves shopping with that brand in the future.
Your followers are more than nice numbers on a page. Surveys show that companies' Twitter reach translates into real-world purchase intent.
18. 52% of Twitter users have purchased items after seeing them on the platform.
Not only do Twitter users plan to purchase items — many people follow through on their intentions.
Feature your products in relevant tweets to have them seen by people likely to buy in the future.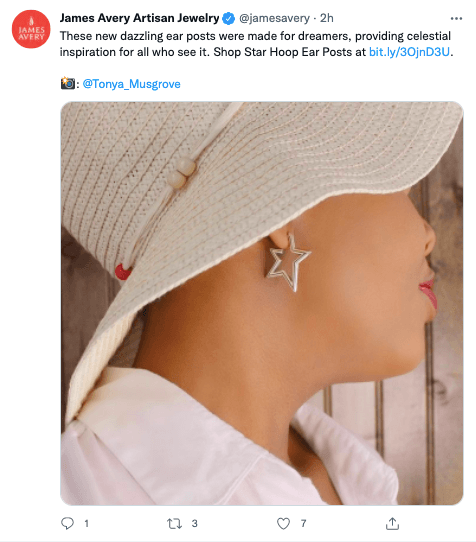 Are you launching a new product and looking for the best platform to promote it? Twitter stands out as a lucrative opportunity for new launches.
The ideal platform for new products fosters an air of discovery and curiosity. When users scroll with the mindset to find current information or cutting-edge insight, they're more likely to purchase the latest offerings from exciting brands.
20. 85% of people who follow a brand on Twitter feel more connected to the company.
Social media provides a platform for brands to build relationships with their audience. Take advantage of this connection with your Twitter profile.
Tweet authentic insights into your company and share the people behind the products.
21. A simple reply will leave 77% of Twitter users feeling more positively about a brand.
Want to improve your brand-customer relationship even more? Monitor your profile for replies and mentions so you can respond accordingly.
22. 78% of commenters want a response within the hour.
Many people take to social media to vent about their experiences with a company, good and bad. Strategic use of your accounts involves monitoring for and responding to these comments.
Ensure you're constantly checking for new comments and replying quickly. Twitter's rapid-fire nature means users expect a fast response.
To give you an indication of how quickly top brands respond, take a look at this reply from McDonald's, which they tweeted within six minutes of the customer's original tweet: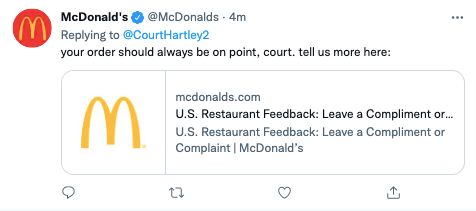 Twitter might require speedy replies, but strategically using the platform for customer service creates noticeable improvements in customer satisfaction.
Exceed your audience's expectations with thoughtful and timely replies, and you could find yourself with more loyal customers — all thanks to Twitter!
Twitter advertising statistics
Alongside organic Twitter marketing, Twitter advertising also holds enormous potential for your business:
One of the most significant benefits of investing in social media advertising is to reach more people than you could with organic posts alone. This statistic shows that Twitter advertising can increase your potential reach substantially.
25. Twitter users view ads 26% longer than users on other social media platforms.
When you invest in ads, you want to ensure people watch them. Twitter's audience views ads more than other platforms' users — a helpful statistic to remember as you plan out your social media advertising strategy.
26. Twitter ads carry more impact than television, according to 81% of users.
Move over, TV commercials. Make way for Twitter advertising!
These improved customer sentiments indicate more potential for your Twitter advertising strategy to drive results. With more users viewing your ads for longer — and having a positive experience with them — you can see an improved return on your ad spend.
27. Twitter ads are informative, according to 73% of users.
Similarly, Twitter users find ads on the platform informative, meaning they gain value from the paid posts. When people receive value from ads, they're more likely to respond positively to them.
28. 67% of users find Twitter ads to be relevant to their interests.
Not only do Twitter users find ads informative, but they also find them non-intrusive and relevant to their interests. Combined, these statistics mean the user experience with Twitter ads holds promise for your brand's investment.
29. When companies use influencer marketing on Twitter, purchasing intent increases more than 500%.
Already, you can see the benefits Twitter brings to your business, but if you want to generate even more substantial results, try influencer marketing.
When you partner with an influencer in your niche, you leverage the trust they've earned with their audience. It's no surprise, then, that influencer marketing on Twitter creates drastic gains in purchasing intent.
30. When you invest in video ads, you can cut your cost-per-engagement by over 50%.
While these stats show how promising Twitter advertising is, consider amplifying your return on investment (ROI) by investing in video ads!
Bonus Twitter statistics for businesses
Want to learn more Twitter statistics to inform your marketing strategy? Check out these bonus facts:
74% of people use social media when making a purchasing decision.
Make their decision easy with a stellar social media presence. See how your brand can level up by requesting a no-obligation proposal today.
One of our experts will be in touch within 24 hours!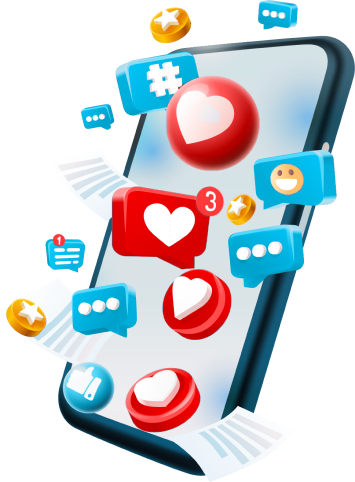 Leverage these powerful Twitter statistics for your company
These numbers show the power Twitter has for your brand. Are you ready to take advantage of Twitter's reach and engagement? Partner with a social media marketing agency that has published more than 165,000 social posts for our clients.
Data-driven Twitter marketing requires publishing large volumes of content and constantly analyzing the posts' performance. Our team of over 450 experts will handle the content creation and advertising management for you. And with our ROI tracking technology, we keep an eye on the numbers to drive real results for your company.
Witness the power of Twitter in action by partnering with our social media experts today. Call us at 888-601-5359 or contact us online for a free consultation!