8 Tips for Creating Ebook Landing Pages That Convert
Want more people to download your ebooks?
You need to create custom landing pages where people can learn more about your ebooks and download.
On this page, we'll provide you with eight tips for creating ebook landing pages that convert. If you need help designing effective landing pages, call us today at 888-601-5359 to speak with a strategist.
Time to Level Up Your Sales
Our long list of services helps you grow every aspect of your business with marketing strategies that are proven to increase bottom-line metrics like revenue and conversions.
In the past 5 years, we've managed more than 12.9 MILLION transactions across our client base.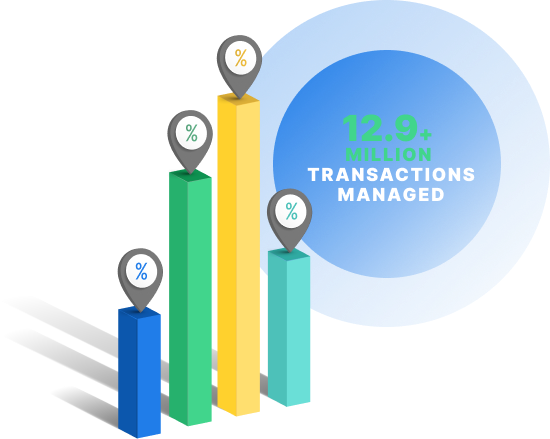 8 Ebook landing page tips
1. Use modern design
The design of your landing pages impacts how people perceive your ebooks. If your landing pages are lackluster or appear outdated, your leads will lose interest. That's why it's important to ensure that your landing pages are modern and clean.
When you create ebook landing pages, you want to keep them simple. You don't want to overwhelm your audience with design elements, so simple and sleek design will go a long way when it comes to landing pages.
Your design should reflect your business, too. It will reinforce your brand and help build recognition among your audience. Building brand familiarity is extremely important because it will help you earn more conversions.
2. Create engaging headlines
When you create ebook landing pages, be sure to add engaging headlines to catch your audience's attention. It's one of the first things people will see when they look at your landing pages.
Your headlines should tell your audience exactly what they can expect from your ebook, and it's best to keep them simple. In other words, your headlines should help convey the benefit people will receive from downloading your ebooks.

It is also important that your headlines match advertisements tied to your landing pages. Using strategies like pay-per-click (PPC) advertising and social media ads, you can direct people to your ebook landing pages. It's important that you create consistencies between your ads and landing pages.
Creating clear, concise headlines that compliment your ads will help you communicate your message effectively. People will know what your ebooks are about, and they can keep reading to learn more and download.
3. Follow up with informative subheadings
After your headlines, you'll want to include subheadings to provide your audience with more details.
When you create subheadings, briefly tell your audience about your ebooks. Tell them what kind of content is included and benefits they can expect to receive from this ebook. You'll need to find a way to summarize this information into an easily digestible sentence.
Subheadings are important because they give page visitors a short synopsis of the ebook. They know what to expect in the ebook and can decide if they are interested in learning more. Adding subheadings is an easy way to keep your audience engaged and interested in your ebooks.
4. Include short descriptions of the ebooks
It's also helpful to include short descriptions of your ebooks on your landing pages. If you want to create effective landing pages, include straight forward descriptions, free of fluff. Your audience doesn't want to read long paragraphs of information.
So, what should you include in your descriptions?
It's important to convey the main points your ebooks address, as well as the value they provide to readers. For example, what problem does your ebook help solve?

This preview will give people an idea of what to expect in your book, and communicating the benefit it will provide them encourages downloads. Instead of focusing on why you think your ebooks are great, you need to communicate what your audience will receive.
When adding descriptions, try not to clutter your landing pages with text, as this will cause your audience to feel overwhelmed and uninterested. To keep your ebook landing pages organized, focus on the highlights and break them down in small, manageable bullet points and paragraphs.
5. List the benefits of reading the ebooks
Previously, we talked about emphasizing the value of your ebook. One way to emphasize this value is through creating a list of benefits. A list of benefits tells your audience what they obtain from your ebook.
Create a quick list of 3-5 benefits your audience will receive from your ebook. A bullet point list will make it easy for your audience to read and digest the information. You can use these benefits to tell your leads what they receive from this ebook.
By creating a list of benefits, you'll make it easier for your audience to see the value. Even if they skip over the description, their eyes will naturally be drawn to the bulleted list. This makes it easy for you to pass on the most important information to your audience.
6. Include a photo of your ebook
Your ebook landing page should not be all text. You should include visual elements to help keep your audience interested and engaged. An image of your book is a great element to pique your audience's interest.
People love visuals because their eyes are naturally drawn to images. This is a great opportunity for you to engage your audience and build interest in your ebooks. Photos of your ebook give people a glimpse of what they will download, and it encourages them to take the next step.
7. Use strong calls to action (CTAs)
The most important part of your ebook landing page is enticing your leads to act. You want them to download your ebook. To help guide them in the right direction, you want to incorporate calls to action (CTA).
When people visit your ebook landing pages, they may like what they see. However, without strong CTAs, they may not know how to take the next step.
To earn more conversions, you want to include CTAs that stand out from the rest of your pages. This ensures that your audience's eye will be drawn to that CTA button.
Second, try to stay away from generic CTAs like "Submit" or "Click here." Generic CTAs aren't enticing, and they don't encourage people to take the next step.
Instead, tell your audience exactly what will happen if they click your CTA button. Instead of "Click here," a better CTA is "Download your free ebook on [subject] today!" Your audience knows that if they click that button, they will download an ebook on that subject.
By including strong CTAs, you'll encourage more landing page visitors to download your ebook.
8. Keep your download forms short
The most important part of an ebook landing page is the download form. This is where users input their information to download your ebook. Your landing page form can make or break conversions.
If your form is too long, you'll deter people from downloading your ebook. Users don't want to spend a lot of time filling out forms. They want to input very little information and start to download the guide.
To encourage your audience to convert, create short forms. You can always capture basic information and follow up later with those leads.

The most basic form for ebooks is asking for a first name, a last name, and an email address. Once you have their email addresses, you can follow up with leads and provide them with more valuable information that encourages them to take the next steps with your business.
You can also create optional fields that allow people to enter more information if they choose. Regardless, don't make your download forms too long because they will deter people from downloading your ebook.
Partner with a team of ecommerce masters!
WebFX campaigns have delivered more than 12,936,451 ecommerce transactions in the last 5 years
Read the Case Studies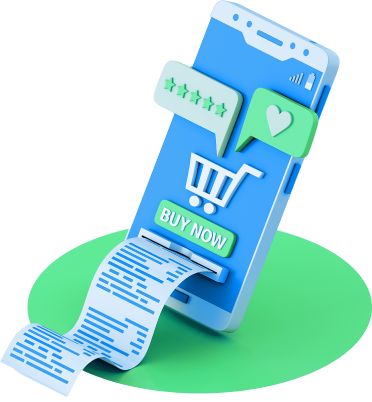 WebFX is a top ebook landing page expert
Your ebook landing pages play an important role in helping people download your ebooks. You want to create impactful landing pages that catch your audience's attention and entices them to download.
Need help creating custom ebook landing pages? At WebFX, we have over 25 years of experience creating landing pages that convert.
We're a full-service digital marketing company that specializes in customized landing pages. We have a team of 500+ experts that will bring their knowledge and expertise to your campaign. Our award-winning team of designers will help you create a landing page you love.
We know how to drive results for our clients. To date, we've driven over $3 billion in sales and over 7.8 million leads for our clients. When you partner with us, you receive a team of dedicated experts that focus on driving the best results for your campaign.
Our clients love the work we do for them. In fact, we have over 1020 client testimonials that attest to the great work we do. Check them out to see what it's like to partner with a landing page expert like WebFX!
Build your ebook landing page today
If you're ready to start building a better ebook landing page that earns your business more conversions, contact us online or call us today at 888-601-5359 to speak with a strategist.
We look forward to helping your business grow!