Content marketing for churches connects people to your church, and you connect them to a place of worship. One of the best ways to reach out to your congregation is by creating powerful, inspiring content will drive people to your website and even bring new visitors through your church's doors. Even though it sounds like it's made for businesses, your church can greatly benefit from content marketing.
If you want to create custom content for your church website, WebFX can help. Fill out our online contact form or give us a call at 888-601-5359 to learn more about using content marketing services to grow your congregation.
Our digital marketing campaigns impact the metrics that improve your bottom line.
See More Results

WebFX has driven the following results for clients:

$3 billion
In client revenue

7.8 million
Leads for our clients

5.2 million
Client phone calls
What is content marketing?
Content marketing is as any marketing effort that involves the creating and sharing of content to attract customers. It includes many possibilities, including:
Blogs
Infographics
Videos
Guides
Reviews
Opinion posts
Press releases
How-to posts
Ebooks
Case studies
Interviews
Hear What It's Like to Work With WebFX!

"WebFX has helped us to reach the people who are looking for us. Not only is our message clear, but our audience is able to find us."
Church In Nyc
Why is content marketing important for churches?
You want your church to grow, and content marketing for churches will help you achieve growth by sharing thoughtful and engaging writing with your audience. Creating helpful content can also enrich your community and popularize your church online. Beyond that, content marketing for churches performs a number of important tasks, including:
Creating an organic avenue for inviting people to your church. Content marketing connects you with community members you might not have ever reached otherwise. Through specialized content online, you can attract visitors to your church, and they can attract others through word of mouth. Without content marketing, you'd be missing out on extending these valuable invitations.
Expanding your audience. Posting content will give a voice to your church with a wider audience. That means you can deliver sermons more often than just once a week — and they can reach more people, too!
Bringing more attention. If you want to include more people in your community, your writing can give them a centerpiece for discussion. Well-planned content marketing for churches covering sensitive topics or relaying important news can make you a reliable source for spiritual events, making you a credible authority in your field.
Time to Level Up Your Sales
Our long list of services helps you grow every aspect of your business with marketing strategies that are proven to increase bottom-line metrics like revenue and conversions.
In the past 5 years, we've managed more than 12.9 MILLION transactions across our client base.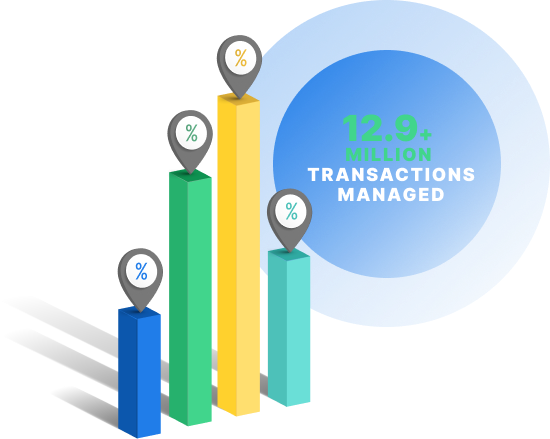 5 content marketing tips for churches
To use content marketing in your church, you can follow five simple essentials.
1. Blog on a schedule

Presenting your audience with content is crucial, but it's about quality over quantity. You should post as typically as you're able to create a captivating, engaging post. Most churches don't have the time to post multiple times every day, and that's fine — the critical thing is that your posts are regular and reflect the quality and passion associated with your church.
2. Give away freebies
Offering free and quality content, such as ebooks and guides, is a great way to get your audience's attention and show them what you have to offer. This free content should delve deeply into important topics that are more complex and nuanced than a blog post could cover. It may take dozens of pages and thousands of words, but these time-intensive creations are exceptionally helpful and eye-catching.
The ideas don't have to be complicated, though — in fact, elaborating on some simple concepts behind the faith of your church can perform wonders for your visibility online. Here are a few examples:
A guide on small ways to give thanks in your daily life
A short ebook outlining ways to volunteer within your community
A memoir of your time spent on a mission trip
A bible study guide
A collection of inspiring stories, quotes, or photos
After you've produced your content, you can ask for an email address in exchange, so you can build a list of people interested in hearing from you more. You can then email these recipients with newsletters and offer them invitations to attend your congregation.
3. Maintain social media profiles
Social media profiles are excellent avenues to use to promote your church and connect with your church's members. Maintaining an active presence on social media will help your church's website show up in search engines, and it also shows your followers that you're an active member of the community. Consider creating and maintaining accounts on the following platforms:
Facebook
Twitter
Google+
Instagram
Pinterest
Keep in mind that you can share the same piece of content on multiple platforms to get the most people to read it. You can promote blogs via Facebook and Twitter, and photos do really well on Pinterest and Instagram. You can also use Google+ to join Circles (or groups) of like-minded organizations to discuss spirituality and further promote your church in the public.
4. Create an editorial calendar
An editorial calendar takes some time to plan, but it will alleviate the stress of creating new content every day. Laying out your content in advance and working ahead makes sure your church has plenty of content to share online while allowing you to focus on other important issues.
Reach more parishioners with content marketing services
WebFX is an Internet marketing company that understands the potential the Internet has for churches that want to expand their community. Our award-winning team of marketing professionals can make today's cutting-edge online strategies work for you, so your church can get its name out to more people than ever before. If you want to make sure people can find your church, we can make it happen.
Contact us today to start reaching out to your community with content marketing.
Earn a 20% greater ROI with WebFX