Content Marketing Tools & Tech to Use
Content marketing tools have become an essential part of marketing strategies. They offer a multitude of benefits and are able to get your job done better, easier and more efficiently. These tools are great options for content marketers to improve their strategy continually.
If you're looking to become more involved in content marketing or add to your tech stack, we've got some of the best content marketing tools to check out, including:
ContentGeniusFX
WordPress
Yoast SEO
Evernote
Trello
Canva
Ahrefs
Canva
KeywordsFX
Keep reading to learn more about these content marketing tools and how they can help you enhance your content strategy!
Meet MarketingCloudFX:
One platform tracking countless metrics and driving stellar results.
Learn More About Our Proprietary Software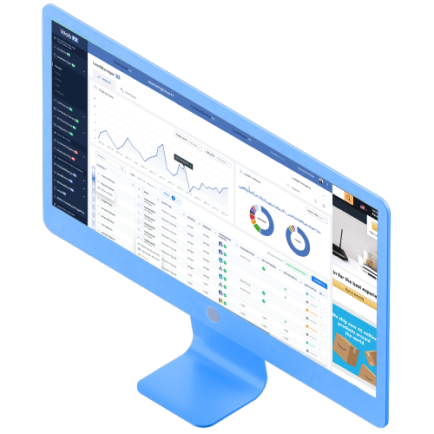 1. ContentGeniusFX
ContentGeniusFX is part of MarketingCloudFX, our proprietary marketing software. This tech uses IBM Watson technology to aid in keyword research and optimization based on top-ranking pages, allowing for you to include proven keywords in search engine optimization (SEO) copy.
In addition, it uses >artificial intelligence (AI) to analyze different competitors' content and provides insight on how to make your content better than your competitors.
The use of AI for content marketing has increased in popularity, and ContentGeniusFX is leading the charge. Using AI takes a load off of your back and allows you to easily and efficiently improve your content marketing strategy. Having everything in one place allows for streamlined content edits, approvals and results, giving you a top-notch solution to bolster your content marketing strategy.
2. WordPress
WordPress is one of the best content marketing tools for helping you do more. This tool is a super popular and highly customizable content management system (CMS) that is able to support you throughout your content marketing program.
It offers a highly user-friendly design with a huge array of plugins available to easily bolster your content marketing and SEO efforts.
With over 50,000 plugins to choose from, WordPress ensures that there are options for you no matter what your need is, giving you the ability to schedule and organize your content efficiently.
Taking advantage of WordPress's ease-of-use and customization options allows you to optimize your content marketing strategy. Reasons like these are why WordPress is the most popular CMS system in the world. You can even combine content marketing plugins with an SEO plugin like Yoast SEO to help take your strategy to the next level!
3. Yoast SEO
One of those great WordPress plugins we mentioned is Yoast SEO. Yoast is a fantastic tool for writing SEO-focused content. Some features include helping to optimize content for keywords, internal link suggestions and title tag and meta-description previewing and editing.
By helping you optimize your content for SEO purposes, you can reach more people and start to expand your audience.
Setting up Yoast SEO on your WordPress site and using the plugin is simple and easy and provides an efficient way to optimize your marketing content. The ability to seamlessly integrate into your WordPress site makes it one of the best ways to optimize your content to reach as many people as possible.
4. Evernote
If you find it challenging to organize your thoughts when brainstorming, Evernote is an excellent option for you. Evernote allows you to keep all your ideas in one place while allowing your team to access, edit and add to them.
Content marketing requires quite a bit of research, and with Evernote, you'll be able to keep all your research in one, easy-to-access place. Your team can take notes and leave feedback to help create a seamless content creation process.
5. Trello
If you have a team to work on your content marketing strategy, chances are you want to ensure that you collaborate and communicate correctly. Trello takes this to the next level. You're able to message team members, share content, create boards, lists and cards.
These features make planning more effortless than ever, allowing your team to keep track of who's working on content projects, what stage the content is at, and more.
You can create content marketing boards then add lists to brainstorm content marketing ideas while staying organized. By breaking down concepts into simple subsections, Trello allows your team to collaborate and develop a plethora of new content ideas effortlessly.
6. Canva
Canva is a great tool that allows you to make graphics for your content. These graphics can range from infographics to cover photos for blogs. The best part is its design makes it effortless for everybody to use, meaning that you don't need to be a graphic design expert to use it.
Canva has several templates and layouts, allowing you to create graphics that your readers will love effortlessly. Getting people to interact with your content can be difficult. With Canva, you can effortlessly create graphics that will help encourage users to engage with your content further.
7. Ahrefs
Ahrefs offers a very powerful SEO tool that allows you to keep track of your own ranking progress as well as your competition's. By using Ahrefs you'll be able to see what has been working well for your competition and consider that when coming up with your next piece of content.
In addition, Ahrefs offers quite a few tools that allow you to monitor the impact of your recently created posts. Whether it's seeing the number of backlinks generated or social media shares, Ahrefs can assist in measuring your content's success.
8. Grammarly
When writing content, it's natural to make grammar mistakes and have them slip through the cracks. Grammatical errors and typos contribute to you losing the trust of your audience.
In order to maximize the impact of your content marketing, you want to minimize the number of mistakes and put out the best content you can. Here's where Grammarly can help.
Grammarly analyzes your content and proofreads for mistakes such as typos, overused words, passive voice, run-on sentences and more. These features are all available in the form of a Chrome extension, making it easier than ever to write grammatically correct content wherever you create your content.
9. KeywordsFX
A key component of content marketing is writing content that's rich with keywords, so it ranks in relevant search results. To help you identify the right keywords for your content, you can use KeywordsFX.
KeywordsFX enables you to put in terms and search for related terms for that content. You can get an abundance of related keywords for your content, so you can get it to rank in multiple types of searches.
WebFX is a partner businesses trust.
Hear from HydroWorx, who saw a 236% increase in organic sessions with WebFX services.
Watch the Video Testimonial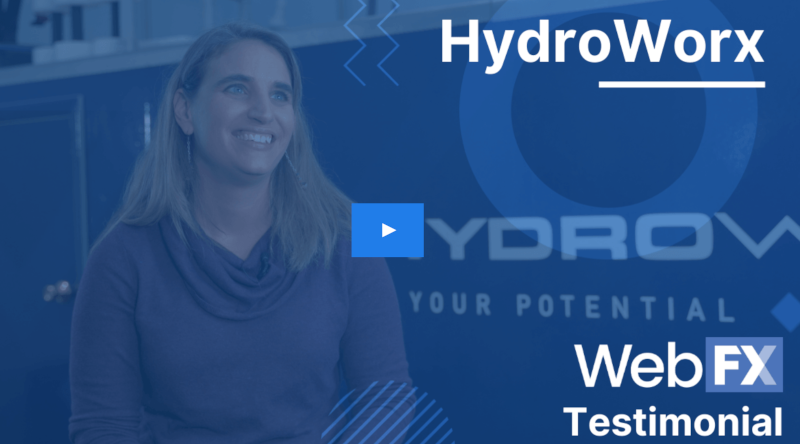 Upgrade your content marketing tech stack with ContentGeniusFX
If you want to get the most out of your content marketing, consider using ContentGeniusFX. ContentGeniusFX is a part of our marketing software that helps you create content that performs better and drives better results.
WebFX utilizes Watson AI to create a leading content marketing program to help you reach your audience in brand-new ways. With more than 25 years of experience and features a team of more than 500+ subject-matter experts bringing expertise to your campaigns.
Speak to a strategist today and get a free quote to start taking your content marketing to the next level!