7 of the Best WordPress Plugins for Business Websites
The first step to building your digital presence is creating a website. Your website is your company's home online, and will serve as the basis for many of your digital marketing campaigns.
You need to choose a host that is right for your business. It should be a platform that is easy to use and to make changes.
A great platform to use is WordPress. WordPress enables you to have the flexibility to create your ideal website.
WordPress is a great platform that helps you build your customized website. It also has numerous plugins that help your site perform better, from SEO to comment management.
Call our WordPress website design company today at 888-601-5359 to speak with a strategist about your company's digital marketing goals and how our WordPress development services can help, or keep reading to learn more about WordPress and some of the most popular plugins your business can use.
Need WordPress help? Contact us!
What is WordPress?
WordPress is one of the top sites for creating a customized site. There are two different platforms that are a part of WordPress.
WordPress.org is the software script that needs a web host. You host your own website through this version of WordPress. This enables you to build and edit your website, but you need a host for that website first.
WordPress.com is a website that you create a page on. This option is less flexible than WordPress.org and does not integrate into your site. Instead, your site is hosted on the WordPress website and limits what you can do with your site.
To create a great website, you'll want to utilize WordPress.org. This will enable you to build your perfect website.
Many businesses utilize WordPress for their websites. Whether it's to host their site or their blog, companies utilize this platform to create a functional website for their businesses. Some examples include Glad, The Walt Disney Company, and Dole.
In fact, more than 74.6 million websites use WordPress around the world. With WordPress statistics like that, it's clear that WordPress is one of the most popular website creation sites in the world.
One of the best features of WordPress is that it is free to use. It's an open source platform, so the goal is to remain free to all. You may have to pay for some premium plugin features, but the major parts of creating a functional website remain free.
Why use WordPress?
Aside from the immediate advantage of being a free option, there are many reasons that WordPress is a great option for businesses.
1. Customizable design
WordPress enables you to create your perfect website. You can create your business' color scheme and create a design that fits your business.
This design carries across your website. It's great for building consistency across your site. You will provide people with a seamless experience by creating a customized design across your site.
WordPress gives you the flexibility you need to create a complete website. When you can create a customized website, you'll help your site stand out against the competition.
2. Search engine optimization (SEO) friendly
WordPress is very search engine optimization (SEO) friendly. It has features that guide search engines to analyze the site. This site makes it easy for search engines to crawl the site and gather the proper information for SEO.
This is a very important feature because you want more people to find your site. You need a site that is SEO friendly so that it is easy to boost your ranking. The goal of SEO is to drive traffic to your website, so you need a site that is equipped to run an SEO campaign.
3. Mobile-friendly
Many people will conduct searches on their mobile phones. Your site needs to be mobile friendly in order to adapt to those who conduct searches on devices other than a computer.
The last thing your business wants is for someone to struggle to use your site.WordPress is a great option for your business because it adjusts your site to fit your visitors' needs.
WordPress is designed to be mobile-friendly so people can read information on your site on different kinds of devices. This makes it a great option for building your website.
An important part of being mobile friendly is having a design that adapts to whatever device a user is using. This is known as a responsive design.
Why is responsive design so important for your business' website? Check out this article on the importance of responsive design to understand its role in helping your website and blog be successful.
4. Easy and accessible
WordPress is easy for your business to use. It has a fast learning curve, so it's easy for employees to update and add new content.
You want to utilize a program that is easy for your business to use. Your time is precious and you don't want to waste it on using a complicated site builder. WordPress makes it easy to build your ideal website.
Ease of access is important for your visitors. They want to be able to find information quickly and easily. You don't want them to have to jump through hoops to get the information they need.
There are so many positive aspects of WordPress that benefit your business. To go along with these benefits, there are many great plugins that you can utilize on WordPress to make the most of your blog.
What are WordPress plugins?
When you create your site, it has certain capabilities. Every business that creates a site on WordPress has the same basic features. Plugins enable you to expand the capabilities of your site, in addition to your WordPress blog theme.
You have a vast selection of plugins that can help your site run better. From form creation plugins to e-commerce plugins, you can add new ways to help your site perform more efficiently.
There are numerous types of plugins to help you improve your website. When you expand the capabilities of your site, you'll improve how your site runs. In turn, this will improve the user experience.
7 fantastic WordPress plugins for business sites
As of now, there are 53,523 plugins your website can use with WordPress. While all of these options present a ton of opportunity, you'll need to figure out which are best for your business.
Every company's marketing goals are slightly different, so it is up to you to figure out which plugins are the best fit for what you need. That being said, these seven plugins are popular among business owners and can help you get the functionality you want:
1. Yoast SEO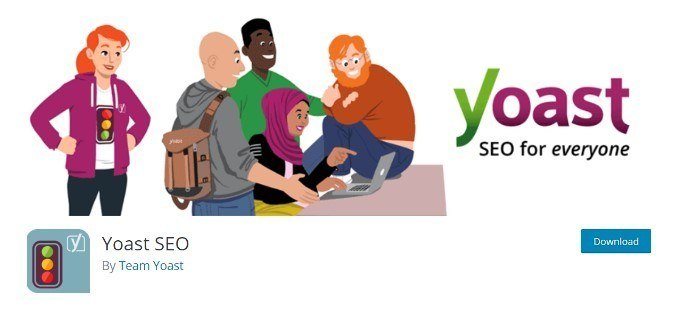 Cost: Free (with additional paid features)
This is one of the most popular and beneficial plugins on WordPress. As the name implies, the Yoast SEO plugin helps tailor your site to see better results with your SEO.
Yoast SEO pushes you to use the keyword throughout your text on your site. This is great for SEO, as Google crawls through your website to look for keywords in order to understand the context of your page.
One of the best aspects of Yoast SEO is that it helps you with content creation. When you are trying to write for a specific keyword, it helps you write content that is tailored to that keyword. This plugin forces you to choose keywords as you write, so you can create a better article.
Once you write your article, you can preview it to see how it will appear to other people. This helps you make changes as needed, such as breaking up text or moving visual elements around. You will have more visually appealing articles by utilizing this feature.
This plugin also enables you to preview titles and meta descriptions, as well as other features. You can see if your title or description is too long or too short and where it gets cut off. This will help your page look better in the search results.
By utilizing Yoast SEO, you can increase your ranking and your clickthrough rate (CTR) in the organic search results. This is great for your business because you'll drive in more credible traffic.
View the best managed WordPress hosting services
2. Contact Form 7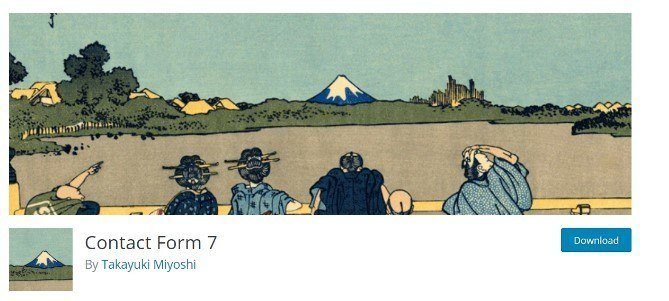 Cost: Free
Contact Form 7 is a platform that focuses on managing all of your contact forms. It enables you to create and manage multiple forms on your blog.
This plugin enables you to customize any of your forms. You can alter them for each page to fit the goal of that page. You can make the goal to contact you online or send an email.
This is a great plugin to use for your business because it enables you to manage your contact forms and alter them to fit each page. It makes it easier to integrate these contact forms into your page.
For example, if you have a page on your site about a specific service you offer, and it's exactly what a visitor needs, you want to make it as easy as possible for them to get in touch. You could tailor the contact form to that service and make it clear that it's the right way for them to contact someone about it.
Customization is a great opportunity for your business because it enables you to integrate every aspect of your site. This contact form plugin is just another way to integrate aspects in your site seamlessly.
Once your create your contact forms, you can manage and alter the forms through this plugin. This is a great feature because you can change contact forms that may not produce stellar results. It enables you to be flexible and make changes as your business needs.
Bonus: Discover the best WordPress CRM plugins
3. Akismet Anti-Spam
Cost: Free (but you'll need to pay for a subscription to Askimet API Key for it to work)
This is a great plugin for your any portion of your site that people can leave comments. You want people to share your pages, but interaction with your site is just as important.
Many people will interact with your page by leaving comments, especially on your blog. They leave comments to share their opinion or ask questions.
Akismet Anti-Spam checks your comments and form submissions to ensure that they are not spam. It checks the submission against a global database of known spam accounts or messages.
You can also use this plugin to filter out comments that appear to be spam. The plugin automatically removes comments it believes are spam. This a great way to keep up with monitoring your comments.
This plugin also prevents your website from publishing malicious content. It is a great plugin to use in order to avoid publishing spammy information.
You can also see which comments were removed from your page. Akismet enables you to see which comments were considered spam or cleared by the program.
This is a great plugin to use for your business because you can prevent your page from having spam messages. This gives it the appearance of looking cleaner and more professional.
4. Jetpack
Cost: Free (with some paid features)
This is a great versatile tool to use. Jetpack is a plugin that provides many services for your site.
Jetpack helps you secure traffic for your website. It increases the amount of traffic on your website. This plugin works to engage people and get them interested in your site.
You can see your site statistics and analytics through this plugin. It gives you insights on the number of people viewing your pages and where they go next, along with other important information.
This plugin also enables automatic sharing on social media. You can share your pages and posts on Facebook, Twitter, Instagram, Tumblr, Reddit, and WhatsApp. To comment on posts, this plugin enables you to use your Facebook, Twitter, or Google account.
You will also receive a bit of security with this plugin. It has brute force attack protection and provides downtime and uptime monitoring. This plugin also includes secured logins with two factor authentication.
Jetpack include other features such as customizable contact forms and the ability to have infinite scroll if you have content posts. All of these are free features of this plugin.
Jetpack also offers a few paid features, including tools to help you optimize your site for Google, Bing, Twitter, and Facebook.
This plugin also offers the option to integrate with paid advertising programs like Adsense Facebook Ads, AOL, Amazon, and Yahoo. There are three different paid services plans your business can utilize if you need more than the free features.
This is a great plugin to reach and gain more traffic for your site. You can share your posts on social media and create more interaction on your site.
5. WooCommerce
Cost: $149 for membership (single site for one year), $199 subscription (single site for one year)
If you want to bring people to your blog to make purchases, WooCommerce is a great way to sell things.
When people come to your site, you are trying to get them to buy your products or services. This plugin enables you to sell anything on your blog. It seamlessly integrates into WordPress and makes it appear natural.
Many businesses enjoy this plugin, which is why 30% of all online stores are powered by WooCommerce.
You can sell digital or physical goods through this plugin. Your business can sell variations of different products, instant downloads, and other types of products.
WooCommerce enables you to set the shipping rate too. You can choose free shipping, a flat rate, or create a real time calculator for shipping.
This plugin also enables you to set up the method of payment. It works with major credit card companies, PayPal, BACs (bank transfers) and cash upon delivery. This makes it flexible for your business to use different payment methods for your customers.
You have complete control over your store with this plugin. Your business can add and remove extensions, change your design, or switch your settings. This enables you full flexibility to do what you need to do on your site.
One of the most important parts of this plugin is that your data belongs to you. Other website providers will take your data and your stuff if they shut down or leave. With this plugin, you own your data and will never lose it.
This plugin is a great option for any business owner that is looking to get people to buy products. You can seamlessly integrate this plugin into your page and help customers convert on your page.
6. Google XML
Cost: Free
Google XML is a great way to improve your rankings. This plugin enables Google and other search engines to index your site better.
When Google ranks your site, they crawl through it to understand what your site is about and how well it operates. This plugin helps the crawl bots see the complete structure of your site. It also helps these bots retrieve information from your blog more efficiently.
This is a great plugin to have for your site because it supports all kinds of WordPress pages. Whether you're an ecommerce site or a services site, you will be able to use this plugin on your page.
Another great feature of this plugin is that is notifies all major search engines when you create content on your blog. This enables them to crawl through your site and rank it.
If you want to help boost your SEO, this is a great plugin to you. You can improve your SEO and draw more users to your page. This will lead to more conversions for your business.
7. Wordfence Security
Cost: Free
When you have a website, you want to protect it. Although Jetpack includes some safety features, it doesn't fully protect your site. Wordfence Security is a great plugin to protect your site.
This is open source security software that uses firewall. Their firewall blocks complex and brute attacks against your website. The software also includes a security scanner that alerts your business to any security issues on your page.
You will get the whole package with this WordPress security plugin. The threat defense feed keeps wordfence updated with the latest security data, so it is aware of the newest attacks on websites. Your security is constantly updated to ensure your site has the best protection.
There are strong login security features that protect anyone who logs into the site. People will be protected whether they log in to comment or make a purchase.
This plugin enables you to adjust your security alerts as you need. You can receive more alerts, less alerts, or only certain alerts as you see necessary. Each business will have different reasons to know about certain security issues.
A great feature of this plugin is the ability to gain insight into traffic, security issues, and hack attempts. You can see where the trouble comes from on your website. This software enables you to be more knowledgeable about those who are trying to attack your site.
All of these tools are a great option for your business. There are so many tools at your disposal, but these are some of the best ones that you'll want to use on your site. By utilizing these WordPress plugins, you can get the most out of your site.
WebFX can help you create a strong online presence
It can be a big undertaking to create your ideal WordPress site with all the plugins you need — but WebFX can help. We're a full service digital marketing company and we have years of experience building WordPress sites for our clients.
From design to content creation, our team knows how to build effective websites. You can be sure that when you partner with us, you'll get a site designed to help you reach your goals.
We are driven to help your business succeed because we know that your success is our success. That's how we've driven over $3 billion in sales and over 7.8 million leads for our clients.
If you want to know what it is like to work with a top digital marketing company like WebFX, just ask our clients! We have over 1020 client testimonials that speak to the great work we do. Check them out and see for yourself!
Learn more about WordPress web design from WebFX
If you're ready to learn how WebFX can help you make the most of your website, contact us online or call 888-601-5359 to speak with a strategist. We look forward to hearing from you!