Is Yellow Pages Worth It?
Yellow Pages is one of the oldest and best-known resources for finding service providers and other businesses — and today, it's online.
Years ago, Yellow Pages made the leap to the digital marketplace by creating business listings in an online database, similar to how it publishes business information in their print phone book.
While lots of businesses list their companies in the print version, many are considering moving their listings online.
Like many other advertising choices, listing your business in Yellow Pages has its advantages and disadvantages. It can be difficult to determine which route is best for your business's success.
Fortunately, WebFX has a team of more than 500+ experts who can provide the guidance you need when deciding how to best advertise your business. You can call 888-601-5359 or contact us online for help getting started today!
On this page, we'll take a look at both to answer the question you may be wondering:
Should I list my business in Yellow Pages?
3 biggest advantages of listing your business in Yellow Pages
Listing your site with Yellow Pages has several advantages, but these three benefits are the biggest ones you can expect from listing your business online.
1. Free basic listings
The best advantage of Yellow Pages is that its basic listings are totally free.
In other words, you can add your business's information to Yellow Pages — name, address, phone number, hours of operation — without paying a cent. You only need to make an account.
2. Positive association
Yellow Pages is one of the best-known brands in the United States.
With their history and widespread product, they're one of the most trusted names in business listings.
For you, that means you earn a positive association with a well-known brand.
As far as your customers are concerned, if Yellow Pages has your business name, you're definitely a legitimate company — maybe even one of the best in your industry!
3. Links
Online, backlinks are the most important factor in helping your site rank in Google search results.
Yellow Pages is a reputable, high-ranking website online, and getting a link from them means you get a vote of confidence from a reliable source.
It also means you can attract traffic from Yellow Pages to your website. That means, Yellow Pages basically qualifies your potential leads and then sends them straight to your site.
Then, you can convert them yourself!
With those three big advantages, it seems like you'd be crazy not to use Yellow Pages for a business.
But to be fair, Yellow Pages has its disadvantages as well.
Time to Level Up Your Sales
Our long list of services helps you grow every aspect of your business with marketing strategies that are proven to increase bottom-line metrics like revenue and conversions.
In the past 5 years, we've managed more than 12.9 MILLION transactions across our client base.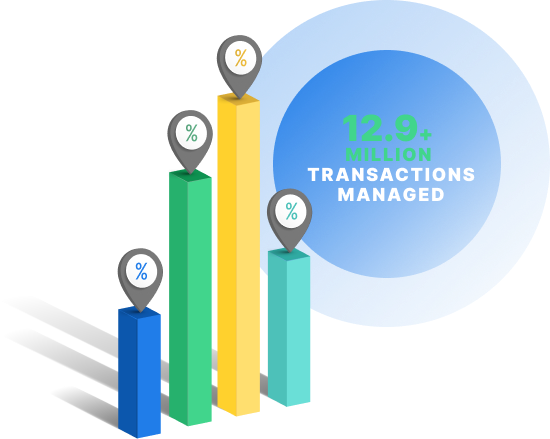 3 biggest disadvantages of listing your business in Yellow Pages
Yellow Pages has several major drawbacks when you're looking to promote your business. Again, we won't list every single one of them — but you should know the three biggest.
1. Automatic dual enrollment
When you make an account with Yellow Pages, you're automatically enrolled in its digital and print editions. That means you don't have a choice if you want to keep yourself to exclusively digital means.
Why wouldn't you want a free listing in a Yellow Pages phone book?
There are a lot of reasons, including:
Yellow Pages books aren't used in your area
You want to establish a digital-only brand
You want to collect data on every lead you get
Again, you could have other reasons for refusing a print listing. But these are the most common.
Automatic dual enrollment is only the tip of the iceberg, though.
2. Pricey or unqualified ad options
Yellow Pages has more services than free service listings. It also offers ad options — and those options can get pricey pretty quickly.
On top of that, Yellow Pages can't track the value of print ads, which limits your ability to tell whether an ad actually works.
In today's fast-paced marketing world, you can't afford to not track the effectiveness of your ads. And if you can't gauge whether an ad works, it's better to use your budget on a channel that offers more concrete metrics.
This is just one small part of our third disadvantage for Yellow Pages.
3. Print data limitations
Yellow Pages still uses a print product. While that may work for some consumers, the Internet is far more user-friendly and popular among younger demographics.
So if you want to get more customers, print data has a lot of limits.
Instead, you can get Yellow Pages ads that let your business show up better in their internal search results and business listings.
Plus, digital ads can record data on:
Who clicks your ad
How often your ad is clicked
When your ad is clicked
How much you spent on an ad
Overall ROI
Print ads simply can't keep up with that kind of data. In fact, they don't offer much in the way of data at all.
In other words, print is just too limited to match the prowess and data you can find in digital marketing.
Comparing Yellow Pages to other listing services
With these advantages and disadvantages, how does Yellow Pages compare to other digital outlets?
Yellow Pages vs. Google Business Profile
Google Business Profile is the most effective local search engine optimization resource in the world. You can use it to appear in Google search results for keywords related to your business with your business's name, address, phone number, and even directions from a searcher's location.
Considering Google gets a lot more traffic than Yellow Pages, that immediately gives Google Business Profile a major advantage.
This is also important because Google Business Profile is 100% digital, so you don't have to worry about getting untrackable mystery leads from print media.
Plus, Google Business Profile naturally qualifies your leads just based on Google's local search algorithm.
That's part of the reason why 80% of local searches convert. That's an incredible percentage that's almost impossible for other online listings sites to meet, much less exceed.
Creating a Google Business Profile listing also lets you oversee reviews of your business and integrate with Google Maps so potential customers can find your business anytime, anywhere.
Best of all, Google Business Profile is totally free!
Yellow Pages vs. Yelp
Yelp is the world's largest collection of online reviews. If you have a business, it's safe to say someone has probably reviewed you on that site.
That's why it's so important to create (or "claim") your business listing.
Yelp is incredibly popular — even more than Yellow Pages — and it's frequently checked by potential customers of every industry.
Creating a Yelp account lets you keep an eye on the reviews people give your company, and you can even respond to individual reviews. You can thank positive reviewers for taking the time to share their experience, and use the platform to resolve any issues with unhappy customers.
With Yellow Pages, you're much more restricted in terms of capability.
Should I use Yellow Pages?
Online, digital outlets like Google Business Profile and Yelp are much more successful than Yellow Pages.
Still, Yellow Pages has its uses.
Because their basic account option is free, it's smart to create a Yellow Pages listing even if you don't think it'll be successful. You can still earn new leads or customers from your listing, and it takes almost no time to set up.
But it might be best to set up your Google Business Profile and Yelp accounts first.
These two outlets are more popular than Yellow Pages online, and even if you get most of your leads or customers over the phone, you can still reach new customers by showing up in more places online.
This is also a great idea from a branding perspective. You can start promoting your company on other local SEO outlets to get the ball rolling, and then move to Yellow Pages to see how it can supplement what you're already getting from free services.
Maybe that means the basic plan on Yellow Pages is the right choice for you. It could also mean you want to take out physical and digital ads.
Regardless of your choice, you can use Yellow Pages much more effectively when you've already launched a local SEO strategy on other outlets first.
Of course, choosing to use Yellow Pages is ultimately up to you. Nobody knows your business better than you do, which means you're also the best person to say whether Yellow Pages is worthwhile.
But from a more general perspective, Yellow Pages is a good investment if you have an idea of what it can do for you. If you go into Yellow Pages blind, you won't have a great way to measure whether it's working for your needs.
But when you have your local SEO foundation in Google Business Profile and Yelp, you'll have a much clearer idea of the role Yellow Pages can play in your marketing strategy.
In short, it's smart to claim your free listing on Yellow Pages. It can be a valuable company asset since it doesn't require an investment.
Paying for ads and promotion doesn't make much sense, though. The only exception to this is if you have an audience that's heavily focused offline.
Regardless of your choice, make sure you've laid out your expectations for your results!
WebFX is a local SEO service agency
At WebFX, we know the value of local citations and the power they carry for companies in all industries — especially when you work with local customers!
If you want to build your online presence to earn more of those customers, we're here to help! Our local SEO experts have helped our clients grow by helping them rank in local search results, and they'll do the same thing for you!
Contact us today to create a local SEO strategy that'll grow your business!