Should Your Business Advertise on YP.com in 2023?
YP.com, formerly known as yellowpages.com, is an online advertising channel that provides listings for local businesses in addition to a variety of marketing tools.
The current incarnation of YP has been around since 2012, and many companies use YP as their online marketing services provider.
YP does a great job of branding itself as a one-size-fits-all solution for businesses of any kind, from smaller local businesses to national brands.

So, should your business advertise on YP.com? On this page, we'll look at the services that YP.com claims to offer and whether they can actually deliver worthwhile results for you and your business. And you can always contact us online or call 888-601-5359 to speak with one of our experts and receive a free evaluation!
What does YP.com offer?
YP started out as a digital version of the Yellow Pages, listing businesses in their online directory that users can access through their website or through a YP app.
They eventually expanded their offerings, and YP's services now include: listing management, web design, video creation, local advertising, display advertising, direct marketing, and more.
In other words, YP doesn't offer anything that you can't get somewhere else. All they've really done is take traditional digital marketing channels and spin them as branded, exclusive offerings.
YP is also known for its rather expensive price points. The "ypDirect Pro" direct marketing solution, for example, starts at $10k/campaign.
While there are plenty of marketing services well worth a minimum investment of $10k, YP isn't doing themselves any favors with their subsequent service description. Their number one listed benefit to that $10k minimum investment is: "Entice potential customers to contact your business."
If you find such a sentiment distinctly underwhelming, you're not alone. "Entice" is such a vague, passive, and open-ended promise that the associated $10k minimum price point is almost laughable.
And the customers are being "enticed" to do what, exactly? YP is essentially telling you "give us at least $10,000, and maybe potential customers will consider contacting your business."
The entire promise is so far removed from any kind of quantifiable, optimized sales strategy that you don't really know what it means in the first place.
Hear from previous YP.com customers
When it comes to digital marketing, referrals, testimonials, and reviews are the best way to get the measure of a prospective partner.
Fortunately, the Internet is rife with reviews of YP.com. Unfortunately for YP, many of them are… less than stellar.
The more you watch and read, the more a pattern starts to emerge.
Nearly every single negative review of YP.com seems to cite the same basic reasons for dissatisfaction: over-promising, over-charging, under-delivering, and trapping clients in long contracts even after it's clear that they're not going to get any kind of appreciable results from YP.
WebFX is a partner businesses trust.
Hear from HydroWorx, who saw a 236% increase in organic sessions with WebFX services.
Watch the Video Testimonial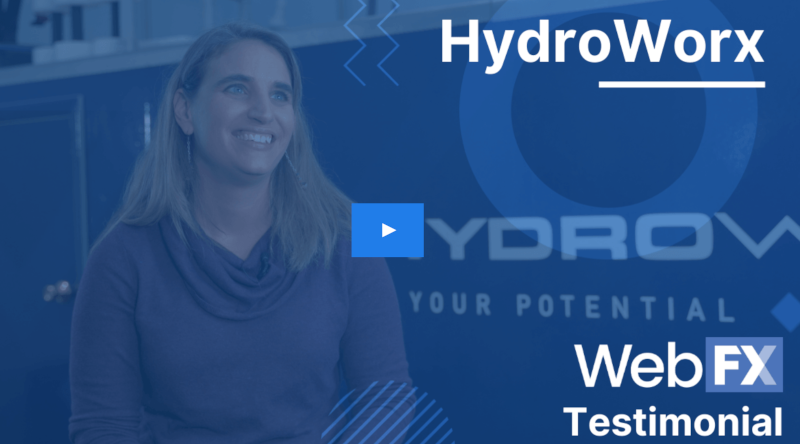 Are there alternatives to YP.com?
Not only are there alternatives to YP, there are a number of options that are simply better choices.
Partnering with a legitimate, full-service digital marketing agency will net you better results than YP across the board.
Yellow pages might boast about the visibility that comes with a listing in their directory, or the massive returns you'll see with their advertising packages. An effective marketing agency will get your website ranked highly by Google, and will help you achieve even better returns through PPC campaigns with any number of quality advertisers.
In fact, for every single service that YP.com claims to offer, there is a parallel offering through a true marketing agency that will drive you more traffic and make you more money, in a shorter time frame and without a ridiculous, year+ long contract.
There are also lots of other places you can advertise your business online. These alternatives may provide better results if you use the right strategy and the channel aligns with your business's needs. Some of these advertising channels include:
So… should your business advertise on YP.com?
For the vast majority of businesses looking for digital marketing services, the answer is a resounding "no."
While there are definitely businesses that have benefited and will continue to benefit from partnering with YP.com, there seem to be many that have had the opposite experience.
Yellow Pages is very good at one thing: Marketing itself as a sure-fire solution to unknowing business owners. Skip YP.com, and take the time to find a digital marketing agency that's willing to create a unique strategy for your business. You'll save yourself thousands of dollars and many hours of headaches along the way.
Are you looking for a full service digital marketing agency to partner with?
We have a few resources to get you started! Make sure you're on the lookout for these nine signs of a bad agency, and take a look at how to choose the right online marketing agency for your business. It's very important to do your research before picking an agency to partner up with.
At WebFX, we're a full-service digital marketing agency with decades of experience helping our clients grow their businesses online with a variety of advertising strategies.
Our expert team of Internet marketers has helped hundreds of businesses reach new levels of success, and we'd love to do the same for you.
Contact us today for more information or a free quote!