Online Local Advertising: 7 Crazy Good Ideas for Advertising Locally
Are you a local business looking for a way to reach your audience?
Online local advertising is an excellent way for you to reach more local leads looking for a company like yours. If you haven't invested in advertising your company online, you're missing a unique opportunity to grow your business.
On this page, we'll provide you with seven must-try advertising ideas for local businesses. If you want to learn more about how you can advertise locally, contact us online or call us today at 888-601-5359 to speak with a strategist about our digital advertising services.
Where can I advertise for my local business?
There are many opportunities for you to advertise your local business to interested leads.
You can advertise your company on:
Google Ads
Microsoft Advertising or Bing Ads
Yelp
Facebook
Instagram
And more
You can use any of these platforms to help more people find your company.
7 must-try ideas for advertising locally
If you want to start advertising your business to more local leads, check out these seven ideas.
1. Use pay-per-click (PPC) ads to reach interested leads
Pay-per-click (PPC) advertising is one of the best online local advertising ideas. These paid ads appear at the top of search results above organic listings. PPC ads are a great advertising option for local businesses looking to attract more leads and revenue.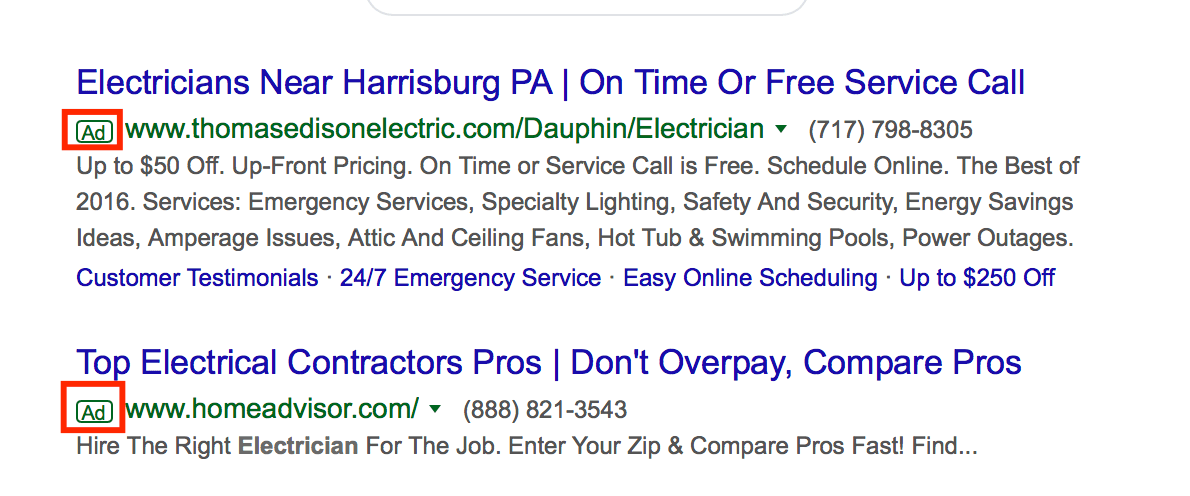 Let's take a look at how to get started with running PPC ads.
Select keywords
To get started with PPC ads, you must select keywords for your ad. Your keywords trigger your ad to appear in search results. If you want to get your ad in front of relevant leads looking for your company, you must select the right keywords to help them find your business.
If you want to find relevant keywords for your ad, start by conducting keyword research. Keyword research will help guide you towards choosing useful keywords for your ads.
As you conduct keyword research, you'll want to focus primarily on long-tail keywords. These keywords contain three or more words. An example of a long-tail keyword is "flower shops near Harrisburg, PA."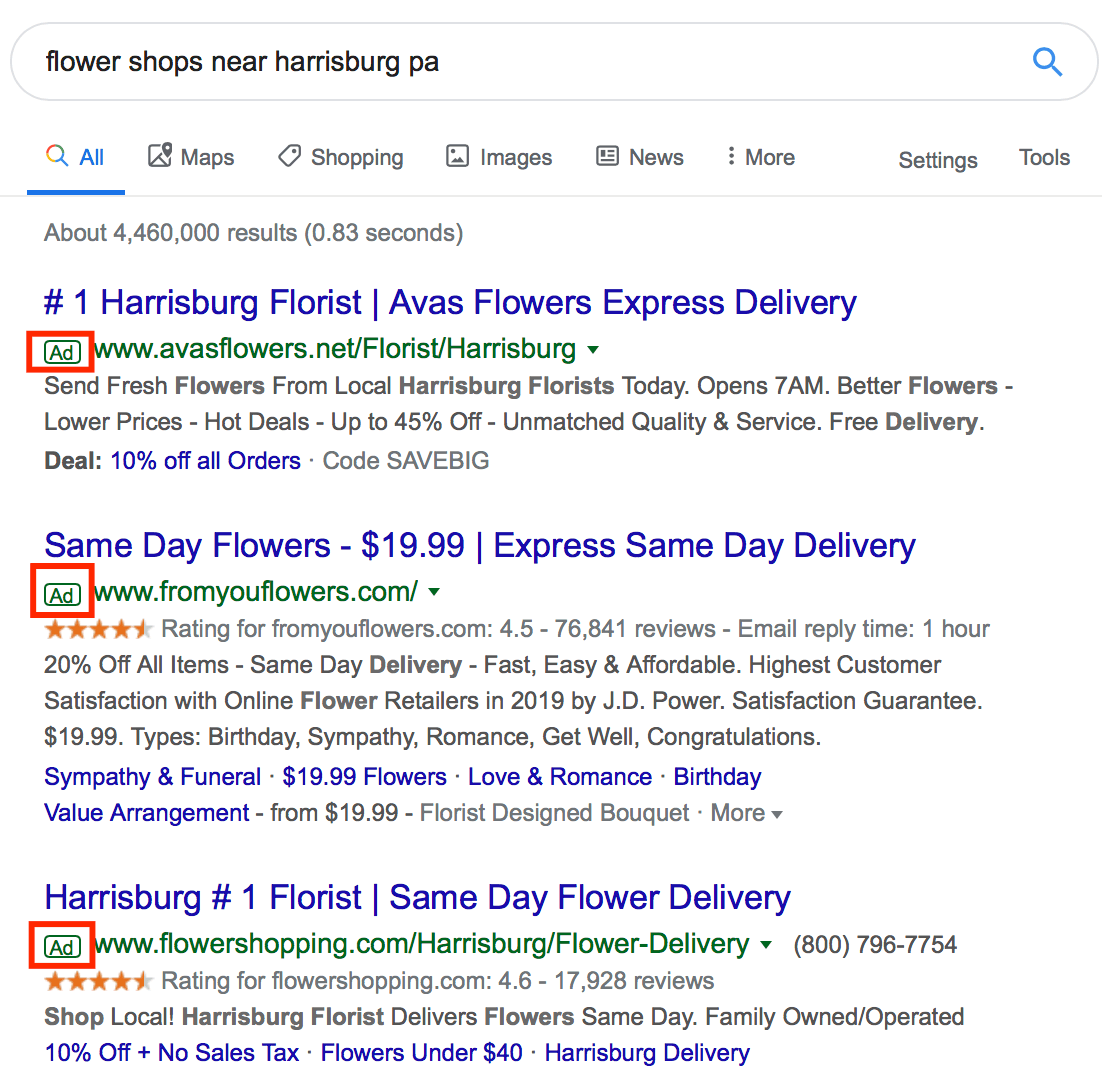 Long-tail keywords are better for PPC ads because they drive more relevant leads and keep your cost-per-click (CPC) low. With short-tail keywords, your CPC often becomes higher because more companies are bidding on the keyword, resulting in more competition.
If you choose long-tail keywords, you'll drive better results with your PPC ad.
Bid for ad placement
Once you have your keywords selected, you'll bid for your ad's placement. You'll set your maximum bid, which is the amount you're willing to pay each time someone clicks on your ad. The bid amount is flexible and can be changed as needed.
To help you get an idea for your maximum bid, use a keyword research tool. Keyword research tools show you the average CPC for a keyword. This information will help you gain a starting point for your bid amount.
Your "quality score and bid amount determine your ad's placement. Quality score focuses on factors like ad relevancy and click-through rate. It's best to have a high quality score and low bid amount, rather than a high bid amount and low quality score.
Launch your ad
Once you have your ad placement, you'll launch your campaign. You determine how long you want to run your campaign and when you want it to run. PPC gives your local business complete control over your ad and allows you to run the best ad campaign for your company.
2. Run ads on social media
Another great paid advertising option is social media. Social ads enable you to reach interested leads on social media platforms. It's an excellent channel to reach people where they're already active.
Many of your local customers spend their time on social media. The average user spends 28% of their Internet time on social media. You have an excellent opportunity to reach people with social media advertising.
To start running social media ads, select your platform.
You can choose from any number of platforms, including:
Facebook
Instagram
Twitter
LinkedIn
Pinterest
You'll want to choose platforms that your audience frequents the most. You can determine which platforms they're likely to be on by looking at the demographics for each platform.
Once you select your network, decide on the type of ad you want to run. Your ad type depends on the platform. Some social sites offer more formats, like video and images, while others stick to specific ones.
For example, if you wanted to run an ad on Facebook, you'd have multiple ad options, like video ads to carousel ads.
You'll choose the ad format that works best for your campaign. Once you have your setup, you'll decide on your targeting parameters. Social media lets you set precise targeting settings to reach people with the most interest in your business.
You can target people by:
Demographics
Location
Buying habits
Browsing behavior
And more
Social media ads are great for reaching more leads. As a local organization, you can create social media ads that only reach local customers.
It's a great way to help you reach the right people.
3. Claim your Google Business Profile
Google Business Profile is the most critical tool for local business owners. If you haven't claimed your Google My Business listing yet, you're missing a prime opportunity to advertise your local business.
First, start by claiming your local listing.
Once you get your listing, you'll fill out the information on it.
Add or verify that your name, address, hours of operation, and phone number are correct.
This information should be consistent across all platforms.
If your business goes by a nickname, like "Joe's" instead of "Joe's Steaks and Subs," use your company's full name on all its listings.
Once you verify your information, add a blurb about your business.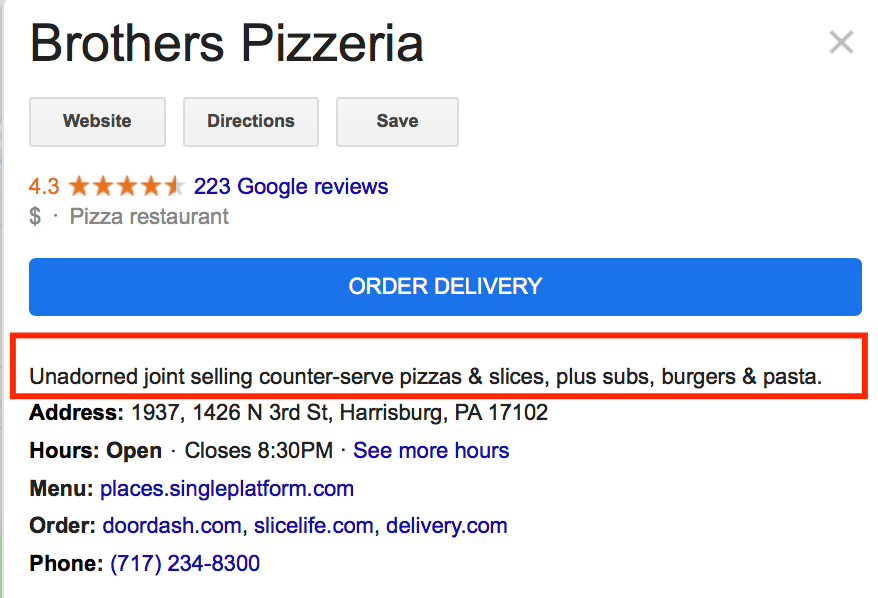 This blurb provides your audience with more information about your business. In this example, the description tells people that this pizzeria serves pizzas, subs, burgers, and pasta. It's quick, but it provides your audience with valuable information.
Add photos to your listing too. Photos provide your audience with valuable insight into your company. They can see pictures of your products, team, and business, which can get them excited about visiting your location.
By filling out your listing completely, you'll increase your chances of appearing in the local SEO 3-pack. This box appears in local search results. It's a box with three Google Business Profile listings from the area.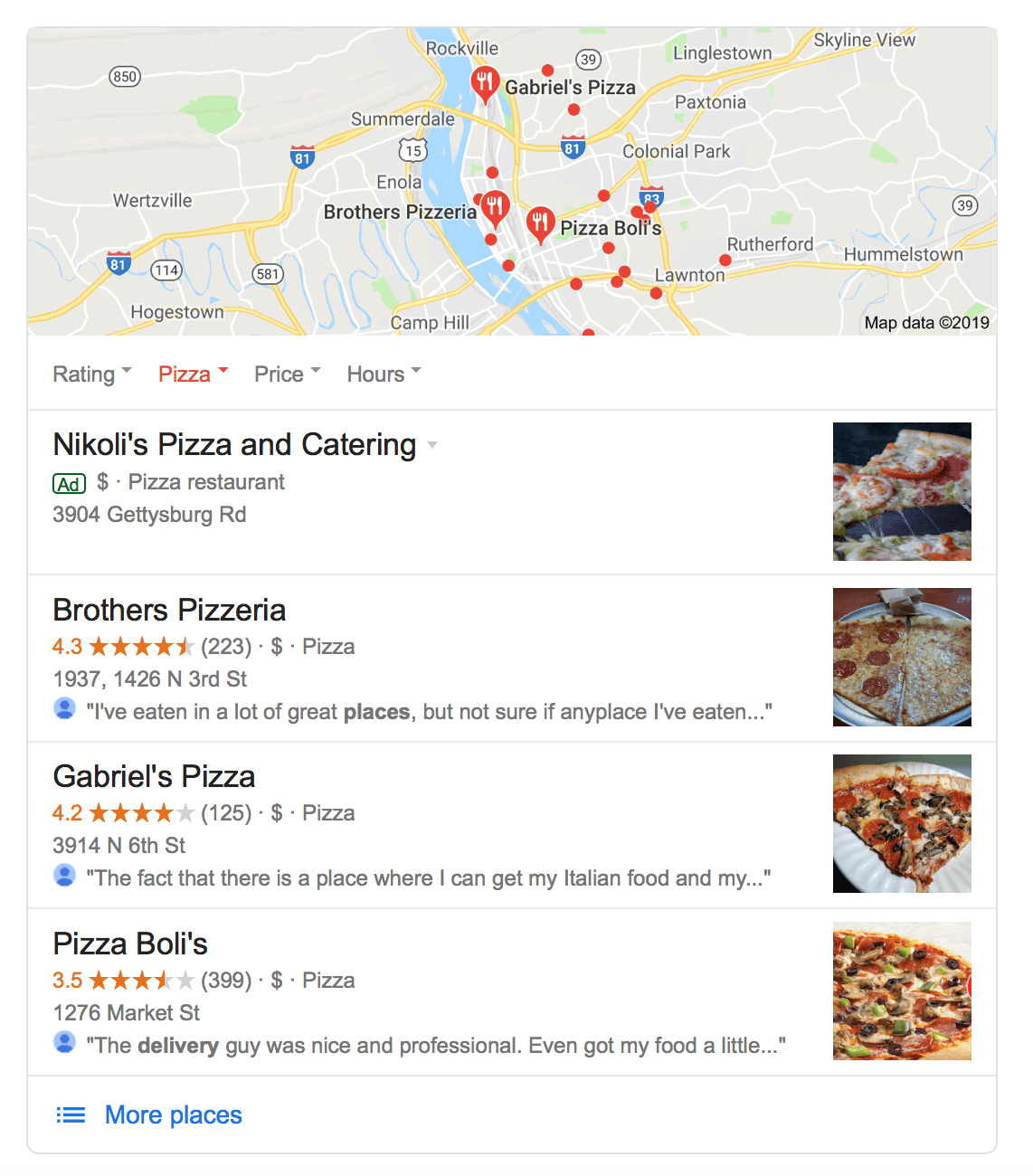 When users conduct local searches, they often turn to the local SEO 3-pack to find their answer. If you optimize your listing, you have a better chance of appearing in the local 3-pack and driving more local leads for your business.
4. Run Google Local Services ads
Google Local Services ads work well for companies that offer specific services. If your business only offers products, you'll want to skip ahead to the next online advertising strategy on this list.
Companies that can run Google Local Services ads include:
When you sign up for Local Services by Google, you'll see if your business qualifies. If you do, you'll continue through the sign-up process. At this point, you'll provide Google with your location and the services you offer.
After that, you'll set your budget for your ad. You'll determine how much you want to spend on obtaining customers each week. This budget amount is flexible and can be changed as needed.
Remember, you only pay when someone contacts your business, not when they click on your ad!
Once you have your campaign created, you'll launch your ad. You'll have complete control over your ad campaign. Starting and stopping your ad as needed prevents your business from getting overbooked.
To make the most of Google Local Services ads, you'll want to get the Google Guarantee badge. The Google Guarantee is a symbol of trust that gets more people to choose your business over the competition.
When you apply for the Google Guarantee program, you'll need to supply your:
License information
Insurance
Employee background checks
As long as your paperwork is in order, you'll get the Google Guarantee badge. This badge will make users more likely to choose your business because Google backs you.
5. Create an email marketing strategy to personalize your audience's experience
Email marketing is a great strategy to help you advertise your business to your audience. You can send your audience tailored advertisements to get them to convert.
To get started with email marketing, you need a list of subscribers. You can obtain subscribers through your website, social media, or in-store.
While you can buy lists of subscribers, you shouldn't. There may only be a small number of people interested in your business from these lists. In most cases, your emails will end up in spam folders, and you will waste money.
For the best results, obtain subscribers organically.
Once you have your list of subscribers, start sending them tailored content.
With email marketing, you can send advertisements about your products, services, and business. You'll want to segment your audience to ensure that you're providing subscribers with an experience that interests them most.
You can use emails to send coupons, exclusive deals, and product promotions.
It's an excellent opportunity for you to advertise your business to subscribers.
When you send promotional content, balance it with informational content. If you send too many promotions, you risk losing subscribers. A balance between promotional and informational content keeps subscribers happy.
6. Run retargeted ads to get leads back
Retargeted ads are a valuable tool for helping you get leads back to your business. Many people will visit your website and not convert right away. They may need more time to think or get distracted.
When these leads leave your page, you may feel like they're lost.
The truth is that you can bring them back by running retargeted ads.
Retargeted ads are an excellent way for you to drive leads back to your business. To use retargeted ads, you'll want to put a pixel tracker on your site. This pixel tracks necessary information about your audience and the pages they visit.
You also have the option to use cookies for your retargeted ads. Cookies are small files stored on a user's computer that hold data about the browser. The website owner can access this information and use it for remarketing.
When the user leaves your site, they will later see a retargeted ad from your business as they browse the Internet. The ad gets them to think about your company again and consider buying your product.
Remarketing is a great local business advertising strategy for helping you drive leads back to your company. It's a great way to keep your organization at the forefront of their minds and get them to buy your products or use your services.
7. Participate in threads
Another online local advertising strategy is to participate in threads. Popular threads, like Quora and Reddit, are great places to advertise your business. The way you promote your company, however, will need to be low-key.
People don't want to see blatant advertisements for your business in community threads. If you place an ad into a thread, you're likely to be met with an adverse reaction. It can end up hurting your business and people's perception of it.
Instead, you'll want to advertise in a low-key manner. If someone asks a question about an industry-related topic, you can answer that question.
Let's say you're a florist, and someone posts a thread asking for ideas on low-cost wedding flowers that look expensive. If you have a piece of content on your page covering the topic, you can answer the question and attach your article for reference.
It's laidback, but it's a great way to advertise your business.
Start advertising locally for your business today
A strong online local advertising plan will help you attract more local leads. By investing in these strategies, you'll help expand your reach online and find more people interested in your company.
At WebFX, we have over a decade of experience creating online marketing campaigns for our clients. We have a team of over 500 local advertising experts that will help you create an ad campaign that works for your business.
If you want to learn more about advertising locally, contact us online or call us today at 888-601-5359 to speak with a strategist about our digital advertising services.