With the HVAC industry predicted to grow in the next five years, it's essential to develop a competitive plan when it comes to HVAC advertising — otherwise, your company could become a distant thought to consumers.
If you've spent the past few years focusing on traditional HVAC marketing and advertising methods, it's a smart move to consider digital advertising and marketing strategies as more than 80% of consumers start their search for a service or product online.
Which HVAC marketing ideas are best for your business, though? Find out below, as we're highlighting the six best HVAC advertising strategies that'll not only improve your advertising plan but also reduce its cost.
You can also call 888-601-5359 or contact us online today to learn more about these strategies!
Our digital marketing campaigns impact the metrics that improve your bottom line.
See More Results

WebFX has driven the following results for clients:

$3 billion
In client revenue

7.8 million
Leads for our clients

5.2 million
Client phone calls
1. Attract high-value leads with pay-per-click advertising
Pay-per-click, or PPC ads, serve as an excellent HVAC advertising channel for your HVAC company, especially if you want to stick within a set budget. Plus, their return on investment (ROI) is substantial, with businesses earning $8 back for every $1 they invest in Google Ads.
PPC campaigns allow you to set bids based on how much you're willing to pay for each click to your site — you only pay for your ad when a user clicks on it. Then, you set a daily budget so that you never exceed your budget.
With this HVAC promotional idea, you can run PPC ads on the following platforms:
Google
Bing
Facebook
Twitter
Instagram
And more
How does PPC for HVAC companies work, though? Here's an easy-to-follow rundown:
Choose your platform
The most popular PPC platform is Google Ads, which was previously called Google AdWords. With Google Ads, you advertise your website in Google search results for set keywords and phrases, such as, "hvac repair company."
While you can also advertise on Bing, Google is a competitive choice due to its popularity among users. In fact, when it comes to mobile devices, it drives more than 90% of ad clicks. That's monumental, as more than 50% of the Internet's traffic comes from mobile devices.
When it comes to social media, you can promote your business on several platforms, including:
Facebook
Twitter
Instagram
LinkedIn
Pinterest
If you decide to invest in social media advertising, it's critical to understand that social media focuses on brand awareness. It builds people's familiarity with your business, which can encourage users to become clients later.
So, if you're looking to increase your revenue sooner rather than later, advertise on search engines.
Set your budget
Once you decide where to focus your HVAC advertising strategy, you can determine your budget. When it comes to Google, as well as Bing, you'll set bids for how much you want to spend for every click on your ad.
That's why you want to create targeted or specific ads for your company. If you create an advertisement that's vague, it can result in clicks from users that have a low chance of converting. Build ads that give users context about what you're offering, whether it's an emergency service or fast installation.
With Facebook and Twitter ads, you choose how long you want your ad to run and how much you want to spend on your ad over that timeframe. Then, you can use their automatic bidding system to determine the most cost-effective bids for your campaign.
Target your audience
When you advertise on Google Ads, your ads appear above organic search results in the ads section based on the keywords you target. Choose potential keywords based on the words and phrases people use to search for HVAC services.
A few tools you can use to narrow your list of keywords include:
Social media platforms like Facebook and Twitter allow you to target specific audiences based on the demographic you want to reach. For example, you could set your ads to display to people ages 25 and over within 20 miles of your business. Your ads then display to those users' feeds.
Want to learn more about this HVAC advertising idea? Explore our PPC guide!
Hear What It's Like to Work With WebFX!

"WebFX is always quick to respond to a question or request even if they do not have the answer right away. Their expertise on increasing our domain authority over the years has been significant and has had a positive impact on our website. They keep their offerings updated and monthly reporting is always on time."
Hvac Company
2. Launch geofencing ads
Geofencing is one of the most popular HVAC advertising ideas because HVAC companies operate locally. With geofencing ads, you can target specific areas, from neighborhoods to competitor locations.
How can you maximize the results of your geofencing ads? Try these tips:
Research your area
Geofencing is about targeting ads by location, so to make the most of this HVAC marketing idea, you need to carefully research your area.
You'll want to target customers within your service area and areas where you're likely to find a lot of new or returning customers.
You can, for example, target neighborhoods that are similar to ones where you already have customers. You can also target competitors' locations if you think customers in those areas may switch to your business with the right HVAC advertising strategy.
Drive your audience to act
It's critical to make your call-to-action (CTA) actionable, as well as brief. You also want to provide your audience value, not a spammy notification. Give them a compelling reason to stop by your location, whether it's an offer for a free quote or a promotion for a seasonal sale.
A few examples of potential CTAs for an HVAC company include:
Stop in today and get a free quote on your HVAC system!
Switch from oil to gas and get a free year of maintenance care!
Get $40 off a new water heater when you stop in today!
Research your audience to discover which CTAs drive traffic to your location.
Check your data
Improve the success of your HVAC advertising strategy by reviewing your data. Check the performance of your geofences on a routine basis. Your campaign's analytics provide you with direct feedback on your strategy, letting you know where to make changes.
If you're unfamiliar with the analytics side of online advertising, you can always partner with a digital marketing agency, like WebFX. With MarketingCloudFX, which is an in-house and industry-leading software for ROI tracking, you can see the direct impact of your advertising budget.
3. Generate and nurture leads with email marketing
While considered an HVAC marketing strategy, email is one of the best ways to advertise your business. Not only does email marketing allow you to target a qualified audience, but it allows you to offer tons of information right in their inboxes. Plus, it boasts an ROI of $44 for every $1 invested.
How can you improve your email marketing's success? Use these tips:
Encourage users to opt in on your site
Whether you're starting an email marketing campaign or revamping yours, focus on building your email subscriber list. Grow your subscriber list by inviting users to sign-up on your website to receive updates, company news, and more.
Use simple forms that ask visitors for their email address and other contact information like their name and phone number. Overall, try to limit the amount of information you request, as it can deter users from joining your newsletter.
Encourage users to opt-in for your email newsletter with the following offers:
Discount
Exclusive content
Giveaway
And more
Remember that building your subscriber list takes time, so don't expect immediate results.
Optimize your email for mobile
Did you know that 47% of all emails are opened on a mobile device?
That's why it's crucial to make sure that users can read and navigate every element of your email on a mobile device, as well as a tablet. Otherwise, you may see a rise in unsubscribing and unopened rates, which impacts your HVAC marketing campaign.
If you include a button or a clickable call-to-action, make sure it works across all devices — the most important thing is that mobile users can click it. Nothing is more frustrating than trying to get to a page on a mobile device and failing because the CTA doesn't work.
Send your newsletters on a routine schedule
Sending newsletters is one of the best HVAC marketing ideas because you can engage with current and potential customers by email. You can send them updates on your business, as well as special offers they can take advantage of in-store or online.
A few examples of what to feature in your email newsletters include:
A coupon for a new unit
A free maintenance or cleaning for new customers
A summary of your company's charitable actions, like sponsoring a local baseball team
A notice of your attendance at an upcoming trade show
Before you send your newsletter, make sure to check it for spelling and grammatical errors.
Want to learn more about email as an HVAC marketing strategy? Check out our handy guide!
4. Build customer loyalty with social media marketing
With more than 74% of consumers using social media for making a purchase decision, it's surprising that only 26% of businesses incorporate social media into their business strategy. That decision, however, is your advantage.
Adopt social media as a part of your HVAC advertising and marketing strategy and you can:
Build brand awareness
Advertise promotions, services, and more
Engage current and future customers
Share company-created content
And more
Maintaining a social media presence is extremely important to creating relationships with your customers. It's also critical to earning and retaining more customers, as more than 65% of consumers rely on social media for customer service.
How can you maximize the benefits of social media for your business? Try the following tips:
Watch your comments and direct messages
When a company leaves comments or messages unanswered, it signals to users that the company doesn't care. With people viewing social media as a customer service platform, it's critical that you adopt a proactive approach to responding to user comments and messages.
Paying attention to comments can also act as damage control. If you get a comment that reflects negatively on your business, it's important to address the concern right away to show your followers that you're taking steps to address the user's concern.
Post helpful content
If you adopt social media as one of your HVAC company's marketing strategies, it's essential that you vary your post types. Share only promotional items about your company, and you likely won't gain much traction.
Provide value to users, however, and you'll get a positive response. In addition to the occasional promotional post, share helpful posts from your blog, such as about when to schedule maintenance for your HVAC unit, as well as how to spot problems with your HVAC system.
When you're brainstorming future content for your social media and blog, make sure you're creating content that's unique and high-quality. If you're covering topics that users already know about, it's unlikely those posts will get much attention.
5. Educate shoppers with video marketing
With the ability to improve conversions by 86%, video is becoming an asset to HVAC marketing strategies, as well as advertising campaigns. Bring video marketing into your company, and you can educate users and answer their biggest questions.
Give your videos the best chance at success with these tips:
Vary your content
Like your social media marketing, you should vary what you share with audiences. Adopt this approach, and you'll keep audiences engaged with not only your products but also your company, which is critical for building brand awareness and loyalty.
A few video ideas include:
A how-to video on how HVAC systems work
A behind-the-scenes look at your team
A video highlighting a recent trade show event
If you need additional HVAC marketing ideas for video, look at what your audience asks on social media and forums, like Quora.
Make your videos accessible
When you create a video, do it with every user in mind. Include substitutes or captions with your videos, that way everyone can follow along with your how-to guide, product showcase, or event recap. That extra effort makes a difference to consumers, as it shows initiative and consideration by your team.
Optimize your videos for different platforms
As a part of your strategy to advertise your HVAC company, you'll likely adopt a presence on multiple platforms, from YouTube to Facebook. It's critical that you optimize your video for each of these platforms — that you can optimize their success.
For example, if you're sharing your YouTube videos with your Facebook audience, you want to rethink that strategy. Instead of sharing the video from YouTube, the best practice is to upload it directly to Facebook.
Why? Facebook offers a few perks to native videos. It'll let you create a larger thumbnail for your video, which can attract users. Even better, your videos will autoplay for users, which increases the exposure of your content.
6. Grow your traffic and revenue with a top-notch website
At the core of your HVAC advertising strategy is your website. If you use all of the above HVAC marketing strategies, but don't direct users to your website — or to a website that's slow and unusable — you're minimizing your campaign's potential.
That's why you should take the following measures:
Optimize your site for search engines
Even if you have the best HVAC website out there, it won't help your company if no one can find it. The best way to make sure that your company's easy to find online is with great search engine optimization or SEO.
SEO involves improving both on-page and off-page factors, which determine how your website ranks in search engines.
Take a transparent approach
When your customers are looking for an HVAC company, one of the deciding factors is the price. If you aren't upfront about your services and pricing, you could easily drive your potential customers to other providers that are transparent.
Include testimonials
When you include testimonials on your website, you show users that they can trust you.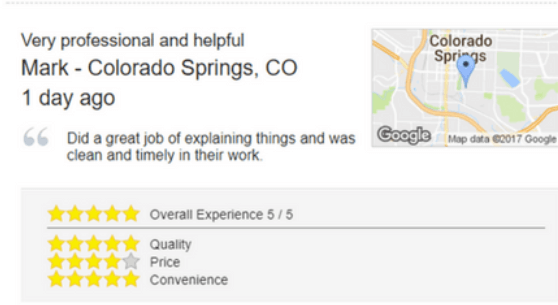 Highlighting why your customers like working with you can set you apart from your competitors and reassure your site visitors that you're the right choice for them. After all, most people just want reassurance that the company they are choosing will do a great job with their HVAC needs.
Are you interested in learning more about how online advertising and marketing can help your HVAC company thrive? WebFX knows HVAC advertising, and we have all the tools necessary to help take your marketing campaign to the next level.
We also offer a hassle-free customer relationship management (CRM) platform, Nutshell, that enables you to generate and convert leads with ease. With our CRM for HVAC companies and our top-tier advertising solutions, you'll have all the tools you need to drive revenue for your company.
Contact us today for more information and a free quote!