Gone are the days when a dentist could just get listed in a local directory and bring in new patients. Today, people can choose from among several dentists located in nearby towns. Your practice has to constantly promote its services to these people, and that means reaching out to potential patients wherever they are, and however they are looking for service providers.
Marketing for dentist offices has changed dramatically over the last few years. You have to explain why your practice is the best for your patients' needs, why your dentists are more skilled or more qualified, and what your practice provides that others don't. This page offers an overview of why you need to market your dental practice, as well as a few dentist marketing ideas you can start applying today.
Call 888-601-5359 to speak with a strategist about digital marketing strategies from WebFX, or keep reading to learn more about how your practice can benefit from a custom strategy.
Contact Us!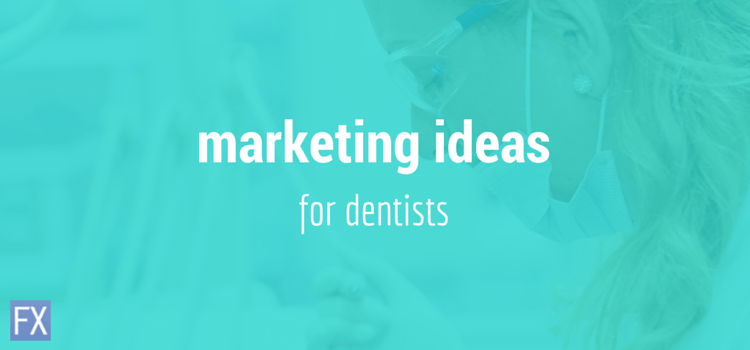 Why Do Dental Practices Need Marketing?
You might feel good about the success of your practice. After all, you have a full schedule every week, and your revenues are up. However, marketing is the only way you'll continue to see this kind of success over the long term, and marketing ideas for dentists can be especially lucrative. The benefits of marketing include the following:
Greater Awareness
Even long-standing dental practices need to introduce themselves to their target markets. New people move to the area, and lifelong residents may be searching for a new dentist. An ongoing marketing strategy ensures your practice comes to mind when people think of local dentists.
A Competitive Edge
If you're merely placing a listing in the phone book, you're missing an opportunity to tell prospective patients why your practice is better than others, and why they should book an appointment with you.
Additionally, a website, PPC ads, and other online marketing tactics allow you to boast about your experience and unique capabilities in a space where the competition might be lower.
Stronger Patient Relationships
New patients are a welcome benefit of marketing for dentist offices, but so is greater loyalty among current patients. When you market your practice, you build greater trust among patients, which makes them more likely to return when they need additional dental services and recommend you to their friends and family.
Whatever your specific goals, you'll need a comprehensive marketing plan, online and off, to carry it out. Whether you want to do it yourself or employ the services of a marketing firm, there are certain things your marketing strategy must include if it's going to succeed.
Some of our client Successes
8 foolproof ways dentists can market their services
There are plenty of ways to market your practice. Some of these methods are particularly effective for attracting new patients or garnering attention, while others work best for building credibility and patient trust. Over time, you'll find out what works for your practice, but here are some ideas to get you started.
1. Build a high-quality website
Your website is the center of your entire marketing presence, so everything you do online should be designed to bring more visitors. Since your site is often the first experience people have with your practice, it should always run smoothly and make it easy for potential patients to get all the information they need.
This will require the best dentist website design available. Your site should be clean, simple, easy to navigate, and quick to load. Additionally, it should be optimized for devices of all sizes, including mobile phones and tablets, because users who grow impatient or have to pinch-zoom to read basic information will quickly get frustrated and leave for another site.
2. Boost search engine rankings
Even with the best dentist website design, patients won't find your site right away. You need to optimize it for search engines so people searching for dental services can easily find your practice.
SEO, or search engine optimization, involves adding relevant keywords to your copy that reflect your practice's specialties, location, and other key details. It also involves making a series of additional strategic decisions to improve your visibility in search engines, like improving your page titles, meta descriptions, and the number of links pointing to your website from others. This is one of the most valuable marketing ideas for dentists since it has the potential to grow so much over time.
You can learn the basics of SEO and how it can be used to make your dentist website more visible in searches by reading this page about SEO for dentists, or trying some of the tips from our SEO tutorial for beginners.
3. Local optimization
Local SEO ensures that your dentist office shows up in front of a relevant audience in search engine results pages (SERPs). Google local results display above Internet search results. And adding an informational profile about your dental practice on Google My Business is a great way to increase traffic to your office.
You can also encourage patients to post reviews—a great way to attract new patients to your dental practice.
Ready to improve your marketing strategy?
WebFX can help. We have years of experience creating effective marketing strategies for our dental clients, and we can do the same for you.
4. Build an email list
A growing number of medical professionals are using email to communicate with patients concerning appointments, billing and other matters. You can use it in your own practice, not just to interact with current patients but also to generate new leads.
Create a form on your site where people can sign up for an email newsletter from you. You can then send them healthcare or tooth care tips, regular practice updates, and special offers.
5. Be active on social media
Consumers regularly use social media to get advice on everything from health and wellness to the best doctors in town. You may think that social media is just for businesses that sell online, but nothing could be further from the truth! Social media gives your dentist's office a great opportunity to connect with both current and potential patients.
Creating social media profiles on sites like Facebook and Twitter allows you to reach out to current and prospective patients who may be thinking about good dental health at that moment. Plus, it provides a place for people to learn more about your practice if, by chance, they read a good recommendation from a satisfied patient.
6. Create a blog
The Internet has become a primary source for advice and information, and the sites that provide it are more likely to get repeat visitors. One way you can provide this advice and information is through a blog.
Every week or so, try writing a piece that's relevant to your target market. Popular topics in your niche might include good home dental care and healthy foods for teeth. Over time, you'll build a large blog readership and build credibility and authority in the process.
This content can also help improve your SEO and ranking in search engines, making your site more visible when those in your area go looking for dental advice or a new dentist!
7. Publish infographics
Infographics allow you to visually portray information and statistics. Sharing infographics about interesting dental facts is a great way to pique the interest of potential patients while boosting traffic and links to your website. Your infographic might even go viral!
8. Share videos on YouTube
Want to show how a procedure works or give potential patients a tour of your office? YouTube videos are a great way to showcase your dental practice. Short clips that are rich in information can drive traffic to your dental website and increase the impact of your SEO efforts.
Need Help Creating a Successful Marketing Plan for Your Practice?
When you're a busy dentist, marketing ideas don't come to you very often. It may also take too long for you to implement these ideas on your own. Instead of worrying about how you're going to market your busy practice, let WebFX take the pressure off you!
We've helped numerous dentists find new patients through a combination of SEO, email, social media, and Internet marketing. Whether you want recommendations for a marketing plan or need assistance putting one in place, our experienced team will provide a wide range of services to make your practice stand out.
If you're ready to create a successful marketing plan that brings more patients to your practice than ever before, or are looking for more creative dentistry marketing tips to take your practice to the next level, reach out to us online or give us a call today. We'll provide a free, no-obligation, completely customized quote that fits your needs. Let us know how we can help you—we can't wait to hear from you!
If you need help reaching more patients, WebFX is here to help. Call 888.449.3239 or contact us online today to find out how an Internet marketing plan can help you improve the reach of your business and grow your practice significantly.