A successful dental practice requires a steady flow of patients, and growing a dental practice requires a steady flow of new patients. If you want to bring new patients to your practice, you need a strong online strategy for attracting dental leads.
Most of today's consumers start their searches for the services they need online. As a result, effective lead generation for dentists involves making your practice visible online, providing the information your visitors want to know, and optimizing the percentage of site visitors that convert into leads.
Call us at 888-601-5359 to speak with a strategist, or keep reading for six dental lead generation strategies you can use to reach qualified leads and encourage them to become long-term patients for your practice.
37% of marketers say that generating high-quality leads was one of their biggest challenges.
We want to decrease that percentage.
WebFX can help you generate high-quality leads with a customized marketing strategy.
Learn More About Lead Generation Services
1. Search engine optimization (SEO) for dentists
Many people looking for dental services begin by using search engines like Google to locate dentists near them. If you want to reach those people, you need to show up in the results for searches like "dentist in [your city]."
The only way to make this happen is with search engine optimization, or SEO. SEO for dentists involves researching the words and phrases your potential patients use when searching for dental services, then using them on your site.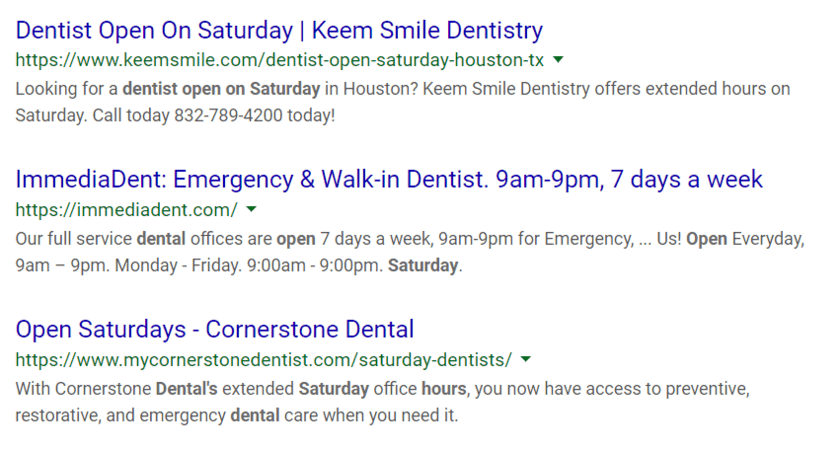 This process helps search engines understand the content on your site and display your pages in results for relevant searches.
SEO also involves building links from other reputable sites, which shows search engines that you're a credible source of information. The more authority your site gains online, the higher you'll be able to rank for searches related to your industry.
2. Content marketing for dentists
In addition to optimizing the existing pages on your site, you should also add new pages with informative, useful content on a regular basis. This dental lead generation strategy, called content marketing, helps you bring qualified traffic to your site.
As a dental professional, you likely hear many of the same questions from your patients How often should they floss? Is a bi-annual checkup really necessary? And while the answers may seem simple to you, providing them on your site is extremely helpful to people who want to learn more about dental health.
You can provide this information in the form of blog posts, infographics, or even videos on your site. Then, when people come across those pages, you have a chance to not only get your brand in front of them, but also make a great first impression as a helpful, trustworthy source of information.
3. Conversion rate optimization (CRO) for dentists
If you want your site's visitors to become patients, you need to convert them into leads. The best way to do this (as a part of your strategy for dental lead generation strategy) is by asking for their email addresses, either in contact forms or email newsletter signups.
Then, you can use conversion rate optimization, or CRO, to improve your site and get the most possible conversions.
CRO involves testing multiple versions of different elements on your site (like buttons, forms, and calls to action) to determine which is the most effective in converting your visitors. Then, you can implement the best version – and move on to testing another element.
4. Social media for dentists
Social media platforms like Facebook, Instagram, and Twitter can also help attract dental leads.
You can advertise on social media, as well as post original content to your profile. Even better, you can respond to questions from followers, ask users questions, and resolve issues that anyone had when contacting or using your practice.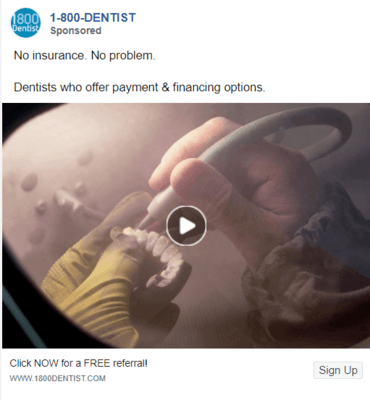 Lead generation for dentists can also include using social media to host contests.
You may host a contest that offers a free giveaway of an electric toothbrush or a gift card to a local restaurant. In exchange, users may have to follow your page or share your page, like by posting a before and after photo following dental implants, braces, or another procedure.
5. Email marketing for dentists
After your visitors give you their email addresses, you can use email marketing to nurture your new leads.
If you don't already send an email newsletter on a regular basis, this is a great way to start. Include information about any new services or equipment you've added to your practice, as well as dental care tips your patients may find useful.
This allows you to reach your leads directly in their inboxes with useful, interesting information. Then, when it's time for their next dentist appointment, they'll know exactly who to call.
6. Lead management for dentists
Your dental lead generation strategy shouldn't end with contact form submissions or email signups. As you start attracting new leads, you need a system for organizing and responding to them.
The best way to do this is with lead management software. At WebFX, we have our proprietary tools, called MarketingCloudFX.
With MarketingCloudFX, it's easy to keep track of each of your dental leads. You can access their name, phone number, and email address so you can respond with answers to their questions and help them set up an appointment.
You can also see how each of your leads found your practice, whether through a search engine, social media ad, pay-per-click campaign, or any other marketing channel you use for your dental lead generation strategy.
Then, you can use this information to understand where your best leads are coming from and improve your strategy moving forward.
Time to Level Up Your Sales
Our long list of services helps you grow every aspect of your business with marketing strategies that are proven to increase bottom-line metrics like revenue and conversions.
In the past 5 years, we've managed more than 12.9 MILLION transactions across our client base.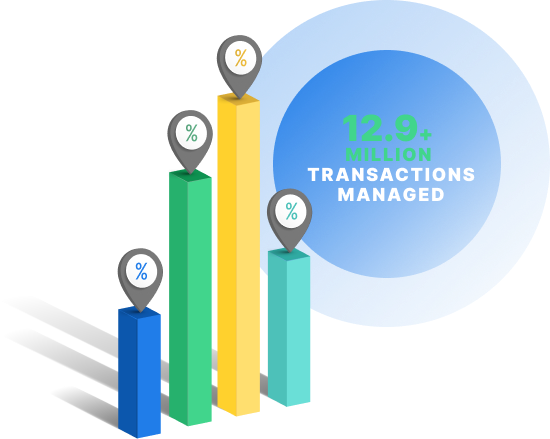 FAQs about dental lead generation
Learn more about what people want to know about dental lead generation below.
What is lead generation for dentists?
Lead generation for dentists uses marketing and advertising strategies (both online and offline) to attract potential patients to your practice and turn them into a lead, like by acquiring their name, email, or phone number, that you can then nurture into a patient.
An example of a dental lead is someone who schedules a consultation with you, follows your practice on social media, or signs up for your email newsletter. They take an action that demonstrates their interest in your facility and gives you the chance to interact with them one-on-one.
How does dental lead generation work?
Dental lead generation can work in multiple ways, depending on your strategy.
In most cases, your practice will offer something of value to potential patients, like:
A free consultation
A limited-time promotion on specific services, like teeth whitening
A downloadable resource, like a guide on pediatric dental care
A giveaway, like for an electric toothbrush or a year's supply of toothpaste
A referral bonus for current patients

In exchange, potential patients will provide some information.
They may share their name and email with you, for example, which allows you to connect with them later. You may send them occasional emails, for instance, that highlight an upcoming promotion or blog post.
You can promote your practice's offers via paid ads, posts on social media, and more.
Some lead generation strategies for dentists also take a long-term approach to attracting leads.
You may keep an active blog, for instance, and post helpful and informational content. Your posts (if optimized for search engines like Google) may appear for people searching for a new dentist. These posts can build immediate trust with patients, demonstrating your expertise and passion for dental care.
Depending on your dental lead generation strategy, you may nurture leads offline and online.
A potential patient that schedules a consultation, for example, will probably get nurtured through both channels. You may send them an appointment reminder, for instance, while your dental team will provide the excellent care you're known for when the person arrives for their consultation.
Why does lead generation for dentists work?
Lead generation for dentists works for a few different reasons.
First, any dental practice that wants to grow needs a reliable strategy for attracting new patients. Yes, referrals can help, but you need a way to reach people that won't come through that channel. A person moving to a new area, for instance, may rely on Google to find their next dentist.
Someone that needs a more advanced dental procedure may also depend on other channels to find a dentist that specializes in that area. They may even take a significant amount of time researching their options to determine who is worth seeing.
Another reason that lead generation for dentists works is because of the ways people research their medical options. Many rely on more than their primary care physician. They also use search engines, social media, and online forums to find potential dentists in their area.
When your practice invests in dental lead generation, you place yourself in an excellent position.
You can continue to attract and nurture new leads, as well as amplify the power of client referrals. With more happy clients come more referrals. Essentially, you create a robust system for building your practice and helping people in your area.
Our digital marketing campaigns impact the metrics that improve your bottom line.
See More Results

WebFX has driven the following results for clients:

$3 billion
In client revenue

7.8 million
Leads for our clients

5.2 million
Client phone calls
Ready to start generating more leads for your dental practice?
The Internet is a valuable tool for reaching and connecting with new patients. A comprehensive lead generation strategy is exactly what your dental practice needs to grow.
If you'd like to start using online channels to generate more leads for your practice, WebFX can help. We have years of experience creating successful lead generation strategies for clients in a variety of industries – including dental – and we'll do the same for you.
Contact us today for more information or a free quote!