Whether it's a routine doctor appointment or a major surgery, healthcare is extremely important. That's why people spend a lot of time researching online to find the right practice and provider to fit their needs.
When people search online, you want your practice to appear at the top of the search results. That is why it's important to have a strong digital marketing plan in place. Your digital marketing plan can help you attract more patients and earn more revenue for your healthcare practice.
On this page, we'll discuss the top three digital marketing strategies for healthcare. If you need help implementing these strategies, call us today at 888-601-5359 to speak with a strategist.
1. Search engine optimization (SEO)
One of the best ways to connect with potential patients is through search engine optimization (SEO). SEO is the process of boosting your website's ranking in search results to reach more potential leads.
You want your website to be on the first page because 75% of people don't look past the first page of results. If your website ranks on the second page of results or lower, you will miss out on reaching new patients.
Before you start running your SEO campaign, you'll need to take a few steps to prepare your site. These steps will help your site be optimized for SEO and will enable your site to perform better.
1. Select keywords
SEO operates on keywords. Your website is triggered when users type in particular keywords that you use for your website. To figure out the best keywords for your business, you will need to conduct keyword research.
It is important that you focus on long tail keywords, which are three or more words, as opposed to short tail keywords, which only contain one or two words. Long tail keywords produce more qualified results for your business because people are searching using those specific terms.
There is also less competition for these keywords. This means that you will be able to drive in more leads for your business that are searching for your particular services.
Keyword selection is just part of the puzzle. There are other things you will need to do in order to help your site rank better in the search results.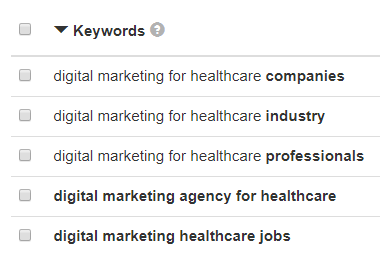 2. Optimize your website
An important piece of the puzzle is optimizing your website. Regardless of what kind of digital marketing campaign you are running, you'll always drive people back to your website. You need to make sure your website is optimized in order to work successfully for your campaign.
If you're going to bring in new traffic, your website needs to be running well. You also need to make sure that it is designed to give users a positive experience.
There are numerous factors that Google analyzes when looking at your website. When your website provides a positive user experience that keeps them engaged, it is likely to rank higher in the results.
Here are just a few of the factors that affect your website's ranking:
3. Keyword usage
If you are trying to rank for a keyword, it is important that you utilize that keyword on your pages. You can use the keyword in your title tags, meta descriptions, headings, and within the text on the page.
Your use of keywords helps Google figure out what your page is about when they crawl through your site. You can help your site rank better by using the keywords on your page.
As you integrate the keywords into your text, be mindful of how often you use your keywords. If you use them too frequently, it can lead to keyword stuffing. Google will see this as a bad sign, and it will negatively impact your rankings.
4. Link building
Link building is an important part of improving your website's ranking. There are two types of link building you'll want to focus on for your website.
When you create content or put text on your site, you want to link to other pages. You can link to your own pages or credible outside sources, but it is highly recommended that you link within your own site.
By linking to your own site, you're keeping people on your pages longer. They will click on more pages and obtain more information from your site. Your link building also enables you to direct them to certain pages that may help them convert.
Aside from linking within, you'll also want to obtain backlinks. These are links from authority sites that link back to your page.
Backlinks are great for your healthcare practice because they give you credibility. If you are mentioned by a few trusted sources, it builds trust with your practice. It also drives traffic from their website to your own.
Google will boost your rankings when you receive backlinks from credible sources. These high authority sources validate your site and send a positive signal to Google.
You can earn backlinks by creating content. When you have a blog, videos, infographics, or other types of information, authority sites can check it out and integrate it into their own posts. This is a great way to encourage trusted sites to link to your content.
5. Page speed
People don't like to wait for pages to load. Users need immediate answers. If your page takes too long to load, they will return to the search results and choose your competition.
This increases your bounce rate. A high bounce rate indicates to Google that your site doesn't fit what people are seeking because they are leaving immediately, so they will rank your site lower. Even though you may have the exact information or services they need, they won't stick around to wait for your page to load.
You can alter this by checking on your page speed. Not sure how to improve your page speed? Check out our page speed services.

Hear What It's Like to Work With WebFX!

"WebFX has completely transformed my practice. With their support, I have expanded my practice significantly and grown exponentially. I could not have expanded to this degree, nor this quickly had it not been for the incredible efforts provided by WebFX and my team."
Healthcare
2. Pay-per-click (PPC) advertising
Pay-per-click (PPC) advertising is a great way to advertise your healthcare practice. PPC ads are paid advertisements that appear at the top of the search results.
PPC operates on a bidding system where you set a maximum bid to determine your placement. Your maximum bid is the amount you are willing to spend each time a person clicks on your ad. This maximum bid is flexible and can be changed at any time.
In the case of PPC, it is vital that you focus on targeting long tail keywords because the cost is lower. Many large companies are battling for the short tail keywords and the cost per click (CPC) can become very expensive. You can end up paying $30 per click with a short tail keyword instead of $2 per click with a long tail keyword.
Once you set your maximum bid, you'll get your placement. Your placement is based on your max bid and your quality score. As soon as you get your placement, you'll start running your campaign.
PPC is a great way to drive in more qualified traffic. In fact, 65% of all high-intent searches result in clicking on a PPC ad. This means that your PPC ad will drive in traffic that is ready to make a decision about where to receive care.
In addition, PPC is budget friendly. You set the amount you want to spend on your campaign. You'll know the cost upfront and won't ever have to worry about incurring additional costs down the line.
This is a great option for your healthcare practice if you want to drive in more qualified leads.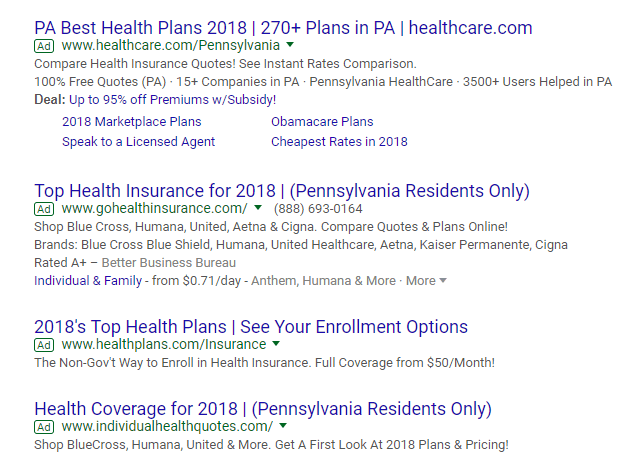 3. Content marketing
Content marketing is a great way to drive more people to your website and improve your SEO ranking. As stated previously, it can also help you build links from other websites.
When you use content marketing, you are creating mediums of information that your potential leads would find helpful or informative. Content can be anything from blogs to videos to infographics. The point of content creation is to provide information that users are seeking.
You'll need to keep your audience in mind when you create content because you want to write content that you think will draw them in. Healthcare is something that people are constantly searching about, whether it's advice, tips, or just general information.
You can cover any number of topics in your content. Your content should fit your healthcare practice so that you are driving in traffic that will actually need and use your services.
Content creation offers many opportunities to reach new people. It is important to remember that even if you reach these people and draw them to your site, they won't always convert right away.
Your content will have an impact. People will remember the information you provided and when it comes time for them to choose a healthcare practice like yours, they will choose you over the competition.
Let WebFX take care of your healthcare digital marketing plan
Are you ready to start driving in more qualified traffic to your site? WebFX can help! We are a full-service digital marketing company that specializes in helping your healthcare practice implement marketing strategies to reach new patients.
When you join us, you'll have a team of over 500 digital marketing experts dedicated to your campaigns. Our team will use their knowledge and expertise to create the best digital marketing plans for your practice. And we customize all our plans to ensure that they fit your goals.
Our clients love the work we do. We have over 1020 client testimonials from a variety of industries. Check them out to see for yourself what it's like to partner with a top digital marketing company like WebFX!
Learn more about digital marketing for healthcare
Ready to start creating your digital marketing plan for your healthcare practice? WebFX — the award-winning healthcare marketing agency — can help! Contact us online or call us today at 888-601-5359 to speak with a strategist!
We look forward to working with you!
Earn a 20% greater ROI with WebFX