For many therapists, the idea of using the Internet to connect with potential clients can be confusing and even intimidating. They understand how to help a patient once he or she walks through the door, but they do not know how to reach out to them online. The sensitive nature of therapists' job, and the fact that they often deal with delicate subjects during their session, can complicate any form of marketing.
We believe that the best way to reach new clients is to use online marketing. These modern strategies can help your website become more visible online, draw in new patients, and increase the profitability of your business.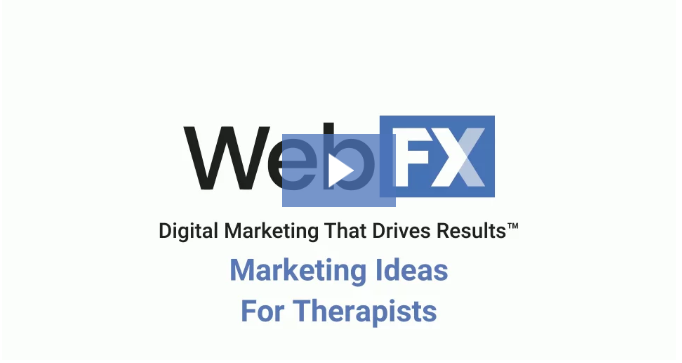 Call 888-601-5359 to speak with a strategist about digital marketing services from WebFX, or keep reading to learn more about how you can improve your online visibility, reach new clients, and grow your practice.
5 ways to effectively market your therapy practice
The web has replaced the office water cooler as the place we go to discuss just about everything. That means word of mouth has gone online as well.
In years past, you may have given a recommendation for services such as therapy in person. These days, people go online to get these suggestions, and they frequently start looking for a recommendation with a search such as "best therapist" or "therapist in [city name]."
To reach these potential clients, you need to make sure your website pops up when these searches are performed, and that your marketing methods are getting through to them, convincing them to schedule an appointment with you. Read on for a few therapist marketing tips that will help you with this task.
1. Blog to gain patients
One of the most important things you can do to improve your marketing is to add new content to your site frequently. Publishing regular blog posts is a great way to do this. Blogs are essentially online journals that offer advice or information to your website visitors.
Your blog should not be self-serving. No one wants to read "10 reasons why I am the best therapist." Instead, your blog should offer actionable, useful advice for readers, such as:
What to ask a therapist before starting therapy
When to break up with your therapist
What amount should you spend on a typical therapy session
Are there boundaries you should not cross in therapy?
Because it offers a steady flow of fresh, keyword-rich content, blogging can also help your website's search engine optimization, or SEO, which you'll learn about shortly.
2. Improve your social media accounts
Social media is a great way to show customers that your website is both active and credible. A strong presence on networks like Facebook and Twitter reflects well on your practice. It shows that people are interested in what you are saying and eager to interact with you.
Your social media accounts should be updated frequently, with relevant information, and should showcase your personality. Think of social media as a way to introduce yourself to potential clients even when you are not face to face. It's a lot easier to consider starting therapy with someone you "know" from the Internet than it is to start with a complete stranger.
3. Improve your SEO
When someone goes to Google and types in their query, the search engine responds with a list of relevant pages. The websites listed at the top of these results are the ones most likely to receive clicks, because very few people bother to look at every single page of search results.
It is extremely valuable to have your therapist website at the top of these rankings. Search engine optimization, or SEO, is the way you do that. Search engine optimization is the way you get your site to rise in search page rankings.
By anticipating what a search engine is looking for, you can improve your site's ranking, and attract more potential clients to it. Optimizing your website for search with SEO may involve making changes like updating your copywriting, making the titles of your pages unique, reducing the sizes of your images so your pages load faster, and so on.
To learn more about how you can use SEO to improve your therapy website, we suggest reading our SEO tutorial for beginners.
4. Build links from other sites
Link building is a subset of SEO that can help your website rise in the rankings. A good SEO company can assist you with building links, as it can be confusing to do on your own, but it is certainly doable!
Search engines like it when other sites link to yours. It shows that you are knowledgeable, reliable, and have content worth sharing. A link convinces the search engine that you are worth a higher place in their rankings—and so the more high quality links you have, the better your search engine rankings become.
Building links can mean anything from getting your site mentioned in a blog post on someone else's site to asking a site in a different industry to link to yours as a favor. SEO firms even have outreach specialists who are dedicated to getting links to your therapy business from other sites.
5. Write an email newsletter
Email newsletters are one of the smartest therapist marketing strategies. They allow you to write your own content, sharing news and information with your clients. Best of all, because newsletters require readers to opt in to receive the content, you know the person reading it is truly interested in whatever you share!
You can put almost anything in an email newsletter, but here are some ideas to start:
Information about your office hours
Online resources for the type of therapy you specialize in
Upcoming events relevant to your clients
Coping strategies related to holidays or milestones
Hear What It's Like to Work With WebFX!

"WebFX has completely transformed my practice. With their support, I have expanded my practice significantly and grown exponentially. I could not have expanded to this degree, nor this quickly had it not been for the incredible efforts provided by WebFX and my team."
Healthcare
Get started with a customized marketing plan today
We hope you have found our therapist marketing tips helpful. There are plenty of ideas out there about marketing your therapy practice online, but these should help you get started and improve your website's presence to attract more potential clients.
If you're not sure that you can do all this on your own, or are too busy to do marketing for yourself, we completely understand. As a leading Internet marketing company, we've helped hundreds of companies create and follow through on customized marketing plans that attract more clients and grow their businesses significantly. We specialize in marketing, which allows our clients to do what they do best: run their business.
If you need help marketing your therapy business, simply contact us online or pick up the phone and call us today at 888-601-5359. We'll be happy to listen to your needs, and put together a customized plan to match. Let us know how we can help—we can't wait to hear from you!
Earn a 20% greater ROI with WebFX