Theresa is looking for an online therapist. She scours the web looking for the right practice. Would she come across your practice in her search?
If you don't have a well-developed digital marketing strategy, you'll miss out on clients like Theresa. With marketing for online therapy, you can help more potential clients find your business and benefit from your mental health services.
Keep reading to learn how to get more online therapy clients for your practice!
And if you find yourself feeling lost or overwhelmed with marketing for online therapy, WebFX is here to help! With over 25 years of experience, you can feel confident we have the knowledge and expertise to help you obtain more clients. Just call 888-601-5359 or contact us online to learn more!
Our digital marketing campaigns impact the metrics that improve your bottom line.
See More Results

WebFX has driven the following results for clients:

$3 billion
In client revenue

7.8 million
Leads for our clients

5.2 million
Client phone calls
1. Craft a beautiful and professional website to keep people engaged on your site
As a therapist, a pivotal component to obtaining new clients is your reputation. People want to feel confident in your practice and know that you provide excellent mental health services. Your practice's website is an extension of your reputation, so you need to invest in designing it.
Imagine a new client is looking for a therapist. They come across your website in the search results and decide to check you out. They get to your site and find that the design is a mashup of colors, outdated, and overwhelmingly busy with images and graphics.
Do you think they will stay on your site?
If you said no, you're correct. People would take one look at your site and immediately turn back to the search results. Without a professional and clean design, prospective clients will think that your site is untrustworthy, and therefore, your practice is untrustworthy.
Since 94% of first impressions relate to web design, you want to ensure you make an excellent first impression by investing in building a beautiful and professional site.
So, how can you build a website that will help you get more online therapy clients?
Create a design that reflects your practice
Your design should fit your practice's look and feel. Color selection and style choices can impact how people feel about your practice. You may need to look more into the psychology of colors and how color choices can affect how people perceive your business.

For example, many healthcare practices choose blue because it emulates a message of trust and security. So, when selecting your color scheme and stylistic elements, make sure you're sending the right message to potential clients.
Create a consistent look and feel
Once you choose the right colors, fonts, and styles, to ensure that you implement them consistently throughout your website. You want potential clients to feel like they're browsing on the same site, no matter what page they visit.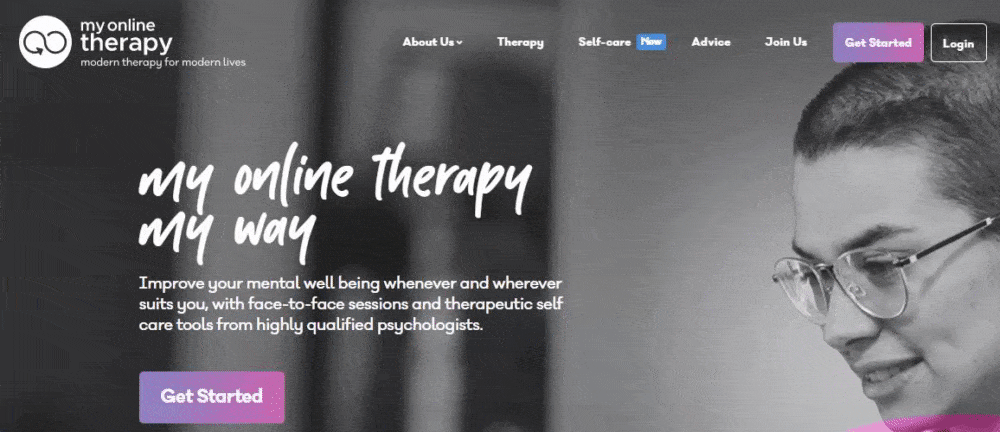 To help you create a consistent look and feel, establish a style guide. This guide will help ensure that your pages have a similar look and feel across the board, regardless of who works on your site.
Integrate responsive design
Not everyone will access your site from their laptops or desktop computers. People will come across your practice on smartphones and tablets, so you need to ensure that your site is optimized for those devices.
Integrating responsive design will ensure your site adjusts to look suitable for whatever device your audience uses. You'll create a seamless browsing experience as a result.
Hear What It's Like to Work With WebFX!

"WebFX has completely transformed my practice. With their support, I have expanded my practice significantly and grown exponentially. I could not have expanded to this degree, nor this quickly had it not been for the incredible efforts provided by WebFX and my team."
Healthcare
2. Optimize your website for search engines to help clients find your practice
If you want to know how to get more clients in private practice, start with search engine optimization (SEO). SEO is the process of optimizing your site to rank in relevant search results.
When people look for a therapist, they often turn to search engines like Google to find one. If your online therapy practice isn't optimized for search, you'll miss a prime opportunity to drive clients to your site.
Here's what you need to do to optimize your site for search engines:
Select relevant key terms to integrate into your site
To rank in search results, you need to optimize your pages to appear where people are searching for your practice. You'll need to conduct keyword research to find the right terms to integrate into your site. You can use a keyword research tool, like KeywordsFX, to help.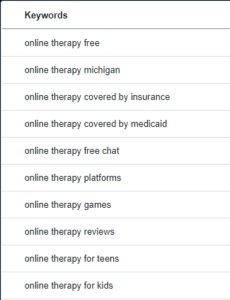 As you look at your keyword options, focus on long-tail keywords, which contain three or more words. These keywords are more specific, so they attract more qualified clients looking for your services.
Match user search intent with your pages
When you're crafting pages on your site, you want to target one core keyword for your page. When you target this keyword, you want to check the search results to see what's ranking for that keyword already. You want to ensure you're delivering pages that match the user search intent and provide the information your audience wants to find.
For example, if you're trying to rank for "is online therapy covered by insurance," look at the search results first to see how other pages answer that question. Checking the search results helps guide you on the format and content of your page to ensure you're meeting search intent.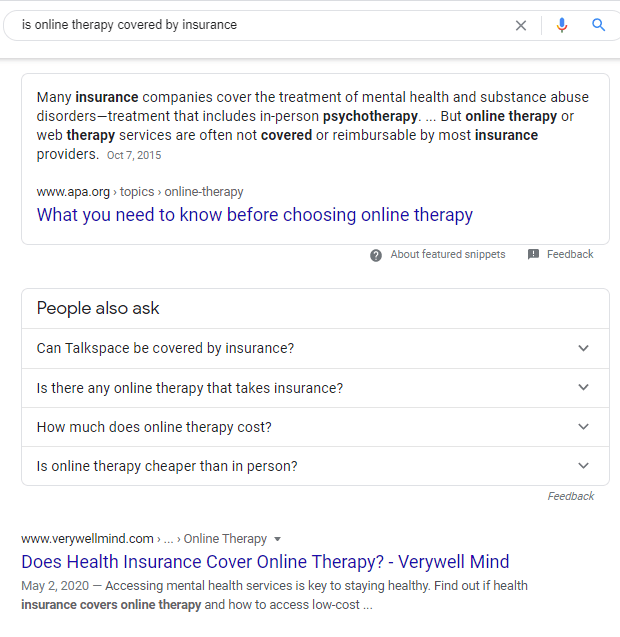 Ensure your site loads quickly
If you want your practice to rank well in search results, you need to ensure your site loads quickly.
People don't want to wait for your site to load — they want information fast. So, you'll want to check your site's current load time with PageSpeed Insights — Google's tool for checking your site's current load time.
If your site loads slowly, you can look at Google's suggestions for improvement and make changes on your site's backend. Don't have experience with working on the backend of your site? Invest in page speed services to let a team of professionals help you!
3. Use paid advertising to reach new clients looking for therapy services
One of the best ways to get therapy clients is through paid advertising. Pay-per-click (PPC) ads, namely, are an excellent way for you to reach clients looking for your services. These paid ads appear at the top of search results above organic listings.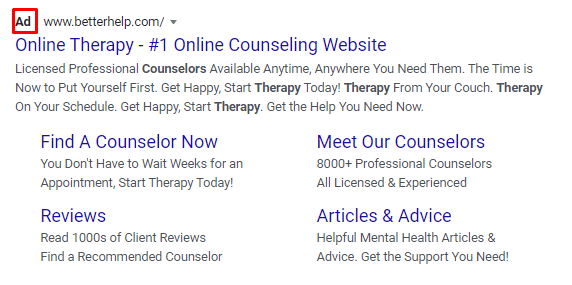 Paid ads enable you to appear at the top of critical search results, so people see your practice first. These ads help you drive more qualified leads to your page, as people are likely to click on PPC ads when they're close to choosing a therapist.
If you want to know how to get more online therapy clients through PPC, follow these best practices:
Target long-tail keywords
Like with SEO, you'll want to target long-tail keywords for your PPC ads. These keywords work best for your ads because they help you reach the most qualified leads since the key terms are specific.
Additionally, long-tail keywords have a lower cost-per-click (CPC) because they're specific and have less competition. As a result, you can maximize your ad budget to obtain more clients for your therapy practice.
Use ad extensions
Ad extensions are a valuable component for your PPC ads. When you use ad extensions, you add more information to your PPC ad, which can entice more clients to click on your ads and check out your services.
You can choose from numerous ad extensions, including sitelink, callout, and structured snippets.
Create a custom landing page
When you craft your PPC ads, make sure you create a custom landing page. A custom landing page will help deliver a tailored experience for your audience, which will keep them engaged with your practice. It enables you to provide only relevant information that can help nudge them towards conversion.
For example, if you run an ad for "affordable online therapy," you would create a landing page that focuses on your therapy pricing and rates. This information is relevant to the key term and helps guide the user's decision to choose your practice.
4. Create content to help people get the mental health information they need
If you want to know how to get more online therapy clients, start by creating helpful content for your audience. People consistently search on the web for information regarding mental health and mental illness. This desire for knowledge creates an opportunity for you to provide the information your audience seeks.
Since you're an expert in mental health, you have extensive knowledge of topics on mental health and illnesses. You can create content to share that helpful information with your audience and help them get answers to their questions.
So, why is content marketing one of the best ways to get therapy clients?
Creating content helps you establish yourself as a trusted authority in your field. Building trust is a critical component of being a therapist, so you can further that trust by crafting helpful content for your audience.
Here's how you can craft content that helps you get more online therapy clients:
Start a blog
If you want to have an effective content strategy, start a blog. Blogging is one of the best ways for you to produce and share content with your audience. You can cover numerous mental health topics, from signs of mental health issues to best practices for managing mental health.
Blogs help you drive more qualified traffic to your page and provides your audience with helpful information they seek. It serves as a hub of resources for anyone who wants information on mental health topics.
Use different content formats
When you're crafting your content strategy, make sure you include various content formats as part of it. While blogs are extremely valuable to your practice, you need to keep in mind that people consume content differently.
You can use additional formats, like videos and infographics, to help you create more diverse and engaging content.
Use a content calendar to post often
When it comes to creating content, you want to post content frequently. Posting content often enables you to attract traffic from new avenues, while also showing your audience that you're actively using your site to share information.
A content calendar will help you stay organized and post often. You can use a calendar to document when you're creating, editing, and publishing content to your site. Using a calendar helps you identify content gaps so you can fill them.
We foster and form long-term partnerships so that your business has long-term results.
Over 90% of WebFX clients continue partnering with us into year 2 of their campaign.
Hear from Our Happy Customers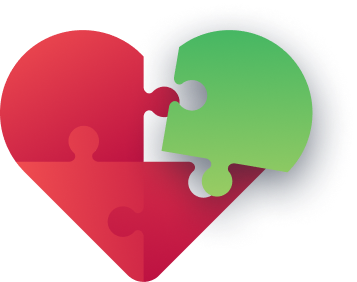 How to get more online therapy clients: Partner with WebFX
If you want to know how to get more clients in private practice, start by partnering with WebFX for your digital marketing needs. WebFX is a full-service digital marketing company that offers all the services you need to market your practice online.
We know how to craft digital marketing strategies that drive results. In the past five years alone, we've driven over $3 billion in sales and over 7.8 million leads for our clients. We know how to craft campaigns that enable our clients to excel and grow online.
Don't believe us? Just look at our 1000+ glowing client testimonials!
To learn more about our digital marketing services, contact us online or call us today at 888-601-5359 to speak with a strategist!
Earn a 20% greater ROI with WebFX