Best Link Building Strategies
If you want your website to rank at the top of search results for keywords related to your business, link building is essential. This is because the more links you earn from reputable sites, the more search engines will view you as an authority in your field, and the higher they'll rank your pages in relevant results.
But what is the best way to go about earning links to your website?
On this page, we'll take a look at seven of the best link building strategies you can start using today to earn more links to your site, boost your search rankings, and ultimately earn more revenue online.
Call us at 888-601-5359 to speak with a strategist about link building services from WebFX, or keep reading to learn how you can start earning links to your site.
Good agencies have more than 50 testimonials.
Great agencies have more than 100 testimonials.
WebFX has over 1000+ glowing client testimonials.
See What Makes Us Stand out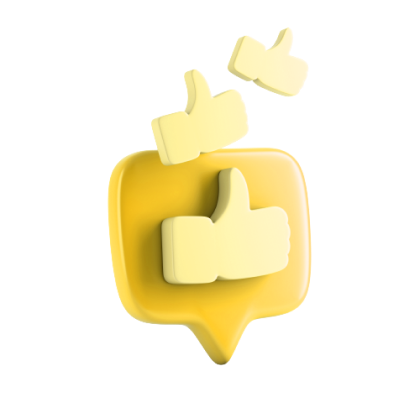 What are backlinks and why do they matter?
A backlink is a link to one of your website's pages from another site. If you have a valuable page on your site, and other sites share that information and cite you as the source, this is an example of a backlink.
Backlinks are extremely important because they are a top ranking factor, and they help determine where your site ranks in search results. In fact, links are 46% of the reason that sites rank in search engines.
The more links you earn from other authority sites, the more powerful your website will be. Search engines view sites with lots of links from credible sites as trustworthy, and rank them higher in search results for relevant keywords.
So if you want to rank higher in searches, help more people find your business, and attract more quality leads, you need to start earning links to your website. Use our free links counter tool if you're curious about how many links you have on your website page.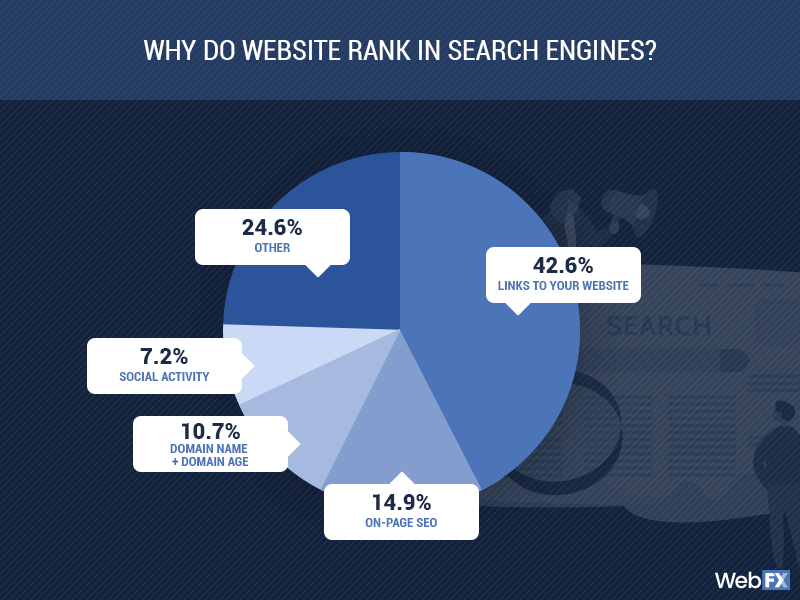 Bad link building strategies
Over the years, many digital marketers have attempted to "game the system" with link building strategies that Google has detected and deemed spammy. Using these strategies can result in a penalty and harm your rankings – and in some cases, remove your site from search results altogether.
So if you want to earn links that help you rank higher in searches, you need to make sure you're using reputable, trustworthy strategies. But before we get to those, it's important to note a few bad link building strategies that can have the opposite effect of what you want.
1. Submitting to directories
Auto-submitting your site to directories and article sites to earn a large number of links used to be a quick and easy way to boost results in search engine results. But today, this is not a practice you want to use.
Submitting your site to spammy directories sends negative signals to search engines like Google, and will hurt your rankings.
While there may still be a few directories that offer some value, such as Yelp and Google My Business, you need to be extremely careful when choosing where to submit your business.
If you do decide to submit your site to a directory, it's important to make sure they are well-known and strictly moderated. Directories that require submissions to go through an approval process can send positive signals to search engines that you are a legitimate business.
2. Paying for links
Another strategy to avoid is paying for links. Search engines like Google have gotten extremely effective at picking up on paid links, and buying or selling links in an attempt to boost your rankings goes against Google's Webmaster Guidelines.
This includes exchanging goods or services for links and offering free products in exchange for links. Excessive link exchanges, or adding links to a site in exchange for links to you from their site, also violate Google's guidelines.
3. Commenting on blogs
Have you ever seen someone comment on a blog post and link back to their site?
It typically looks something like "Hey! Great post. We have a product we think you might be interested in learning more about. Check it out at [insert link to their site]."
In the past, people considered blog commenting a great way to earn links back to their sites.
However, this is extremely irritating to blog owners and moderators, and can end up getting you banned from the sites you comment on. It's also important to keep in mind that most links in blog comments are nofollow, so they won't "count" toward your inbound links.
While you may actually offer a great product that relates to the topic of someone's blog post, use your comments wisely. There's a clear difference between adding a helpful comment and commenting for the sole purpose of adding a link back to your site.
If you want authority websites to link to your site, you will need to focus on earning those links the right way.
7 link building strategies for your business
Now that we've taken a look at some strategies to avoid, you're probably wondering how you can earn quality links to your site.
Here are seven of the best link building strategies to help your business earn links in ways that are search engine approved, and can help you build your online authority.
1. Create valuable content
One of the best ways to earn links is creating quality content that other sites will naturally credit you for by linking to your site.
Content includes articles, blog posts, infographics, guides, videos, and more. Essentially, anything that serves as a valuable resource that people will want to share online falls into this category.
Quality content will naturally attract links from other reputable sites, and it can help boost your reputation and rankings in search results.
After you create a piece of content, be sure to share it on your social media sites to spread the word and help more people find it. The more people see a piece of content, the more likely it is that one of them will want to share it on their own site.
2. Create free interactive tools
Similar to content, you can also create free interactive tools and host them on your website.
Cost calculators are a great example of a free tool that provides value to site visitors. People love the convenience of free tools, and many site owners will direct their visitors to them if they help achieve a specific goal relevant to their target audience.
If you can create a free tool that provides value to your potential customers, add it to your site, promote it on social media, and consider sharing it with bloggers and industry influencers. You can even create paid ads to promote tools on your site.
You'll be surprised with the quantity and quality of links you can earn by creating free, helpful tools on your website.
3. Reach out to reporters, bloggers, and industry influencers
After you create a piece of valuable content, it's time to start reaching out to reporters, bloggers, and influencers in your industry to see if they will share it.
You can start by conducting a simple Google search to discover people who have recently covered the topic addressed in your content. You can use this to create a list of people you want to contact. Tools like Rapportive can help you find and verify emails for people on your list.
Next, you can start creating your outreach emails and sending them to your prospects.
When creating your emails, be sure to focus on the value your content can provide to the person you're contacting. It can be tempting to focus on why your company is so great, but while you do need to provide proof of your skills, it's helpful to focus on how you can provide value to them.
For more info on how to write effective outreach emails, check out our helpful blog post.
4. Offer to write guest blog posts
Posting on someone else's site gives you immediate access to their audience, and it's a great way to earn links back to your site. You can start by making a list of blogs you would like to guest post on, and begin reaching out to the blog owners or moderators.
Before you hit the send button, it's important to double-check to see if they have a guest posting policy posted on their website.
If so, you'll need to make sure that your pitch matches their guidelines – because if it doesn't, there's a strong chance your message will make its way to their trash folder.
You'll also need to check the blog's linking policy. Most blogs will only allow 1-2 links back to your site per post. Many times, you'll be able to add a short author bio where you can add a link back to your site.
Guest posting is a win-win situation because it gives you the chance to reach a new audience, as well as the opportunity to earn a link to your site.
5. Create awareness on social media
Maintaining a presence on social media sites like Facebook, Twitter, and LinkedIn is a great way to boost awareness of your company, products, and services. While links on social media don't impact your rankings, people who find your content on social media may link to it.
For example, if you create a great infographic and post it on social media, someone may decide to share it on their site and cite you as the source.
Posting on social media and encouraging other people to share your content is a great way to spread the word about your business, and potentially pick up a few backlinks in the process.
6. Use broken link building
Leveraging broken links is a great way to earn backlinks to content on your site.
To use this strategy, you just need to find broken links on other websites or blogs. You can use tools like Ahrefs Site Explorer to find broken outgoing links for a particular domain.
Then, you can reach out to the site owners or bloggers, alert them of the broken links on their sites, and invite them to replace the link with a link to related content on your site.
This is a great way to earn links because people will be more likely to want to link to your content after you help them identify and fix a broken link on their site.
7. Monitor competitors' backlinks
Using tools like Open Site Explorer can help you easily monitor backlinks to competitors' sites. This is extremely helpful, especially if you notice a recent boost in their search rankings.
Understanding what's working for them in terms of link building can help you adapt your strategy to earn even more links to your website. If they earn a lot of links from a particular site, and you provide similar content, chances are that site will be willing to link you as well.
While it's important to develop your own link building strategy and determine what works best for your business, keeping an eye on competitors' backlinks can help you keep up with their strategy and adapt your own to get the most out of your link building efforts.
WebFX can help you earn more links
A link building strategy is essential to your website's success, and our link building experts at WebFX can help your business improve your site content and visibility in ways that translate into higher rankings and more online revenue.
We offer link building plans to fit various budgets, and we'll help you build strategic links to your site to boost your rankings in search results.
When you choose WebFX as your link building partner, you can be sure that all the links you earn are from valid, merit-based methods and targeted outreach. You can be confident that you're improving your authority online, and never have to worry about being penalized for spammy link building.
We're dedicated to the success of our clients, and we'll do everything in our power to earn you the best possible ROI for your link building campaigns.
Want to hear what our clients have to say? Check out our reviews and testimonials from more than 1000+ satisfied clients. They love the results we've earned for them, and we're confident you will, too.
Want to learn more?
If you'd like to learn more about how WebFX can earn more links to your website, boost your rankings, attract more leads, and earn more revenue, check out our custom link building plans for more information.
You can also contact us today to speak with a strategist and get a free quote. We're excited to hear from you and help you start earning more quality backlinks!
How Is Your Website's SEO?
Use our free tool to get your score calculated in under 60 seconds.