Are you an orthodontist looking to reach more patients? Internet marketing can help.
With orthodontic marketing, your practice can attract more patients by using channels like search, social, and more, and push back against competing orthodontists. Plus, you can accomplish these goals at an effective cost.
Keep reading to learn more about the value of orthodontist marketing, as well as orthodontic marketing strategies your center can use. If you're looking for a digital marketing agency to lead your efforts, contact WebFX online or call us at 888-601-5359!
Browse orthodontic marketing services
Located in Harrisburg, PA, WebFX is a full-service Internet marketing agency.
We offer a number of custom Internet marketing plans to help your practice attract more customers and earn more revenue.
Our orthodontic marketing services include:
When you choose WebFX as your orthodontic marketing partner, you can rest assured that our team of experts will work to earn you the best possible ROI. We have years of experience in the Internet marketing industry, having helped our clients earn more than 7.8 million leads in the past five years.
Our digital marketing campaigns impact the metrics that improve your bottom line.
See More Results

WebFX has driven the following results for clients:

$3 billion
In client revenue

7.8 million
Leads for our clients

5.2 million
Client phone calls
Hear What It's Like to Work With WebFX!

"WebFX has completely transformed my practice. With their support, I have expanded my practice significantly and grown exponentially. I could not have expanded to this degree, nor this quickly had it not been for the incredible efforts provided by WebFX and my team."
Healthcare
6 best orthodontic marketing strategies for attracting patients
Let's take a look at the top six orthodontic marketing strategies.
1. Help future patients find you with search engine optimization (SEO)
Search engine optimization (SEO) refers to a number of strategies designed to boost your rankings in search engine results for keywords and phrases related to your business.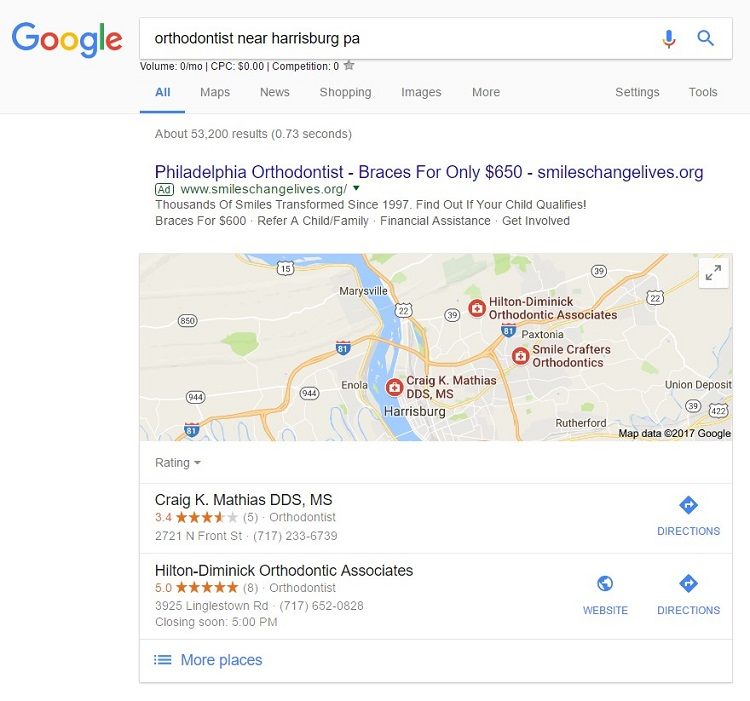 Successful SEO campaigns begin with keyword research.
You can use tools like KeywordsFX and Keyword Tool to help you uncover topics that potential patients are interested in learning about. Then, you can include those keywords in strategic places on your website like your title tags, meta descriptions, page headings, and site content.
It's also important to use local keywords and strategies to reach more people in your area. You can do this by including location-based keywords in your title tags and site content, and you can also register your practice on Google Maps and claim your business listings on Google Business Profile, Bing, and Yelp.
SEO positions you as a leader in your field and makes it easier for people to find your practice online and contact you to schedule an appointment.
2. Build patient relationships with content marketing
After you determine the keywords and phrases people search to find your practice, you can create original content on your site to address their questions.
You can also add a blog to your site to make it easy to add new content on a regular basis, and keep it updated with the latest medical advice, industry news, and helpful information.
In addition, you can add visual content like photos and videos to give potential patients an inside look at your office and providers.
Content marketing will position you as a leader in your field, and it will help people feel more confident in their decision to choose your practice.
3. Get more appointments with pay-per-click advertising (PPC)
Pay-per-click or PPC advertising is an advertising model that allows marketers to set a budget and bid on the keywords and phrases they want to trigger their ads in search results.
For example, you could bid for ad space in Google search results when users search "orthodontist in Harrisburg PA," or other keywords that indicate that they're searching for the services you offer.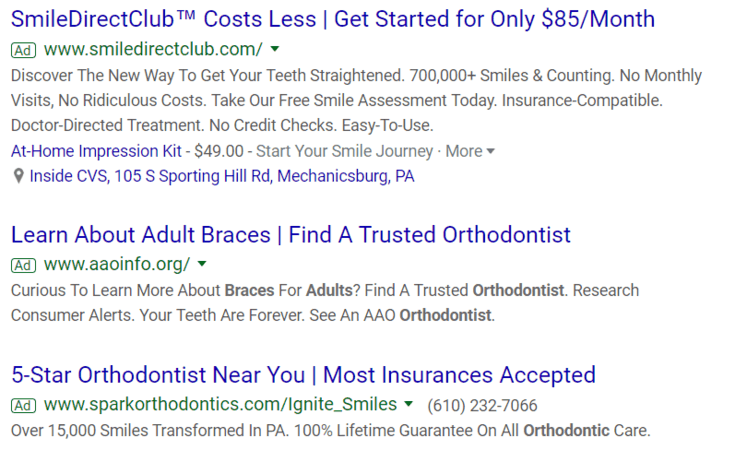 Then, if a searcher clicks and visits your site, you'll pay the amount that you bid to display. But if the user doesn't click through to your site, you won't pay a cent for the placement.
If you're looking to quickly increase website traffic and attract more patients, PPC advertising is a great option. Your campaigns can start sending qualified traffic to your orthodontist the minute you launch them.
You can also use remarketing to reach people who have visited your website and remind them that your practice is a great option for their orthodontic needs.
4. Launch an A+ website
Great web design is essential for your online marketing strategy. Your site is often the first impression you make on a potential patient, and it needs to show that you are professional and trustworthy.
At WebFX, our team of designers create custom websites that not only look great, but perform well in search results. Whether you're looking to refresh an old design or launch a new site from scratch, we can help you get the results you want.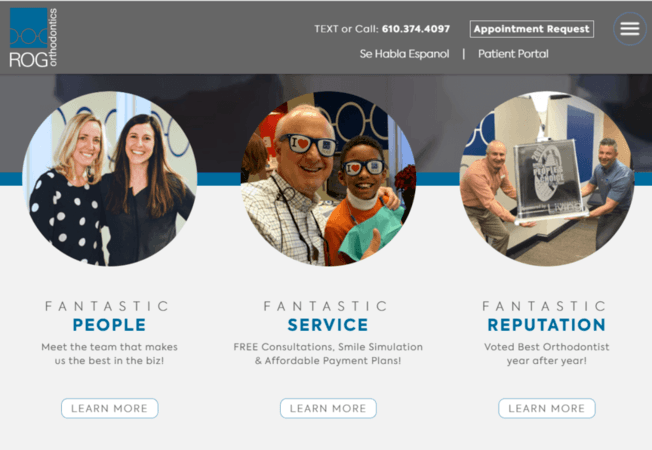 In addition, all of our sites are mobile responsive, so they will continue to look great and perform well across a host of devices including smartphones and tablets.
5. Interact and engage potential patients with social media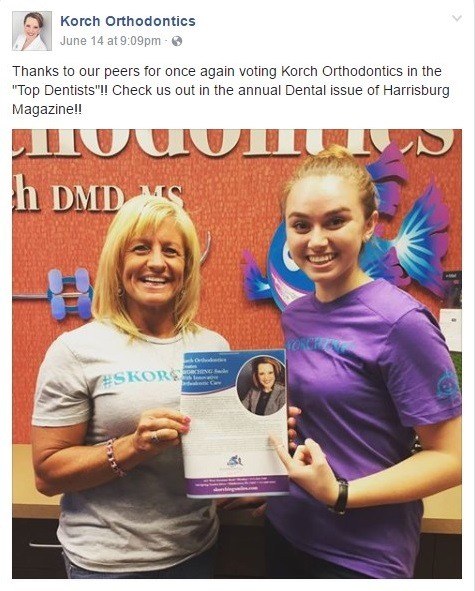 Maintaining a presence on social media sites like Facebook, Twitter, and LinkedIn is a great way to connect and develop relationships with patients and potential patients.
If people have questions about your practice, they can contact you via social media, and these platforms also give you the opportunity to provide people with the information they need to contact your practice and schedule an appointment.
You can also keep your social media sites updated with fun photos of your office and staff. This can put potential patients at ease and help them feel more comfortable choosing you for their orthodontic care.
6. Nurture patient relationships with email marketing
Email marketing is an extremely efficient and cost-effective way to keep in contact with patients and potential patients and provide them with important updates about your practice.
You can consider sending a weekly or monthly email update to highlight the latest happenings with your practice and the orthodontic field.
Using email marketing platforms, like EmailMarketingFX, you can easily create and design emails, manage subscribers, and access real-time data about your campaigns. This allows you to tweak your email campaigns to get the greatest possible engagement and ROI.
3 benefits of orthodontic marketing
Internet marketing can have a wide variety of benefits for businesses in any industry, but there are a few reasons it works particularly well for orthodontists.
1. Increased rankings in search results
One of the most important Internet marketing strategies today is search engine optimization, or SEO, which will help your website rank higher in search results for keywords and phrases related to your practice.
This is extremely important since websites that rank in the top three search results receive more than 50% of the clicks on the results page.
This means that more people will be able to find your site, learn more about your services, and ultimately contact you to schedule an appointment.
2. Heightened awareness
The higher your website appears in search results, the more people will come in contact with your practice's name. So if you're looking to boost awareness of your business, Internet marketing is a great option.
As more and more people find your site and the valuable content you publish, they will also be more likely to recommend your practice to friends and family members who need your services.
This digital version of word of mouth marketing is extremely beneficial, since people tend to trust recommendations from friends and family over a company's advertisements.
3. More qualified traffic
Internet marketing also ensures that the people who visit your website will be more interested in your services.
Strategies like search engine optimization (SEO) and pay-per-click advertising (PPC) allow you to reach customers when they are already actively searching for keywords related to orthodontists online. These searchers likely want to find an orthodontist in their area, and they will be more likely to want to learn more about your practice and ultimately contact you.
We're masters of our craft.
WebFX is a marketing and design industry leader.

Meta, Amazon, and Google Partner


4,000+
blog posts written


300+
Google Certified team members

Contact Us

Get started with orthodontist marketing
If you're ready to learn more about how Internet marketing for orthodontists can help you reach more patients, WebFX can help.
Check out our custom Internet marketing plans and pricing, and contact us today to speak with a strategist.
We're excited to work with you and help take your orthodontic marketing strategy and online presence to new heights!
Ready to try orthodontic marketing for yourself? Need the help of an expert? Call 888-601-5359 or contact us online today to find out how WebFX can help you attract more potential patients from the web.
Earn a 20% greater ROI with WebFX