Helping people care for their feet is your primary role as a podiatrist. You show people the best ways to care for their feet and help them heal when their feet are injured, but how do you attract patients who need podiatric services to your practice?
Lead generation is part of the answer. Get in touch with WebFX today to learn more from our experts.
37% of marketers say that generating high-quality leads was one of their biggest challenges.
We want to decrease that percentage.
WebFX can help you generate high-quality leads with a customized marketing strategy.
Learn More About Lead Generation Services
What is lead generation?
Lead generation is the process of generating interest in your podiatry practice using strategies like email marketing and online advertising. People may express interest in several ways, including:
Filling out an online contact form after reading online reviews.

Clicking on a call button after reading a blog post.

Scheduling an appointment online after clicking on your Google Ad.

Following your company profile on social media.
When a person takes the first steps toward engaging with your practice, they become a "lead." Leads are valuable because you know they're already interested in your services. If they express interest in your practice, it's typically because they or one of their loved ones require podiatric care and are looking for a doctor.
You can nurture these leads by providing them with more information and encouraging them to become patients.
How does lead generation for podiatry work?
Let's consider a scenario in which a person becomes a lead. Say a mother is looking for a podiatric practice to take her child, who she thinks has an ingrown toenail. First, she might turn to Google to search for a "foot doctor near me." If you have a robust lead generation strategy, your website will appear at the top of Google search results.
The mother will click on your homepage and begin browsing your site, looking for information on ingrown toenails. She comes across a blog post that is well-written, informational, professional-sounding, and welcoming. At the bottom of the post is a call-to-action (CTA) with a link to your practice's contact page.
Since she was impressed by your blog post, the child's mother will feel comfortable filling out a contact form for more information from your practice. Now she's a lead and your lead generation strategy was successful! You can follow up to find out what she's looking for and encourage her to make an appointment for her child to get treatment.
Why do I need lead generation for my podiatry practice?
Lead generation helps your practice grow by attracting more people to your practice. It also offers a more seamless buyer journey, outlining a clear and natural transition from when someone first notices they need care to when they make an appointment. Plus, it allows people to take the time they need on their buyer journey.
What to gather in lead generation forms
One of the ways people become leads is by filling out online contact forms. Some information you might want to gather in online contact forms include:
Name(s)

Email address

Home address

Phone number

Service they need
Gathering specific information about leads helps you figure out how best to help them, increasing the possibility that they'll become patients.
4 strategies for lead generation for podiatry
Consider these four strategies for building a lead generation strategy.
1. Optimize for search engine optimization
The example mentioned in the section above shows search engine optimization (SEO) at work. SEO optimization helps your site perform better in search engines like Google. To help your podiatry practice rank on Google, you can use SEO strategies like including long-tail keywords, claiming your Google Business profile, and earning authoritative links back to your site.
2. Write quality content on your blog
Content works hand in hand with SEO for lead generation — great content gives you something to rank for. Writing informative blog posts shows people that you're knowledgeable about podiatry and have the skills necessary to help them.
Here are a few blog title ideas you can use to build out content on your site:
What causes toenail pain?

How to take care of your feet

Alternatives for flip-flops during the summer

Protecting your feet during the winter

Should I have plantar warts removed?
You'll want to include actionable CTAs at the end of each blog post, whether it's guiding readers to make an appointment, sign up for an email newsletter, follow your accounts on social media, or contact your practice online.
3. Invest in paid advertising
You can purchase ads across search engines, websites, and social media networks to increase leads. One of the most popular paid advertising methods is pay-per-click (PPC) advertising. With PPC, you only pay when someone clicks on your ad, which makes it a cost-effective marketing strategy for lead generation.
For example, you may purchase PPC ads on Google, which help your website show up at the top of relevant search results with "Ad" in front of your URL. When someone clicks on your ad and learns more about your practice, they might feel encouraged to show their interest by making an appointment.
4. Engage with patients on social media
If you have social media experience, chances are you're already ahead of the competition. You can use social media to generate leads by:
Responding to questions, comments, and direct messages.

Posting informational content.

Adding links to your website or relevant pages on your website to posts.
Social media also helps you build awareness about your practice and solidify your professional and helpful tone. In a study by the American Academy of Family Physicians (AAFP), 65% of millennials and 43% of all adults think it's appropriate to contact their doctor via social media. When you put your practice on social media and engage with potential patients, you can encourage more leads.
Meet WebFX:
Your world-class, tech-enabled marketing agency with over 1.6 million hours of combined expertise.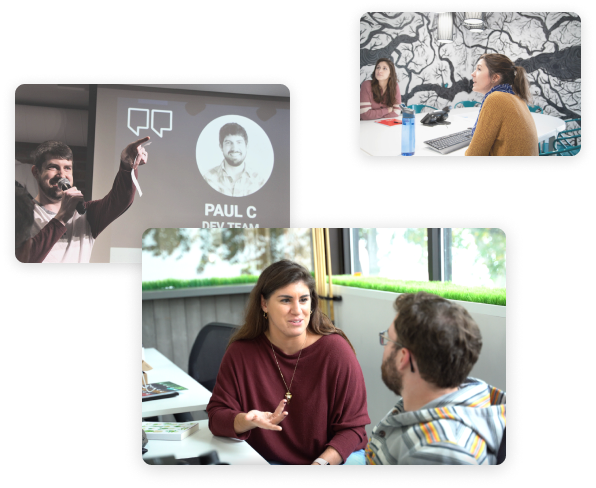 WebFX is a lead generation expert that can help your podiatry practice
Lead generation can create growth for your podiatry practice, but knowing where to start is tricky. Thankfully, a lead generation expert like WebFX can help!
We've generated over 7.8 million leads for our clients in the last five years, and we can help your practice attract qualified leads who are likely to become patients. For more information on our lead generation services, contact us online today!
Increase your leads, sales, and revenue with digital marketing