If your practice isn't investing in SEO, you're falling behind your competition in the search results. But how do you get started with this strategy?
Check out these five tips for getting started with podiatry SEO!
Want to see where your SEO currently stands? Try using our free SEO checker!
If you want to jump straight into launching a campaign, contact us online or call us today to learn more about how our top-rated SEO company can help you craft a custom SEO strategy!
1. Find relevant terms to help your site rank in search results
Finding the right keywords to target on your website is one of the most important aspects of podiatry SEO. That's because users search for your practice with key phrases, so you need to integrate those terms into your site if you want to rank.
You can find relevant terms for your site by conducting keyword research.
You can use a keyword research tool like KeywordsFX to help you find the right terms for your site. For example, if you plug in "podiatrist in Los Angeles," you get numerous keyword suggestions.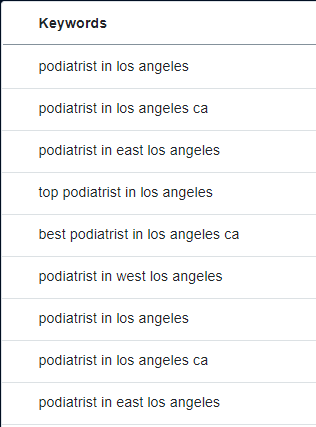 When you conduct keyword research, focus on long-tail keywords. These keywords contain three or more words and drive more relevant traffic to your site. The user search intent is more specific for these keywords, so you know exactly what the user hopes to find.
Once you have your keywords selected, you'll integrate them into your site. When you incorporate keywords into your site, don't overdo it, as it leads to keyword stuffing. Keyword stuffing negatively impacts your ranking in search results.
When you integrate your target keywords into your content, you'll then be able to rank for those keywords in search engines. This is crucial since most internet experiences begin with a search engine.
Not to mention, if you don't show up in search results, your competition will – and they'll likely steal your customers.
Launching an SEO campaign is all about appealing to your patients where they're looking – and targeting key terms can help you do just that.

Hear What It's Like to Work With WebFX!

"WebFX has completely transformed my practice. With their support, I have expanded my practice significantly and grown exponentially. I could not have expanded to this degree, nor this quickly had it not been for the incredible efforts provided by WebFX and my team."
Healthcare
2. Claim your Google Business Profile to drive local leads
When you do SEO for podiatry, you can't forget about building your local presence.
Many patients are local to your area, so they'll be looking for a practice like yours through local Google results. If you want your podiatry practice to appear in front of potential local patients, claim your Google Business Profile listing.
Your Google Business Profile listing appears at the top of search results in a box known as the local SEO 3-pack.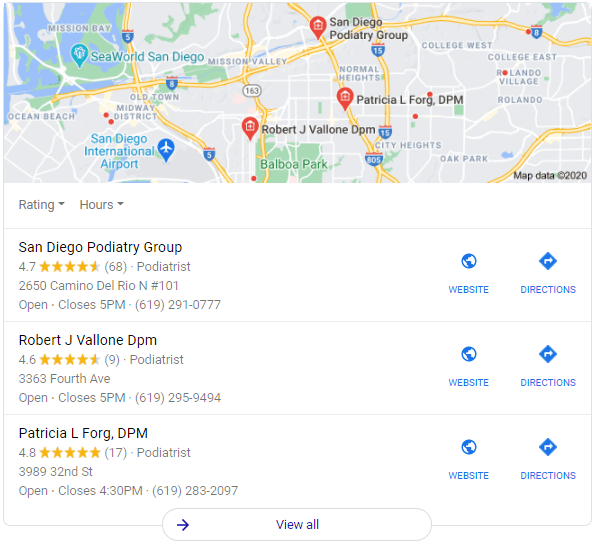 This box appears at the top of search results when people conduct searches like "Podiatrist in Los Angeles" or "podiatrist near me."
So, to appear in this local SEO 3-pack, start by optimizing your listing. First, you'll verify your practice's name, address, and phone number (NAP) information is correct. After confirming your NAP, you'll want to input information like:
Hours of operation
Additional contact information
Photos of your business
Link to make appointments (if applicable)
By filling out your listing completely, you'll have a better chance of appearing in local searches and driving these local patients to your practice.
Claiming your GBP listing is free and the benefits are incredible.
3. Create content to establish yourself as an authority in your field
Next on our list of tips for podiatry SEO is to create content.
Content and SEO work together seamlessly to help you rank in search results. Content gives you something to rank in search, while SEO makes your content optimized to rank in search results.
You have a vast array of knowledge about podiatry, and people actively seek that knowledge. By sharing this information on the web, you help show people that you're knowledgeable about podiatry, helping potential patients build trust with your practice.
That trust can manifest into someone ultimately choosing your practice.
To launch a content marketing strategy, you need ideas. You can generate content ideas by taking common questions your practice gets and addressing them in content. Some common questions might include:
What causes foot pain?
How can I protect my feet?
Why are flip-flops bad for my feet?
How can I prevent cracked heels?
You can create content, like a blog post or video, to help provide your audience with those answers.
When you create content, you'll want to create it frequently.
Frequent content creation enables you to drive a steady flow of traffic to your site. To help you stay on top of sharing helpful information, you can use a content calendar to plan out when you'll publish your content.
Don't have the time to dedicate to creating content? WebFX has a skilled and diverse team of copywriters that can help you craft compelling content. Give us a call at 888-601-5359 to learn more!
4. Ensure your site loads quickly to help users find information fast
When you run a race, you want to run the fastest. Your site's speed is no different. If your site loads too slow, you'll lose the ranking race to competitors with faster sites.
Improving page load time is a critical component of SEO for podiatry practices because it impacts how users engage on your site. Over 53% of users will abandon a page on your site if it takes longer than three seconds to load.
To improve your site's load time, use a tool like Google PageSpeed Insights to help you analyze your site's current load time. Google will show your site's current load time, as well as provide suggestions for improvement.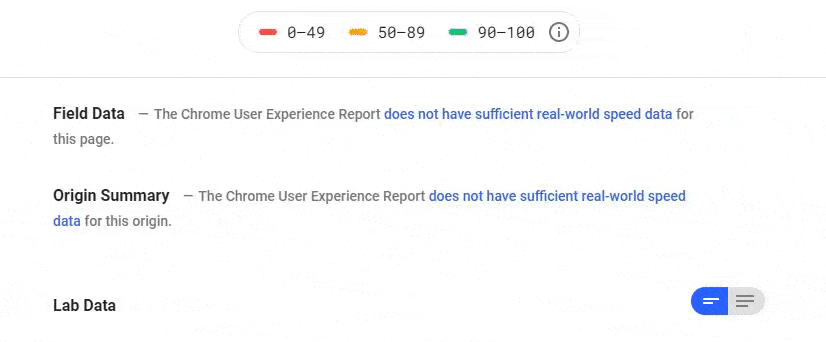 When you use this tool, it can be overwhelming to figure out how to improve your site's backend. You can always invest in page speed services to get help with improving your site's load time.
5. Create a mobile-friendly site for a better browsing experience
Did you know that 70% of internet time is spent on mobile? That's why mobile-friendliness is a critical component of podiatry SEO.
If your site isn't mobile-friendly, users will bounce from your site — 52% of people are less likely to engage with your business if you offer a bad mobile experience. Not to mention, since Google operates on a mobile-first index, your site won't rank well in search results either.
To make your site mobile-friendly, use responsive design. Responsive design ensures your site looks good on all devices. Your site will adjust and scale to fit the device's screen and provide the best user experience on your site.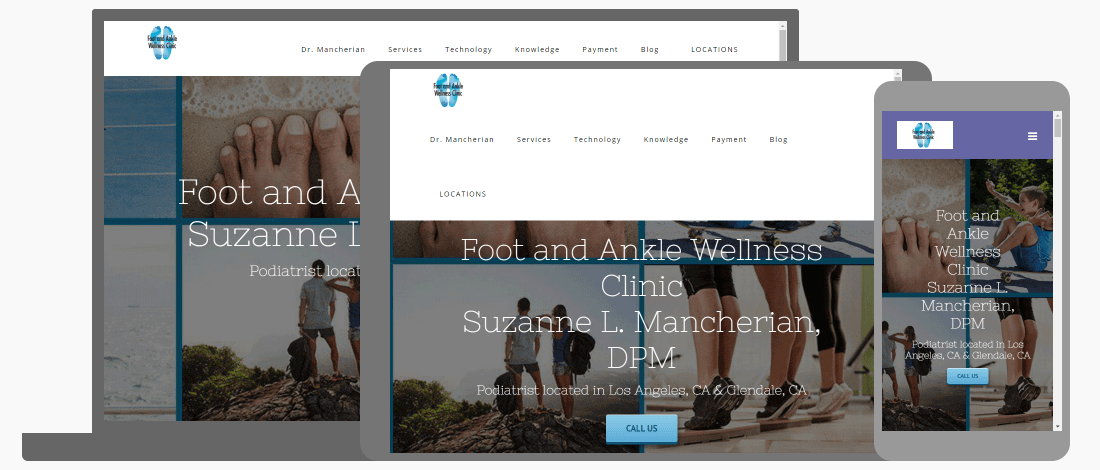 When you have a mobile-friendly site, people are more likely to remain on it. Longer dwell times send a positive signal to Google, which can help boost your rankings and drive more potential patients to your website.
Good agencies have more than 50 testimonials.
Great agencies have more than 100 testimonials.
WebFX has over 1000+ glowing client testimonials.
See What Makes Us Stand out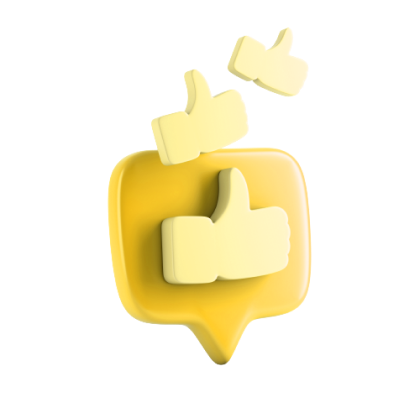 Start off on the right foot with an SEO plan from WebFX
SEO is an intricate strategy that can quickly become overwhelming if you don't have experience with it. That's where an SEO expert, like WebFX, can help. We have a team of over 500 marketing experts that can help you craft a custom SEO plan that works for your podiatry practice.
We know how to craft SEO campaigns that drive results. In the past five years alone, we've driven over $3 billion in sales and over 7.8 million leads for our clients. You can count on us to help you create a strategy that enables your practice to grow online.
Want to get started? Contact us online or call us today at 888-601-5359 to speak with a strategist about our SEO services!
Earn a 20% greater ROI with WebFX