Search for carpet cleaning marketing ideas and it's easy to find dozens of articles with dozens of ideas. Which suggestions offer the most value, however, when it comes to your time and money? That's what this article answers by highlighting the best carpet cleaning marketing strategies.
Keep reading to learn how to market a carpet cleaning business with these proven digital marketing strategies, as well as how to get the most value (and return on investment) from carpet cleaning marketing.
If you need help getting started with these carpet cleaning marketing ideas, contact us online or call us at 888-601-5359!
Our digital marketing campaigns impact the metrics that improve your bottom line.
See More Results

WebFX has driven the following results for clients:

$3 billion
In client revenue

7.8 million
Leads for our clients

5.2 million
Client phone calls
1. Boost website traffic with search engine optimization (SEO)
Your website is the heart of your carpet cleaning digital marketing plan. Search engine optimization (SEO) can help you get your website in front of more people. SEO is the process of boosting your website's ranking in the search results to reach valuable leads.
This carpet cleaning marketing idea is great for helping boost traffic to your website. You get your page in front of more interested leads that check out your carpet cleaning business.
To appear in the right search results, you must select the appropriate keywords. Conducting keyword research will help you find valuable keywords for your page.
Keyword selection is crucial because it determines where your site appears in the search results. Choosing keywords that are relevant to your carpet cleaning business will help you appear in front of relevant leads.
As you conduct keyword research for your carpet cleaning marketing plan, focus on long-tail keywords. These are keywords that contain three or more words. An example is "carpet cleaners in Los Angeles, CA."
Long-tail keywords will produce better results for your campaign because they'll attract more qualified leads. You'll reach leads that are specifically looking for a carpet cleaner in your area.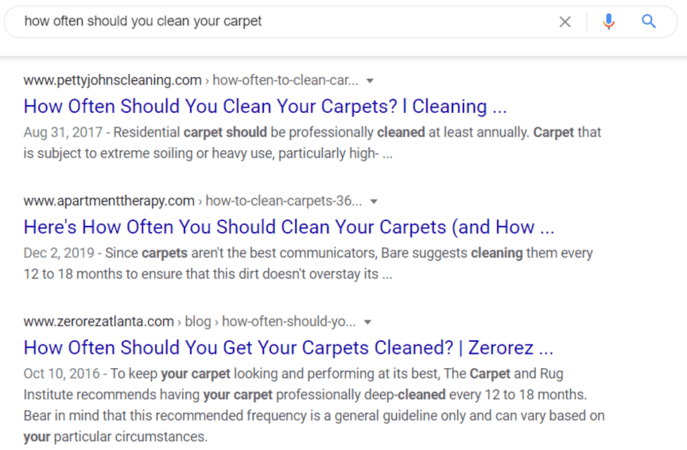 Aside from keyword research, there are other ways to optimize your site to help it perform better in the search results. One important aspect is optimizing page speed.
When users visit your site, they don't want to wait for it to load. It's crucial that you have a site that loads quickly. If it takes too long, leads will leave your site and choose a competitor's page instead.
To improve your site's speed, you can use Google PageSpeed Insights or page speed services from a digital marketing company.
Factors like earning backlinks and cleaning up code also play an important role in your SEO ranking. If you want to see the best results with your campaign, you must optimize your site to help it perform better.
SEO is a great method to add to any digital marketing campaign, including commercial carpet cleaning marketing. It will help your business boost your website's traffic and reach valuable leads.

Hear What It's Like to Work With WebFX!

"WebFX has helped our company understand SEO and how it works. We have been impressed by the thoughtfulness of the team members and their communication is above reproach. Also, Basecamp is neat to see how our project is progressing. Really this company is about educating through the process which we appreciate."
Cleaning Service
2. Obtain valuable leads through pay-per-click (PPC) advertising
If you want to attract leads that are ready to convert, pay-per-click (PPC) advertising is a great carpet cleaning marketing strategy to use. These paid ads appear at the top of the search results and attract people who are ready to find the right carpet cleaner.
Like SEO, PPC ads operate on keywords. You'll want to choose long-tail keywords because they drive better results. Long-tail keywords also have a lower cost per click (CPC) because there is less competition, which means you can get more clicks on your ad.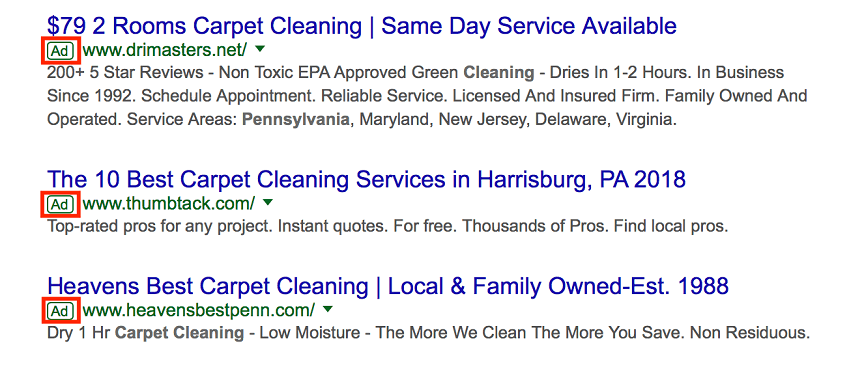 Once you have your keywords selected, you'll bid for your ad's placement. This is done through Google Ads. You'll set your maximum bid, which is the amount you're willing to pay each time someone clicks on your ad.
Your maximum bid and quality score will determine your ad's placement. Your quality score is based on your ad's relevancy to the keyword and click-through rate. A higher quality score will win a top spot over a high maximum bid.
Once you receive your placement, you will launch your campaign. Google Ads makes it easy to track your campaign's success. The minute you launch your campaign, you can start tracking your ad's performance.
This is just one of the many benefits of using PPC advertising. It's also very budget-friendly and enables you to set an amount that works best for your budget.
If you're looking for a method that helps you reach qualified leads, PPC is the answer. It's a great way to help your business grow and earn conversions.
Call us today at 888-601-5359 to see how our team of experts can help your business run a successful PPC campaign!
3. Use social media marketing to connect with your audience
Imagine being able to connect with your audience and send them tailored content. With social media marketing, this is possible. Social media marketing enables you to have a direct connection with your audience and provide them with valuable content.
There are numerous social media platforms you can use as a part of your carpet cleaning marketing plan. This includes Facebook, Twitter, Instagram, Pinterest, and LinkedIn.
You'll want to choose social media platforms your audience frequents the most, so you can reach them best.
Once you have your platforms selected, you can start posting valuable content for your audience. The type of content you can post depends on the platform.
You can post photos, videos, links to content, and polls on Facebook and Twitter. Platforms like Instagram focus solely on sharing photos and videos. Regardless of which platform you use, you'll want to keep your content interesting and engaging for your audience.
You want your audience to interact with your content. Encourage them to comment on, like, and share it.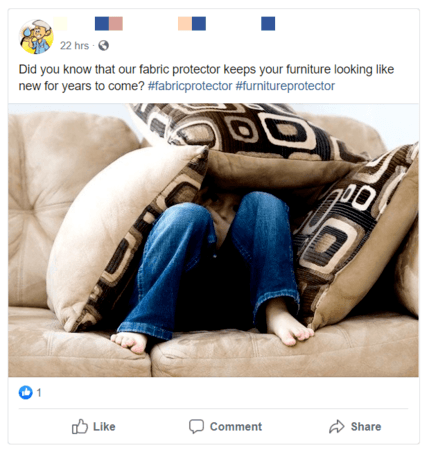 Social media is a great opportunity for your business to connect with valuable leads. If your audience has questions or concerns, you can answer them through social media. It's beneficial for keeping your audience informed.
Many people don't have the time to call your carpet cleaning business and ask questions. With social media platforms, they can directly message you or comment on one of your posts with a question. It makes it easy and convenient for them to contact your business.
With this carpet cleaning online marketing strategy, you know who your leads are. When you know who they are, you can better market your business to them. Your audience gets better content, and you get more leads who convert.
Good agencies have more than 50 testimonials.
Great agencies have more than 100 testimonials.
WebFX has over 1000+ glowing client testimonials.
See What Makes Us Stand out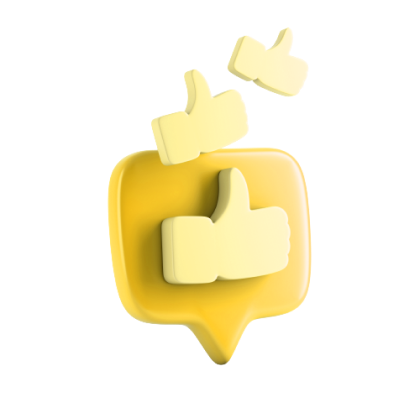 Get more business with professional carpet cleaning marketing
When you invest in a digital marketing plan, you create the opportunity for your carpet cleaning business to reach valuable leads. It provides you with the opportunity to earn more conversions and grow your business.
At WebFX, we have more than 25 years of experience creating digital marketing plans that work. Our team of 500+ experts will bring their knowledge and expertise to your campaign and create a digital marketing strategy that works for your carpet cleaning business.
Our clients love the work we do for them. In fact, we have over 1020 client testimonials that attest to the great work we do. Check them out to see what it's like to partner with a digital marketing expert like WebFX!
If you're ready to reach valuable leads and earn conversions with Internet marketing for carpet cleaning businesses, contact us online or call us today at 888-601-5359 to speak with a strategist about our digital marketing services.
We look forward to hearing from you!
Earn a 20% greater ROI with WebFX