Social media has become one of the most valuable resources for homeowners and property managers seeking information on chimney and masonry maintenance and repair. It has revolutionized how people connect and share knowledge, making it easier for homeowners to find reliable contractors and learn about best practices for chimney and masonry care.
That's why it is essential to invest in social media for chimney and masonry to build a strong presence on platforms like Facebook, Instagram, and LinkedIn to reach potential customers and establish your company's expertise. You can also use social media for customer engagement and feedback, allowing you to improve your services based on customer needs and preferences.
Need help figuring out where to start? Read on to learn the basics of social media for chimney and masonry, the best channels for chimney and masonry companies, and social media practices for chimney and masonry.
Here's a quick rundown of what we'll discuss:
Growing your social presence with WebFX is a walk in the park.
"WebFX allows growing your social media platforms to be stress-free! They are knowledgeable and adapt to your company needs!"
Learn More About Our Social Media Services

What is social media for chimney and masonry?
Social media for chimney and masonry involves connecting with clients, showcasing completed projects, and promoting chimney and masonry services through various social networking channels. It's an excellent platform for sharing educational content on chimney and masonry maintenance, answering customer inquiries, and receiving client feedback.
How social media works for the chimney and masonry industry
Social media can be a powerful tool for the chimney and masonry industry, allowing companies to connect with potential customers and build their brand. By sharing photos and videos of completed projects, responding to comments and direct messages, and providing helpful tips and advice, you can establish your company as a leader in the field and attract new clients.
Let's say your business specializes in fireplace installation and maintenance. In that case, you can showcase your expertise by creating informative posts about the benefits of regular chimney cleaning or the latest fireplace design trends. By consistently providing valuable content, you can increase your visibility and credibility on social media, ultimately leading to more business opportunities.
Social media channels for chimney and masonry offer targeted advertising options that can help you reach your ideal audience and increase the effectiveness of your marketing efforts. Utilizing these tools ensures that the right people see your content and maximizes your return on investment (ROI).
Additionally, social media analytics can provide valuable insights into your audience's behavior and preferences, allowing you to tailor your content marketing strategies accordingly. By analyzing engagement metrics such as likes, comments, and shares, you can determine what content resonates most with your target audience and adjust your approach to achieve better results.
Time to Level Up Your Sales
Our long list of services helps you grow every aspect of your business with marketing strategies that are proven to increase bottom-line metrics like revenue and conversions.
In the past 5 years, we've managed more than 12.9 MILLION transactions across our client base.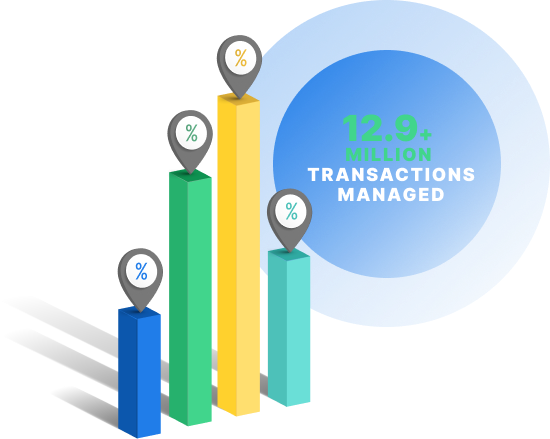 The best social media channels for chimney and masonry
The best social media channels for chimney and masonry businesses allow you to showcase work visually, engage with customers through comments and direct messages, and run targeted advertising campaigns. These include:
1. Facebook
Facebook is among the best social media channels for chimney and masonry businesses. You can use Facebook strategies to create a strong brand presence, build relationships with customers, and increase sales by posting regular updates about your services, responding promptly to customer inquiries and reviews, and using Facebook's advertising options to target specific demographics and geographic locations.
For example, you can run a Facebook ad campaign targeting homeowners in your service area who have recently searched for chimney cleaning services and offer them a special promotion or discount to encourage them to choose your business over competitors.
Facebook's business tools, such as Business Suite and Ads Manager, provide valuable data to track performance and optimize marketing strategies. Insights allow you to analyze your audience demographics, engagement rates, and post-performance, while Ads Manager offers detailed metrics on ad campaigns, such as reach, impressions, and conversions.
These tools help you make data-driven decisions to improve your company's social media presence and increase its return on investment.
You can also utilize Facebook Live to give customers a behind-the-scenes look at your business and showcase your expertise through live demonstrations and Q&A sessions. This approach can help build trust with potential clients and establish your business as a credible source for chimney and masonry services.
Moreover, Facebook allows you to join relevant chimney and masonry groups and communities to share your company's expertise, answer questions, and establish it as an industry leader.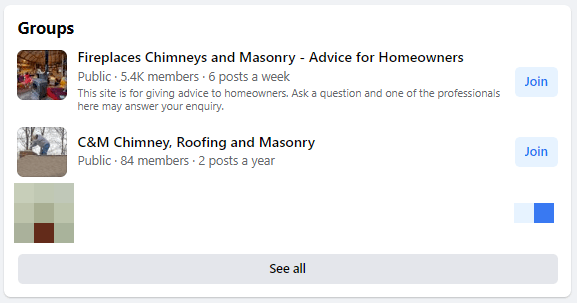 This practice will further boost your company's credibility and visibility on the platform.
2. Instagram
With over one billion active users, Instagram offers a vast audience for chimney and masonry businesses to showcase their work and attract potential customers through visually appealing content. An effective way for your company to use Instagram is by showcasing previous projects, before-and-after transformations, and testimonials from satisfied customers.
For example, you can post high-quality photos and videos of your team working on a masonry restoration project, along with captions highlighting their challenges and solutions. You can also use Instagram Stories to give followers a behind-the-scenes look at your work process and share tips for maintaining chimneys and masonry structures.
You can also collaborate with other home improvement or renovation businesses to cross-promote each other's services and increase your reach. For instance, you can partner with a roofing company and create joint Instagram posts that showcase how your services complement each other, such as repairing a chimney and fixing a leaky roof. This approach can attract new followers interested in home improvement projects and expand your customer base.
You can use relevant hashtags, such as #chimneyrepair or #masonryrestoration, to increase the visibility of your posts and attract potential customers searching for those services. You can also use geotags such as "#NYChomeimprovement" or #Bostoncontractor to target a specific location and reach out to local customers who may need your services. Or, a quick hashtag like "#chimney" can connect you with people looking for related content.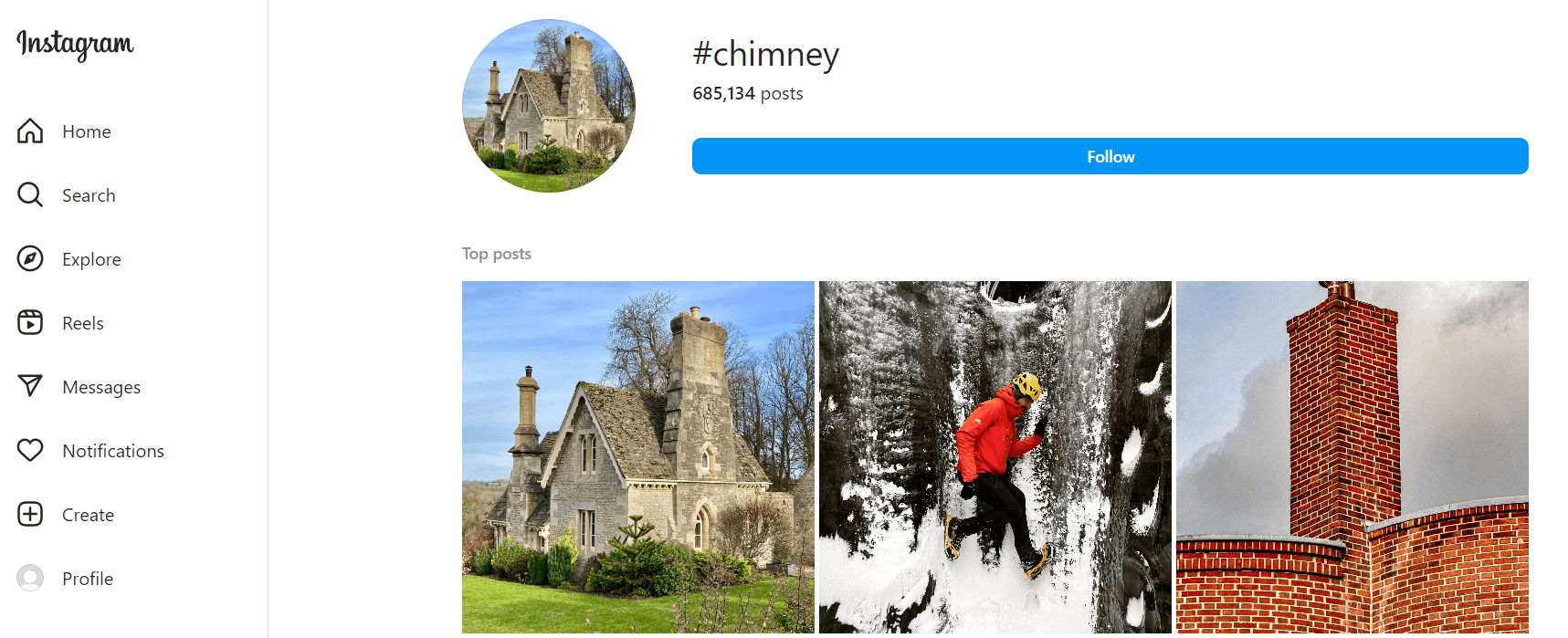 Additionally, you can run Instagram ads targeting homeowners in your local area to promote your business further. These ads can showcase your portfolio of past projects and highlight your unique selling points (USPs), such as your historic restoration or eco-friendly materials expertise. Combining these strategies allows you to create a comprehensive social media marketing plan that reaches and engages your target audience.
3. Pinterest
You can use Pinterest to showcase previous work, share DIY tips for homeowners, and create boards that feature different types of chimneys and masonry designs.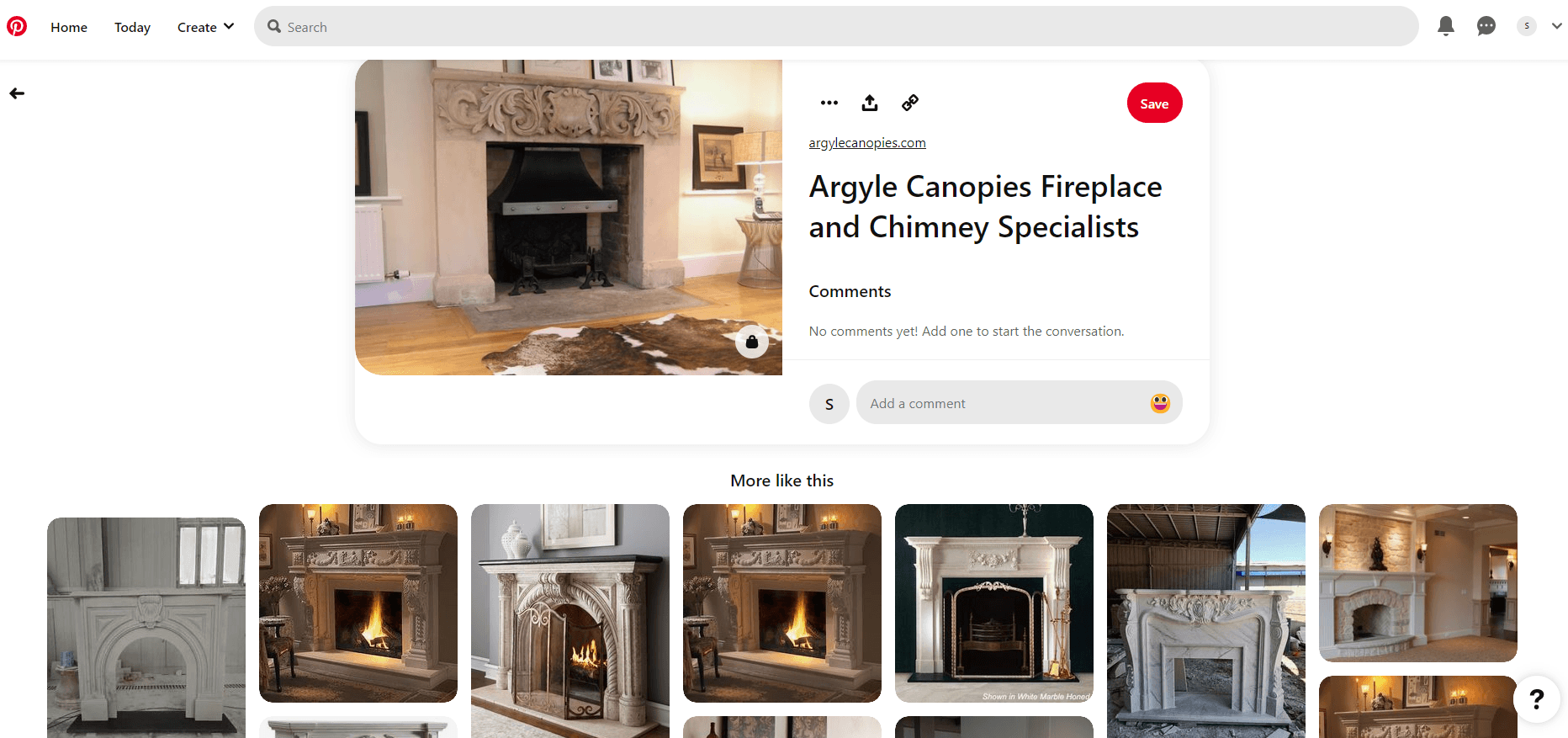 For example, you can create a board highlighting the benefits of regular chimney maintenance and cleaning or showcasing unique and creative masonry designs for outdoor fireplaces or retaining walls.
Your company can collaborate with home decor and renovation bloggers to expand its reach and engage with a broader audience on the platform. By collaborating with bloggers, you can gain insights into current trends and popular styles in the industry, which you can incorporate into your work.
You can also use Pinterest analytics to track performance and optimize your content strategy accordingly. This approach will help you understand which boards and pins perform well and which need improvement. By analyzing this data, you can tailor your content better to meet the interests and needs of your audience, ultimately leading to increased engagement and conversions.
4. LinkedIn
You can use LinkedIn to your advantage by creating a company page, sharing your expertise through articles and posts, and networking with potential clients and industry professionals.
LinkedIn is also an excellent tool for building backlinks to your website, which can boost your search engine optimization (SEO) and drive more website traffic. By showcasing your work and expertise on LinkedIn, you can establish your chimney and masonry company as a trusted authority in the industry and attract more business.
You can use LinkedIn to find industry events where you can network with other professionals and learn about the latest trends and innovations in your field. For instance, LinkedIn's "Events" feature allows you to search for relevant conferences and workshops and connect with attendees and speakers beforehand to maximize your networking opportunities.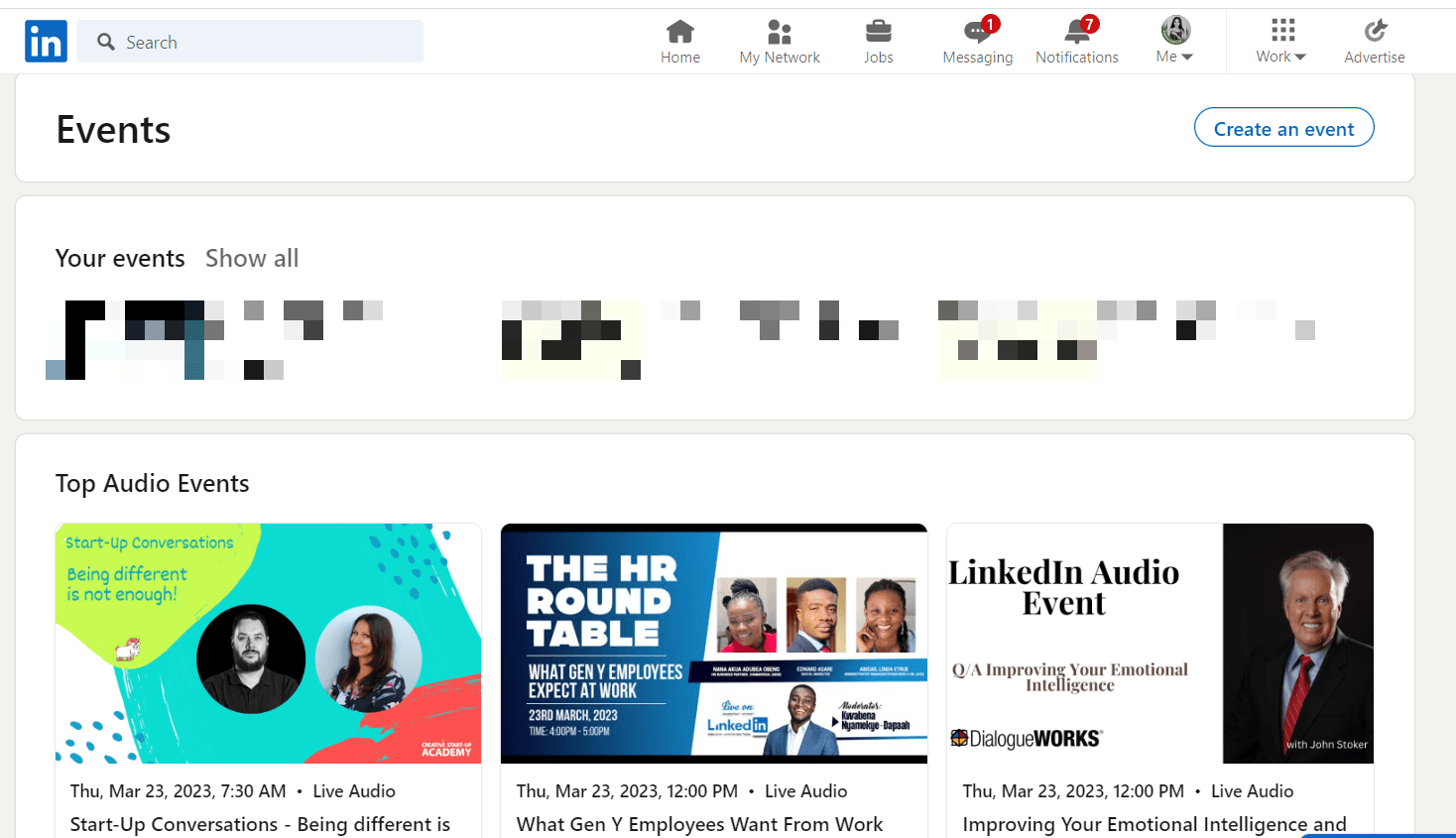 Additionally, joining LinkedIn groups and following hashtags related to your industry can help you stay up-to-date on news and discussions and connect with potential clients or collaborators.

LinkedIn groups can provide a platform to share your insights and knowledge, further establishing you as a thought leader in your field. You can build your reputation and expand your professional network by engaging in discussions and offering valuable contributions.
Best social media practices for chimney and masonry companies
1. Regularly post high-quality images and videos of your work
One of the best social media practices for chimney and masonry companies is to post high-quality images and videos of your work. This practice can help potential clients your work's quality and encourage them to choose your company over competitors.
To create high-quality images and videos for social media, you can invest in high-resolution cameras and equipment and showcase your work in different lighting conditions and angles to highlight the details of your craftsmanship. You can also use editing software to enhance the visual appeal of their content.
Let's say you specialize in chimney and furnace flue relining. In that case, you can showcase your work by taking before and after photos of the chimneys and furnace flues you have relined, highlighting the improvements to the structure's safety and efficiency.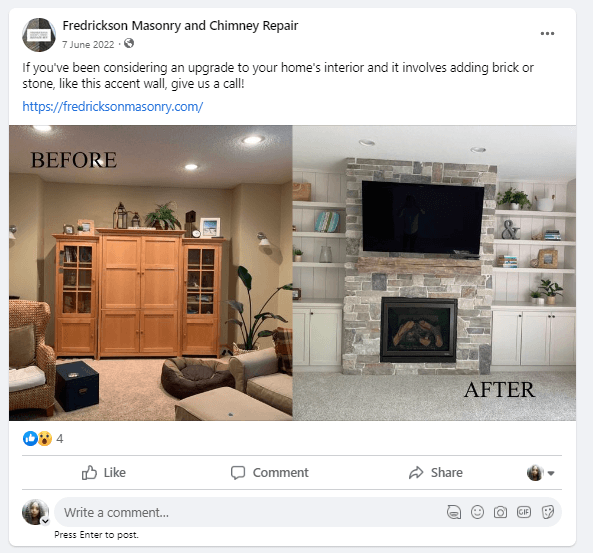 Additionally, you can create short videos explaining the relining process to educate your audience on the importance of maintaining their chimneys and furnace flues.
You can also post videos of testimonials from satisfied customers who have experienced the benefits of your services — such as improved heating efficiency and a reduced risk of chimney fires. These videos can help you build trust and credibility with potential customers.
2. Respond to comments and messages
Responding to comments and messages shows that your company values its customers and helps to build trust and credibility. By promptly addressing any concerns or questions, you can demonstrate your expertise and commitment to customer satisfaction. This can lead to positive reviews and recommendations, boosting the company's reputation and attracting new clients.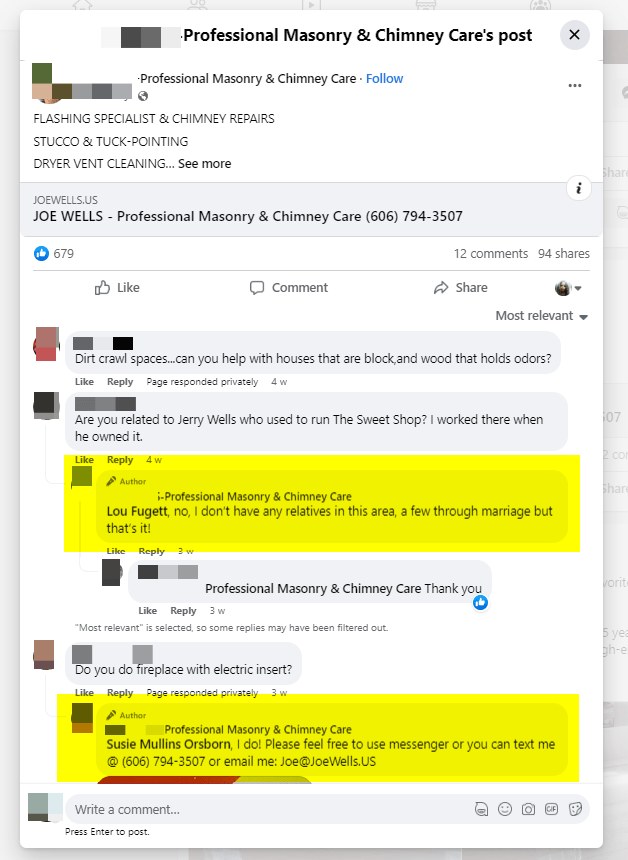 Additionally, responding promptly to negative feedback can help mitigate potential damage to the company's reputation. If a customer leaves a negative review about a product on social media, responding quickly and offering a solution can resolve the issue and show other potential customers that the company is committed to providing excellent customer service.
Addressing negative feedback can provide valuable insights into areas where the company can improve and make necessary changes to meet customer needs better. This can lead to customer loyalty and retention in the long run.
Listening to customer feedback, you can proactively identify and address common pain points, ultimately improving the overall customer experience. This can also lead to positive word-of-mouth marketing and increased brand advocacy from satisfied customers.
3. Offer helpful tips and advice
By sharing valuable information related to chimneys and masonry, you can establish your company as an expert in the field and build trust with your audience. This approach can increase engagement, brand awareness, and business opportunities.
For example, you could social media series that offers tips on maintaining a chimney, troubleshoots common issues, or even provide information on the history of masonry. By consistently providing this content, you can position your company as a go-to resource for everything related to chimneys and masonry.

You can also leverage user-generated content by encouraging customers to share their experiences and photos of their chimneys or masonry work. Doing so adds authenticity to the company's social media presence and helps create a sense of community among the audience.
By engaging with customers through user-generated content, you can also gain valuable insights into their needs and preferences, which can inform future marketing and service development strategies, ultimately increasing customer loyalty and brand awareness.
4. Run social media ads
Social media ads can help these companies reach a wider audience and target specific demographics, increasing brand awareness and potentially more business opportunities. You need to have a clear strategy and budget in place for your social media advertising efforts.
For example, you can create visually appealing ads that showcase your chimney and masonry services and promotions and use targeting options such as location, interests, and behaviors to reach your ideal customers. Additionally, you can track your ads' performance and adjust your strategy accordingly to maximize your return on ad spend (ROAS).
You can also optimize your campaigns for better results. Doing so allows you to maximize your ROAS and ensure that your advertising efforts effectively reach your target audience.
5. Monitor social media analytics
Analyzing social media metrics lets you gain insights into your audience's preferences and tailor their content accordingly. Monitoring analytics can help identify areas for improvement in your social media strategy.
For example, you may notice that their audience is more engaged with video content than images or text, prompting you to shift your focus towards creating more video content.
Moreover, tracking social media analytics can also help you measure your campaigns' effectiveness and determine their efforts' ROI. You can use this information to make informed decisions about future social media marketing strategies and allocate resources more effectively.
By analyzing your social media posts' engagement rates and reach, you can also identify the best times to post content and which platforms are most effective for reaching your target audience. This practice can help you optimize your social media presence and maximize your impact on potential clients.
74% of people use social media when making a purchasing decision.
Make their decision easy with a stellar social media presence. See how your brand can level up by requesting a no-obligation proposal today.
One of our experts will be in touch within 24 hours!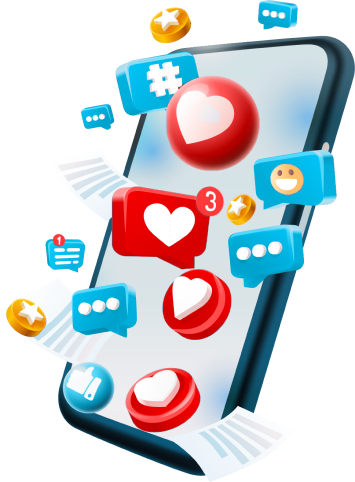 Do you need tailored social media services for chimney and masonry?
At WebFX, we understand that chimney and masonry companies have unique challenges when it comes to social media marketing, and we are committed to providing personalized strategies that will help you reach your goals.
We offer customized social media solutions that cater to the special needs of chimney and masonry companies. With our tailored approach, you can expect increased brand awareness, higher engagement rates, and more leads and sales for your business.
Our team of social media experts can help you create engaging content, run targeted ads, and monitor your social media performance to ensure that you get the best results.
We also stay up-to-date with the latest social media trends and algorithms to ensure your company stays ahead of the competition. Trust us to handle your social media marketing so that you can focus on what you do best — providing quality chimney and masonry services to your customers.
Ready to get started? Contact us online or call 888-601-5359 to speak with a strategist about how we can help elevate your social media presence.
Increase your leads, sales, and revenue with digital marketing
Find Us Driving Revenue Nationwide