The average user spends 28% of their Internet time on social media, but which types of social media do they use? Social media platforms create an excellent opportunity for you to connect with interested leads, learn more about your audience, and generate sales. There are several different forms of social media available, so you must understand all your options to choose the best one.
In this post, we'll review five types of social media and provide examples, too. The types of social media we'll cover in this post are:
If you don't have the time to develop a strategy for these networks, contact us online or call us today at 888-601-5359 to speak with a strategist about our custom social media marketing campaigns.
Bonus Read: How to Do a Social Media Analysis to Improve Social Success
What are the different types of social media?
Watch our video and keep reading for a breakdown of the different types of social media you can use for your business.
1. Social networks
One of the most well-known social media types is social networks. These networks allow users to connect with people and brands online. Social networks can help you:
Build brand awareness
Generate new leads
Build relationships with customers
Provide customer service
And more
Many people call social networks "relationship platforms" because they allow people to connect and build a relationship. You can share information, photos, videos, and more through these sites. These platforms focus on sharing knowledge and connecting with people.
Let's take a look at three of the most popular types of social networks:
Facebook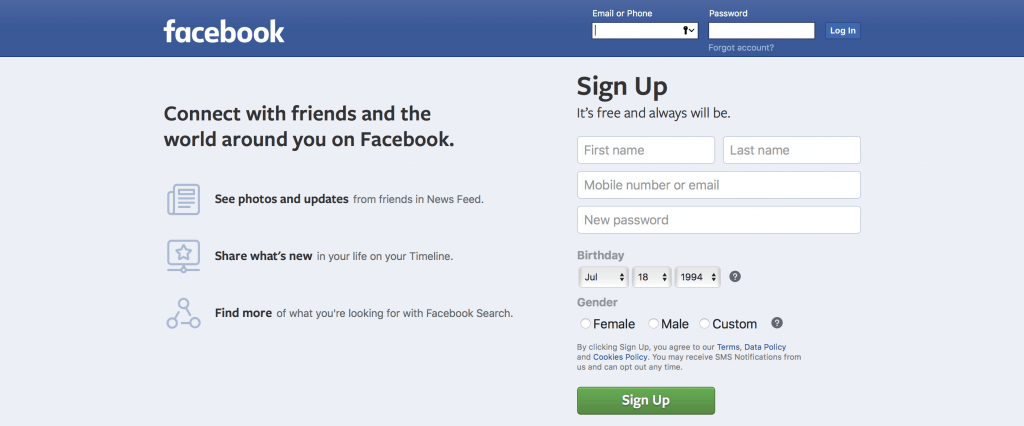 With over 2.3 billion monthly active users, Facebook is one of the most popular social networks available to your business. Many people use these platforms to connect with family, friends, and brands. For your company, Facebook offers an excellent opportunity to connect with your audience.
You can share:
Status updates
Photos
Videos
Links to content
Polls
Facebook also offers paid advertisements that allow you to attract new followers to help grow your business.
Twitter

Twitter has over 326 million monthly active users. This platform is used similarly to Facebook, with users posting photos, videos, status updates, links, polls, and more. The most significant distinction between these social networks is the size of the message.
Twitter's unique attribute is that you only have 280 characters for each of your messages. This limit means that you need to get to the point with what you're trying to say. Twitter also offers paid advertisements for your business.
You can run a multitude of different ads to gain new followers and earn conversions for your business.
LinkedIn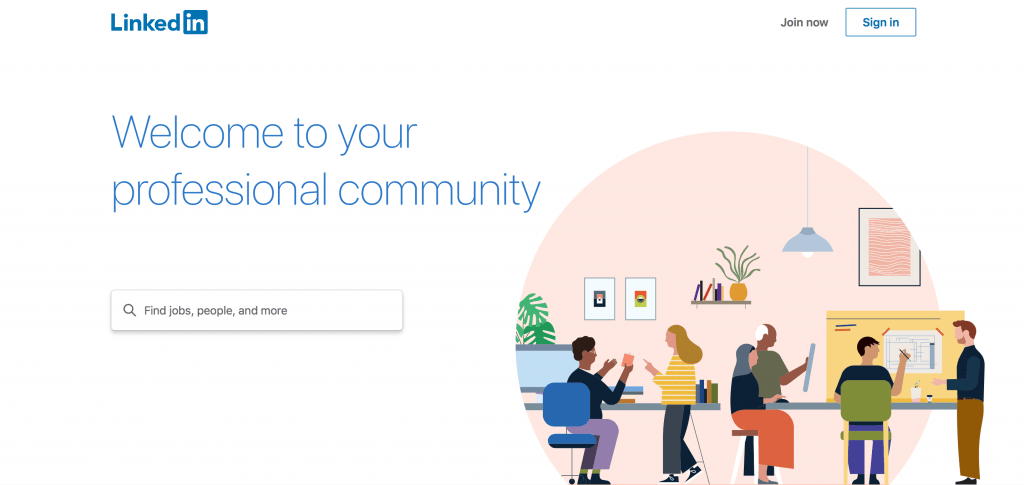 LinkedIn boasts over 610 million users in more than 200 million countries and territories. This social network is a great place for professionals to connect. It's an excellent platform for building professional relationships, sharing information, finding new jobs, and recruiting new candidates.
You can also advertise to people who use LinkedIn. It's a great place to target professionals interested in your business through your LinkedIn Company Page.
2. Media sharing networks
If you're looking for one of the most visual types of social media platforms, media sharing networks are the answer. You can create different types of social media campaigns through these media-based sites. Generally, media sharing networks focus on sharing photos and videos.
Many people are visual learners. These media sharing networks are a great place for your business to share visual content and engage your audience. While sites like Facebook and Twitter enable you to post photos, they aren't considered media sharing networks.
Media sharing networks focus solely on sharing visuals. Let's take a look at three social media options for media sharing networks:
Instagram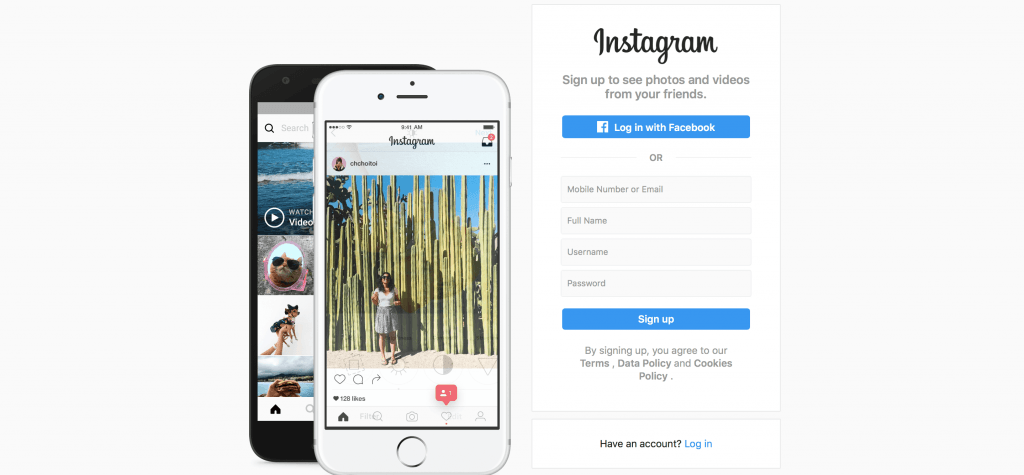 With over 1 billion active monthly users, Instagram is a great place to share photos and videos. This type of social media platform allows you to give a visual insight into your business.
You can get creative and share inspiring images and video. Instagram is great when you're running different types of social media campaigns. You can promote your products or services and provide your audience with a great visual representation of your brand.
Instagram offers advertising options for your business, too. You can use photos and videos to advertise to interested leads. It's a great way to reach people and gain new followers and sales.
Pinterest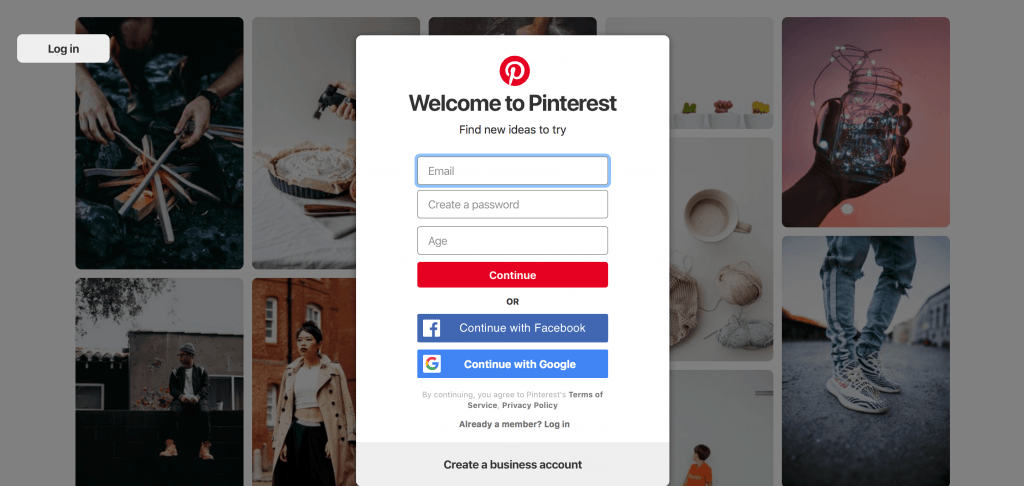 Pinterest has over 250 million monthly active users that use this visually-focused site.
This media sharing network focuses mostly on sharing and pinning photos. Users pin these photos to their boards and can refer back to them later. This media sharing platform is excellent for sharing creative ideas, as well as your products.
You can share photos that link to blog posts, recipes, DIY ideas, and more. It's essential to keep in mind that you're on a creative platform, so you want to ensure your posts fit the creative theme of your brand. If you owned a flower shop, for example, you could post pictures of your arrangements or create pins where people can buy your arrangements.
In comparison, a pizza shop could share photos of their pizza or how-to posts for creating a pizza. Overall, Pinterest is a great media sharing platform for helping you connect with leads.
YouTube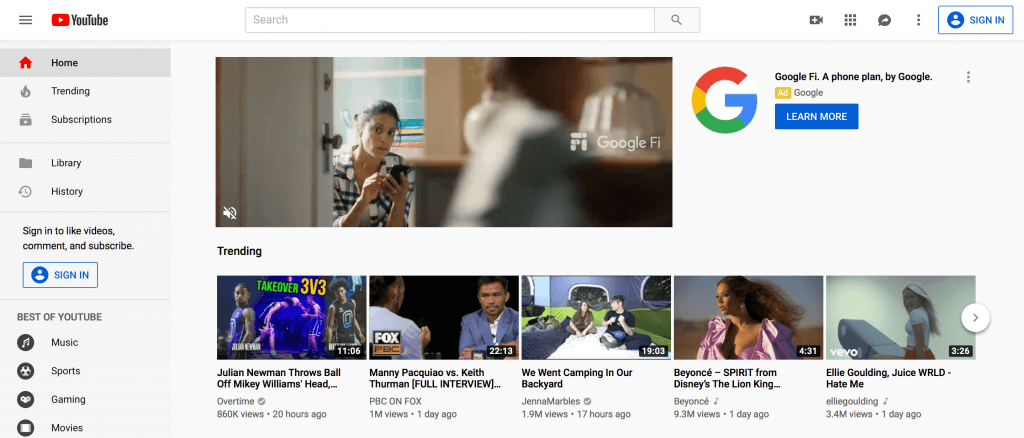 YouTube has over 1.8 billion monthly logged-in users on its platform. Additionally, YouTube is the second-largest search engine in the world.
People actively search for videos and watch them on this platform. If you're looking to engage people through videos, YouTube is an excellent channel for it. This media platform allows you to create videos and share them anywhere.
It's a unique opportunity for you to build brand awareness and engage your audience.
3. Social blogging networks
Blogging networks allow you to publish content for your audience and help them discover it. This type of social media is a great way to build engagement and get people familiar with your business. Social blogging networks are one of the more unique types of social media because they require creating constant content to publish.
Their content driven nature makes then excellent for sharing media and information with your audiences.
While they increase visibility, brand awareness, and generate leads, they need more work than other social platforms. Let's look at two examples of social blogging networks you can use:
Tumblr

Tumblr is one of the most popular blogging platforms, with over 425.7 million accounts. Many people use Tumblr to share information, photos, and videos.
This social media site isn't your typical blogging site, though. While you can post long-form content, many people use Tumblr to share photos, videos, and other exciting content. You may need a balance of content on yours to help increase engagement.
Medium

Medium is a great blogging platform that covers various topics around the web.
This platform is open to bloggers of all skill levels, whether you're just starting to blog or have been blogging for years. This social blogging platform helps you reach new readers and help them get to know your brand. If you're looking to improve your content to reach more people, Medium is a great starting point.
4. Discussion networks
Discussion networks are another specific type of social media platform. These social platforms focus on discussing news, information, and opinions. People see content threads and join them to see what people are commenting or saying.
These networks are an excellent way for you to do market research. You can learn a lot about your audience by looking at what they say about your brand on these forums. Even if you have a lesser-known brand, you can still see what people are saying about different topics in your industry.
When you use discussion networks, you can learn what people talk about when it comes to your business or industry. You can gain a greater understanding of how customers perceive your business or products. Many people turn to these forums for answers or to see if people have similar problems.
There are two main discussion networks you can use:
Reddit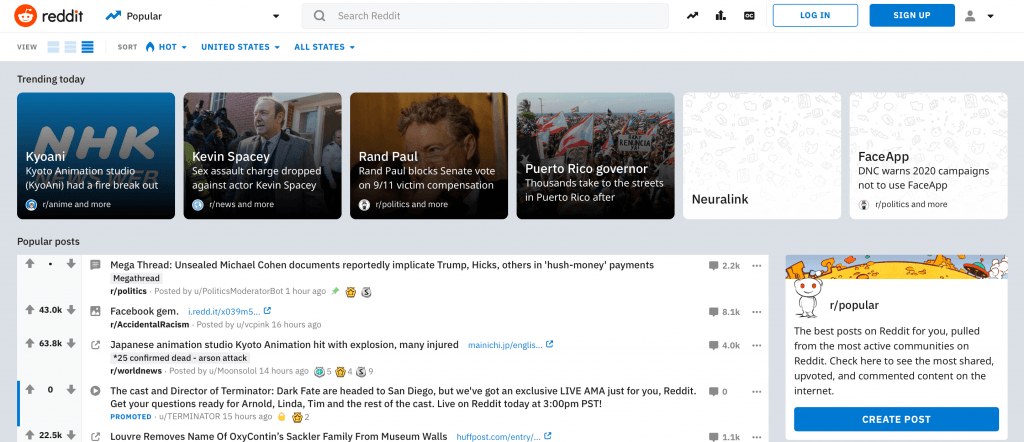 Reddit is a popular discussion network you may want to use. People post about topics that vary from finance to politics to funny videos. This forum features communities known as "subreddits." Each of these communities covers a different topic.
When you enter each subreddit, you can see information on the subject and see what people are posting. If you use Reddit, you can monitor different subreddits related to your business or industry to understand how your customers and audience perceive your company and market. You can also learn common questions or concerns.
Quora

Quora is another discussion forum you can use for your business.
This discussion forum allows you to get involved with questions people ask on the web. When people use Quora, they ask questions that people from the Quora community can answer. This format allows you to answer questions related to your industry and provide your audience with the knowledge they seek.
If you want to build brand exposure through spreading knowledge, Quora is a great social media platform for that. This platform will allow you to answer industry-related questions and help people get the information they need.
5. Review networks
When you're running different types of social media campaigns, it's essential to know which sites are influenced solely by users. Review networks are a prime example of social websites that impact your audience but depend 100% on them. Review networks allow people to find, review, and share information about brands and their products.
When you have good reviews, these platforms can bring positive social proof to your business and its claims. When you look at reviews, you understand how people perceive your brand. It's an excellent way for you to understand their opinion and improve their experience.
Let's look at two reviews sites you'll want to monitor:
Yelp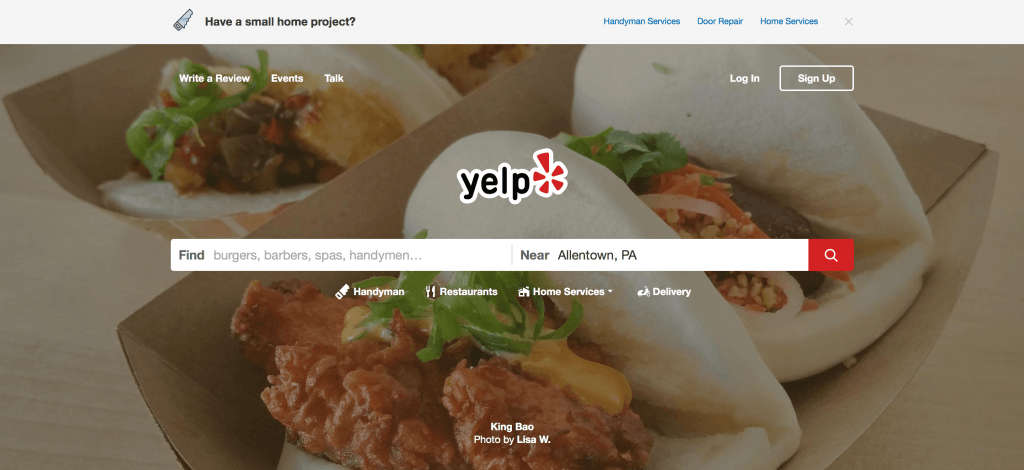 Yelp is a review platform where people can share their opinions and experiences with a business. This platform allows users to search for any company and find what people in the community are saying. Businesses can't pay to remove or alter reviews, so all positive and negative posts remain on this site.
When you're on this website, look at the reviews for your company and see what people are saying. It's a helpful way for you to understand what your audience thinks of your business. You can use this as an opportunity for you to improve your audience's experience.
Glassdoor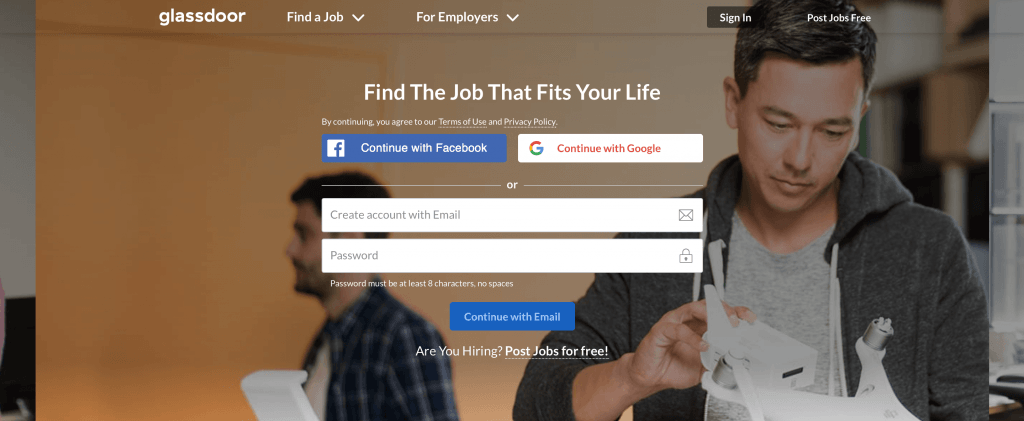 While Yelp focuses on your products or services, Glassdoor focuses on how your business treats your employees.
It won't help you improve your products, but you can improve your employees' experience. Happier employees can lead to more sales for your business, as well as lower turnover rates. Glassdoor as a social media type allows you to see what employees say about your business.
You can see the pros, cons, and advice to management. Glassdoor enables you to comment on these reviews, too. By using Glassdoor, you'll understand your employees' likes and dislikes about your company.
It will put you on the fast track to improving their experience. When employees have a better experience with your company, your customers will have a better experience, too.
Start using different types of social media to grow your business today
Social media platforms create an excellent opportunity for you to expand your reach online and capture more leads.
When you know the different types of social media platforms you can use, as well as the social media management tools available, you'll open up opportunities to reach more members of your target audience. If you aren't sure how to get started with the different categories of social media, our team at WebFX can help you manage your social platforms. We've got a team of over 500 experts that will help you grow your presence on the social media platforms that your audience loves.
Want to learn more about how social media marketing and advertising can expand your reach on different types of social media platforms? Contact us online or call us today at 888-601-5359 to speak with a strategist about creating a custom social media marketing campaign!
WebFX Careers
Join our mission to provide industry-leading digital marketing services to businesses around the globe - all while building your personal knowledge and growing as an individual.