Top Digital Marketing Channels to Focus on in 2023
More than 4.5 billion people actively use the Internet, and 95% of purchases are expected to happen online by 2040. Because the Internet plays such a central role in people's daily lives and purchase decisions, digital marketing — a type of marketing that uses Internet-based technologies — is essential for today's businesses.
Digital marketing consists of many different channels, including search engine optimization (SEO), pay-per-click (PPC) advertising, social media, and many more. With so many possibilities, how do you decide which channels to focus on?
In this guide, we'll discuss the top digital marketing channels and their pros and cons, as well as how to choose the right digital marketing channels for your business.
At WebFX, we offer services for a wide variety of Internet marketing channels, including SEO, PPC, email, social media, and more. If you want to learn more about our services, contact us to speak with a digital marketing expert.
To learn about the top digital marketing channels for 2023, keep reading!
We foster and form long-term partnerships so that your business has long-term results.
Over 90% of WebFX clients continue partnering with us into year 2 of their campaign.
Hear from Our Happy Customers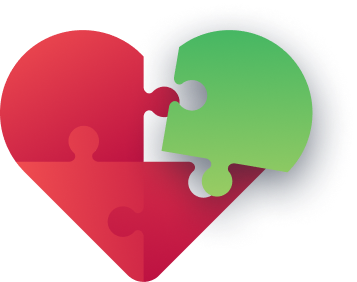 Top digital marketing channels
You have lots of options when it comes to online marketing channels. They all have their pros and cons, and they're each ideal for different goals.
To help you make sense of your options and learn how to choose digital marketing channels for your campaigns, we'll define, discuss, and compare the top digital marketing channels in the sections below.
Let's get started!
1. SEO
About 93% of all Internet sessions start with a search engine. Because of this, SEO, which stands for search engine optimization, is one of the most prominent digital marketing channels.
SEO helps your website rank well in search results for relevant keywords, which increases the quantity and quality of the traffic to your site. For example, if you run a store that sells fishing gear, you might want to rank for keywords like "best fishing rods for trout" and "where to buy fishing bait."
Here are some of the top results on Google for "where to buy fishing bait."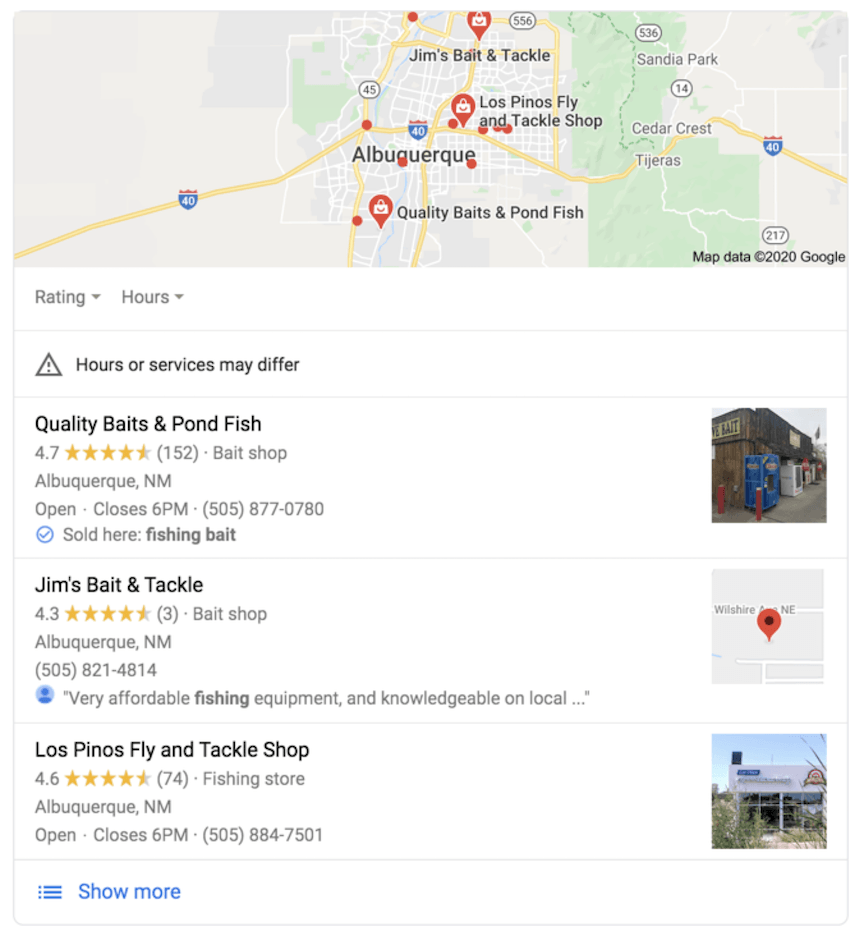 There are also subsets of SEO like local SEO, which focuses on location-related keywords from nearby searchers, and enterprise SEO, which involves strategies tailored to the needs of especially large websites.
Here's an example of local SEO results for "where to buy fishing bait."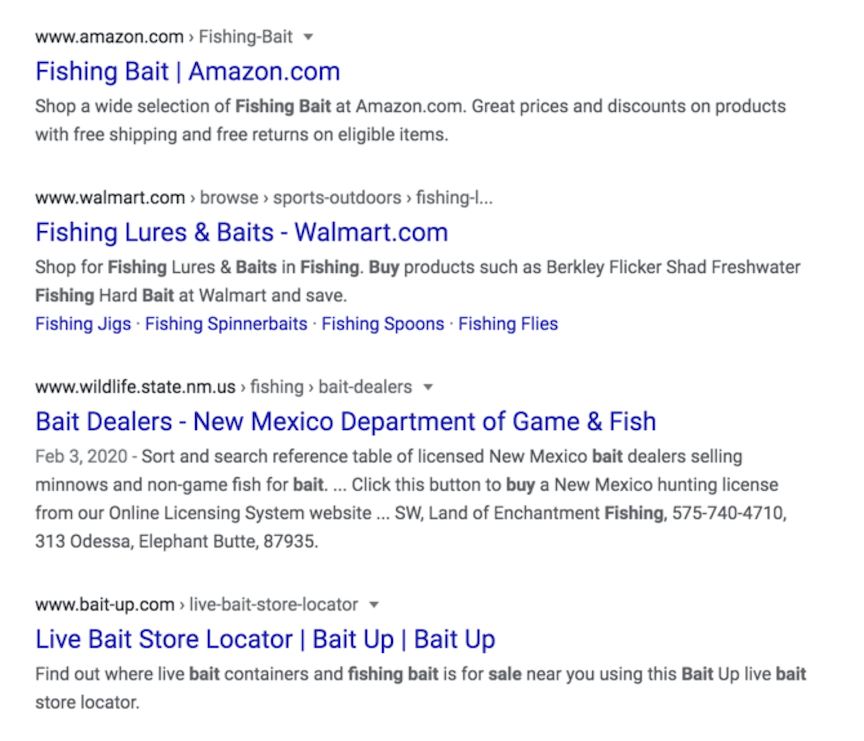 SEO helps people find your site online and increases your business's visibility. It also generates qualified leads — people who are likely to become customers. Because people find you by searching a term related to your business, you know they're interested in topics related to what you do.
For example, people typically don't search "where to buy fishing bait" unless they want to buy fishing bait.
Use SEO if you want to:
Increase your visibility online
Help qualified leads find your site
Build your site's value over time
At WebFX, we offer expert SEO services, including local SEO and enterprise SEO. We also offer free resources to help you learn more about SEO.
2. PPC
PPC ads are online ads that can take the form of paid search engine results, display ads on websites, and social media ads. With PPC ads, you only pay when a user clicks on your ad.
This digital marketing channel is useful for quickly getting your business's name in front of users who are likely to become a customer. You can target your ads to specific groups of users, such as those with particular interests or demographic characteristics or people who recently visited your website.
In part because of this precise targeting, PPC ads have a high conversion rate. Users who come to your site through a PPC ad are 50% more likely to buy than those that comes from non-paid — or organic — search results.
The tradeoff is that PPC ads are paid, while organic search results are free.
Here's an example of what PPC ads look like on Google: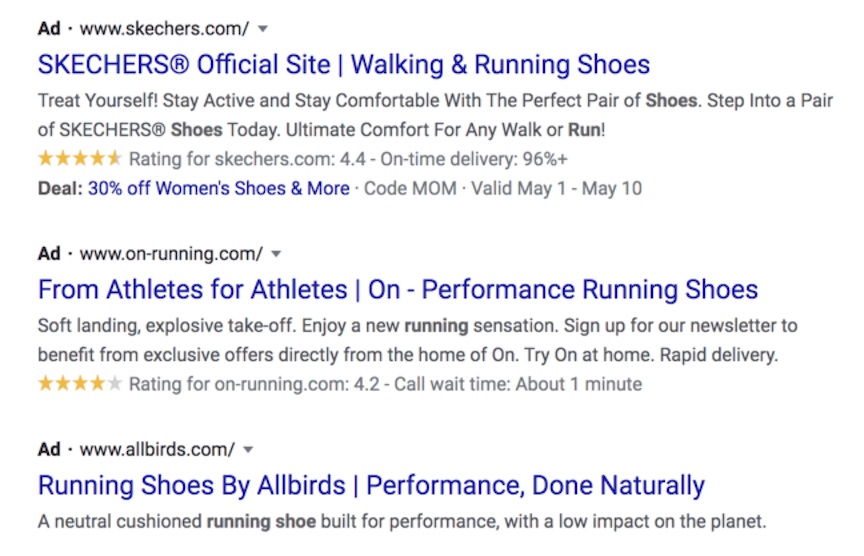 Use PPC if you want to:
Quickly reach targeted audiences
Increase your visibility over the short term
Drive conversions by reaching users who are ready to buy
Learn more about PPC with our free resources. Check out our PPC management services page to learn how we can help you maximize the results of your PPC campaigns.
3. Social media management
Eighty-six percent of people use social media at least once a day. Having a presence on sites like Facebook, Twitter, Instagram, LinkedIn, and Pinterest can help you connect with a vast audience.
Regularly posting on social media can help you build brand awareness and engage with your audience. Social sites are also great channels for responding to customer questions and comments.
If you create content that people want to engage with and share with other users, new customers may also discover your brand on social media — simply by seeing your content that's been shared on a friend's profile. This is a huge benefit since users don't have to follow you to learn about your business.
Advertising on social media allows you to expand your reach even further and target specific groups of users to grow your audience and generate leads.
Use social media if you want to:
Build brand awareness
Engage with your audience
Generate leads through ads
Explore our social media resources or social media marketing and management services to learn more.
4. Content marketing
Content marketing is the practice of creating content, such as blog posts, whitepapers, infographics, and videos, with the goal of getting users to complete a certain action, such as making a purchase.
The content you create as part of your content marketing isn't just promotional — it can cover a wide range of topics. While an individual piece of content may entertain or educate the reader, it's part of a larger marketing strategy.
Red Bull provides a great example of this. While their main products are energy drinks, when you visit their website, you'll find content about sports — especially extreme sports — music, dance, and video games.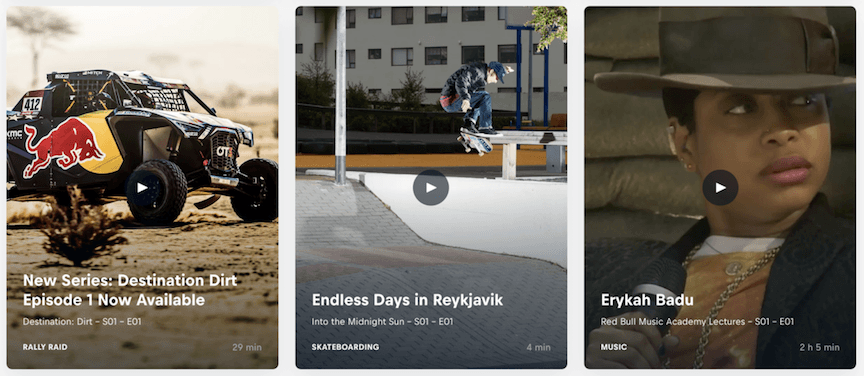 Content marketing works well with various other digital marketing channels. You can optimize your content for search engines, for example, and share your content on social media and via email.
Creating useful content like this for your audience helps you to build relationships with them. As people consume your content, they'll become familiar with your brand and begin to trust you as an expert in your field.
You can also create content that appeals to people in various parts of the marketing funnel — a method of visualizing how people go from first becoming aware of your brand to becoming loyal customers.
Choose content marketing if you want to:
Increase brand awareness
Improve your brand's reputation and build trust with your audience
Reach people at various parts of the marketing funnel
Learn more about content marketing with our free content marketing resources. Or, explore our content marketing services to learn how we can create a content strategy and high-quality content that drives results for you.
5. Email
Another powerful digital marketing channel is email. You can use email to nurture leads, stay top-of-mind, and build brand awareness.
Email marketing helps you build relationships with people who have expressed interest in your brand by signing up for your email list. Via email, you can share company news, special offers, blog posts from your website, and various other kinds of content.
You can also personalize your emails to help build relationships and encourage conversions. You can personalize emails by including the user's name, basing the content on their interests, and tailoring your emails to the user's location in the marketing funnel.
Email marketing is a popular digital marketing channel, in part because of its high return on interest (ROI), which averages $44 for every $1 spent. Use email marketing if you want to:
Nurture existing leads
Build relationships with customers and prospects
Stay top-of-mind among your subscribers
Check out our email marketing resources or email marketing services page to learn more.
6. Web design and development
Most of your digital marketing efforts likely aim to bring users to your website where they may make a purchase or take another action that's profitable for your business.
With that in mind, you should design your website in a way that encourages users to stay on your site and make purchases, so your website is an essential digital marketing channel.
To be successful, your website needs to be:
Professionally styled: If your site doesn't look professional, people may come away with a negative impression of your business. After all, 94% of first impressions are based on your website's design.
Responsive: Responsive sites, also called mobile-friendly sites, can adjust to the device on which someone views them. This feature ensures they look good and work correctly on mobile devices, tablets, and desktops.
User-friendly: If people find using your site intuitive and enjoyable, they'll stick around longer, increasing your chances of winning them as a customer.
Secure: If your website is not secure, customers will not feel comfortable making purchases on it. Security issues also open both you and your customers up to cyber threats.
You can also use conversion rate optimization services to increase the number of purchases and other types of conversions your site generates. These services involve optimizing your site for increased conversions and testing out updates to see how they affect conversions.
Use web design services if you want to:
Create a positive impression on website visitors
Encourage website visitors to stay on your site longer
Drive more conversions with your site
At WebFX, we've designed more than 1,100 websites for our clients, and we offer expert web design services. We also provide a variety of free resources on web design.
7. Voice search
As technologies change, so do the ways people search online. Voice search optimization is a variant of SEO that focuses on optimizing your website for searches that users conduct using smart speakers and smartphone voice technology.
According to a 2023 survey, nearly 58% of consumers use voice for general web searches. That represents a significant portion of the population, so voice search is a channel worth considering.
So, how does voice search work, and how can you optimize for it? When someone searches a query using voice, the voice assistant typically provides the featured snippet as the answer, or result. A featured snippet is the information that shows up in the box at the top of the search engine results page on Google.
Here's what the featured snippet for "what is a throw blanket?" looks like: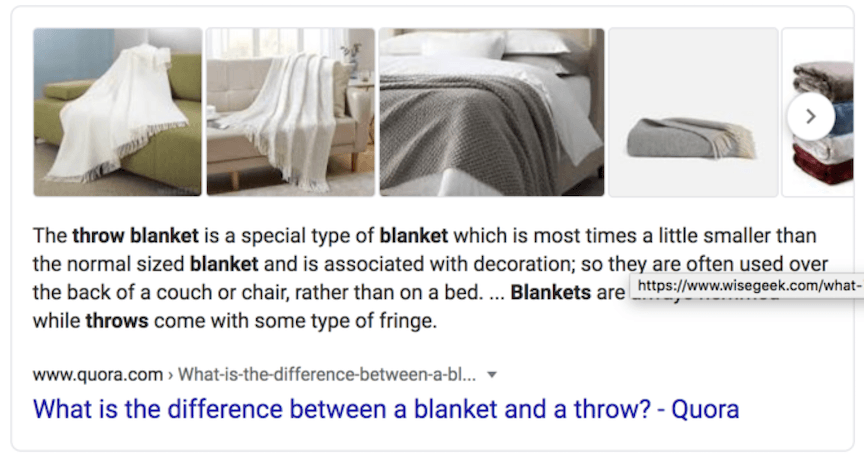 So, voice search focuses primarily on earning those featured snippets.
Use voice search optimization if you want to:
Extend your SEO strategy
Increase your visibility online
Target users who may use voice search
Explore our resources to learn more about how to optimize for voice search or check out our voice search optimization services to learn how we can help.
8. Video marketing
Video is a growing digital marketing channel that can provide substantial benefits for your overall marketing strategy.
Adding a video to a webpage makes it 53 times more likely to rank on the first page of Google results, and including a video on a landing page can increase your conversion rate by as much as 80%. When done well, video can be extremely effective.
What kinds of videos should you include in your marketing strategy? Here are a few ideas.
Social media videos: Videos are an excellent way to increase engagement on social media. Consider creating informational videos or video ads for the social sites you use.
Whiteboard spokesperson videos: In whiteboard videos, the speaker explains a topic, product, or service and draws on a whiteboard to help illustrate the information. This visual format can help viewers understand and remember information.
User engagement videos: Placing a video on your web page can help keep visitors on your site longer since content with video is more engaging than plain blocks of text.
Why use video marketing? Use video marketing if you want to:
Increase engagement on your website or social media
Improve your SEO performance
Improve your website's conversion rate
To learn more, check out these tips on how to create a video marketing video strategy or explore our video production services.
9. Amazon marketing
More than 40 percent of online sales go through Amazon, so if you run an ecommerce business, focusing on improving your business's performance on Amazon can be hugely beneficial.
Conducting SEO for your Amazon listings can help increase your visibility on the site and in search engines. Amazon SEO involves:
The process of keyword research
Including those keywords in your product titles and descriptions
Optimizing your product photos
Ensuring your products are categorized appropriately
In addition to Amazon SEO, you also need to carefully monitor your inventory and keep your Amazon listings updated. You may also want to use other Internet marketing channels, such as PPC and social media, to drive traffic to your Amazon listings.
Amazon represents a huge opportunity for ecommerce companies. You should focus on Amazon if you want to:
Reach more online shoppers
Improve your ecommerce SEO
Boost your ecommerce sales
To learn more about Amazon marketing, check out our free resources and our Amazon SEO services page.
How to choose the right digital marketing channels
So, how can you choose the right digital marketing channels for your needs? Going through the following six-step process can help:
1. Understand the channels
Take some time to evaluate and compare the digital marketing channels available to you. This article, as well as the various other resources on our website, can help with that.
Evaluate each digital marketing channels' pros and cons, how each channel works, and what resources the various channels require. You'll also want to consider the specific goals that each channel can help you accomplish.
If you're on a tight budget, you should also take note of the cost that comes with each channel to help you make the right, budget-conscious decision.
2. Define your goals
A crucial early step is defining your goals. Doing so will enable you to choose the channels that will work best for helping you reach your goals.
Although you'll likely want to make your objectives more specific, some basic examples of goals include:
Increasing brand awareness
Gaining leads
Increasing sales
Growing your follower list on social media
Compare your goals to the main benefits listed above for each of the channels. Then, choose the channels that best align with your objectives.
Also, consider whether you want to see results quickly or gain more stable, long-term growth.
3. Consider your target audience
All digital marketing efforts aim to reach a particular audience, so it's essential to consider your target audience when you compare digital marketing channels. Evaluate which channels your audience uses and how visitors most often come to your site.
Google Analytics can help with this. In the Channels report under All Traffic in the Acquisition tab, you can see how users get to your site. In the example below, you can see that organic search brings in the most users.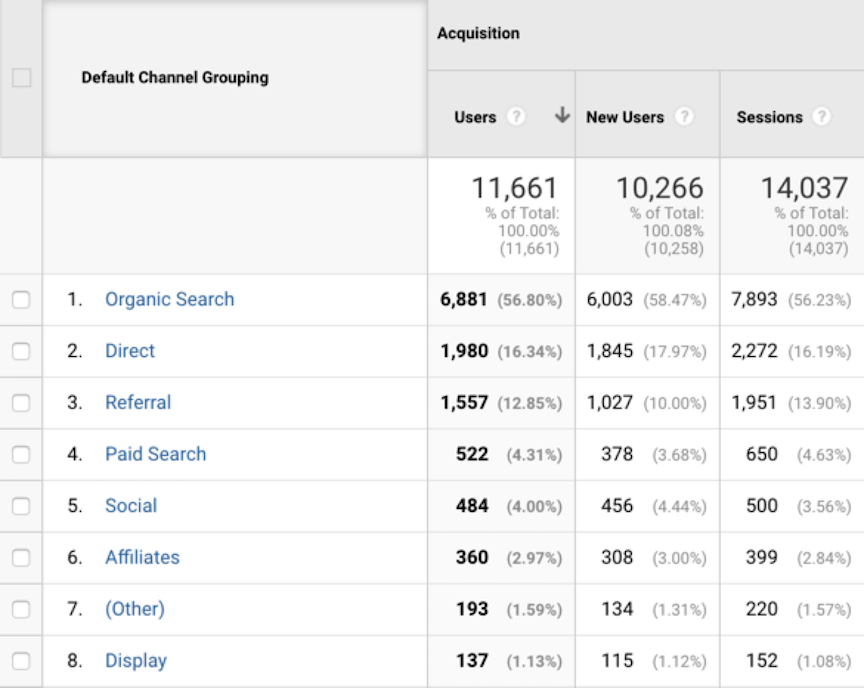 4. Evaluate your competitors
Another helpful strategy is to examine what channels your competitors are using and what seems to be working well for them.
Search them on Google and social media and check out their website to get an idea of their strategies. You can also use various tools, such as Ahrefs, BuzzSumo, and MailCharts, to track and analyze your competitors' online marketing efforts.
5. Consider your budget
You'll also need to consider your budget, how you want to spend it, and how much each strategy might cost. Do you want to spend a larger amount upfront or invest gradually over the long term? Do you want to allocate most of your budget to one strategy or spread your funding our over several?
Considering your budget and making a decision that keeps it top of mind will help keep your business on track financially.
Remember, digital marketing is an investment worth making, and will likely return more than what you invest.
6. Create a tentative plan
Once you have a list of potentially useful online marketing channels, come up with a quick, tentative plan for how you'd use them. Would you manage them yourself or hire a digital marketing agency?
Each option has pros and cons. For example, you'll likely pay less to carry out your marketing strategy on your own, but you might not see the results you desire.
It might cost a little more to hire a digital marketing agency, but you can count on them to help you drive fantastic results.
Of course, you can also consult with a digital marketing expert. The team at WebFX would be happy to help you find the perfect digital marketing channels and strategies for you.
Examples of how to choose digital marketing channels
Let's take a look at some examples of how to choose digital marketing channels. Below are a few possible goals you might want to achieve and some digital marketing channels you could use to accomplish them.
Of course, these aren't the only potential goals that you aspire to accomplish. The strategies listed also aren't necessarily the only ones you could use to achieve these goals. However, these examples may help you think through choosing the right digital marketing channels for objectives you'd like to accomplish.
1. If you want to become a thought leader in your field
Let's say you want your company to become a thought leader in your industry — an organization that's seen as an authority on a certain subject.
You might do this by regularly posting well-thought-out, leading-edge content in the form of blog posts, videos, infographics, case studies, and other formats.
You could then support these content marketing efforts by optimizing your site and content for search engines. This SEO work will increase your site's visibility and enhance its value and its authoritativeness in the eyes of Google and users over time.
You might also post your content on social media and share it via email to help it reach more people.
You'll also need a website that looks professional and helps promote your brand as a reputable, forward-thinking company.
2. If you want to promote an upcoming sale
Let's say you have a sale coming up on your ecommerce site that you want to promote. Since this is more of a short-term goal, you'll want to use strategies that get results fast.
One strategy you could use is PPC advertising. With PPC ads, you can get your site to the top of search results quickly in the form of ads. You can also target audiences who will likely be interested in the sale, such as people who have shopped your sales before.
You could also use social media and email to promote the sale, as many of your followers and email subscribers are likely to be interested.
If you're running your sale on Amazon, you can also update your Amazon listings and create ads promoting them.
3. If you want to build awareness of your brand
If your main goal is to build brand awareness, social media is a smart choice. Your social profiles allow you to create content that helps establish your brand voice and reach new audiences.
Content marketing is also helpful, as you can create content that uses your brand voice and highlight's your brand's personality. Hosting this content on a professionally styled website and promoting it using SEO can help it have more of an impact.
4. If you want to encourage leads to sign up for a service you offer
If you want to encourage leads to sign up for a service, you can use a variety of methods, depending on where each lead falls in your marketing funnel.
Email is an excellent way to move leads through the funnel, as you can personalize your emails to each user. You can also use content and ads to increase interest in your service and bring people to your website.
Your website also needs to be optimized for conversions to maximize the number of leads that become customers after arriving on your site.
WebFX is a partner businesses trust.
Hear from HydroWorx, who saw a 236% increase in organic sessions with WebFX services.
Watch the Video Testimonial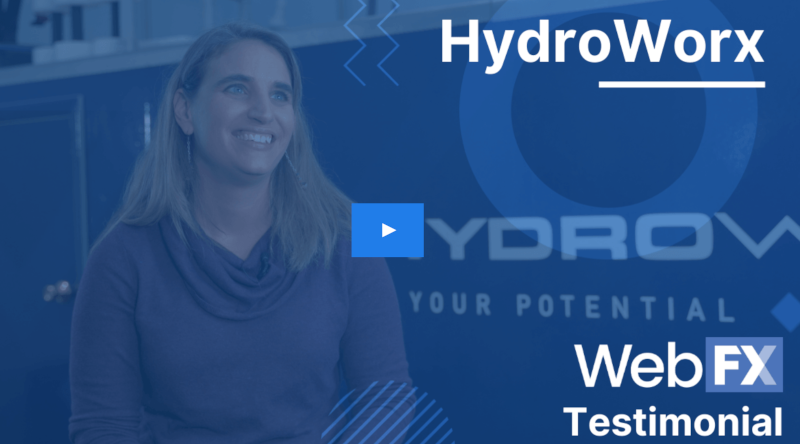 WebFX can help you choose the right digital marketing channels
Choosing the right digital marketing channels can feel overwhelming at first, but with the right information and a solid understanding of your goals, you can find the right channels for you.
It's also helpful to have the right partner on your side. At WebFX, we have more than 25 years of experience in digital marketing. As a full-service agency, we work with a wide range of Internet marketing channels, including all of those discussed in this article.
We offer an array of free resources to help you gain the digital marketing knowledge you need to choose the right digital marketing channels. Plus, our friendly team is here to help.
Explore our free resources or sign up for our weekly newsletter to learn more about digital marketing. Or, contact us to learn more about our services or talk to a member of our team about your digital marketing options.