The goal of digital marketing is to create new customers for your cleaning company by driving people to convert. All your marketing is designed to draw people to your website and persuade them to schedule an appointment.
But before you can worry about converting anyone, you first have to turn them into leads — people interested in your services. After all, you'll have a hard time converting anyone who isn't interested in what you have to offer.
That's why lead generation for cleaning services is so essential. But what is lead generation, and how can you make it work for you? We'll answer both of those questions below in the form of some cleaning service lead generation strategies.
Read on to learn more, and then partner with WebFX's team of over 500 marketing experts for our lead generation services. Just give us a call at 888-601-5359 or contact us online to get started today!
What is lead generation for cleaning services?
To start off, what exactly is cleaning company lead generation?
Lead generation refers to the process of gaining leads for your business. Leads are people who have expressed interest in your cleaning services.
When people first encounter your company, they may never have heard of you. They may not even realize that they could use your services. But if you can persuade them that your cleaning services could benefit them, they could develop an interest, turning them into leads.
That process of drawing interest from your audience is known as lead generation. Without turning people into leads, you won't be able to convert them. To persuade someone to pay for your services, you first have to draw out their interest.

Hear What It's Like to Work With WebFX!

"WebFX has helped our company understand SEO and how it works. We have been impressed by the thoughtfulness of the team members and their communication is above reproach. Also, Basecamp is neat to see how our project is progressing. Really this company is about educating through the process which we appreciate."
Cleaning Service
5 stellar cleaning service lead generation strategies
Having established what cleaning company lead generation is, we now need to discuss how it works. Lead generation can take various forms, but a few strategies in particular stand out from the crowd for their effectiveness.
Here are five stellar cleaning service lead generation strategies for your business!
1. Search engine optimization (SEO)
One of the most effective lead generation strategies is search engine optimization (SEO), which involves getting your web content to rank in Google search results. A full 93% of online experiences begin with a search engine, providing a fantastic marketing opportunity.
If someone goes to Google to look up something related to cleaning services, and they then find your content in the search results, they may become a lead. They'll start off simply getting an answer from you about something, but could then develop an interest in your services.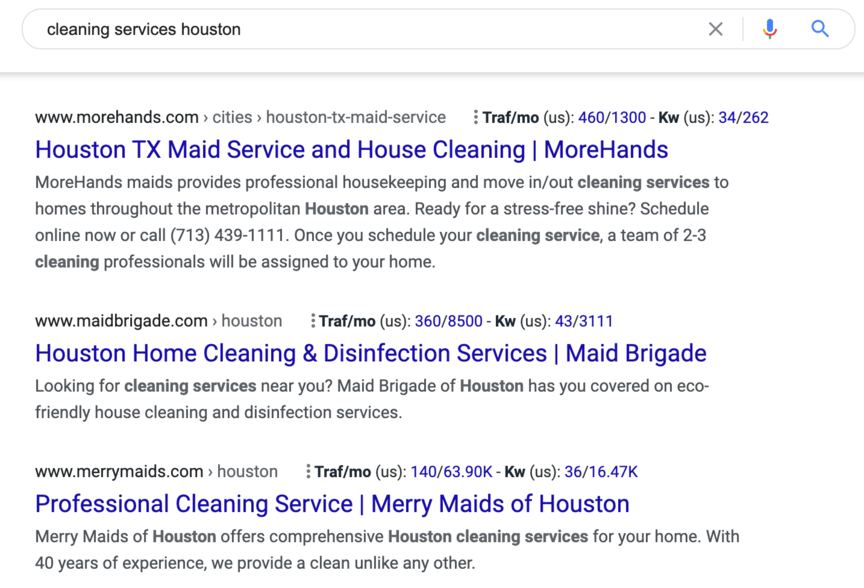 You can optimize your web content for SEO in multiple ways, including:
When you dominate search results, you can be one of the first things users see when they look up information about cleaning services.
2. Pay-per-click (PPC) advertising
SEO isn't the only way to reach people through Google search results. You can also use pay-per-click (PPC) ads, which appear above organic rankings. PPC ads look like normal results but have an "Ad" label in the top corner.

To launch a PPC campaign, you can use Google Ads, which will let you bid on certain keywords where you want to display your ads. When someone searches for one of those keywords, Google displays ads based on:
Bid amount
Quality Score (Google's assessment of an ad's quality)
With a high enough quality score and an optimal bidding strategy, your ads can appear for cleaning-related searches and familiarize users with your brand. Then many of them can become leads and go on to convert down the road!
3. Social media marketing
Did you know that the average user spends 28% of their Internet time on social media? With people on it so much of the time, social media is a fantastic place for you to gain new leads.
To start with, you can draw people in with posts from your account. Your posts can feature things like infographics and videos to attract interest. Even if not everyone follows you, many people will still remember you when they need cleaning services down the road.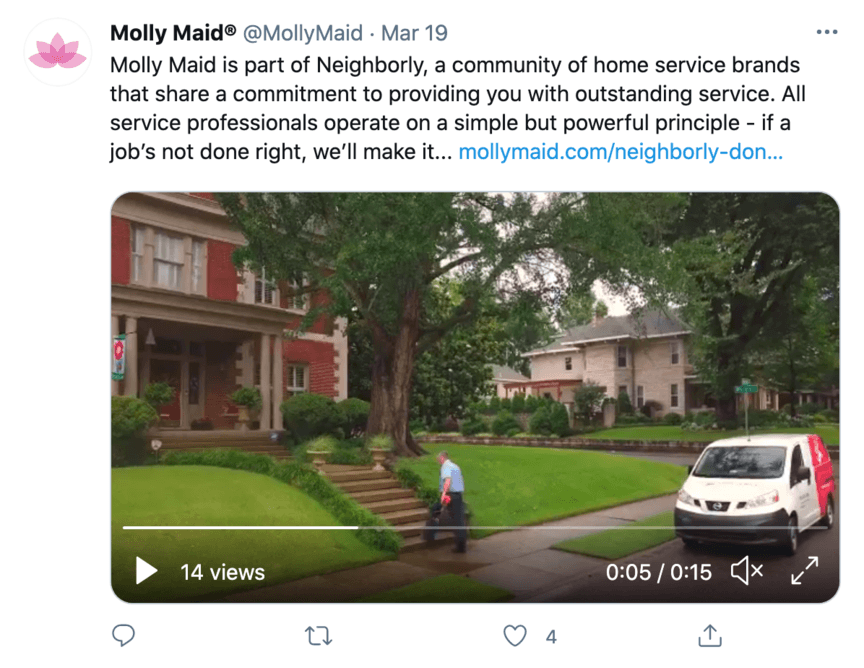 In addition to organic posts, you can also run paid social media ads, which can appear right in users' social media feeds. One of the best things about the ads is that you can target them to specific demographics, including:
Age
Gender
Occupation
Location
And more!
With these targeting settings, you can direct your ads toward the exact group of people who make up your customer base. That keeps you from advertising to people who won't have any interest in you, such as people outside your geographical area!
4. Content marketing
One of the best ways to generate interest in your business is to offer people information they need. That's why content marketing — a strategy where you create informational web content — can be so beneficial for your company.
Content marketing can take a variety of forms, from videos to blog posts. Some types of content may talk specifically about your services, while others may address common cleaning-related questions.
As you might expect, content marketing frequently goes hand-in-hand with SEO. You start by writing the content on your website, and then you use SEO to get that content ranking in Google where people will find it.
As people gain information from your content, they'll see you as the expert on cleaning-related subjects and think of you the next time they need cleaning services.
5. Email subscriber lists
A final way to generate new leads is to hook site visitors with email calls to action (CTAs). To be clear, we're not talking about sending emails to people — that's what you do after you've already turned them into leads. Instead, we're focusing on creating email lists to begin with.
When you create email lists, you aren't simply typing out a list of emails you want to send marketing materials to. If you do that, people will view it as spam. You need to get people to sign up for your emails voluntarily, so they'll actually appreciate what you send them.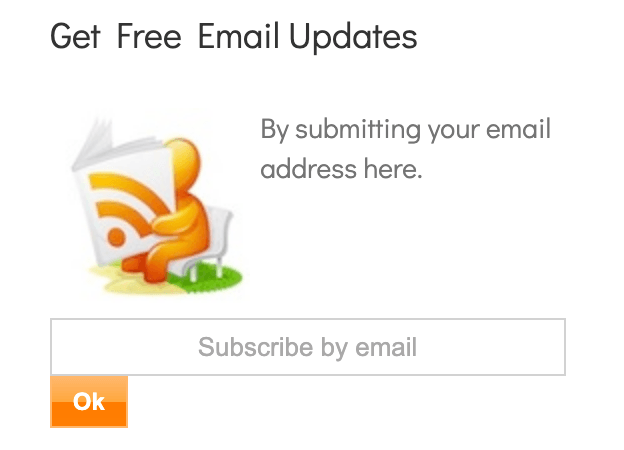 Whether your emails will contain newsletters, blog updates, or special offers, you can advertise them with CTAs on your website. Be sure to indicate what users will get from your emails, and then prompt them to submit their email address.
When someone provides you with their email, they've become a new lead — and you can now begin sending them emails to convert them.
WebFX can generate leads for your cleaning company
Looking to generate new leads for your cleaning company? WebFX can help! With over 25 years of digital marketing experience, we know all about optimizing online marketing to get more leads, and we'd love to show you firsthand.
With our lead generation services, you'll get help generating leads using all the strategies listed above. You'll also receive a dedicated account representative to keep you closely informed about everything we do for your campaign.
To get started with us, just give us a call at 888-601-5359 or contact us online today!
Earn a 20% greater ROI with WebFX