As the Internet has exploded over the last few years, so has the need to use the Internet for marketing. In fact, the Internet is now arguably the most valuable contractor marketing channel. Digital marketing for contractors is more cost-effective than traditional advertising methods, and it allows you to reach potential customers how and when they want to engage.
Listings in the phone book don't cut it anymore for general contractor marketing. Consumers in every industry go online to find businesses to patronize, so it's important that you have a presence there. And in order to do that, you'll need a solid Internet marketing strategy.
Keep reading to learn about the best marketing tactics for contractors and how to use Internet marketing for contractors to your benefit!
If you're looking for professional help, WebFX is a full-service Internet marketing agency, which means we offer numerous digital marketing strategies, from web design to social media. If you'd like to speak with one of our Internet marketing experts about our digital marketing services, contact us online or reach us at 888-601-5359.
Our digital marketing campaigns impact the metrics that improve your bottom line.
See More Results

WebFX has driven the following results for clients:

$3 billion
In client revenue

7.8 million
Leads for our clients

5.2 million
Client phone calls
7 best tactics for contractor marketing
Want to learn about some of the best tactics to use when it comes to online marketing for contractors? Just keep reading!
1. Create a visual online presence
Homeowners and businesses want to know exactly what they're going to get when they hire a contractor.
Specifically, they want to know what projects each contractor has completed in the past and how they were completed. You can write about these projects on your site, but photos and videos are much more convincing.
Include photos of past projects throughout your site, and consider dedicating a page or two to a gallery-style portfolio.
You can also create videos to show potential clients how you've completed specific projects, particularly ones that were complex or presented issues or challenges along the way.
As a part of your general contractor marketing strategy, you may also choose to include interactive communication tools on your contact page or estimate page. This makes your site more compelling and it also lets clients visualize your work, which may be the final motivation they need to contact you.
2. "Before and after" galleries
Whether they perform the work themselves or hire other professionals to do it, contractors are responsible for giving clients what they request at a reasonable cost.
These requests might include additions, repairs, or renovations, but regardless of what they are, potential clients want to know that you'll do a great job. A photo gallery showing a home or office before and after you've worked on it can be the perfect way to reassure them.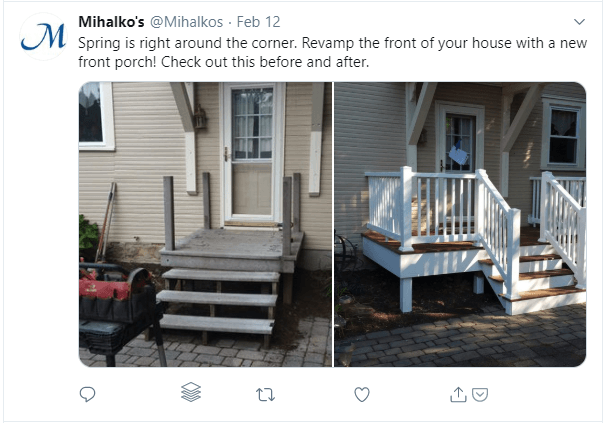 Why before and after? Because this is the best format for demonstrating what you do to address a wide variety of issues.
Start taking pictures at the beginning of each project and keep snapping through each stage, ending with a photo of the finished product. Add captions to each photo describing what's being done and what it's meant to achieve.
Before taking photos for this contractor marketing tactic, however, be sure to check with the home or business owner. Posting photos of people's homes without their permission is never a good idea, and definitely won't do your business any favors.
3. Write original content tailored to potential customers
One of the goals of Internet marketing for contractors is to generate leads. However, you can't generate leads without providing information. Your potential clients and customers go online to research their options, as well as general information about hiring contractors, and your site should provide everything they need.
Create pages that answer specific questions and address common concerns. These pages should mention your services, specialties, and any other information that might attract a client. Be sure to do search engine optimization, or SEO, so that your content can be found in search engines like Google. Then, add a call to action encouraging readers to fill out a contact form. It should allow visitors to leave a name, address, and email, along with an optional field for additional information.
By providing valuable information, you show site visitors that your company is a reputable resource for answering their questions. And as you build that trust, they'll be much more likely to contact you.
4. Maintain a blog
To build a relationship with your target audience and to stand out from other contractors, start a blog and add new posts regularly. What are the latest trends in office renovation? How can people complete certain DIY projects without the help of a professional?
Sometimes, you don't lose business to another contractor, but to property owners who would rather do the work themselves. They begin a project knowing they don't have the experience and expertise of a contractor, so they look for blogs and how-to guides for advice. You may think of these blogs as a detriment to your business, but providing this kind of content can actually generate more revenue from this market in the long run.
Many DIY projects are relatively short, simple projects that can be done by a novice with the right guidance. When a small project is completed successfully, thanks to the tips from your content, the DIYer will start to see you as a reliable source of information. Then, when they have a larger project that they cannot complete without the assistance of a professional, they'll already know who to turn to.
If you start a blog with ideas for relatively easy DIY projects, like building a bookshelf or adding kitchen storage, you may be able to build a following. A blog can also be a great place to showcase before and after photos as a part of your contractor marketing plan.
5. Film how-to videos
The most successful contractors are those that have a strong background with varied experience. This isn't always made apparent in an initial consultation or word of mouth from friends, but it can be made abundantly clear with a series of how-to videos for people who want to complete some home projects on their own.
These videos don't have to be very long—5-10 minutes, depending on the scope of the project—but they should cover the kinds of projects that are popular with do-it-yourselfers. Use a reliable camera for high-quality sound and video, or find a professional videographer to do it for you. Post them on your website and expand your reach on guest blogs, YouTube, and social media. You'll entertain and inform viewers and highlight your firm's expertise.
6. Publish testimonials
Testimonials and reviews also play an important role in digital marketing for general contractors. In addition to the information from businesses themselves, many people still rely on recommendations and review sites to help them choose a contractor. In fact, 79 percent of consumers trust online reviews as much as they trust personal recommendations. A good testimonial can go a long way towards lending credibility to your marketing messages, so include them on your website and other online marketing channels.
After every project, ask for feedback from clients. Ask how they felt about the workers and the pace of the project, whether they're happy with the results, and if they would hire you again. Positive testimonials can work wonders for building trust with potential clients, but always be sure to ask permission before publishing them on your site or other marketing channels.
7. Share your expertise
A potential client will only contact a contractor if he or she believes the contractor has the necessary expertise and reliability. Previous clients can vouch for you, but participating in discussions on social media and online forums will allow prospects to see, firsthand, that you know what you're doing.
There are plenty of discussions going on right now related to contracting services, so feel free to jump in. Don't use these discussions to promote your business—just answer questions and share your opinions. You could also host a Q&A session on social media. Invite questions on your Facebook page or create a hashtag and reach out to Twitter followers. This will allow you to show off your knowledge and increase your visibility among future clients.
Hear What It's Like to Work With WebFX!

"We were looking for a forward-thinking but down to earth SEO company to partner with. Not only were we looking to build a long term business relationship but we needed them to understand our needs as a small company. And WebFX met all of that criteria. Our experience has been unparalleled; from the sales team who made the drive to our office to meet us in person to our Internet Marketer who has been an absolute joy to work with. They are completely transparent about their services and they take the time to explain everything which not only sets them apart from every other SEO company we have worked with but we also feel like we're taking something away from our interactions with the staff at WebFX. We are exited to see where this year will take us knowing that we have such a great support system with their company."
Home Contractor
Drive more leads with Internet marketing for contractors
Today's consumers use the Internet to find everything they need, and that includes contractors for their residential and home building projects. That means that if you want to reach them, you need to be online.
If you'd like to get started with online marketing for contractors to grow your contracting business, WebFX can help. As a full-service digital marketing agency, we offer a wide of contractor marketing services, including:
Request a free quote or call us at 888-601-5359 today to speak to a strategist about how our team can create and launch a contractor marketing strategy for growing your business.
Earn a 20% greater ROI with WebFX