Want to reach more customers for your fence installation company?
Are you a fence installer looking to reach more customers and earn more revenue?
Pay-per-click (PPC) advertising is one of the best methods for driving valuable leads to your fencing site.
On this page, we'll share five benefits of using PPC for fence installers. If you want to learn how you can create a custom PPC campaign, call us today at 888-601-5359 to speak with a strategist.
1. You control your budget
PPC gives you complete control of your budget. Whether it's $100 or $1000, you decide how much you want to spend on your campaign.
It is important to note, however, that the amount you spend will affect your campaign's success. You won't see as great results with $100 like you would with $1000. Regardless, you can set the amount that fits your fencing company's budget.
Once you set your budget, you don't need to worry about incurring additional costs. The amount you set is the amount you spend. There are no additional or unforeseen costs with PPC.
Another reason PPC is so cost-effective is that you only pay when people click on your ad. In other words, you don't pay for impressions. Instead, your business only pays when someone clicks on your ad and visits your landing page.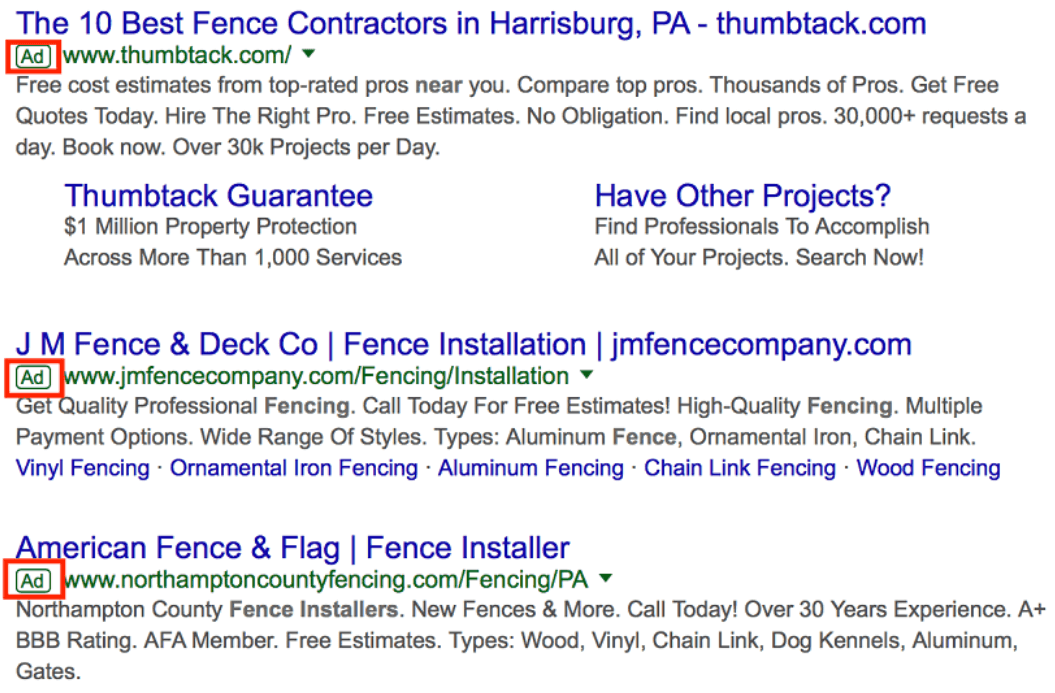 To ensure those clicks are valuable, you need to choose the right keywords to trigger your ads. It's best to focus on long-tail keywords, which contain three or more words. These are specific keywords that only high-intent searchers will use.
The right keywords ensure that you drive leads who are most interested in your business. You'll keep your PPC cost-efficient by only attracting leads that are actually interested in your fencing services. It helps you get the most out of your PPC campaign.
If you want to know more about keywords or low-cost PPC campaigns, WebFX has the experience to help. With more than 25 years of experience creating custom PPC campaigns, we are dedicated to helping your business's campaign succeed on a budget. Check out our resources online or connect with a strategist today at 888-601-5359!

Hear What It's Like to Work With WebFX!

"The WebFX team has impressed me again and again with their knowledge, professionalism, and their willingness to bring our products to the customers who are looking for them. As a startup company we rely on WebFX to help us understand what it takes to get our message out there in an ever increasingly complex SEO and PPC world."
Fencing Contractor
2. You drive conversions
PPC ads are valuable for driving conversions. These ads attract leads that are close to converting. They just need to find the right business for them.
Landing pages are instrumental in helping leads convert. These are pages that focus on one aspect of your business that is pertinent to your audience. It may be a specific fencing service or fencing product.
When your landing page focuses on the product or service, you show your audience why your product or service is the best option for them. It provides them with all the information and details they need about that product or service. This helps you nurture leads towards conversion.
PPC ads can be the final step to convincing someone to convert. In fact, PPC visitors are 50% more likely to convert than organic visitors. You can earn these conversions by investing in a PPC plan.
3. You control your campaign
PPC puts your fencing business in the driver's seat. You have complete control over your campaign.
This method allows you to choose who you want to target. This means you can create ads that are designed to reach your target audience. It allows you to set more specific parameters to ensure you reach your audience.
Keyword selection comes into play here too. By selecting the right keywords, you'll target the right audiences and reach leads that are more likely to convert.
When you're ready to run your ad, you choose how long you want to run it. You can run it for a day, a week, a month, or whatever works for your fencing business. This makes it a flexible option because you have control over the duration of your campaign.
In addition, you decide on the time of day your ad runs. If you know your leads are online in the early morning, you can set your ad to run during those hours. This ensures that you reach your audience when they are most likely to see your ad.
PPC also allows you to pick how your ad looks. You can use Google Ads ad extensions to provide your audience with valuable information. There are extension options like site links, callouts, and snippets to help you customize your ad for your audience.
4. You see immediate results
With methods like search engine optimization (SEO), you have to wait to see results. PPC allows you to see results the minute you launch your campaign. This is extremely beneficial because you can actively monitor your campaign's success.
You can see various metrics related to your campaign. This includes impressions, click-through rate (CTR), and conversions.
Immediate results allow you to make immediate changes. If your campaign isn't performing as well as you hoped, you can make changes to help it perform better. You can change your target audience, choose different keywords, or alter the ad copy.
This is a very beneficial feature because it allows you to constantly optimize and improve your campaign. It helps you create a more engaging ad, which will attract more leads. To learn more about PPC campaigns, take a look online at our extensive resources that will help your business see immediate results!
5. You can use PPC data to optimize other campaigns
Since PPC provides you with immediate results, you can use the results to help you with other strategies. It's a valuable method to improving your overall digital marketing efforts.
PPC helps you figure out if you're targeting the right people. If you aren't seeing a lot of response to your fence installer ads, you may need to rethink your audience. Results from PPC campaigns can help you modify your target audience to appeal to a more relevant audience.
It can help you figure out the right keywords for your campaign, too. If you run a PPC ad and find that you aren't attracting the right leads, you can change your keywords to appeal more to your audience. This allows you to optimize your other campaigns for the right keywords.
PPC is extremely beneficial to your business because it helps you figure out the kinks in your digital marketing plan. From audience selection to keyword choices, you'll be able to optimize your digital marketing campaign to help it perform its best.
Install a PPC plan from WebFX
PPC is a great way to launch your digital marketing campaign and start obtaining valuable leads. It's one of the best methods for driving traffic to your site and earning conversions. If you're ready to start reaping the benefits of PPC, WebFX can help.
We're a full-service digital marketing company that specializes in customized PPC plans. With more than 25 years of experience, we know how to create PPC plans that work. Our team of 500+ experts will help you create a plan that works best for your fencing business.
If you want a company that drives results, you've come to the right place. To date, we've driven over $3 billion in sales and over 7.8 million leads for our clients. We focus on driving successful results for our clients first.
Our clients love the work we do for them. In fact, we have over 1020 client testimonials that attest to the great work we do for them. Check them out to see what it's like to partner with a top PPC company like WebFX!
Get started today with fence installation PPC
If you're ready to start creating your customized PPC plan, contact us online or call us today at 888-601-5359 to speak with a strategist.
We look forward to helping your business reach new heights!
Earn a 20% greater ROI with WebFX