13 Landing Page Design Best Practices
When a potential lead clicks a link in an email you send or a social media post you make, you're probably not sending them to your homepage. After all, your homepage is the generalized, unfocused page of your site, and you want to get conversions.
So instead, you send them to a landing page. Since this page serves as an introduction to your company, it has to do a lot in just a few seconds. It has to describe the product or service you're selling, and it also has to convince a reader to take the next step to becoming a customer.
A clean layout that makes important information easy to find will portray your business as organized and reliable, which encourages new leads to become customers. But a cluttered, jumbled page with distracting elements will turn them away.
If you want your next online campaign to generate more sales and revenues, it's critical that you make quality landing pages that convert readers. Keep reading, and give us a call at 888-601-5359 to learn more.
1. Keep your design simple
Your landing page's design is supposed to enhance your marketing strategy's message — not overwhelm it.
On top of that, a product landing page design has to encourage visitors to your site to become new customers. They won't do it — and they may not know what to do — if they're distracted by a complicated design.
The best way to keep your design simple is to focus your content in the center of the page with complementary design, additional links, or negative space on either side.
You should also use images and graphics to complement your text and better engage your visitors. And if your page is short, you can also add a video.
However, be careful with how many visual elements you add to a page. Too many will make your page difficult to load, and since the Internet has so many mobile users these days, you can't afford to have a big, bulky page that only desktop computers can process.
Instead, lay out a simple, easy-to-read design that uses strong colors and a handful of strong, engaging elements.
2. Keep forms short and sweet
Once you've gotten people on your landing page, you want to do everything in your power to prevent them from leaving without taking any action.
A long and complicated form can turn potential leads away from your business.
Say you share a link on social media to a landing page where people can sign up for a webinar.
If the form on your page has ten steps, people might decide it's not worth their time, or they might not be comfortable sharing that much personal information.
Think about what information is absolutely necessary in your forms, and then consider removing everything else.
3. Add branding to your landing page
The topic of your landing page may be your products or services, but the heart of a landing page is your company. Treat your landing page like a branding opportunity (in addition to a conversion opportunity) and incorporate key branding elements into the design.
Place your company name and logo at the top of the page. Use your brand colors in the header and footer as well to reinforce brand association. While none of these elements should be big enough to distract from converting a customer, they should be noticeable enough to make sure someone knows about your company.
4. Make your landing page responsive
A huge portion of Internet users now access the websites they want through a smartphone or other mobile device. That means if you don't have responsive landing pages, a lot of your potential customers won't be able to view it correctly.
To avoid that possibility, make your page (and your entire site) responsive so that it displays properly on any screen size. That ensures that all of your visitors get the same great experience from your site, no matter how they access it.
By extension, that means everyone will be able to read your page, see your calls to action, enjoy your images, and eventually convert. And all you have to do is code your page to make it responsive.
5. Check for cohesiveness
Another of the landing page best practices is to make sure the contents of your landing page match the contents of your ads (or whatever someone clicks to get there).
This means making sure not only the branding matches, but also the topic.
If you're advertising a special sale, someone who clicks on your ad should end up on a page about that sale.
Linking to the wrong page can cause confusion and scare potential customers away.
6. Build trust with your landing page design
Even with a compelling offer, branding elements, and responsive design, a landing page doesn't guarantee conversion. They may wonder what you'll do with their email address if they give it to you, and they might not trust you with their phone number.
To fix that, you need to build trust by showing you're an authoritative source in your industry and a reputable company all-around.
You can start with your body copy. Write about your company's years of experience, areas of specialization, or include a testimonial from a satisfied customer.
A money-back guarantee also increases customer confidence since it decreases the risk of converting.
In addition, highlight any awards or accolades your company has earned throughout its time in business.
And finally, you can provide peace of mind by promising personal information will never be sold to third parties.
Once a visitor feels they can trust you, they'll be much more comfortable with the idea of becoming a customer.
7. Evaluate your landing page speed
If you clicked a link and the website took longer than a few seconds to load, would you wait around for everything to appear?
Most people won't.
If you use multimedia elements on your page, one of the landing page design best practices is to use the smallest file size possible.
Run any images through an online image compressor like Kraken, and host videos on third-party platforms like YouTube or Wistia.
You might need to dig into your page's code for even more page speed optimization.
You can run your landing page through Google's speed testing tool to get a better understanding of where you can make improvements.
8. Emphasize your call to action
You're going to put a lot of important information on your landing page, but it's all designed to encourage visitors to convert. But unless you explicitly tell visitors to convert in the first place, they're probably not going to do it.
That's why you need a call to action.
The call to action is the sentence at the end of a page that tells readers what they can do next to get closer to becoming customers. It may not sound like much, but a strong, concise call to action can make all the difference between a new customer and a sale you lose to your competition.
The best calls to action all include tangible, short verbs like "get." They also include a brief value proposition that accents the main point of your product or services. You should also make a call to action a different color than the rest of your site so it visually stands out.
With all of those elements together, you have a call to action that can get you lots of new customers.
9. Test different landing page elements
People respond to designs differently.
What you consider a good design might be completely unappealing to your target audience.
That's why testing is one of the most important landing page design best practices.
The placement of a button or the addition of a video can affect how many people convert on your landing page.
Pro tip: Only test one thing at a time. If you test too many elements, you won't be able to determine which change worked best.
You can use a tool like Google Optimize to see which landing page elements you should stick with.
10. Use attention-grabbing copy
What you say on your landing page is just as important as how it looks.
Use action-oriented language. Tell people what they should expect from taking a certain action on your site.
Make sure you communicate everything clearly so no one is left confused by your messaging.
Power phrases can help make an emotional connection with your audience for an added bonus.
11. Add multimedia elements to your landing page
Videos, images, and custom graphics can enhance your landing page and grab people's attention.
As mentioned, make sure any elements you use are properly optimized and formatted so they don't affect your page's speed.
If your landing page is a contact form for your services, you can embed a video featuring customer testimonials to help people feel more comfortable reaching out to your business.
Just be creative, but make sure whatever you add to your landing page aligns with your overall goals.
12. Keep your audience in mind
You might have picked it up throughout this list of landing page design best practices, but it's still worth mentioning. Design with your audience in mind.
If you're an international business targeting one specific country, commonly used phrases (and languages!) will vary.
If you were running a sports store and targeted tennis fans with your ads, a landing page with images of baseball gear probably wouldn't get the best results.
Always consider who you're designing for when you enter the creative process for your business landing page.
13. Secure your landing page
Having a secure website doesn't guarantee a secure landing page or form.
While security isn't necessarily a part of "design," it's nonetheless important as a landing page best practice.
Whether you want people to enter their emails or their credit card information, you need to make sure anything they enter into your site is encrypted.
Not everyone will notice if a landing page is secure or not, but people who do may hesitate to give you their information out of fear of it getting stolen.
You can learn more about securing your landing page on our blog.
WebFX is a partner businesses trust.
Hear from HydroWorx, who saw a 236% increase in organic sessions with WebFX services.
Watch the Video Testimonial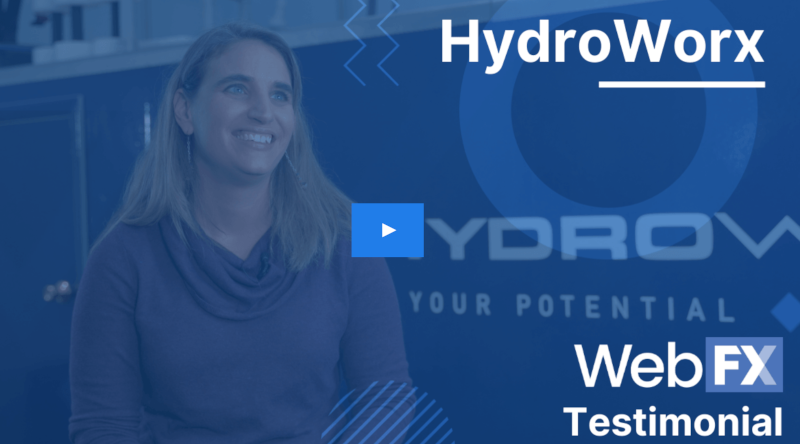 WebFX knows landing page best practices
We hope you enjoyed our landing page design tips!
At WebFX, we have a full team of content marketers who know how to make effective landing pages for companies in any industry. They know all of the tried-and-true strategies to get you results, and they regularly keep up with content marketing trends to make sure you're getting the best service possible.
Contact us today to start making a strategy for your business's landing pages!