As a home contractor, you know all about building solid foundations. Without a solid platform to stand on, a house will collapse.
Your marketing is no different. To build a killer marketing campaign and drive conversions, you first need to establish a firm foundation of potential customers to whom you can market. This process is known as lead generation, and it's a key part of any home builder marketing campaign.
But just what is lead generation for home builders, and how can you make it happen for your business? We'll answer both of those questions below.
Read on to learn more, and then consider partnering with WebFX — the agency with over 1020 client testimonials — for all your home builder lead generation needs. Just call us at 888-601-5359 or contact us online to get started!
37% of marketers say that generating high-quality leads was one of their biggest challenges.
We want to decrease that percentage.
WebFX can help you generate high-quality leads with a customized marketing strategy.
Learn More About Lead Generation Services
What is lead generation for home builders?
The most common question people ask when talking about home construction lead generation is simple: What is it? To understand the answer to that question, we first have to talk about the digital marketing funnel.
What is the home builder marketing funnel?
The marketing funnel is used to describe the process of turning anonymous Internet users into customers. If you picture a literal funnel filled with water, you know there will be much more water at the top than at the bottom, but at the bottom it will run faster.
In the same way, in the early stages of marketing, your audience will be extremely broad. Only a few of those people will stick around all the way to the point of converting. The marketing funnel traces that journey.
For users at the top of the funnel, your marketing should be more introductory and informational, simply introducing them to the basics of your business and industry. For those in the middle, you're establishing your credibility.
For leads at the bottom, you're convincing them that your business is the best option.
What is lead generation?
Now that we understand the concept of the marketing funnel, we can talk about how it relates to lead generation.
Lead generation occurs somewhere in the middle of the funnel. It happens before you start trying to convert people, but after you've gotten their attention.
Put simply, a lead is a potential customer who's indicated an interest in your services but hasn't converted yet. Maybe they signed up for emails from you, or maybe you gave them an estimate. But they haven't yet committed to hiring your company.
In general, people will be leads before they convert. That makes lead generation — the process of turning people into leads — an essential part of the marketing funnel.
Hear What It's Like to Work With WebFX!

"WebFX has been an excellent company to work with. They were able to provide us an amazing new website that met our needs, and help us get to the top of the SEO results we wanted to. The team has been an absolute pleasure to work with."
Wood Pellet Manufacturer
How can you drive lead generation for home builders?
Now that you know what home builder lead generation is, let's look at how you can make it work for your business.
There are many ways you can drive leads online, but we'll focus on five of the best ones below.
1. Search engine optimization (SEO)
Search engine optimization (SEO) is a digital marketing strategy that focuses on getting your web content to rank in Google search results. Google is one of the most common ways for people to find businesses, so this is a key strategy to get right.

You can implement SEO by optimizing your web content to satisfy Google's ranking algorithm. To start with, you can target select keywords — such as "home contractor in [your city]" — by including those keywords in your written content.
Then you can further improve your SEO by optimizing your page load speeds and using responsive design on your website. The higher your content ranks, the more people will click on it, and the more leads you'll generate.
2. Pay-per-click advertising
Pay-per-click (PPC) advertising operates on a similar premise to SEO. It involves displaying ads for your business in Google search results. The difference is that, instead of putting your content in front of users by optimizing it for Google's algorithms, you simply pay to display it.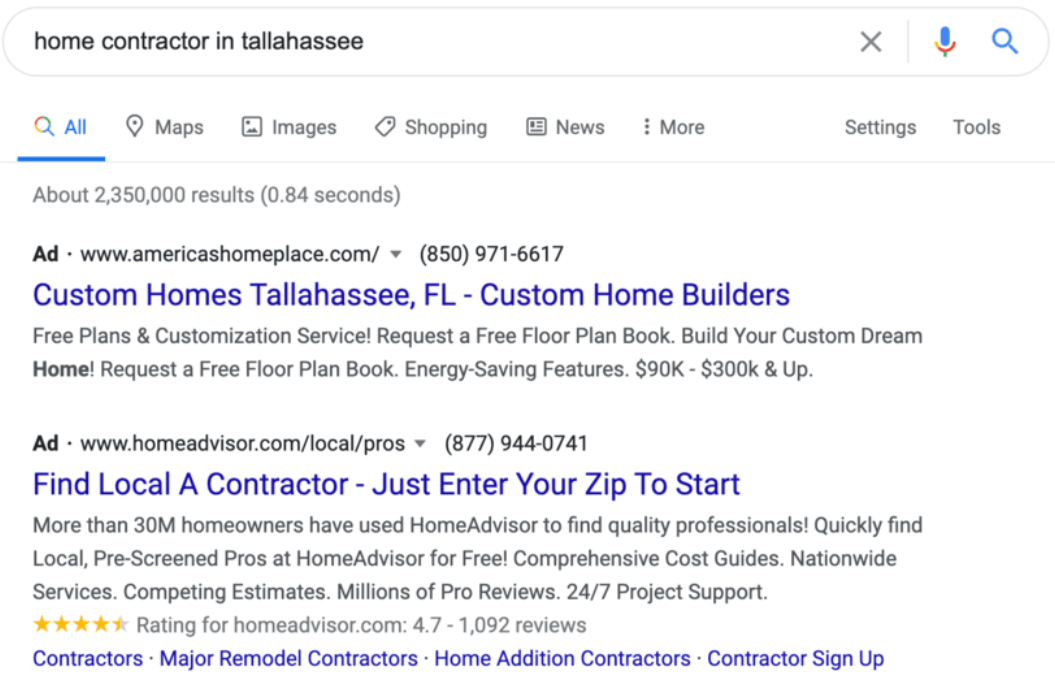 You can set up and manage your PPC campaign through a platform like Google Ads, where you can bid on specific keywords you want to target. Each time one of those keywords is searched, Google will display the ads of the highest bidders at the top of the search results.
If you can get your PPC ads to appear in search results, people will click on them and visit your landing page, where you can encourage them to take the necessary steps to turn them into customers for your business. The best part is, you only pay for your ads when users click on them!
3. Social media marketing
You want to generate as many qualified leads as possible, and that means you need to go where the people are. That's why you'll want to consider taking your marketing to social media, where the average user spends 28% of their Internet time.
To start with, you can create social media accounts for your business on different platforms. From there, you can post various types of content that will keep users engaged, from your most recent blog posts to photos of your latest projects.
You can further draw people in by using social media ads and sponsored posts, which function similarly to PPC. Between these various tactics, you can acquire plenty of new leads as people follow you and are encouraged to visit your website.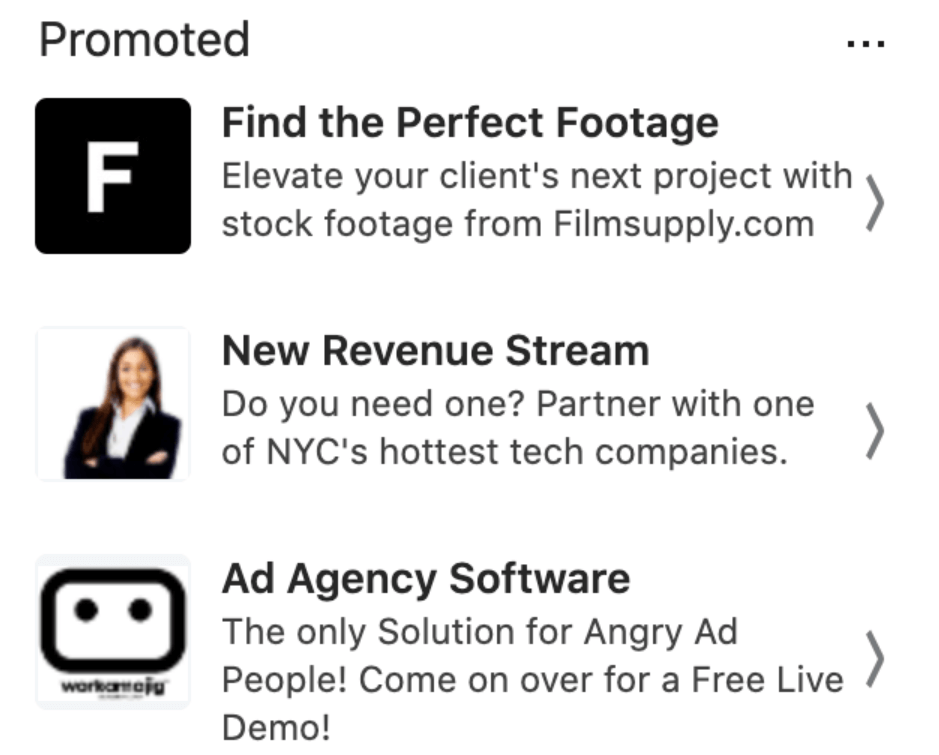 4. Email marketing
Yet another home construction lead generation tactic you can try is email marketing. When people visit your website, some may become leads, but others may leave without really engaging. But if you can get them to submit their email before they leave, you can follow up with them.
You can accomplish this using tools like email capture forms, where you encourage site visitors to sign up for emails with special offers or helpful home maintenance tips. Once you have someone on your email list, you can contact them with personalized emails and nurture them towards conversion.
5. Content marketing
Whether users find you on social media or in the results of a Google search, what they're most often looking for to start with is information. For that reason, content marketing is a valuable lead generation strategy.
Content marketing is a tactic where you write relevant, informative content on your website, often in the form of articles or blog posts. You don't want to write fluff for your pieces of content — aim to make it genuinely useful to visitors.
When you successfully give people the information they're seeking, you'll deepen their trust in your brand, and hopefully motivate several of them to subscribe to your blog or emails — both of which will result in them becoming leads!
Our digital marketing campaigns impact the metrics that improve your bottom line.
See More Results

WebFX has driven the following results for clients:

$3 billion
In client revenue

7.8 million
Leads for our clients

5.2 million
Client phone calls
Get help with your home builder lead generation from WebFX
Still want more help with your home builder marketing? No worries! WebFX has your back. We've been in the industry for over 25 years, and we know what it takes to do construction lead generation.
We can implement each of the above services for your business — from SEO to email marketing — and others as well, like web design. When you partner with us, you'll also receive a dedicated account representative to work closely with you on the entire process.
To get started with us, just give us a call at 888-601-5359 or contact us online today!
Earn a 20% greater ROI with WebFX