As a home builder, your top priority is satisfying your customers. Creating a custom home suited to their exact needs and specifications can be a challenge, but you enjoy the hard work—and if they're not happy, you're not happy.
When it comes to marketing, however, you've found that reaching new customers can be a bigger struggle than building a home. New home builder marketing strategies are hard to come by, and you may be having difficulty putting together a cohesive, effective plan that allows you to reach your target audience without spending a fortune.
How can you reach more potential customers? Digital marketing is the answer.
If you'd like to learn more, but prefer to speak with one of our Internet marketing experts directly, you can reach us at 888-601-5359.
Our digital marketing campaigns impact the metrics that improve your bottom line.
See More Results

WebFX has driven the following results for clients:

$3 billion
In client revenue

7.8 million
Leads for our clients

5.2 million
Client phone calls
The importance of online marketing strategies for home builders
As time goes on, consumers begin to respond differently to marketing. Strategies that were once effective are no longer able to have the same kind of impact. In this day and age, marketing methods like direct mail, billboards, and commercials no longer get through to consumers in the same way that they once did.
Today's consumers see these advertisements as interruptions to their daily lives – and they aren't wrong. Instead of taking them into consideration, they simply tune them out and go about their days.
Then, when they're in need of a specific service or product, they research their options on their own. They go online and use search engines like Google to find businesses that provide what they're looking for. In most cases, they'll visit several sites and compare their options before contacting one or making a purchase.
If you want to be part of this process for your potential customers, you need to be able to effectively reach and connect with people who are interested in buying a custom-built home. Internet marketing makes this possible. And not only is marketing online more effective than traditional methods, but in most cases, it's also more affordable.
Hear What It's Like to Work With WebFX!

"WebFX has been an excellent company to work with. They were able to provide us an amazing new website that met our needs, and help us get to the top of the SEO results we wanted to. The team has been an absolute pleasure to work with."
Wood Pellet Manufacturer
Five effective home builder marketing methods
Let's explore five marketing strategies for custom home builders that will allow you to reach more customers, communicate with them, and convince them to become a lead at a lower price than the conventional marketing methods you may be using right now. We'll start with search engine optimization, or SEO, one of the methods with the highest ROI and the lowest cost.
Idea #1: Optimize your company's website for search
When you type a word or phrase into a search engine like Google, dozens (if not hundreds or thousands) of calculations take place behind the scenes to determine which websites show up in the results. Search engine optimization, or SEO, is all about improving your website so you have a better chance at showing up in those results when you should.
Let's say you think your company's website should be #1 when someone searches for "custom home builder in Michigan" (because you build custom homes in Michigan). If you don't already rank #1 for that phrase, you might use SEO to get there by doing the following:
Putting that phrase in the titles of your pages
Putting that phrase in the copy on your homepage
Writing content about the custom homes you build in Michigan
These steps show search engines like Google that your site provides content relevant to users who search that particular phrase. That being said, you can't just "stuff" your site with a specific keyword and hope to rank well. In order to earn the rankings you want, you also need to provide the information that customers are looking for when they perform that search.
There are also several "off-page" signals that play into your site's ability to rank well. The most important is links from other authoritative sites. Search engines look at links from reputable websites as proof of your credibility, and sites with lots of links have a better chance of ranking highly in search engine results.
That's why in addition to optimizing your own site, a comprehensive SEO strategy for home builders also involves earning links from other sites.
Of course, these aren't the only steps you need to take in order to rank well – but they're a great start towards achieving the rankings you want. It's no longer acceptable to simply have a website and hope that Google connects the dots and decides to rank you for specific keywords. And the higher you rank, the more traffic you'll get from potential customers, so it is definitely beneficial to do everything you can to take that top spot.
To learn the basics of SEO in five minutes or less, check out our CEO's guide to SEO. This will explain a little more about how SEO works, how you can apply it to your website, and how it can help you improve your rankings and get more traffic.
Idea #2: Create customer case studies and photo galleries
Custom homes are a very personal and visual item requiring a large investment of time and money. It can be difficult to capture the interest of a potential customer without showing them the work you're capable of—but the best way is to include case studies and galleries of your previous work.
By utilizing a "case study" or "customer stories" section, you can harness the power of your previous customers to gain new ones. Collect photos, quotes, videos, or testimonials from previous customers who were happy with the custom homes you built for them, and put them together in compelling pages to tell stories from start to finish. You could show a before and after, or simply show a photo gallery with a quote or video from a customer talking about how happy they are.
Seeing is believing, and this is especially true with custom homes. Photo galleries are another great way to accomplish this—just ensure that website visitors can enlarge the photos and look at small details, and that there are accompanying quotes or testimonials to see, because the customer feedback is just as important as the photos!
This will not only show your potential customers the quality of work you're capable of, but can also help you accomplish your SEO goals. If you optimize these pages for keywords like "custom home gallery," you can attract traffic from search engine users looking for inspiration and ideas. And if they're impressed with your work, they may even choose you as their builder.
Idea #3: Set up an email newsletter
Sometimes potential customers are interested in your company or what you have to say, but aren't quite ready to make a purchase. In this case, it's a good idea to have an option to keep in touch with them—and stay in the back of their mind—for that future opportunity. Email marketing is one of those options.
By creating an email newsletter that potential customers can sign up for on your website, you have a great opportunity to talk about new homes your company has built, discuss innovations in the home construction industry, and even mention trade shows or local events you'll be attending. You can communicate with your subscribers as often as you wish, and even address your emails as if you're speaking to them personally, which can help make them more effective.
Idea #4: Be present on social media
Social media for home builders may sound difficult, but it can be one of the best ways to communicate with potential leads and strengthen your relationships with customers online. Platforms like Facebook, Twitter, and Pinterest allow you to reach new audiences and grow closer to your target audience in new ways, and offer a whole new level of customer service as well.
Home builders using Facebook usually find that it is the best place to answer questions that potential buyers have about homes. Facebook also makes it easy to quickly share photos of new homes or construction, and have conversations with fans of your company. Twitter is great for curating related content, like articles about new construction or businesses in the same area of your company. Pinterest is also a great way to extend your reach by creating boards for interior design, paint colors, or home details, which others many find and explore, ultimately leading them to your business.
Social media also allows you to find conversations that are already happening about your company and respond to them—for example, on Twitter, where some may discuss local brands or companies without directly mentioning them. Being aware of these conversations, and the sentiment behind them, can be very advantageous for your business.
Idea #5: Write compelling, informative content for buyers
Finally, one great online marketing strategy for home builders involves the creation of compelling content. This content may take the form of blog posts, articles, videos, infographics, or something else, but its end goal is always to inform and educate.
Content helps you educate your potential customers about specific topics. For example, someone may come to your site wondering how long it takes to build a custom home, assuming you've written a very detailed page to answer that question that ranks highly in searches. If you answer the question well, the consumer may stay on your site for a while, become interested in your company, subscribe to your email, and later choose you as their home builder.
On its own, content does not usually result in a sale. However, it can help lead to awareness of your company, improve your SEO, and lead to future conversions. That's why it's so important to create this content, and why content marketing is becoming an important part of nearly every online marketing plan!
How custom home builders can embrace online marketing
It's never too late to learn the basics of digital marketing and SEO. By applying your knowledge to your website, you'll be able to affordably and quickly increase the amount of traffic your website receives, and also increase the number of leads received from your website.
Embracing these new marketing methods usually requires just a little practice, as well as ongoing reading. You can subscribe to popular marketing and SEO blogs to stay current and learn about the latest industry changes, and then apply any knowledge to your site as needed.
Case Study: Triple Crown Corporation
Triple Crown Corporation is a company providing real estate construction and property management in the Harrisburg, PA area. The company contacted us not only to redesign their website, but also to provide a comprehensive SEO strategy for them. They wanted to be more visible in search engines so that those seeking out custom construction or development would find them first.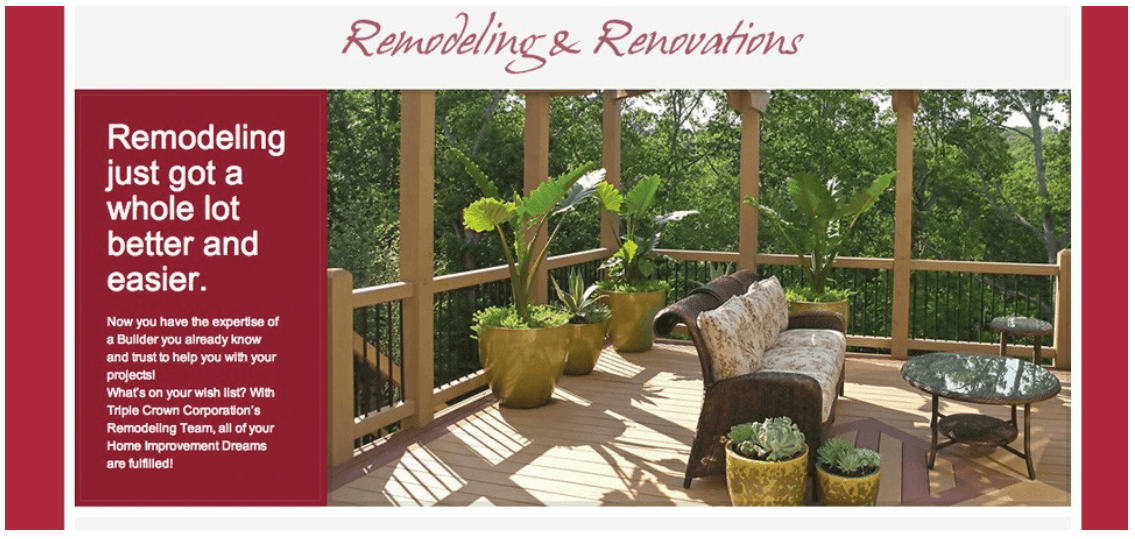 With WebFX's help, Triple Crown Corp.'s organic (non-paid) search engine visibility improved 52% over just 90 days, resulting in additional traffic and visitors to their website.
Need help creating your home builder marketing strategy?
If you're looking for a company to help you take your home builder digital marketing to the next level, WebFX has the knowledge and experience necessary to do just that. As a leading full-service Internet marketing agency, we're committed to helping our clients improve their visibility and reach more customers using the power of the web.
Interested in finding out how we can help you? Contact us today for a customized, no-obligation quote. We'd be happy to put together a completely custom marketing plan suited to your individual needs. We look forward to hearing from you!
Earn a 20% greater ROI with WebFX