Lead generation for hardscaping involves identifying prospects interested in landscaping services such as patios, walkways, retaining walls, and other outdoor installations. This process can occur through various marketing strategies, like social media marketing, email marketing campaigns, and search engine optimization (SEO).
The quality-over-quantity approach works best for lead generation in hardscaping. Targeting individuals specifically interested in these services will result in higher conversion rates and more successful sales. Building a solid online presence and showcasing previous work can attracts prospects and generate leads.
So how do you implement a lead generation strategy for hardscaping companies? Read on to learn the basics of lead generation for hardscaping, how to generate leads for a hardscaping company, and the best lead generation services in the United States.
Here's a summary of what we'll cover:
37% of marketers say that generating high-quality leads was one of their biggest challenges.
We want to decrease that percentage.
WebFX can help you generate high-quality leads with a customized marketing strategy.
Learn More About Lead Generation Services
What is lead generation for hardscaping?
Lead generation for hardscaping refers to identifying and attracting prospects interested in hardscaping services through marketing strategies, such as social media advertising, email campaigns, and SEO. It's the best way for hardscaping businesses to reach their target audience and convert them into paying clients.
Why does lead generation matter for the hardscaping industry?
Lead generation is crucial for the hardscaping industry, as it helps businesses find prospects and increase sales. By generating leads, your hardscaping company can also establish its brand and reputation in the market.
For example, if you specialize in patio construction, you can utilize lead generation channels to reach out to homeowners looking to upgrade their outdoor living spaces and showcase your expertise. This approach can lead to more referrals and repeat business, ultimately driving growth for your hardscaping company.
Lead generation can also help you stay ahead of competitors by identifying and targeting new markets. By analyzing customer data and trends, you can tailor your marketing strategies to meet your audience's evolving needs and stay relevant in the industry.
Social media platforms and SEO techniques can help you reach a wider audience and attract prospects who may be unaware of your services. Investing in digital marketing for hardscaping can increase your lead generation rates, and establish your company as an industry leader and drive long-term growth.
Our digital marketing campaigns impact the metrics that improve your bottom line.
See More Results

WebFX has driven the following results for clients:

$3 billion
In client revenue

7.8 million
Leads for our clients

5.2 million
Client phone calls
How to generate leads for a hardscaping company
Here are seven steps to generate leads for your hardscaping company:
1. Create a visually appealing website that showcases your work
Creating a visually appealing website that showcases your work can help you generate leads for your hardscaping company. Investing in web design for hardscaping can help you attract prospects and establish credibility in the industry, ultimately leading to more business opportunities.

For example, if you specialize in pool decks, you can include high-quality photos of your last paver, masonry, and flagstone pool deck projects on your website. You can also add customer testimonials and before-and-after pictures to showcase your work's quality.
Your website provides visitors with information about your services and pricing, making it easier for them to make informed decisions. A mobile-friendly website can increase your chances of attracting leads as more people access the Internet through their smartphones.
In addition, you can use your website to showcase your company's expertise by providing informative blog posts or articles about the latest trends and techniques in the industry.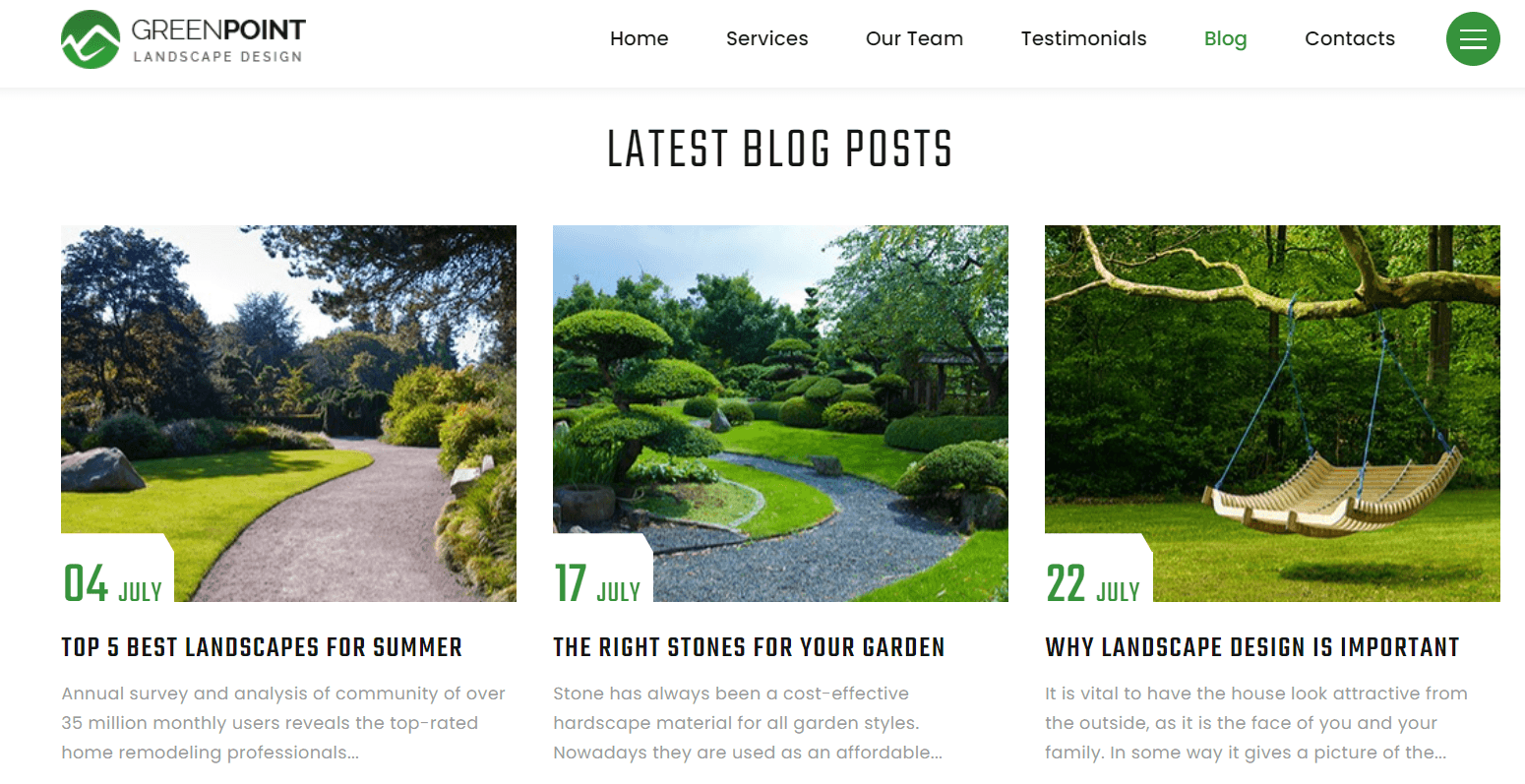 Going back to the above example — you can write an article about the benefits of different materials such as concrete, wood, or pavers and provide tips on maintaining them during different seasons.
This approach will attract prospects and establish your company as a knowledgeable and trustworthy source in the hardscaping industry.
We'll help you create a website that stands out.
"WebFX has been instrumental in helping us develop a new website, allowing us to be a leader in our industry."
Learn More About Our Web Design Services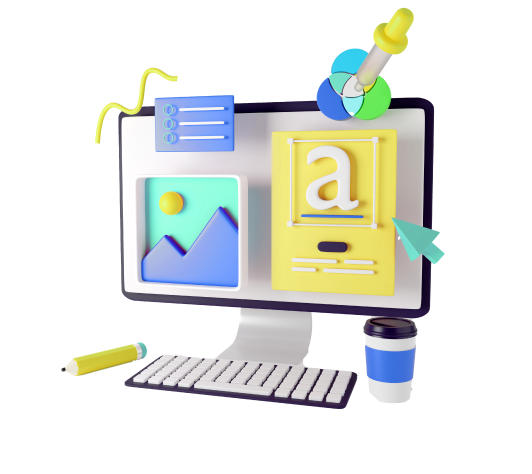 2. Leverage SEO techniques to drive organic traffic to your website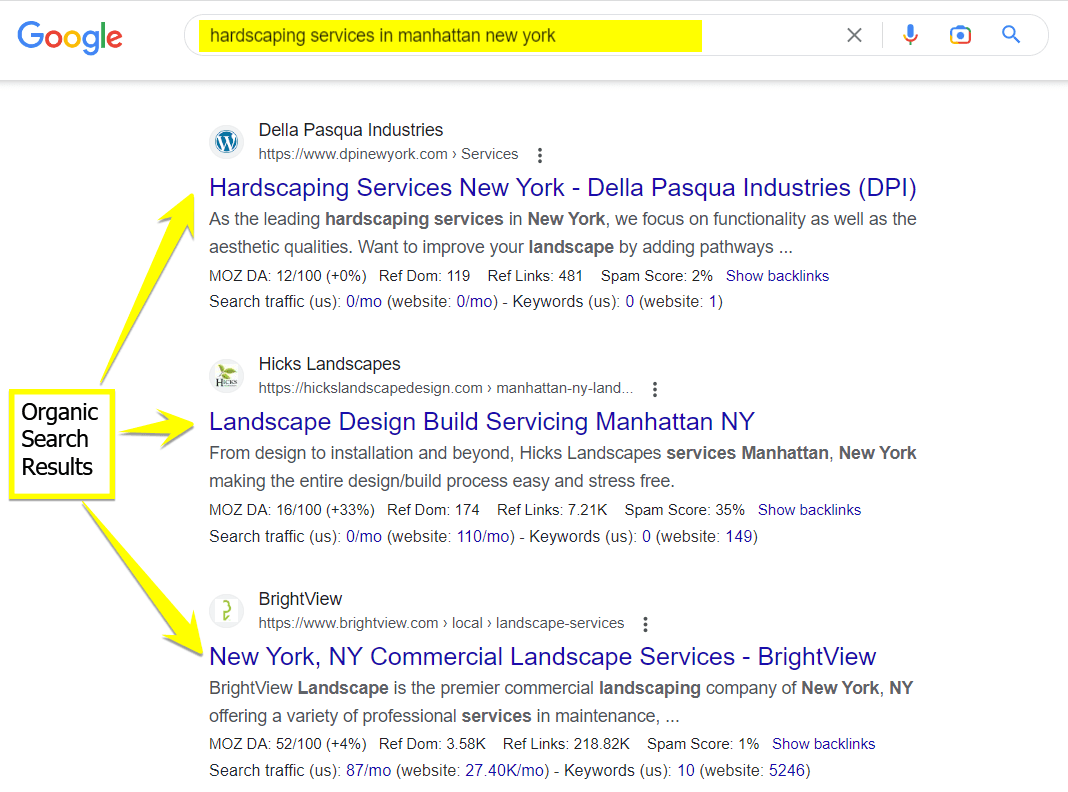 Once you've created your hardscaping website, you can implement SEO strategies for the hardscaping industry. By consistently applying these techniques, you can maximize your site's exposure in search engine results (SERPs) and attract more prospects to your business website.
Here are the SEO techniques you can use:
By conducting keyword research and implementing on-page optimization strategies, you can increase your visibility in SERPs and attract prospects actively searching for hardscaping services.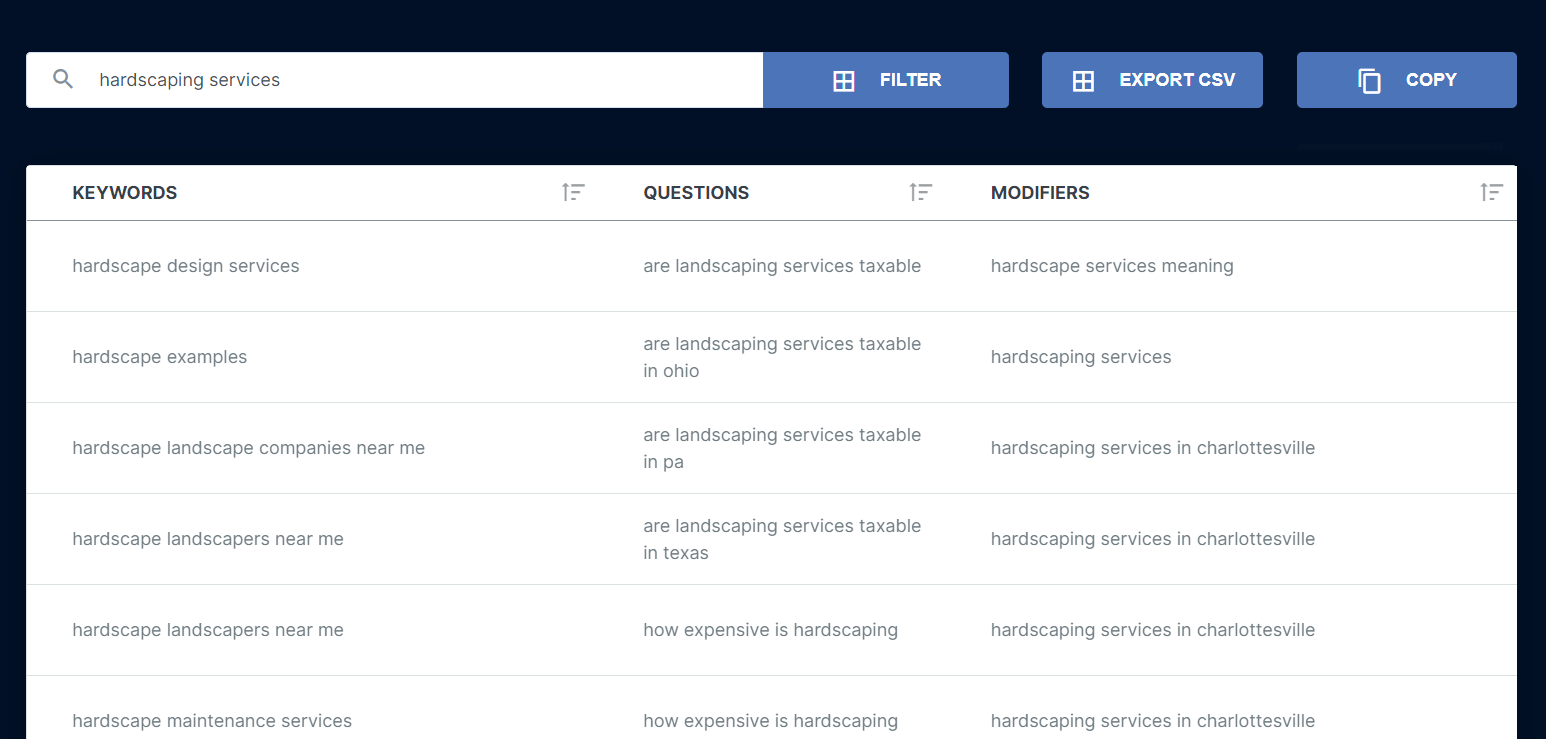 Additionally, regularly creating high-quality content can help establish your company as an authority in the industry and improve your rankings over time.
These are real SEO results driven for a WebFX client.
You're next.
Learn More About SEO Services


260%
increase in organic revenue

198%
increase in organic transactions
150%
increase in organic traffic

3872%
increase in sessions from SEO
3. Use lead magnets to capture prospects' contact information
Lead magnets are incentives or offers such as ebooks, free consultations, or exclusive discounts you provide in exchange for contact information.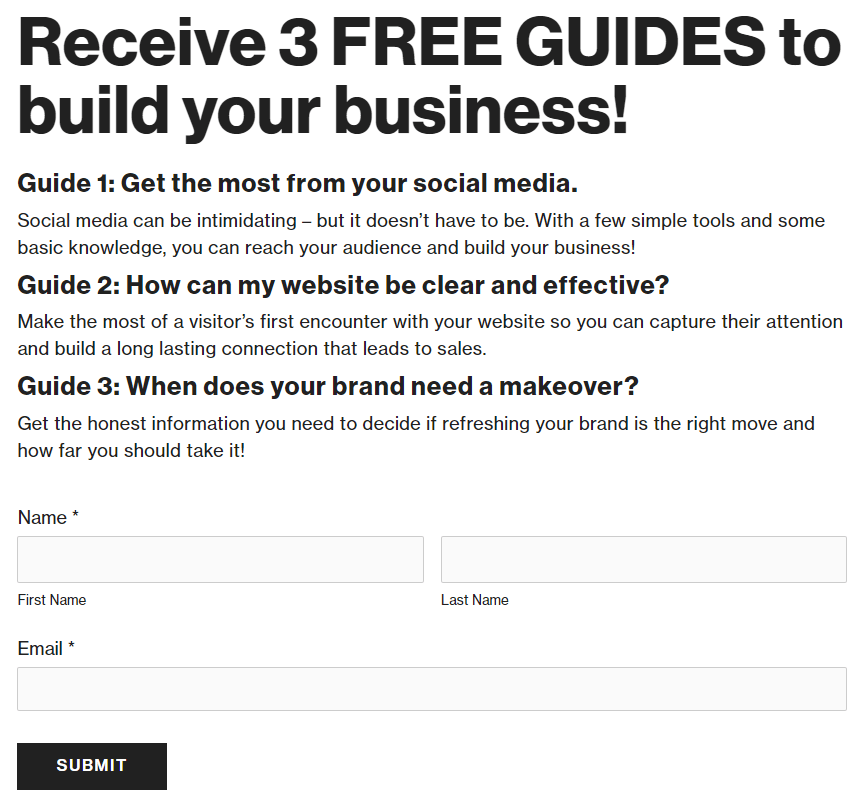 Lead magnets help you build a list of prospects to nurture and convert into paying clients. By offering valuable incentives, you can attract leads who are genuinely interested in your hardscaping services.
Let's say you specialize in stone masonry. In that case, you could offer a free guide on choosing the best type of stone for a patio or walkway in exchange for the prospect's contact information. This approach provides value to users and positions your company as an expert in the field, increasing the likelihood of them choosing you for their hardscaping needs.
Some of the best lead magnets for hardscaping companies include:
Free consultations: Offering a free consultation allows prospects to discuss their projects with you and understand your expertise and approach before committing to working with you, increasing the chances of them becoming paying clients.
Detailed project estimates: Providing detailed project estimates gives prospects a clear understanding of the costs involved in their project and demonstrates transparency and professionalism, which can help build trust and credibility with them.
Special discounts or promotions for first-time clients: Offering special discounts or promotions for first-time clients can incentivize them to choose your hardscaping company over competitors. It can also help build loyalty and repeat business in the long run.
Ebooks or guides: Providing informative content, such as ebooks or guides on hardscaping topics, can position your company as an industry thought leader and attract prospects.
These incentives help differentiate your company from competitors and encourage prospects to take action. Additionally, lead magnets can help you segment your email list based on the interests and needs of your prospects, allowing for more personalized and targeted marketing efforts.
4. Employ PPC campaigns to target specific keywords and geographic locations
PPC for hardscaping allows you to place ads on SERPs and social media platforms. By targeting specific keywords and locations, these ads can drive highly qualified traffic to your company's website and generate leads.
Suppose you offer Concrete Block with Stone Facing as a hardscaping service. In that case, you can target keywords such as "concrete block with stone facing installation" and location-specific keywords like "hardscaping services in [city name]" to reach prospects who are actively searching for these services in your operation area.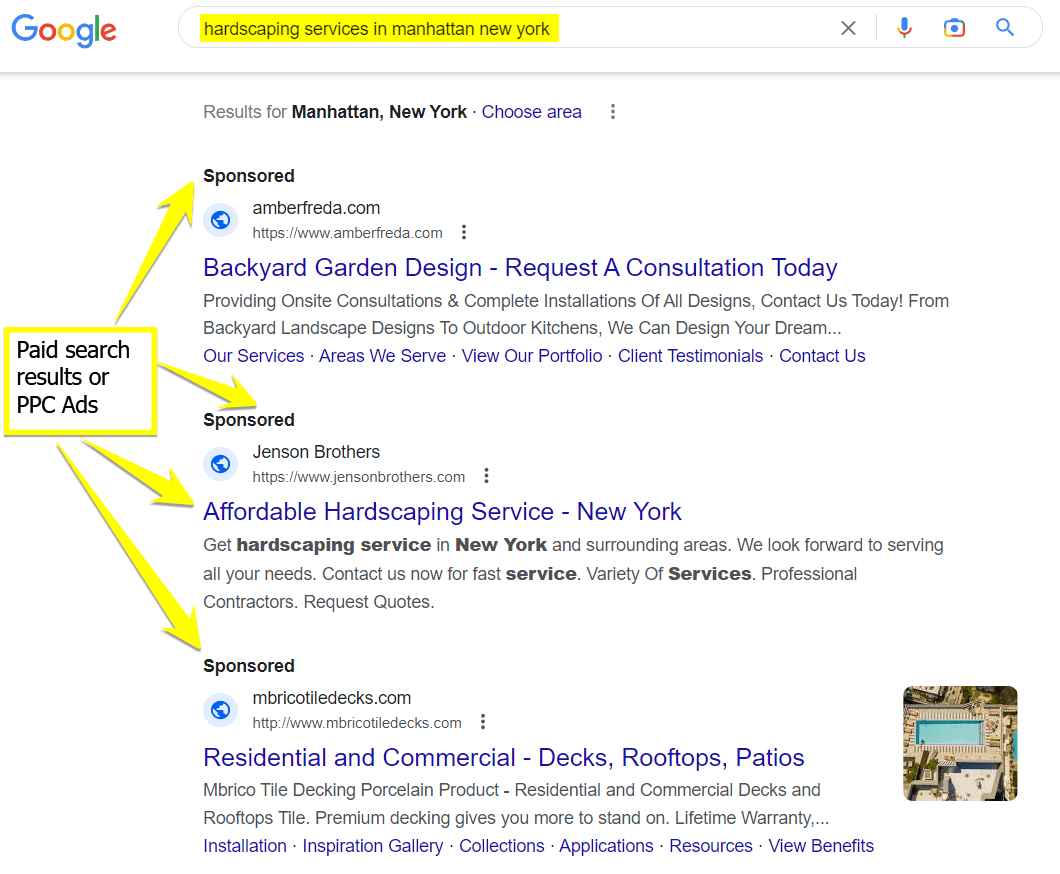 The best PPC tactics for hardscaping companies include the following:
Creating compelling ad copy that highlights your unique selling proposition. One example would be, "Our experienced team delivers high-quality concrete blocks with stone-facing installation services that will enhance the beauty and functionality of your outdoor living space."
Using ad extensions like call buttons and location extensions to make it easy for prospects to contact you. Ad extensions provide additional information to prospects, such as phone numbers, location, and links to specific landing pages on your website.
Targeting specific hardscaping-related keywords, such as "patio installation" or "retaining wall construction," and bidding on them strategically to increase visibility and drive traffic to your website.
Implementing remarketing campaigns can help keep your brand top-of-mind for prospects who have previously shown interest in your services. This tactic can help increase your online advertising efforts' effectiveness and drive more qualified leads to your hardscaping business.
Regularly monitoring and adjusting your campaigns based on performance data can help you optimize your PPC strategy and get the most out of your advertising budget. Doing so can improve your overall advertising strategy and increase the likelihood of turning prospects into loyal clients.
PPC campaigns give you more control over their advertising budgets and can help them reach prospects actively searching for their services. By analyzing the data from PPC campaigns, you can gain insights into which keywords and locations drive the most leads and adjust your strategy accordingly.
This approach improves the effectiveness of the PPC campaigns and aids in optimizing the overall marketing strategy of the company. Moreover, with PPC advertising, you can track your return on investment (ROI) and make data-driven decisions to maximize your advertising efforts.
Questioning the quality of your SMB's PPC performance?
Get your FREE PPC audit from WebFX today!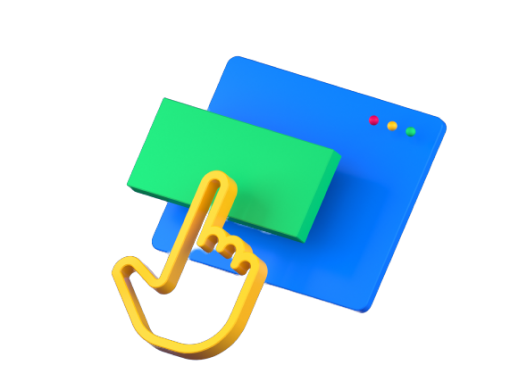 5. Utilize social media platforms and local directories to help increase visibility
Social media for hardscaping involves creating and sharing content on platforms like Facebook, Instagram, and Pinterest to showcase the company's work and connect with prospects in the local area.
For example, let's say you provide walkway design and construction. You can create a Facebook post or Instagram story highlighting a recent paver walkway project and include relevant hashtags to attract prospects searching for that specific service in your area.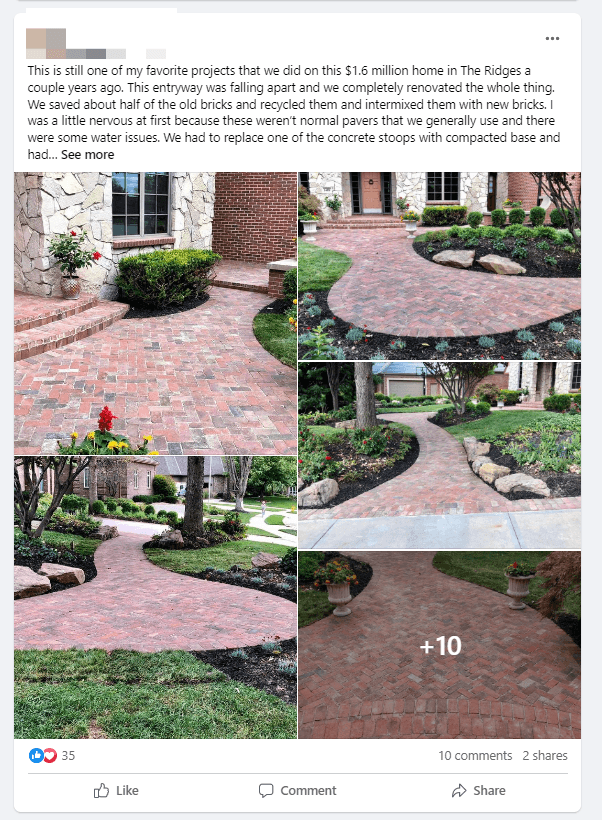 You can use social media sites to interact with your audience by replying to comments and direct messages, providing helpful tips and advice, and sharing user-generated content to further establish your brand as a trusted authority in the hardscaping industry. This approach can increase brand awareness and lead to more business opportunities.
Some of the most effective social media techniques for hardscaping companies include:
Sharing before and after photos of completed projects: This allows prospects to see the transformation your services can provide and can be a visual testimonial to your skills and expertise.
Utilizing hashtags and geotags: Tags can increase your posts' visibility to users searching for hardscaping services in your area, driving more traffic to your website and increasing the likelihood of new business inquiries.
Creating informative videos showcasing the installation process: Videos can be a powerful tool to educate prospects on the quality and attention to detail that goes into your work and demonstrate your team's expertise and professionalism.
Featuring customer testimonials and reviews: These reviews can further establish credibility and trust with prospective clients, providing social proof of previous clients' satisfaction and positive experiences.
Responding promptly and professionally: Responding to any inquiries or comments on your posts can help build a strong reputation for customer service and responsiveness.
Partnering with influencers or other businesses in the hardscaping industry: Partnerships can expand your reach and attract new clients who may have not heard of your company. Collaborating on a project or offering a joint promotion can be mutually beneficial and help establish your brand as a leader in the industry.
Another effective way to establish credibility and trust with prospects is by showcasing any awards or recognitions your company has received, such as industry awards or certifications.
Doing so can demonstrate that your company is a leader in the field and has a proven track record of success. Additionally, offering a satisfaction guarantee can further reassure clients that they can trust your services.
Growing your social presence with WebFX is a walk in the park.
"WebFX allows growing your social media platforms to be stress-free! They are knowledgeable and adapt to your company needs!"
Learn More About Our Social Media Services

6. Network with other professionals in the industry to get recommendations and referrals
Networking with other professionals in the industry — such as architects, engineers, and contractors — to get recommendations and referrals is one of the most effective ways to generate leads for a hardscaping company.
For example, if you specialize in ponds and waterfalls, you can attend industry events and conferences to reach out to architects who design outdoor living spaces and offer your services as a water feature specialist.
You can also build partnerships with complementary businesses, such as landscaping companies, to expand your reach and increase your chances of getting new leads.
Some of the best channels for finding construction and hardscaping events in America are industry associations, such as:
The National Association of Home Builders: This association often hosts events and conferences that bring together professionals in the industry, providing ample opportunities for networking and building partnerships.
The American Society of Landscape Architects: They host events throughout the year for landscape architects and other professionals in the industry, which can be an excellent opportunity to meet potential partners and expand your business network.
Social networking platforms: Social media channels like LinkedIn can also be an excellent resource for connecting with other professionals in the industry and staying up-to-date on upcoming events.
Attending these events can help you stay informed about the latest trends and innovations in the hardscaping industry and gain valuable insights from experienced professionals. Participating in these events can help you establish your brand and increase your visibility within the industry.
7. Attend local home and garden shows to connect with prospects
Local home and garden shows provide a platform for you to interact with prospects, demonstrate your expertise, and build trust, which can lead to long-term relationships and repeat business.
For example, you can set up a booth at a home and garden show to display your portfolio, offer free consultations, and distribute promotional materials to attract prospects. You can also network with other professionals in the industry to gain referrals and expand your business.
Participating in local home and garden shows can also help you stay up-to-date with the latest trends and technologies in your industry, which can give you a competitive edge over other businesses. Attending these shows can provide valuable insights into what your target market is looking for and how you can better serve their needs.
Measuring the metrics that affect your bottom line.
Are you interested in custom reporting that is specific to your unique business needs? Powered by MarketingCloudFX, WebFX creates custom reports based on the metrics that matter most to your company.
Leads

Transactions

Calls

Revenue
Learn More

Do you need lead generation services for hardscaping?
At WebFX, we offer customized lead generation services for hardscaping that can help you reach your target audience and generate high-quality leads. Our team of experts uses proven strategies to increase your online visibility and drive more website traffic.
With MarketingCloudFX — our lead management solution — you can streamline your lead generation process and focus on converting leads into paying clients. Our software tracks and analyzes user behavior on your website to provide valuable insights that can help you optimize your lead generation strategy.
Plus, we've generated over 7.8 million leads for clients over the last five years, making us one of the most trusted and experienced digital marketing agencies in the hardscaping industry. Let us help you take your hardscaping business to the next level with our comprehensive lead generation and online visibility solutions.
Contact us online or call 888-601-5359 to speak with a strategist about how we can help you increase your website's conversion rate and drive more qualified leads to your business through our proven strategies and data-driven approach.
Increase your leads, sales, and revenue with digital marketing
Find Us Driving Revenue Nationwide