With lighting companies spanning residential, personal, and commercial use, you must put your products in front of the right people. Pay-per-click (PPC) advertising can help, but you must understand the mechanics to have the best results.
PPC for lighting and LED companies can help you allocate your budget for the best-performing ads. If you want to encourage the right people to visit your site — whether that's contractors or homeowners — PPC can grab their attention and point them in the right direction.
This page will cover the following:
What is PPC for lighting and LED companies?
Benefits of PPC for lighting and LED companies
PPC examples from other lighting companies
How to use PPC ads for lighting and LED companies
Read on to learn about PPC for lighting and LED companies, or call 888-601-5359 to get started on a strategy today!
Traffic attracted through PPC advertising yields 50% more conversions than organic advertising.
Are you leveraging PPC in your marketing efforts? Let's get started.
View the Guide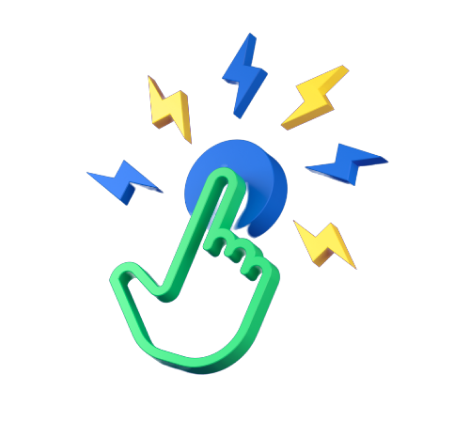 PPC overview
Before we get into how you can use PPC for lighting and LED companies, let's cover some PPC basics.
What is PPC for lighting and LED companies?
PPC ads are a type of digital advertisement where you only pay when someone clicks on your ad. You can find PPC ads on search engines, Amazon, YouTube, and other social media sites. LED and lighting companies can use PPC to advertise services to their target audience.
PPC ads will have a "Sponsored" or "Ad" tag on them in search results: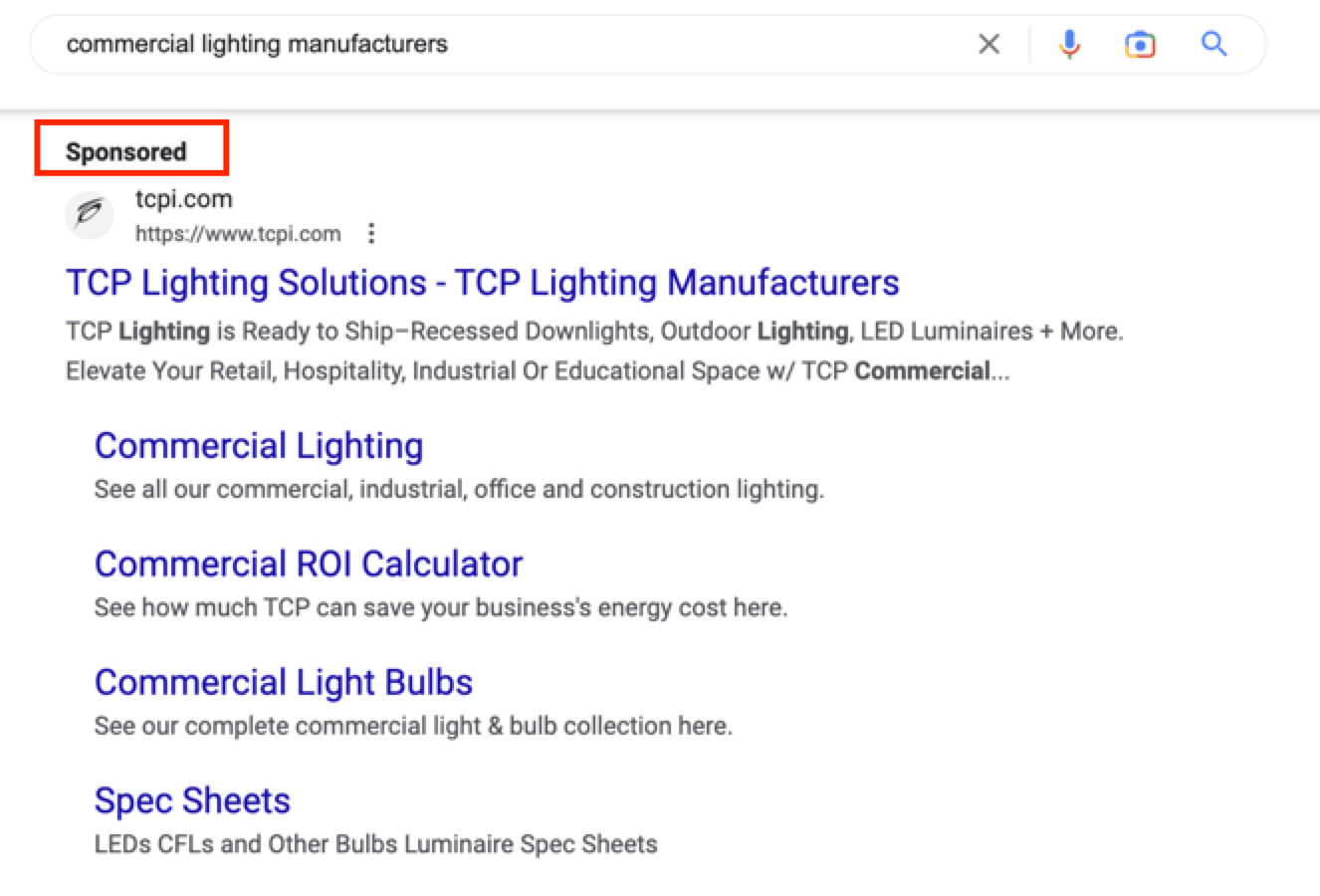 The typical structure for PPC looks like this:
A user searches for a keyword like "lighting companies for commercial buildings."
The platform (like Google) will take that keyword and analyze the ads that target it to find the best option.
Somewhere on the page (usually at the top and bottom), at least one "Sponsored" result will appear — this is your ad.
If the user clicks on your ad, the page will redirect to your designated landing page. You will then pay Google the preset amount for the click.
Many companies use PPC with other digital marketing strategies to help tackle paid and organic traffic.
Benefits of PPC for lighting and LED companies
There are several advantages to using PPC over other advertising methods. The benefits of PPC for lighting and LED companies include:
Audience targeting: PPC campaigns place your ads in front of people searching for your services. Instead of using a broad approach and not knowing who sees your ad, you know it will reach those most likely to buy from you.
Higher return on investment (ROI): Businesses make $2 for every $1 spent on PPC. That means that even if you set a low budget and only target words with a low cost-per-click (CPC), you will still make money back on your campaign.
Better budgeting: Since you set your budget before you run your ads, you can better predict how much you will spend on your ads. Also, you have more control over your funds in general as you only target your ideal audience.
Along with these benefits, you can enjoy an overall increase in traffic and more conversions. As more people see your ads and visit your site, your brand will grow, resulting in a stronger bottom line and more sales.
How to use PPC ads for lighting and LED companies
Now that we have the basics of PPC down, let's review the guidelines for creating PPC ads for lighting and LED companies.
1. Outline a budget
Before creating ads, you must decide how much you want to spend on PPC. The average PPC campaign costs between $9000 to $10,000 per month, but the cost will vary based on your campaign, agency, platform, and goals.
If you want to get the most out of your budget, account for keyword competition. With PPC, your goal should be to balance keyword competition and search volume to optimize the CPC. Higher-volume words often have more competition, which leads to a higher CPC.
2. Choose your channels
After establishing a budget, you must decide where to post your ads.
Every target audience is different — your audience might prefer search engines to YouTube videos. Or, they might look exclusively on Amazon. Building out buyer personas can help you evaluate their purchase habits and see the best option.
Also, consider how you sell. Amazon ads might not be a good fit if you don't sell directly to consumers. You can expect more conversions if you cater to your audience and guide them to your website.
3. Create solid landing pages
A landing page is where your user lands when they click on your advertisement. These pages can make or break your PPC efforts by pushing users toward your CTA.
Your landing pages should be enticing enough to keep people from bouncing. For example, say that you advertise residential LED lighting, but the landing page doesn't show your product or even discuss LED lighting. The user will click off, but you'll still have to pay.
To make sure that people stay on your website, your landing pages should:
Showcase the advertised product or service
Have a clear call to action
Use photos and videos as visual appeals
With the right landing pages, you can help raise your conversion rate and build your reputation for transparent advertising.
4. Track relevant metrics
Once you launch your campaign, you must track its performance. You can use tracking tools like Google Analytics to measure various factors:

Some basic metrics include clicks, conversions, and bounces. If you want to make sure that your ads perform well, establish a traffic benchmark early on and see how it changes after you launch the ad.
Questioning the quality of your SMB's PPC performance?
Get your FREE PPC audit from WebFX today!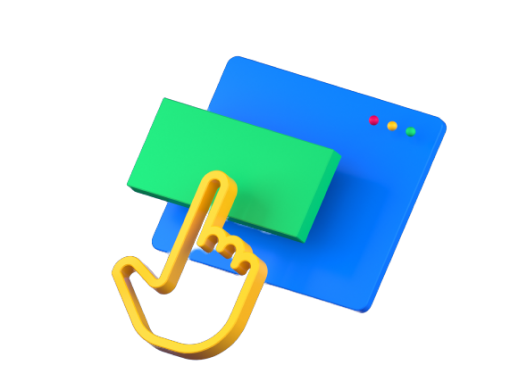 Work with the experts for PPC ads
WebFX is a PPC agency with 25 years of experience helping different lighting and LED companies create PPC ads. With our help, you will earn more revenue on each ad and start seeing the conversions you want.
Our results aren't by chance — we use data and experience to back up every approach for your company. So far, we have managed 650 ad campaigns and created 355,000 unique ads for our clients.
Want to experience these results yourself? Request a free quote today to see what your custom PPC campaign will entail!
Increase your leads, sales, and revenue with digital marketing