If you're looking for a new way to reach customers for your painting business, digital marketing is the answer. A digital marketing plan can help you reach leads that you can't reach with traditional marketing methods. It's a valuable asset to painters because it helps you reach leads and earn conversions.
On this page, we'll discuss the top three digital marketing methods for painters. If you want to learn more about how you can earn valuable leads through your digital marketing strategy, call us today at 888-601-5359 to speak with a strategist.
Let's get started!
Our digital marketing campaigns impact the metrics that improve your bottom line.
See More Results

WebFX has driven the following results for clients:

$3 billion
In client revenue

7.8 million
Leads for our clients

5.2 million
Client phone calls
1. Obtain valuable website traffic with search engine optimization (SEO)
When users want to find a painter, they turn to search engines like Google to help them find the right business. By investing in search engine optimization (SEO), you will help those users find your business first.
SEO is the process of boosting your website's ranking in the search results to reach more valuable leads. This is done through optimization of your site.
The goal is to get your site on the first page of results. This is due to the fact that 75 percent of people don't go past the first page of results. If you aren't on the first page, you're missing out on valuable traffic.
To start using SEO, you must choose your keywords. Users input keywords to trigger results that are relevant. It's crucial that you choose the right keywords, so your painter's website appears in relevant results.
Conducting keyword research will help you find relevant search terms. As you mull over your options, focus on the long-tail keywords. These are keywords that contain three or more words.
Long-tail keywords drive better results for your business. Someone who searches "painters in Harrisburg, PA" is more interested in your business than someone who searches "painters." Utilizing long-tail keywords will attract leads that are specifically looking for painters in your area.
Once you have your keywords selected, you'll integrate them into your site. Include them in the heading, title, meta description, and body text of your page. This will help Google properly index your page to appear in the right search results.
Aside from keyword optimization, there are other important optimizations for SEO.
Your page's speed is a crucial part of your site's performance. People don't want to wait for slow-loading pages. If your page takes too long to load, leads will leave your site.
It's important that you ensure your page loads quickly, so leads remain on your site. You can do this by using Google PageSpeed Insights to see where you need to make changes, or you can invest in page speed services from a digital marketing company.
In addition to page speed services, you can optimize your SEO plan through earning backlinks, creating content, and updating your web design.
SEO is a great method for helping your business reach valuable traffic. When you optimize your site, you create the opportunity for your painting business to reach more relevant traffic. It's a great way to help your painting business grow.

Hear What It's Like to Work With WebFX!

"Right from the beginning, we knew it was going to be a great relationship with WebFX. Our coordinator is very attentive to deadlines and walks us through the entire process. We couldn't have picked a better team to help us bring our marketing to the next level!"
Painting Products
2. Earn qualified leads with pay-per-click (PPC) advertising
If you want to earn valuable leads that are ready to convert, pay-per-click (PPC) advertising is a great way to obtain them. PPC ads appear at the top of the search results above the organic listings.
These ads are great for earning leads that are ready to convert. In fact, PPC visitors are 50 percent more likely to convert than organic visitors. PPC ads draw in leads that are ready to make a purchase.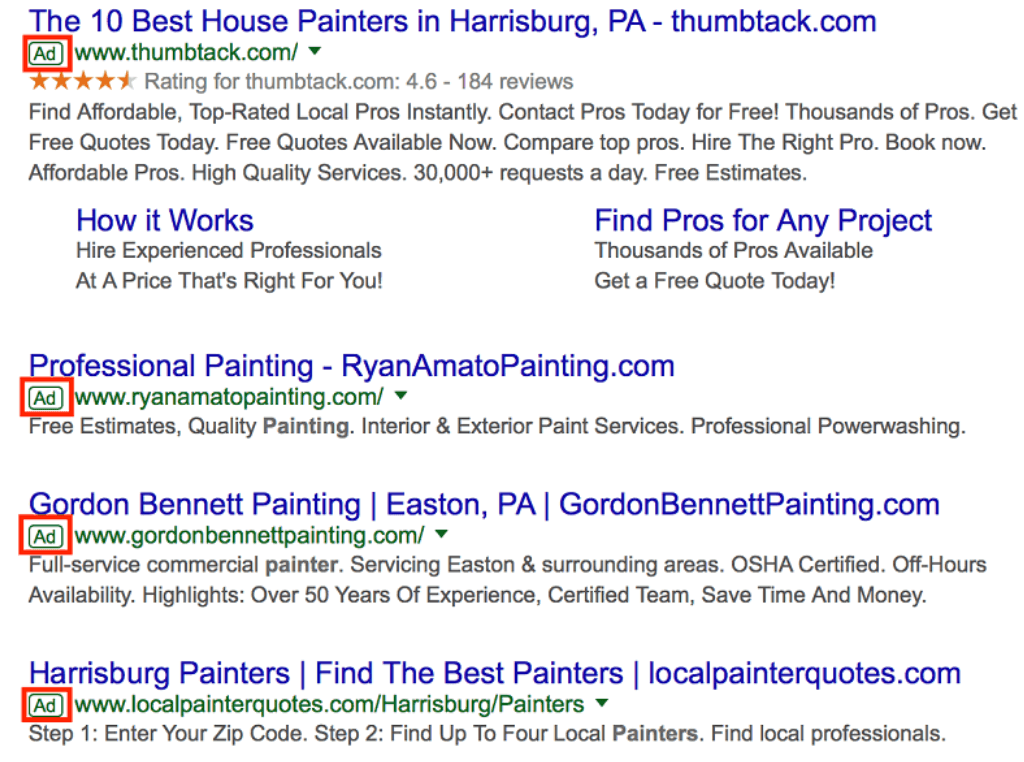 To start using PPC ads, you'll need to identify the keywords and phrases you want to trigger your ads. Like SEO, you'll want to focus on long-tail keywords. Long-tail keywords help drive in specific leads and also have a lower cost-per-click (CPC) because there is less competition for keywords that are highly specific.
After you select your keywords, you'll enter the bidding system. You must place your maximum bid for your ad. This amount is flexible and can be changed as needed.
This maximum bid and your quality score will determine your ad's placement. Quality score is determined by factors such as ad relevancy and clickthrough rate (CTR). A high quality score will beat out a high bid because Google wants to put the most relevant ads first.
Once you have your ad placement, you will launch your campaign.
PPC is a great method for painters because it is very budget-friendly. You set the amount you are willing to pay for each click. You only pay when people click on your ad and don't pay for impressions.
In addition, PPC gives you complete control over your campaign. You decide what information to add to your ad. You also determine what time of day it runs, who it targets, and how long the campaign runs.
PPC is a great method for helping your painting business reach valuable leads. You'll attract more qualified leads by investing in this method.
If you need assistance executing your PPC campaign, our team of 500+ experts can help! We offer PPC and SEO services to help your pages earn exposure and appear higher in the search engine results. Give us a call at 888-601-5359 today to learn more about how our marketing services will help improve your site!
3. Show off your work with social media marketing
Social media networks are a great opportunity for painters to connect with valuable leads. It's one of the few digital marketing methods where you know who is in your audience and can build a relationship with them.
Social media marketing is a valuable asset to your digital marketing plan because it enables you to deliver tailored content to get your audience thinking about your painting business. There are dozens of social media sites you can use, including Facebook, Twitter, Instagram, and LinkedIn.
To figure out the right social media sites for your business, get to know your audience. Find out which social sites they frequent the most. It will help you focus your social media strategy on the right platforms.
Once you select your platforms, you can start posting content to generate interactions on your page. The type of content depends solely on the social media platform.
Platforms like Instagram focus on specific types of content, such as photos and videos. Other social sites, like Facebook and Twitter, allow you to post photos, videos, polls, links to content, and more.
Regardless of the type of content you can post, it must be engaging and interesting above all else. You want your audience to comment, like, share, and interact with your content.
It's a great opportunity to post examples of your work. People want to see photos and videos of painting projects you've worked on previously. It's a great opportunity to show your audience what you can do and build trust with them.
Social media makes it easy for you to build a personal connection with your audience. If your audience has questions, they can contact you directly through your social profiles. It makes it easy for you to connect with your audience.
If you want to invest in a method where you can deliver tailored content and build your painting business's reputation with your audience, social media is the answer. It's a great method for helping your business nurture leads and get them to build trust in your brand.
WebFX will help you create your unique digital marketing plan
Don't keep brushing off getting a digital marketing plan set in place. A strong digital marketing plan helps painters earn more traffic, obtain valuable leads, and earn conversions. At WebFX, we have a team of 500+ experts that will help you create your custom campaign.
We're a full-service digital marketing company that offers numerous digital marketing services. Our team will help you create a customized plan that works for your painting business. With more than 25 years of experience, we know how to create campaigns that drive results.
If you're looking for a digital marketing company that drives results, look no further than WebFX. To date, we've driven over $3 billion in sales and over 7.8 million leads for our clients. When you partner with us, you will feel confident that we focus on driving results for your business first.
Want to know what it's like to partner with us? Just ask our clients! Check out our 1020+ client testimonials that attest to the great work we do!
Get started today
If you're ready to start building your custom digital marketing plan to obtain valuable leads and conversions, contact us online or call us today at 888-601-5359 to speak with a strategist.
We look forward to hearing from you!
Earn a 20% greater ROI with WebFX