What's the purpose of your power washing business? What's the company's ultimate goal? Likely, the answer is "to drive revenue." And that means driving conversions. But you can't drive either of those things without first generating leads.
That's why lead generation for pressure washing companies is such a crucial part of marketing. You can use various marketing strategies to promote yourself online and turn people into leads that you can then nurture into customers.
But what is lead generation for power washing companies, and how do you generate leads? We'll answer both of those questions below, so keep reading to find out more.
Then partner with WebFX's team of over 500 for our lead generation services. Just call 888-601-5359 or contact us online to get started!
Learn how we increased traffic by over 40%, and conversions by over 100% for an ecommerce client.
Read the Case Study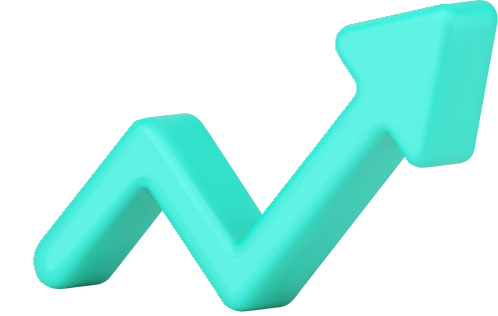 What is lead generation for power washing companies?
Lead generation for pressure washing companies is the process of attracting potential customers to your business and getting them invested in your pressure washing services. Once you've done that, you can nurture those leads toward conversion.
Pressure washing lead generation explained: What is a lead?
Before learning about lead generation strategies for pressure washing companies in more detail, you need to know the definition of the word lead.
A lead is essentially a person who takes an active interest in your business. A lead isn't yet a customer but actively considers becoming one. People can become leads in a variety of ways, which we'll get to later.
The reason you want to generate leads is that people usually need to become leads before they'll convert. After all, think about this — why would someone who knows little about your company ever pay for your services? People need to have at least some knowledge about your pressure washing company before they convert.
That's the purpose of lead generation. When you market to people who aren't yet familiar with you, the first step is to turn them into leads. Once you've done that, then you can work on nurturing those leads toward becoming customers.
Lead generation for pressure washing companies: 5 strategies
Now that we've covered the basics of lead generation for power washing companies, let's dive into how to generate leads.
Here are five strategies you can use for power washing lead generation!
1. Start a business blog
The first pressure washing lead generation tactic to try is to start a blog on your website. Blogs are fantastic ways to draw in new visitors. You can write the content and optimize it to appear in search results so people can find it when they look up particular terms.
As for the focus of your blog posts, try to stay informational. Your blog isn't the place to do a full sales pitch — instead, use your blog posts to educate users about specific topics related to power washing.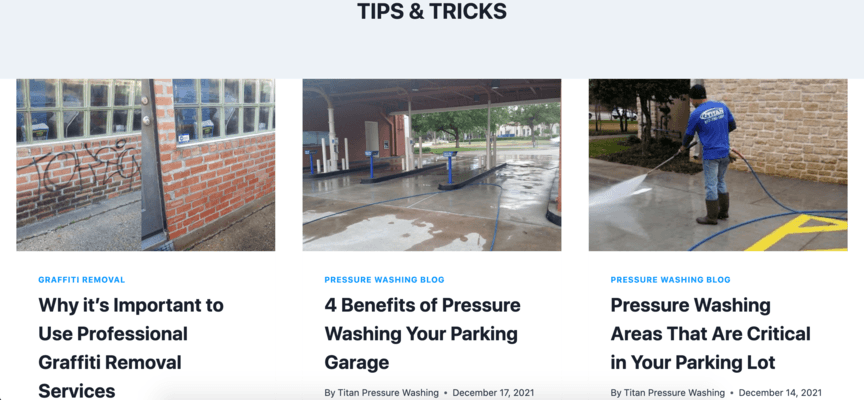 Users will come to your site to learn more about pressure washing, but they might leave with an increased familiarity and liking for your business that qualifies them as leads.
2. Run paid online ads
Another option you have is to run paid advertising campaigns online. There are several types of paid ads you can run.
Firstly, you can run paid search ads. These ads will appear in Google search results, displaying above the organic rankings. When users click on these ads, they visit landing pages that encourage them to convert.
You can also run display ads, which appear as visual blocks or banners in the margins of third-party websites. As with paid search ads, display ads lead users to landing pages that advertise your company.
For both types of ads, you can hone your targeting to reach a specific audience based on keywords, website choice, or demographics.
3. Market and advertise on social media
Did you know that the average user spends 33% of their Internet time on social media? With social media being so dominant in people's lives, it's no surprise that it's one of the best spots to market your business and generate leads.
You can promote yourself through organic methods, like setting up a social media account for your power washing company and posting regularly from it.
But you can also run paid social media ads, which will appear right in users' feeds. You can even target specific demographics with your ads.
Between paid and organic social media efforts, you'll attract interested users that turn into leads for your business.
4. Create a Google Business Profile
Your power washing company serves a specific geographical area. That means you'll want to make sure you appear in local power washing searches in Google, and one of the best ways to do that is to create a Google Business Profile.
A Google Business Profile is a free local listing you can set up for your company where you can input information like your business name, contact information, and location. When people search for power washers in your area, Google may turn up your profile as part of a local 3-pack in search results.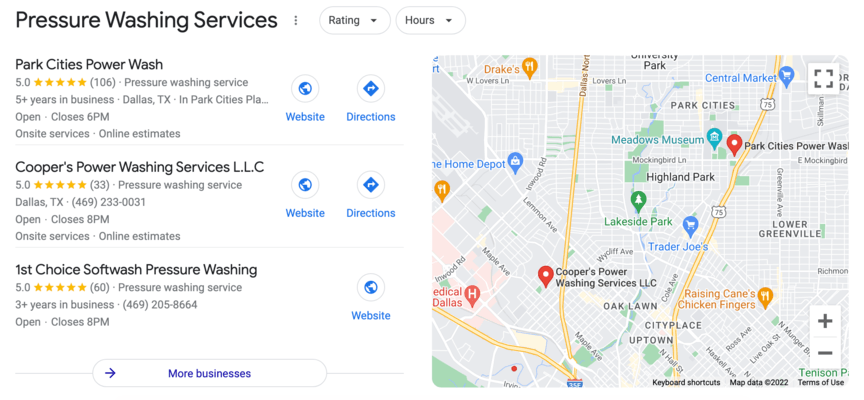 Customers can even leave reviews on your profile to reflect the quality of your services, encouraging others to hire you as well.
5. Build out an email list
The final power washing lead generation tactic to try is to build out an email list. To do that, set up some forms on your website where users can sign up for your marketing emails. Maybe you offer to send them a newsletter, a discount, or something else.
Whatever the case, when users sign up for your emails, you know they're leads. After all, people choose to sign up for your emails because they want to hear more from you. That means they're interested in what you have to offer and want to learn more.
The best thing about an email list is that once you've turned people into leads, you can start sending them emails to begin nurturing them toward conversions!
Time to Level Up Your Sales
Our long list of services helps you grow every aspect of your business with marketing strategies that are proven to increase bottom-line metrics like revenue and conversions.
In the past 5 years, we've managed more than 12.9 MILLION transactions across our client base.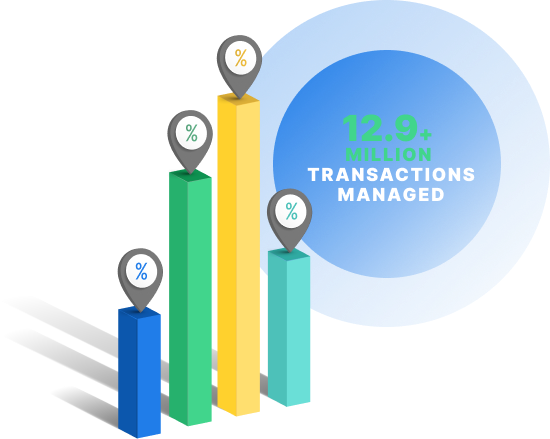 WebFX knows lead generation for power washing companies
Want a hand with your pressure washing lead generation? Don't worry — WebFX has you covered! We know power washing lead generation inside and out, and we'll use that knowledge to drive top-tier results for your business.
With our lead generation services, you can get help with all the tactics listed above and more. We have over 1020 glowing testimonials from our clients that speak to the quality of our services, so you can rest assured that your marketing is in good hands.
To get started with us, just call 888-601-5359 or contact us online today!
Earn a 20% greater ROI with WebFX